NitroPack is a cloud-based performance optimization technology that promises to drastically increase the speed of your website. Is it truly effective? We will further discuss it below in our NitroPack review.
It's not new to you if you're a webmaster to hear the phrase "Core Web Vitals". I, too, have been trying to improve my scores as well as pass the CWV as quickly as possible.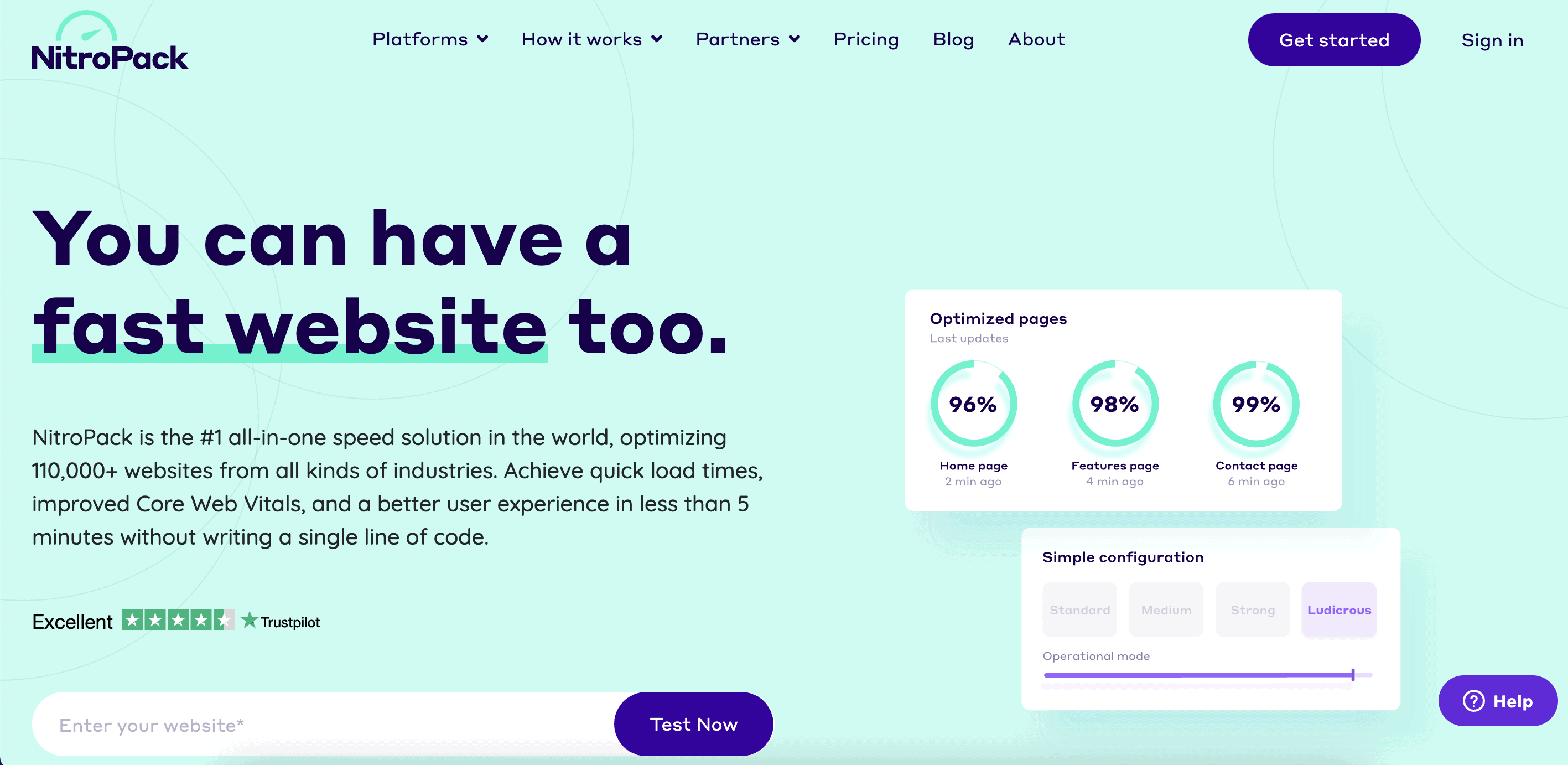 It was then that I discovered NitroPack, a speed optimization service, with many "first-of-its-kind" features. A grand test was performed on our site to understand the actual "NitroPack".
In this NitroPack review, we'll show you how NitroPack can speed up your website and what people have to say about it.
What is NitroPack?
The NitroPack speed performance optimization service is an all-in-one solution for WordPress and Opencart sites. With advanced caching mechanisms, high cache hit ratios, and image optimization, NitroPack offers all the features you need for fast-loading websites.
Based on the latest data, it has been proven NitroPack will not only improve your Pagespeed score but will also aid you in passing "Core Web Vitals", which is based on actual field data.

December 2021 Update:
NitroPack tends to pass the Core Web Vitals score better than services like WP Rocket and Cloudflare, according to new HTTP archive data. 
NitroPack Review: Top 12 Key Features
As a short summary, NitroPack speed optimization service consists of:
Algorithm for calculating speed;

CDN with more than 200 global POPs from Amazon Cloudfront;

A complete toolkit for optimizing images;

Minification and compression of HTML, CSS, and JS;

Prefetching DNS, preloading, and JS delay are all examples of DNS prefetching.
1. Advanced Caching Mechanism
In addition to its proprietary caching mechanism, NitroPack has a high cache hit ratio to ensure a faster loading time. Third-party caching technologies like Varnish, Nginx, etc. work well with them.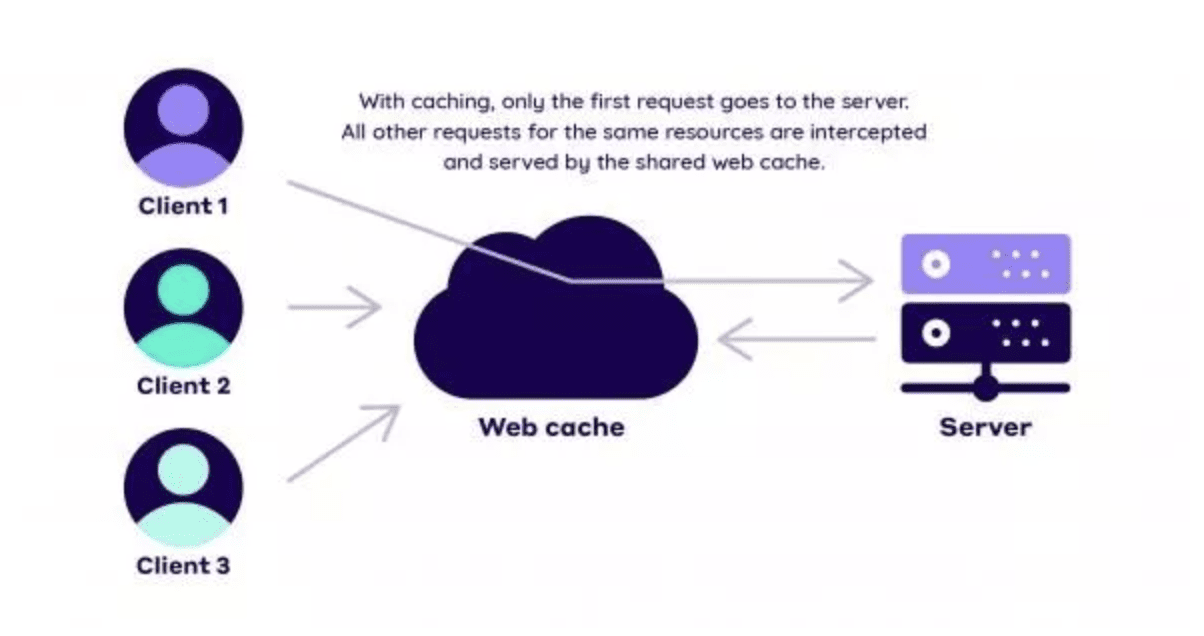 The most common features are:
Smart Invalidation

: Ensures visitors always receive optimized content.

Cookie and Device Awareness

: Delivering content customized to language, device, etc.

Browser Caching

: Improves browser performance.

Auto Cache Warmup:

Edits automatically optimize the page. 
2. Robust CDN with Global Pops
With more than 200 POPs around the globe, Amazon Cloudfront CDN is NitroPack's CDN partner. The CDN will serve your content from a nearby POP, making the load time for international visitors shorter.
With Cloudfront, your pages can be served from all POPs (plan-based), whereas Cloudflare does not impose any restrictions. The Cloudflare plan offers no POP access, but the Enterprise plan does. Despite this, Cloudfront's response time is significantly faster than Cloudflare's.
In addition to GZIP and Brotli compression, Cloudfront also reduces the size of the pages.
3. HTML, CSS & JS Optimization
All HTML, CSS, and JavaScript are optimized by NitroPack. Intelligent minification and compression are performed when necessary.
The majority of issues identified by PageSpeed Insights such as removing Render-Blocking JavaScript or removing render-blocking resources will automatically be addressed.

The most brilliant features of this product are the following:
All pages need a CSS generator

Resource loader for advanced users

Combining intelligent JS
4. Complete Image Optimization Suite
Your site will run faster with NitroPack because it takes care of all image optimization. NitroPack will serve images in next-generation format, so your site's scores will be greatly improved. NitroPack delivers WEBP images with adaptive sizing, so your site's score will improve as well. Features include:
The lossy and lossless compression of images

Optimizing image containers for faster rendering by preemptively sizing images.

Adaptive Sizing adapts the size of images to the device and screen of the user.

Loading Lazy Advanced 

Support for WEBP.
5. Cache warmup
When visitors visit a website, cache warming fills the void. In this way, no visitor will miss the cache the first time they visit the website.
These features provide the following primary functions:
If an automated cache is removed, it will optimize the website.

Enhances the performance of all pages in the URL configuration
A user can submit either a Sitemap XML file or their homepage URLs. As soon as you enable cache warmup, the platform identifies how many optimizations have been made and asks for your confirmation.
6. Safe mode
You will be able to test the functionality of the website without having to modify the original web page.
Add -?test nitro=1 at its end. Safe mode and extension of your site URL. Nitropack will also make all the necessary changes without having to alter the interface of the website. 
You will be able to make changes only to the test pages through the safe mode. Disable the safe mode; otherwise, your live website will be affected by all the changes. Make sure to reverse all changes that are not important and keep just the necessary ones.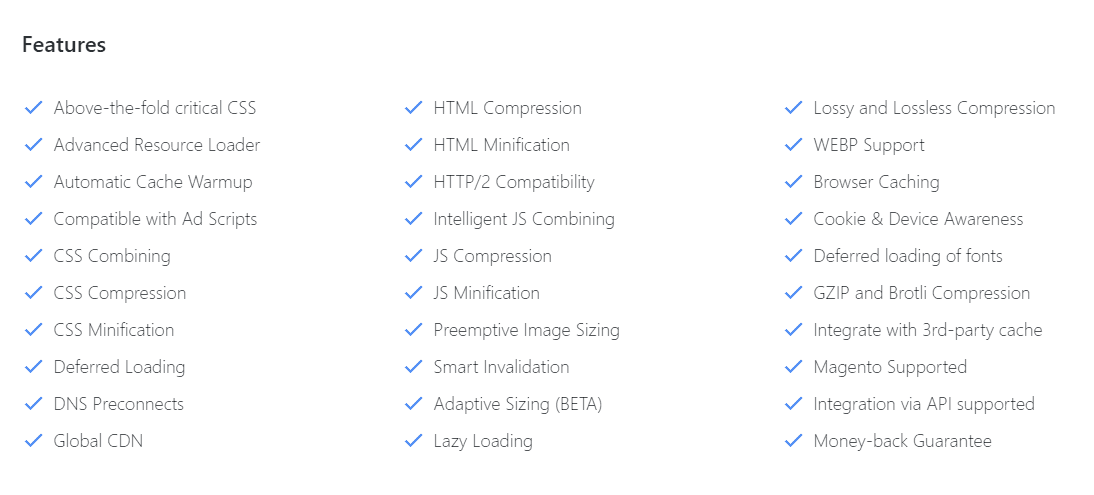 7. Custom CSS
The use of CSS is one of the key components of building a website. Customizing the CSS code is the first step to making any changes to a web page. Nitropack does exactly that; it allows you to change the default theme for your website.
Before the Javascript runs on your website, you can change different elements. You can add custom CSS to your website to make it more attractive if your website isn't aligned when it's loading, for example.
8. Delayed scripts
Your scripts can be scheduled using this feature. The first few javascript can be set and the ones after that delay. We will delay loading the Java scripts by 5 seconds and then load them in order of priority.
There are two ways to do it:
External scripts-

Using the URL of the script directly.

Inline scripts-

Provide your dashboard with the script's URL/code.
It is possible to delay the appearance of the chat widget snippet on your website so that other important information appears first.
9. Excluded cookies
The web cookie, HTTP cookie, or Internet cookie are all terms used to describe cookies. Visitors' browsers receive this text from a web server. It is possible for the server to track a user's activity if the browser saves those cookies.
The excluded cookies feature allows you to provide your visitors with non-cached snippets. This feature is already available by default if you are using Nitropack on platforms like WooCommerce, OpenCart, or WordPress. 
Other platforms than those listed here are best suited for it. It becomes difficult to provide a complete list of all cookies due to the abundance of CMS and plugin platforms. The cookie to be excluded has to be selected.
10. Disable text flashing
Nitropack multiples the process of your webpage rendering. But the procedure cannot start before all the fonts are loaded, which ultimately slows down your website. 
This can be resolved by instructing browsers to render text as quickly as possible and to switch to the original font as soon as it is downloaded. However, it is possible to disable it in a few steps using this process, which watches for this process.
11. Combine CSS/JS
Your web page will load faster if you combine your CSS and JS files. You can render the site very easily with clubbing. Both HTTP/1 and HTTP/2 pages can be rendered that way.
Combine CSS –

The majority of websites make themselves mobile-friendly using media queries. As a result, multiple CSS files are created, so Nitropack merges all media files. 
Thus, all unnecessary files are avoided, and one folder is created.
Combine JS –

As JavaScript works in a set pattern, combining them can be tricky since any order changes can affect how your website behaves. In Nitropack, this is handled efficiently, and it is rare to encounter any problems like this.
To avoid future complications, you are highly advised to perform both of these features with the help of a technical expert.
12. Improve response time
Nitropack's static page cache enables users to skip multiple server logic and improves server response times. You can control the time duration for which your cache pages will be stored through the caching expiration setting, which is permanently enabled. 
The default expiration time for Nitropack is 25,92.000 seconds (3 days). This can be customized to your requirements.
NitroPack Review: Pricing
NitroPack pricing is determined by the number of page views. Apart from the free plan, three other options are available.
The NitroPack website speed service does not limit features, and every paid plan includes every feature.
50,000 Pageviews – $19.95/month, 25GB CDN Bandwidth

200,000 Pageviews – $48.45/month, 100GB CDN Bandwidth

1,000,000 Pageviews – $167.20/month, 500GB CDN Bandwidth

Get started for free with 5000 pageviews
We are pleased to announce an exclusive partnership with a 5% recurring discount for all our site visitors. This discount is applied to both yearly and annual billing.
A money-back guarantee of 14 days is included in all plans. Enterprise and agency clients can also customize plans.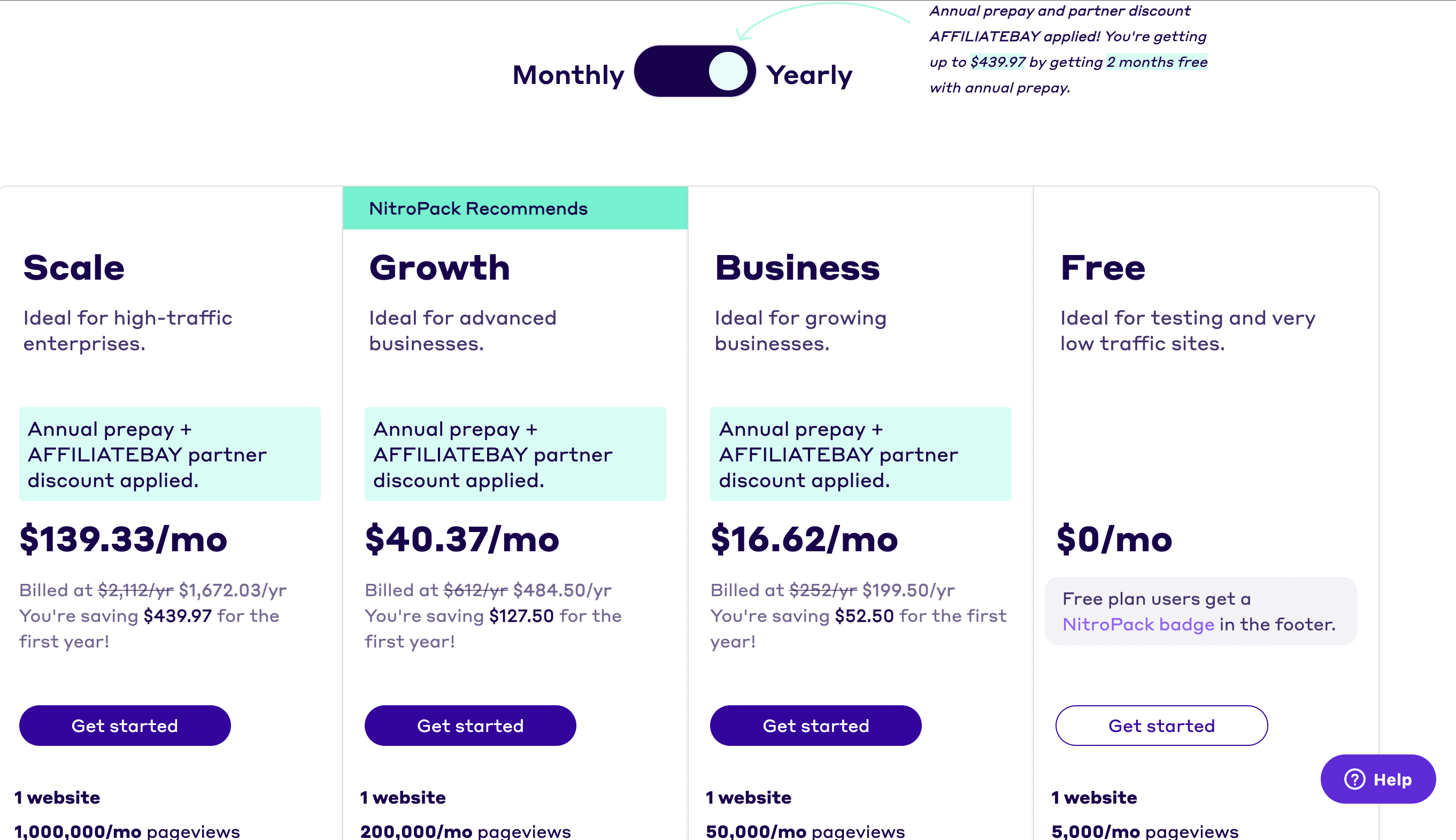 NitroPack Free Vs Paid
You can try NitroPack for free, as we mentioned above. Then you can see how it performs after you move your sites. You can use them for free forever if you receive fewer than 5000 visits per month on your WordPress site.
The Paid plan includes all the features you need. Plans differ only in their page views, and there is no difference in features. Check your analytics to see how many monthly pageviews you have, and choose a plan accordingly. 
How to Setup NitroPack With WordPress?
To start, create a free account and verify your email address. Click on New Website after logging into your account.
Next, click "Add Plugins" in your WordPress dashboard. Search for NitroPack and install the official plugin.
NOTE: If you want to verify the metrics manually, take a screenshot or record the score from PageSpeed Insights at this point.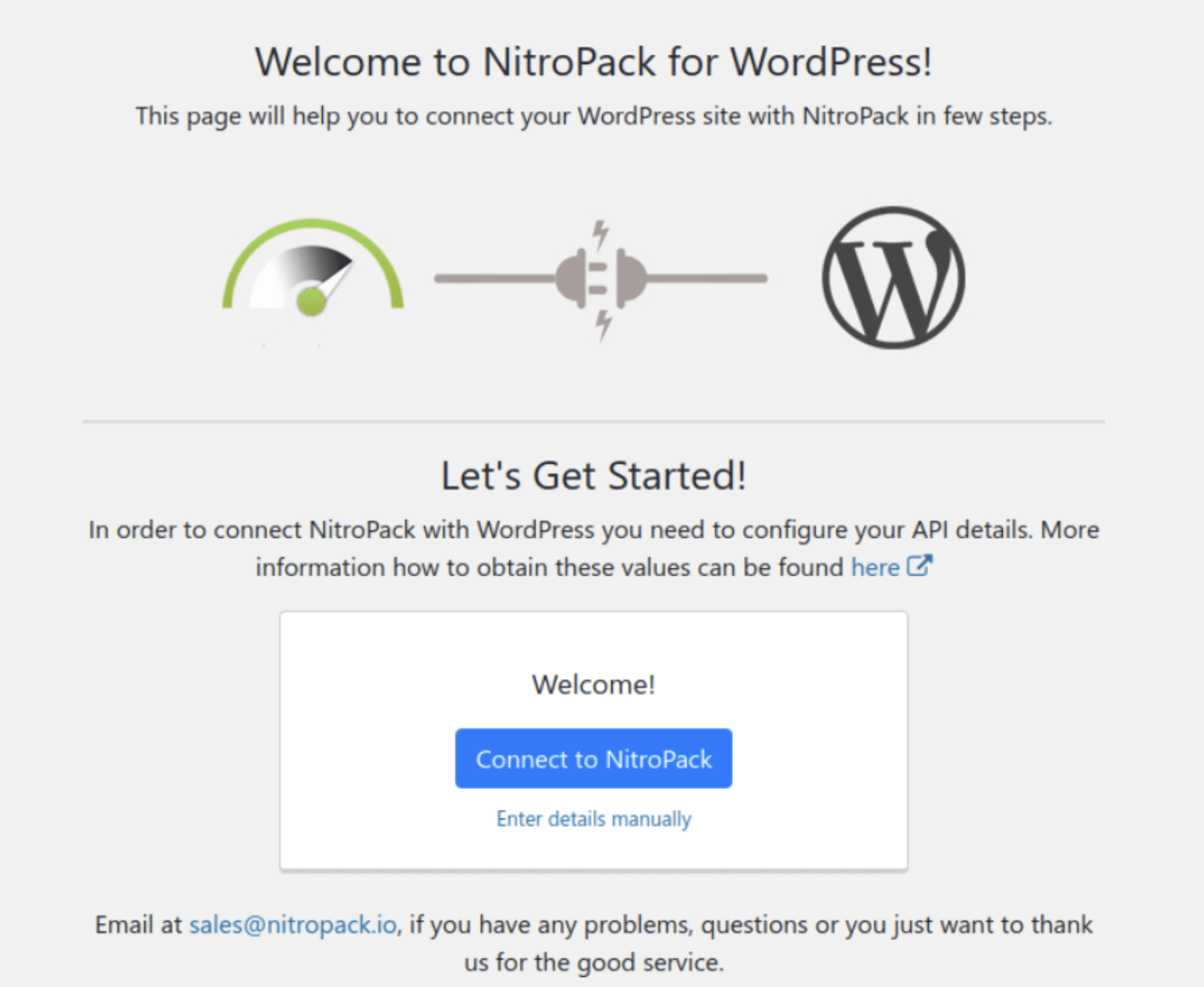 Select the site and connect your account. Select the default option or select a custom option to suit your needs.
There are a lot of options you can experiment with to find out what works best for you. By default, most settings are how they should be.
Quick Links:
Conclusion: NitroPack Review 2023
You can now speed up your WordPress sites with NitroPack, a cloud-based performance optimization tool.
The NitroPack plugin includes various features to optimize your WordPress sites based on speed, including CDN, caching, and code optimization. It is the first plugin of its kind that will speed up your site in every way.
NitroPack is a cloud-based performance optimization solution that claims to significantly improve your website's speed.
Nitropack is a one-stop shop for all of your website's needs. Improved conversions are the result of increased speed. If you're on a metered hosting plan, you'll save money.
It makes your website look a bit ugly when visitors are loading it. Your website's audit tool might report issues if you have NitroPack installed.
With advanced caching mechanisms, high cache hit ratios, and image optimization, NitroPack offers all the features you need for fast-loading websites.