Affiliate marketing can be a great way to make money, but knowing where to start and how to get the most out of your campaigns is hard.
Affiliate marketing is one of the best ways to make money online, but it's also one of the most competitive. You need every advantage you can get if you want to succeed.
STM affiliate marketing forum is the perfect solution for anyone looking for an edge in the affiliate marketing world.
This community of affiliate marketers has years of experience and knowledge to share, and they're always happy to help new members get started.
Let us understand more about the STM forum in detail.
STM Forum Review 2023: What is STM Forum?
STM Forum is the most popular paid affiliate marketing forum globally, allowing participants to gain enormous profits.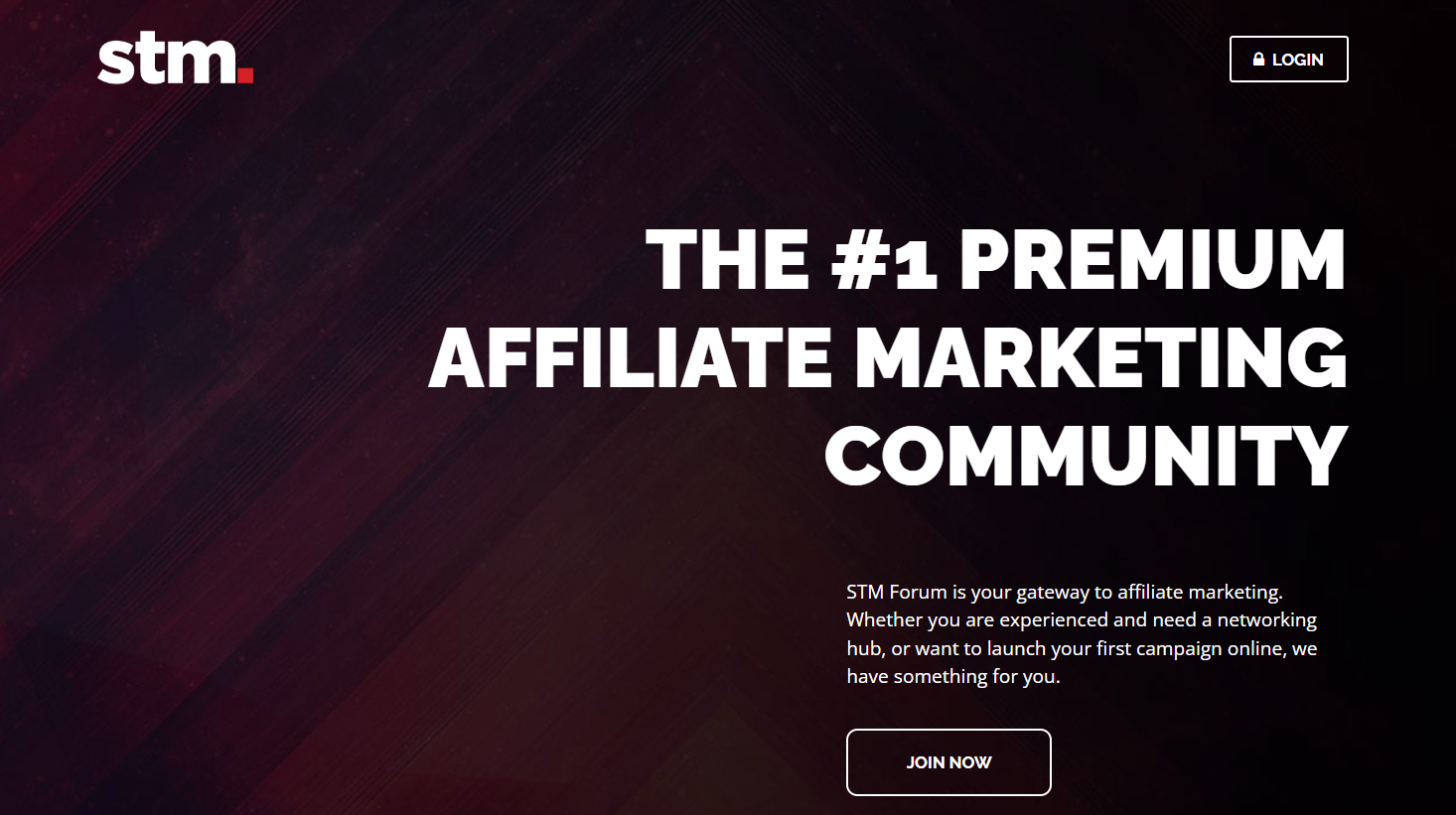 Affiliates of STM Forum are generating significant earnings, and the primary reason for this is the welcoming atmosphere that STM Forum provides for its affiliates.
STM Forum is a home and safe sanctuary for the world's largest Affiliates, and it just takes a few short months to produce additional cash.
STM Forum Content

1. Discounts:
They've negotiated unique prices on tools, traffic sources, and trackers. Discounts exceed $1652. (as of the time of this writing).
If you're serious about affiliate marketing, you'll use many of these discounts on tools and traffic sources. Several forum suppliers also give STM members discounts.
They wish to collaborate with STM Forum members as they're serious about affiliate marketing.
Want to get discounts on the best affiliate marketing forum? Check here for the latest coupons and deals for STM Forum and join an exclusive community of affiliate marketers.
2. Help & Support:
Help and support—probably the most boring forum area.
If you're unhappy with your membership (I don't know how that's possible), you may request a refund, propose forum additions, or contact the forum owners.
3. Old But Still EPIC:
STM Forum contains plenty of stuff since 2011. When industries change, the material becomes obsolete. Threads no longer relevant are transferred to this "old" forum.
This area has several valuable guidelines, case studies, and tutorials. You may obtain some fantastic campaign ideas you may implement now.
As there are fewer discussions, this area was probably cleaned up.
STM Forum is always creating fresh, relevant information that you can utilize to make your campaigns outrageously successful.
4. Achievements and Awards:
STM's accomplishments and awards area lets you boast about your affiliate's success. You'll see revenue goals met and great green initiatives.
If your previous campaign was successful, this part might motivate you.
5. Localized Discussions:
Localized conversations are comparable to other affiliate-related forum sections. However, the material is in a language other than English.
French, Dutch, German, Italian, and Spanish associates speak in portions. Geographical sections include South America, Europe & the Middle East, and Asia.
These areas aren't as busy as others on the site, but they're a wonderful location to find local like-minded affiliates. I don't know what most of these boards say therefore, I can't say more.
6. Extras:
While off-topic for affiliate marketing, the forum's extras area has some useful material. How can you arrange for your firm to lower your tax burden by 100%? See this section.
You may wish to locate the best credit card to get free holidays with rewards points. Here's more.
7. Vendors:
Vendors—affiliate networks, product/service owners, etc.—post in STM Forum's vendor's area.
If you need support with your affiliate programs and are ready to pay for 1-on-1 help, such as creating a bespoke landing page or media buying, visit the buy/sell/hire area.
8. Technical/Creative Skills:
Skills follow. Tracking campaigns, programming, landing page scripts, design, and copywriting are available here. Advice from somebody 10x your expertise is best (super affiliates).
9. Visitors:
A traffic source-specific forum follows. Each traffic source area has recommendations, case studies, follow-ups, and guidance you can utilize to enhance ROI.
It isn't easy to find all the forum's gold. The forum covers SEO and email marketing, but most is for media buyers. Media purchasing scales affiliate marketing, which is where the money is.
10. General:
Questions/threads that don't fit anywhere else go in the general area. Subsections include STM Thought Leaders, Ask The Expert Interviews, Case Studies/Guides, Tips, and Tutorials.
11. The Newbie Zone:
CPA affiliate marketing beginners often start with the comprehensive 40-day instruction.
A step-by-step tutorial from direct linking to landing sites to affiliate marketing mastery is best.
The "Newbie-Friendly Tutorials" also include advice on pop traffic and prizes. Reading this will save you hundreds of dollars! 
12. STM Treasure Chest:
AdPlexity, a popular espionage tool for affiliate marketers, provides clean and effective landing pages in the landing page repository.
Whatever lander your request will be put into the storehouse for download. Forget landing page cleaning—done!
It's They have sweepstakes, CBD, CFD, casino, forex, movie streaming, mainstream dating, gaming, crypto, push subscription, nytra, and insurance lenders. Visit this area often when landers are added.
Trackers, spy tools, automation, and traffic sources get unique discounts and benefits in this section's next sub-forum. These reductions are the largest online.
Great bargain. iStack Training live event replays conclude this section. STM Forum just made all replays free for STM members. Attending these events in person is expensive.
13. News and Information:
STM's "News and Information" section appears first. You may discover local affiliate conferences and learn about forum changes here.
Affiliate World Conferences, hosted by STM Forum, are the industry's most popular events. One sector offers discounts and the opportunity to win free tickets.
STM Forum owns iStack Training. Premium courses, interviews, films, live training, webinars, and podcasts of the industry's hottest trends and secrets are here.
STM Forum owns Affjobs, a news area devoted to affiliate marketing jobs. If you can't make it on your own, locate a job that will pay you to study the business.
Local events and networking possibilities are the remaining two sub-sections.
Affiliate marketing is a narrow "profession," making it hard to discover other local affiliate marketers. Use this area to meet local businesspeople.
What Will You Get At STM Forum?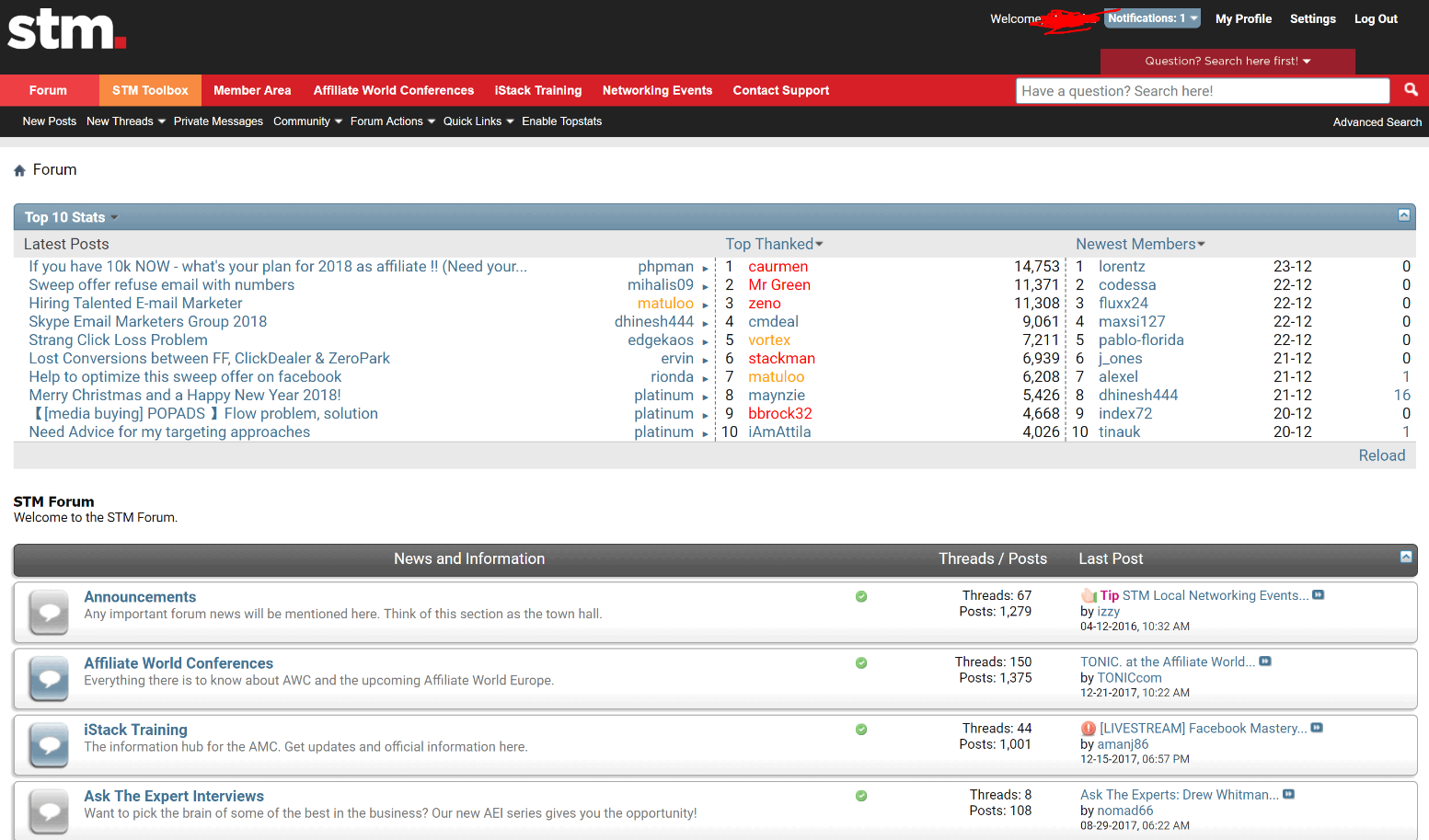 1. Eye-Opening Reports:
The report's interviews with top affiliate industry leaders will reveal what's working in a year and offer insight into affiliate marketing's current and future performance.
2. Tax consultants and Lawyers:
Tax advisors and lawyers remain in touch with STM Forum members to lower taxes for high ROI campaigns.
3. Tactics from Marketing Experts:
STM Forum members are skilled marketers and businesspeople. Lead producers, agency owners, eCommerce, Amazon sellers, and more.
4. Spy tools and Trackers:
STM Forum partners with Adplexity, Binom, FunnelFlux, and Voluum. When you choose and flawlessly apply the ideal one for your company.
Voluum CEO uses STM Forum and serves the public. Learn how to utilize a tracker to restrict worthless traffic that doesn't convert.
5. Affiliate Networks and Traffic sources:
STM Forum lets traffic sources offer owners and affiliate networks to connect directly.
Big offer owners first communicate with STM Forum members before moving forward. Business owners will likely always keep STM Forum members on a VIP list.
6. Masterminds for all skill levels:
STM Forum users may learn from professionals and newcomers.
Newbies make at least four to five figures per day and rely on their creative and technical talents to succeed in any traffic kind or specialty.
7. Networking Opportunities:
Networking helps you win campaigns and makes your life 2x simpler.
Particularly when you work with exceptional professionals in this industry, your negatives will become positives in numerous ways.
8. Step-by-step tutorials for newbies:
9. STM Forum provides step-by-step affiliate marketing lessons for new members. The next stage is to learn and implement all the strategies in this tutorial.
This tutorial explains traffic sources, verticals, SEO, Bing Advertising, Google Ads, Popups, push ads, eCommerce, and more.
10. Excellent Case Studies:
STM Forum delivers real-world case studies with frightening data. No other website teaches you how to earn easily.
These case studies will guide your effective affiliate marketing plan, including digital marketing.
Quick Links:
Conclusion: STM Forum Review 2023
Overall, I'm thoroughly impressed with the STM affiliate marketing forum.
With all the knowledge it has offered and the experience I have gained, I feel confident about having enough resources to reach my goals.
This is one of my happy places, and I wouldn't hesitate to recommend it to anyone interested in affiliate marketing.
It is especially great for novices as you get valuable tips for fast-tracking success and an excellent support system where everyone works together towards the same purpose.
It's an accessible way of staying connected, up-to-date, and informed about this exciting industry, so jump on board now before you're late!
Additionally, joining the STM community will open doors to more opportunities with new strategies and partners while establishing strong relationships that can last lifetimes.
So what are you waiting for? Sign up today and be part of something extraordinary!