For the most up-to-date information, read our Vortex Alpha Review and find out if this network is worth your time.
Joining an affiliate network can be a daunting task. You want to make sure that you're joining a reputable network with experienced professionals who will help you increase your conversion rates and earn more affiliate commissions.
Not all networks are created equal. Some networks are only interested in taking your money and not helping you succeed.
Vortex Alpha is different. They are a performance marketing network based in the United Kingdom that specializes in financial and casino offers.
Their account management team is dedicated to increasing your conversion rates and earning you more affiliate commissions through brand exposure and affiliate commissions.
Vortex Alpha Review: What is Vortex Alpha?
Affiliate offers from the Vortex network cover many industries and has high payouts. Although they specialize in the gaming and casino niche, regardless of your industry, you will be able to find a solution to meet your needs.
They are constantly expanding their portfolio of products and services, so if you don't see something that interests you, ask them. Those claims were backed up by offers on the dashboard.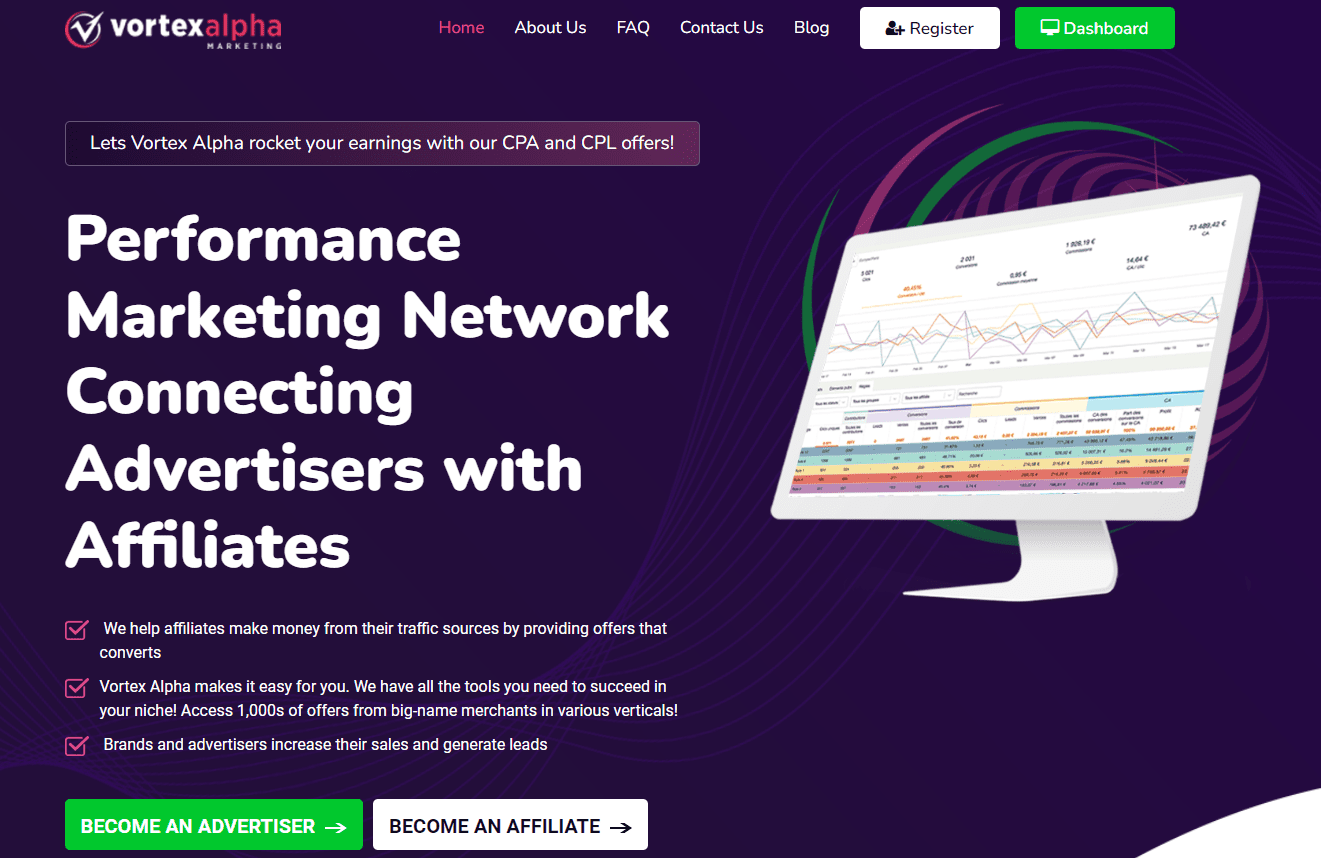 Apparently, the company has a community of more than a thousand affiliates and advertisers. Businesses can generate profits by focusing on affiliate marketing with Vortex Alpha.
In addition to offering a number of high-end tools and management teams, the platform ensures brand exposure, higher conversions, and better click rates.
Publishers based in the United States, Europe, Australia, the United Kingdom, and Canada should consider the Vortex Alpha Network.
Also, Read This:
How Does Their Dashboard Work?
There is a very user-friendly interface on the Vortex Alpha affiliate network.
Your first view after logging in will be the "Quick Stats" section, which shows you your performance for today, this week, this month, and last year. Next comes the "Recent Conversions" section, where you can see your most recent sales.
The offers section provides a list of all the offers you can take advantage of. These offers can be filtered by country, commission type, and category.
There are currently over 350 active offers on this list, so you will need to use the search and filter features to find the deals that work for you.
The 350 offers listed on the company's website do not differ from what can be found on their homepage. 
The following filters are available:
Country

vertical

payout minimum and maximums

Tags

media types

status
The details of the offer can be viewed by hovering over the "eye" icon on the dashboard. You can apply by clicking the offer if it's one you're interested in.  The process is simple.  
It is generally easy to use the platform.  Because it's so simple, I would appreciate more detailed offer pages that describe the offer in more detail.  
You should ask the following questions before signing up with any affiliate network.
Vortex Alpha Affiliate Marketing Network
Affiliates and advertisers can become members of Vortex Alpha upon approval from the company. Advertisers can earn sales through lead generation, passive income from endorsing, and commissions from commissions.
Vortex Alpha for Affiliates
A number of factors can be decided by affiliates or publishers when promoting products or services, such as payment models (CPP, CPA, Revenue sharing), the brands associated with each affiliate, the traffic sources allowed, etc. The platform negotiates with companies for better payouts.
Vortex Alpha for Advertisers
You may not know how to market your business if you don't have the right experience. When you hire an agency, you will be required to pay for advertising and other marketing promotions in advance but you won't receive any guarantee of results.
What's the point of burning your money? If there is an option where Vortex Alpha has affiliates connecting with their platform, it is always a win-win situation for you because you are getting marketing expertise.
Your only payment is when you get sales or leads, not when you make the payment upfront.
Do you realize what a great boost your business could receive from such a process?
Yes, of course! With platforms like Vortex Alpha, you can focus on your business thanks to the fact that they can save you money, time, and other resources.
Advertisers should choose Vortex Alpha. On the dedicated Advertisers page, you can contact an advertising team specialist for more information within 3 business days after submitting the form.
Vortex Alpha Support
The platform offers dedicated FAQs, blog pages, phone support, and ground office addresses for the United Kingdom, United States, and Australia.

Quick Links:
Conclusion: Vortex Alpha Review 2023
Here's an overview of everything I've covered in my Vortex Alpha review.
This affiliate network is one of the best in the world, has advertisers and publishers from all over the world, and offers diverse vertical options, good customer service, advanced tools, and higher payouts and conversions.