Businesses need a comprehensive and affordable cloud software suite to manage their operations.
But it can be hard to know which application is right for your business and whether the suite will be a good fit for your budget. The Zoho Cloud Software Suite is an affordable and comprehensive solution for businesses of all sizes.
It offers a wide range of applications that are easy to use and customizable to meet the specific needs of your business. And because it's cloud-based, you can access your data from any device or computer with an internet connection.
All this makes Zoho a very powerful tool, which is why it is a great opportunity to join the Zoho Affiliate Program and make money.
Let us check out what is the Zoho Affiliate Program all about.
Zoho Affiliate Review 2023: What Is Zoho? 
The Zoho Cloud Software Suite offers businesses all the applications to manage their finances, customer relations, sales, marketing, and more.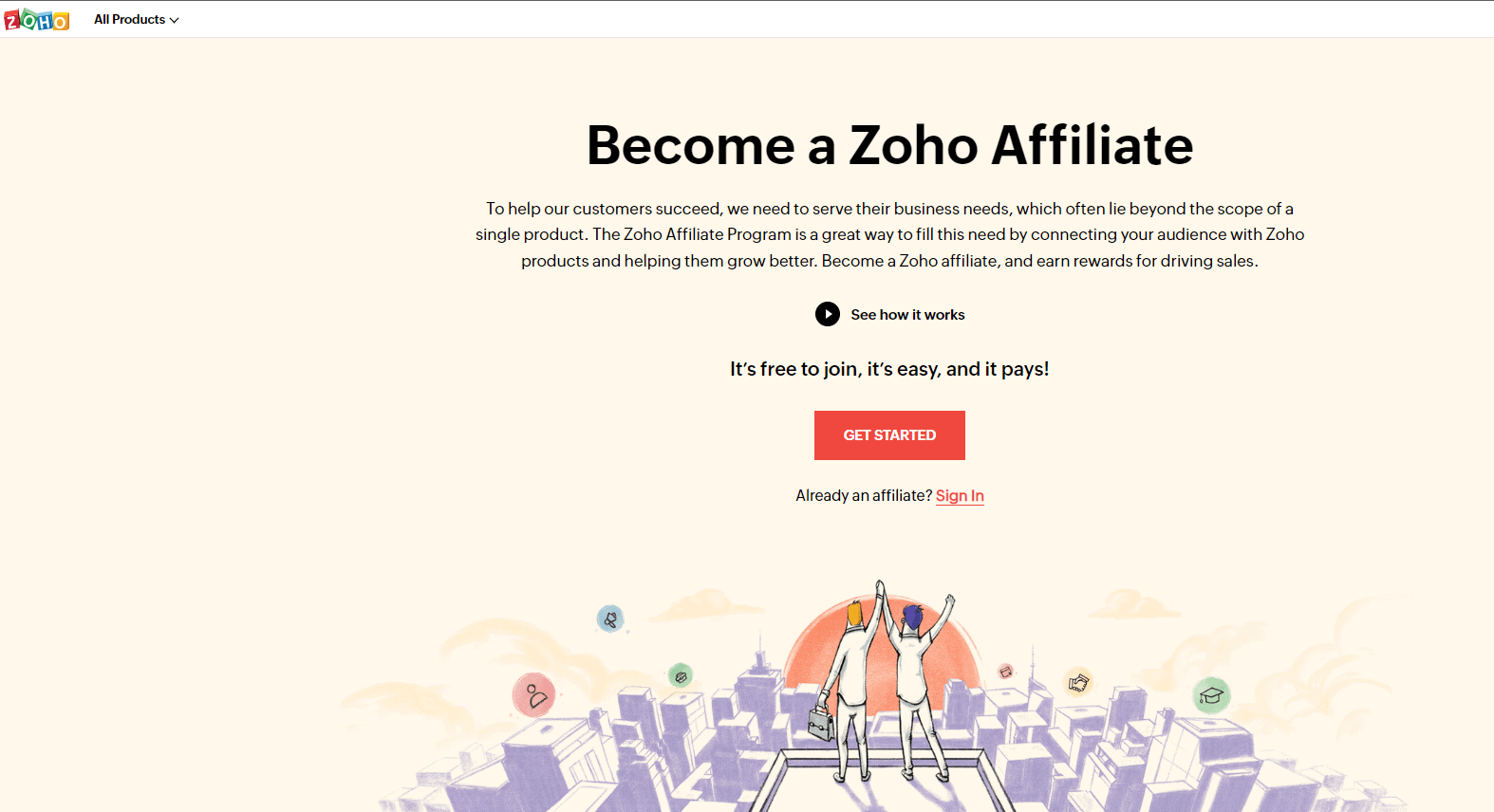 Zoho Corporation is an Indian technology business headquartered in Chennai, India, focusing on software development.
The company specializes in web-based business tools and information technology, such as an online office suite, an Internet of things management platform, and IT management software.
The headquarters of Zoho is in Chennai, India. As of 2022, the company has 12 offices in nine countries worldwide. In addition to China, the corporation maintains offices in Singapore and Japan.
FAQs About Zoho Affiliate Review
How do I track my earnings from Zoho?
You may get information about commissions earned by logging into your affiliate dashboard anytime.
Is there a limit on the money I may earn or the number of clients I can refer via the Zoho Affiliate program?
There are no restrictions on the number of consumers you may refer or the cash you can earn via this program. You are urged to provide as many references as possible.
How much commission am I eligible to earn via the Affiliate Program?
For each qualifying sale you produce, you may earn 15% of Zoho's income from that transaction over the ensuing 12 months, providing the referred customer continues with Zoho for at least 90 days. You will not be eligible for commissions on the customer's future purchases of other Zoho services.
Who can I refer for the Zoho Affiliate Program?
You may recommend any firm not already a Zoho subscriber to any premium plan.
Quick Links:
Conclusion: Why Do I Recommend Zoho Affiliate?
Here are some of the reasons why I believe the Zoho suite is excellent for affiliates:
A team committed to your success.

Utilize their extensive array of marketing assets.

There is no maximum commission you may earn.

Gain access to the dashboard for affiliates.

Track commissions and payments with ease.

Using Zoho's URL builder, you can generate affiliate connections to any website.

No minimum sales need.

Join at no cost. Earn commissions for referrals that qualify.

Zoho offers 55+ products. Affiliates have products among multiple categories to pick and promote to their clients. 

They offer a generous 90-day cookie period life. 

Exclusive $100 Wallet credits to the referred clients that Affiliates get brought to Zoho. 

Zoho has a robust privacy-first approach. You can check out their privacy policy from

here

.   

Zoho provides support in all major languages across the globe. This makes it attractive for affiliates/influencers from all regions to join and promote Zoho products.
After all this, I can easily recommend Zoho Affiliate Program for you to get started with promoting Zoho prodocuts.