In this blog, I am going to give a detailed comparison of AffiliateWP vs SYC Tracker 2023.
Affiliate Marketing is perhaps the single, most-efficient form of marketing available on the planet. It surely helps make your sales explore. The bigger your network of affiliates, the more sales you make.
But the best part- You don't have to pay for it unless you see results. Yes, that's right.
It's not like traditional marketing. You won't see as many failed campaigns. You literally pay only if you get results! The affiliate network is also a whole lot more loyal to you.
Why? Because each time you make a profit, that also profits! What do you need to do at this time? Nothing.
You can just wait for your affiliate marketing network to drive sales towards your brand!
In today's modern world, affiliate marketing is one of the major sources of income for a large part of the community. Instead of doing the hard work, we use several tools and services available to let the machines do the work for us.
Using different tools AffiliateWP and SYC Tracker provide detailed statistics regarding the website traffic and provides various plugins and options to set up, customize, and maintain the affiliate network and traffic to your website.
AffiliateWP and SYC Tracker are two of the best plugins available for affiliate management, ad tracking, testing, and so on. Although they both appear similar, there are some subtle differences.
AffiliateWP is an affiliate management tool that provides a vast array of plugins for tracking affiliates, generating referral URLs and coupon codes, and provides accurate payment data. While SYC Tracker provides tools for Ad and Campaign tracking and provides feedback in the form of detailed heat maps.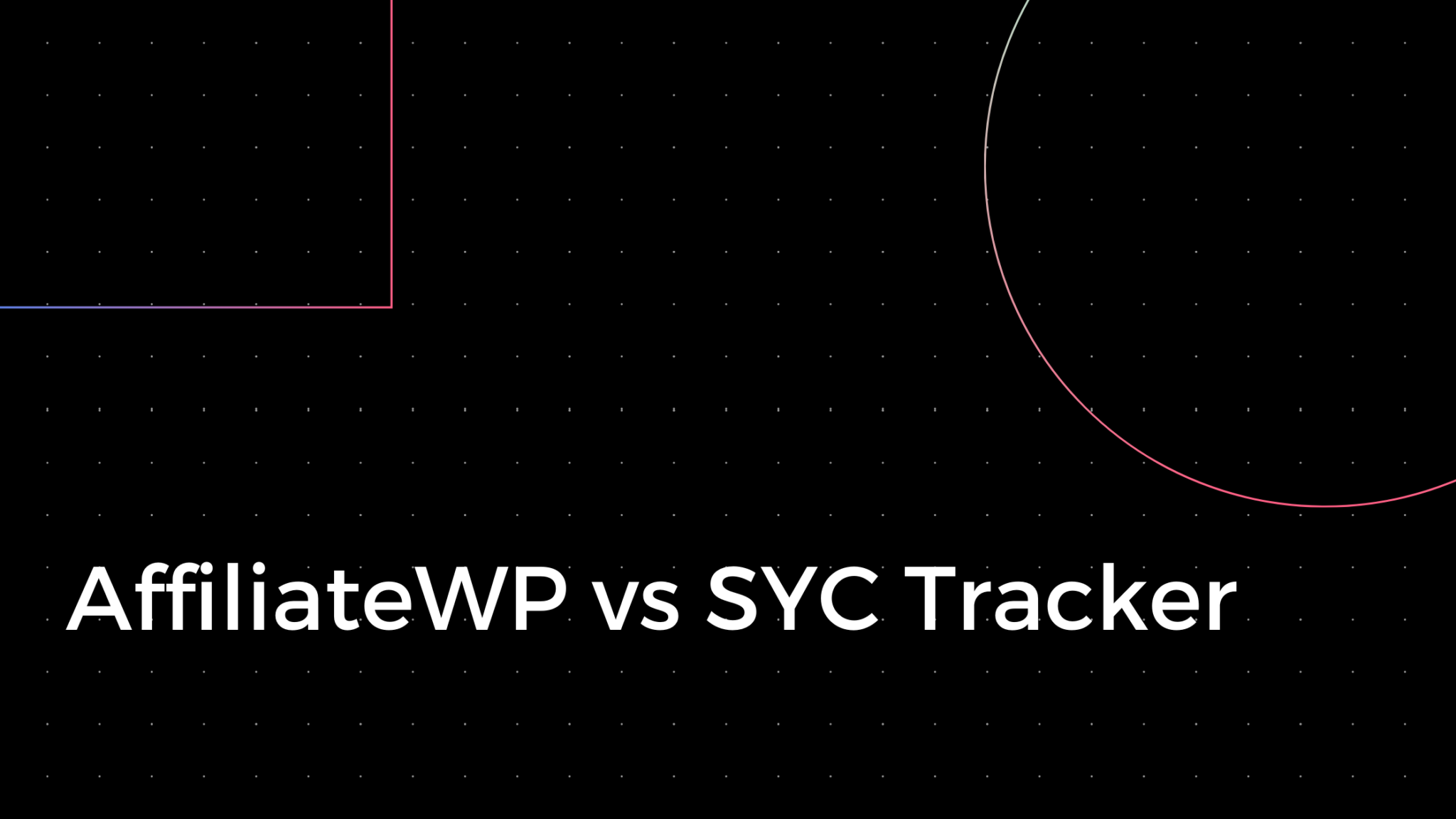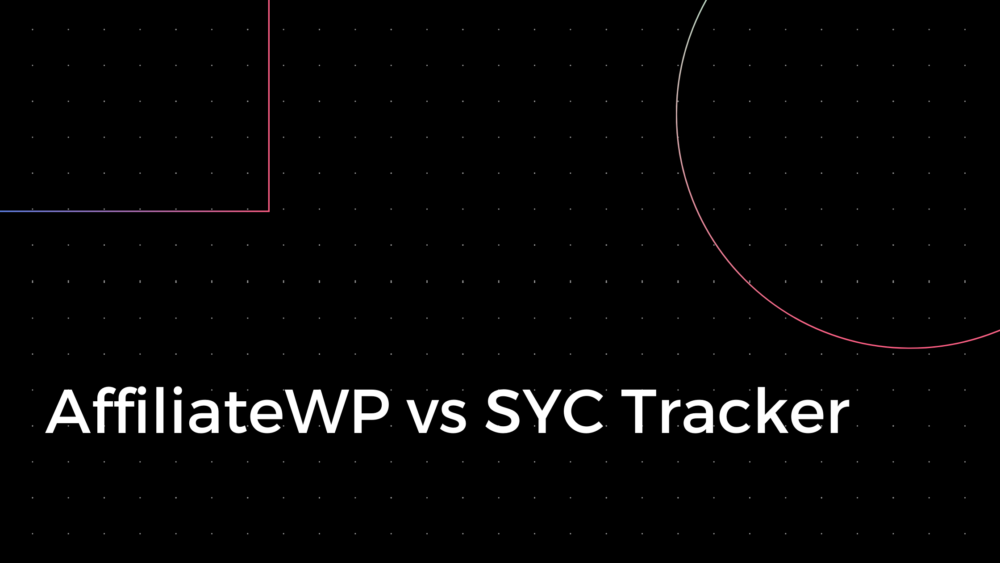 Overview of AffiliateWP vs SYC Tracker
Overview of AffiliateWP
AffiliateWP provides a user-friendly affiliate marketing tool that concentrates mainly on providing reliable tracking and accurate data. It is one of the most reliable affiliate systems available in the market and is provided in the form of a WordPress plugin.
It provides you with a collection of various affiliate marketing tools you need to expand your business, increase traffic, and earn more profit.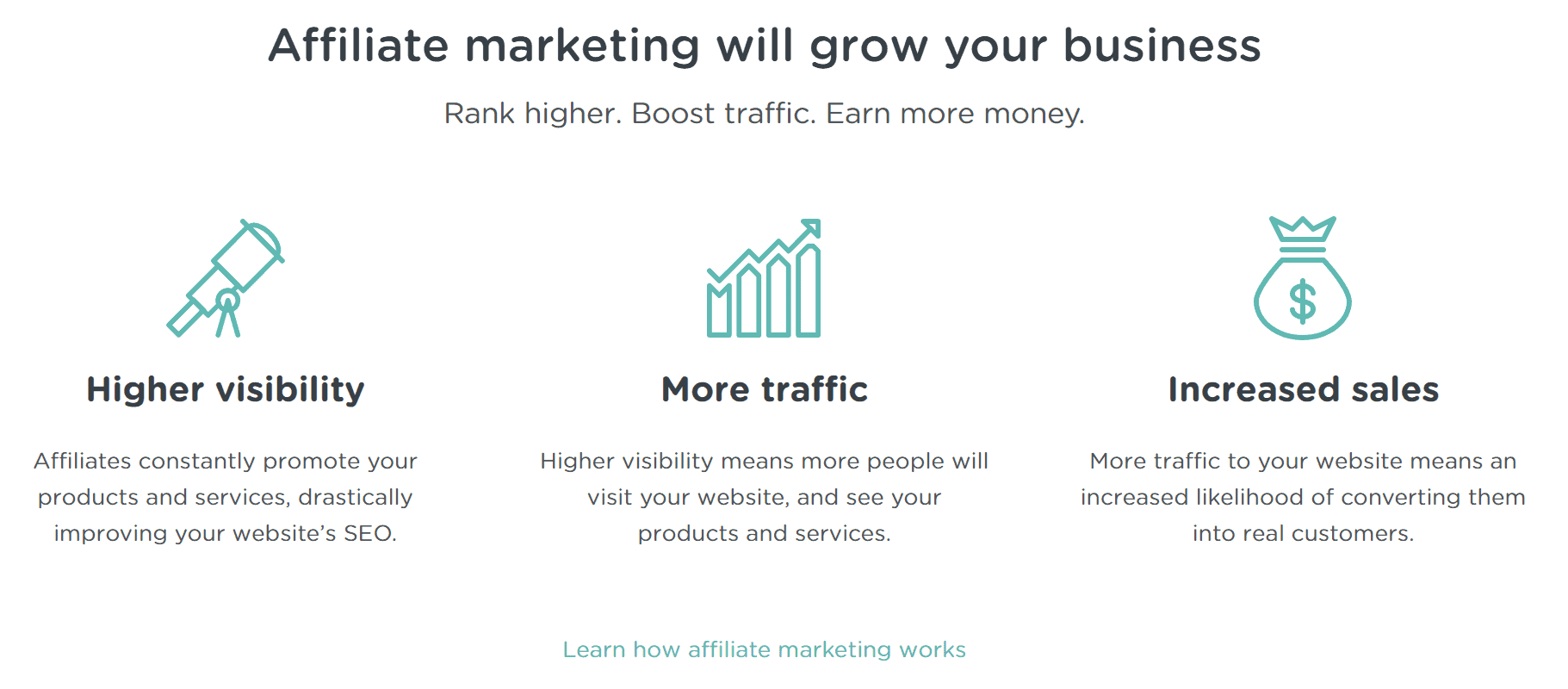 Pippin Williamson and the team were developed in the year 2014 while looking for a top-notch affiliate management system to help their businesses grow.
And so they came up with AffiliateWP, a high quality, self-hosted, and instinctive affiliate system tailored for WordPress.
Overview of SYC Tracker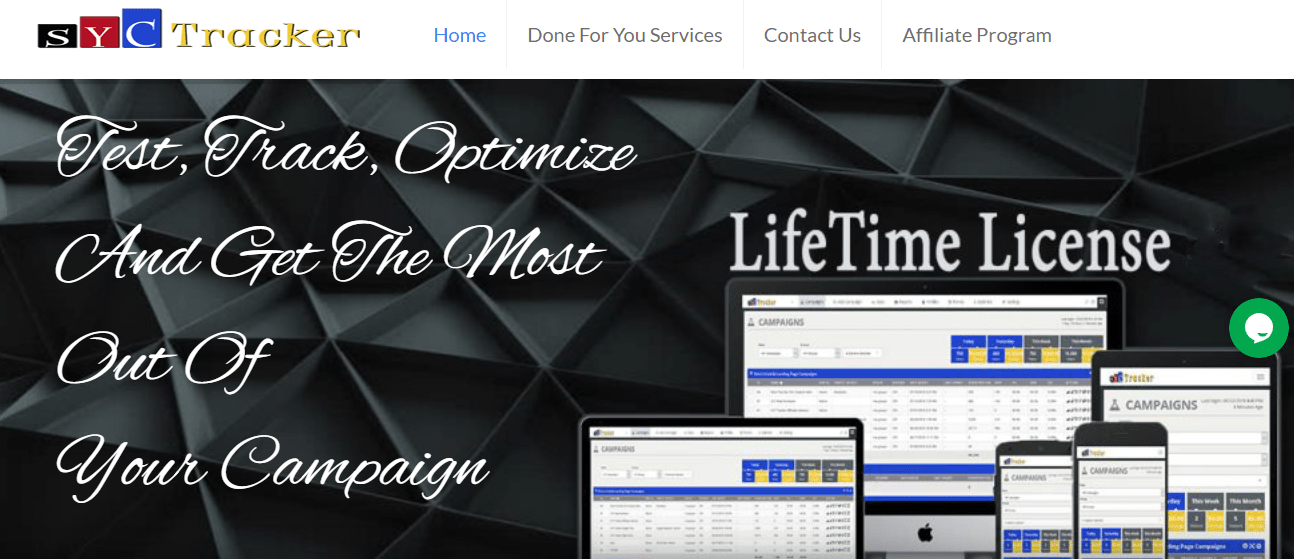 SYC Tracker is an efficient and self-hosted Ad and campaign tracking, testing, and optimization solution. Using SYC Tracker can greatly help you cut the costs as it not only provides lifetime access for a minimal amount but also gets rid of the need for third-party servers.
SYC Tracker also provides flexible statistics combinations, with over 30 metrics available. Because of this, you can mix and match the metrics, so you can work only with the data admissible to you at the time.
It also prevents bots from appearing in the stats counter and provides you clean and accurate data, which enables you to make sound decisions.
It's unlimited, so you can run as many campaigns as you want. It's also unmetered so you won't be charged per number of impressions.
Features of AffiliateWP vs SYC Tracker
Features of AffiliateWP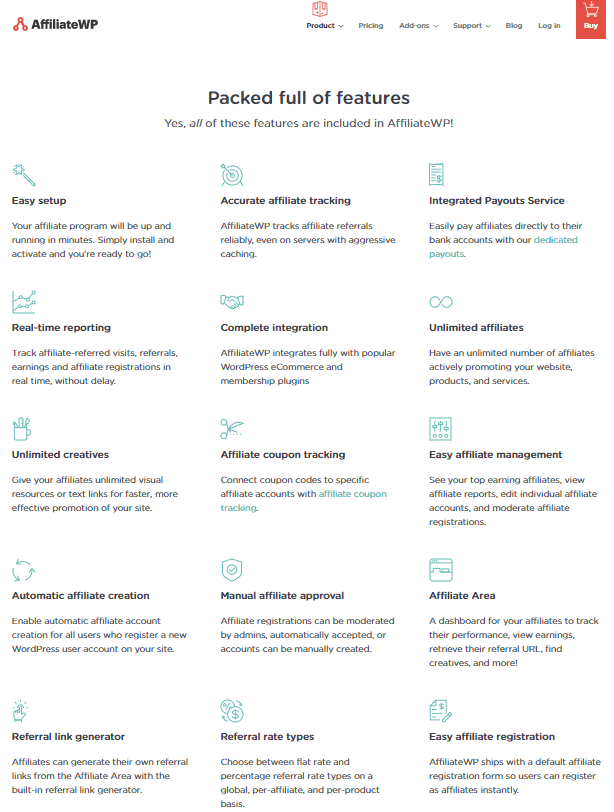 Affiliate tracking is the conducting and tracking of marketing activities, mostly using particular software and various plugins installed in affiliate websites.
By tracking the sales, conversions, and clicks from the affiliate websites, we measure the functioning of the affiliates. This facilitates the owner to keep a record of the performance of affiliates, allowing them to identify which ones are leading the traffic and hence compensate accordingly.
Affiliate Coupon Tracking
Affiliate Coupon Tracker enables the user to connect coupon codes to particular affiliate accounts. Whenever someone redeems a coupon, AffiliateWP rewards the affiliate connection, to the particular code, a referral. It is similar to the customer using a referral URL.
Only AffiliateWP version 1.1 or later supports coupon tracking. It supports the following platforms:
iThemes Exchange
Easy Digital Downloads
Restrict Content Pro
Paid Memberships Pro
Paid Members Subscription
MemberPress
Jigoshop
LifterLMS
Gravity Forms

Referral Link Generator
An affiliate referral link is a URL that the affiliates use to promote your website. It has the affiliate ID or username appended to the URL so that the owner can track a particular affiliate when a customer visits their website.
If the customer successfully completes a sale or a form of submission, a referral will be generated and will award the affiliate, a commission.
3 major ways to generate a referral URL:
By adding the unique ID at the end of a URL of your website, the affiliate can generate their own referral link.
The affiliate can do this also by pasting the URL from a page on your website into the Page URL field and clicking "Generate URL".
Or the owner can provide the affiliate with referral links.
If the affiliate wishes to promote your site, they can share this URL anywhere including their website, social media accounts, or via emails.
Most people who have experience with WordPress are familiar with the term shortcodes. These are small pieces of code that are indicated by square brackets, which perform a dedicated function on the website.
By placing this piece of code, just about anywhere on the page, post, or content, you can add specific features such as display images, videos, or even playlists.
AffiliateWP provides a plethora of similar shortcodes that enable the user to implement various functionalities such as manually creating an affiliate area using the shortcode [affiliate_area], or provide data on the referral URL of current logged-in affiliate using [affiliate_referral_url] and so on.
Affiliate Dashboard Sharing
AffiliateWP provides the affiliates their very own dashboard which contains distinct features that increase their productivity and also encourage the promotion of your products or website.
One such useful feature is the Affiliate Dashboard sharing, which is a pro plugin that allows the affiliate to share the URL they generated from their dashboard directly.
You can choose which platforms the affiliate uses to share, such as Twitter, Facebook, Google+ or LinkedIn. Affiliates can also share the link via email, which when clicked will open the affiliate's referral URL in the email body.
The email is pre-populated with a subject line and the body contains the affiliate referral URL.
This feature helps you to control the platforms on which your product or website is promoted and set up a means of organic traffic to your site.
AffiliateWP allows you to set different referral rates according to your need. The referral rate determines what percentage of each sale goes to the affiliates. For example, if the rate is 20% then for every $100 earned $20 goes to the affiliate.
AffilateWP provides opportunities to set different types of referral rates. This includes global referral rate, per-affiliate referral rate, per-product referral rate, and so on.
The global referral rate allows you to set a default referral rate for all the affiliates.
While per-affiliate referral rates allow you to set individual referral rates. Meanwhile, the per-product referral rate sets a rate according to the product that is promoted. AffiliateWP also provides pro plugins for setting tiered, lifetime, or recurring referral rates.
AffiliateWP Reports feature offers a vast spectrum of data, which you can view via detailed graphs of referrals.
It displays your site's performance as well as a detailed classification of how well a specific affiliate performs and also provides flawless data regarding payments, campaigns, referrals, and visits.
The reports bar comprises five tabs, namely Referrals, Affiliates, Payouts, Visits, and Campaign.
The Referrals tab provides data regarding topics such as Paid Earnings (Total, This month, Today), Unpaid Earnings (Total, This month, Today), and Unpaid Referrals (Total, This month, Today).
The Affiliates tab gives information on the total number of Affiliates, New affiliates, highest converting, and top-paid Affiliates. The visits tab records the visits made to your site through a referral link which may or may not result in a referral.
The payout tab provides data for payout including Earnings generated and paid, Average and Total Payouts, and also the average payouts per referral. You can view and manage the campaign data from the Campaign tab.
Features of SYC Tracker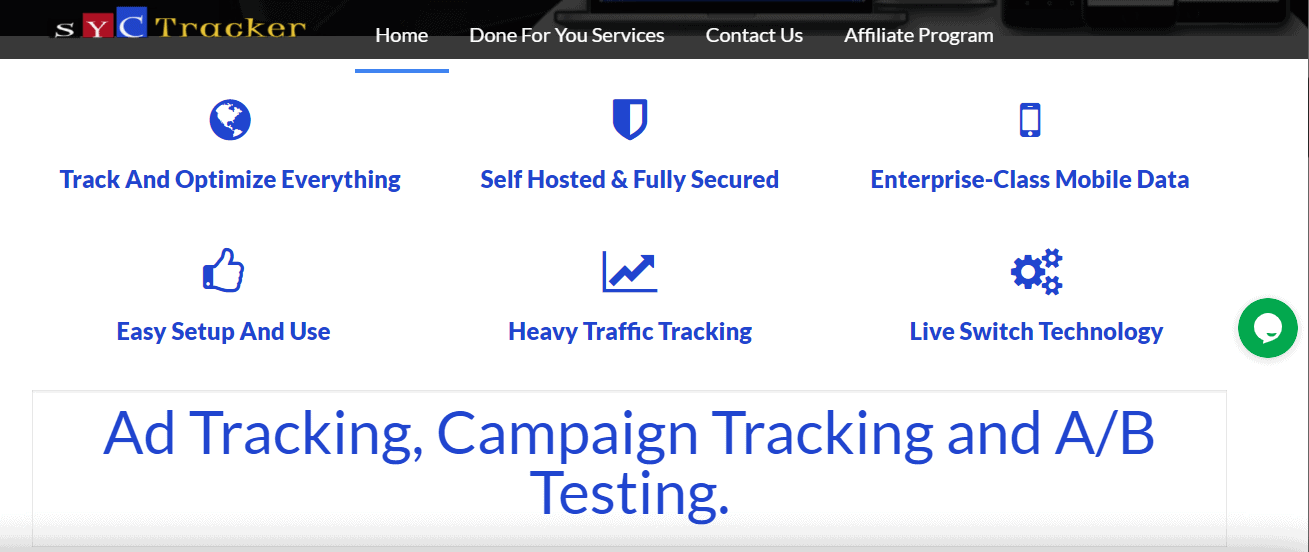 SYC Tracker is one of the top self-hosted Ad tracking services that supports a vast array of ad types. The variety of ads supported by SYC Tracker include:
Pay per click Ads
Media Buys
Social Ads
CPV
Video ads
Organic traffic, and more

Report Builder
This feature enables the user to build legitimate reports, with a wide range of templates to choose from. This allows the user to create reports and customize existing ones easily and quickly.
It also supports the Bulk update mechanism if you want to apply changes or modify reports on multiple campaigns at the same time. This way the user can cut costs and time and therefore increase profits.
Unlimited Ads, Pages, and Offers
SYC tracker presents a  wide range of offers with no restrictions upon the number of pages. Clients can boost up their reach to their audience by these offers.
SYC has no minimum advertisement count. You are at your liberty to put up as many ads you feel content with.
It is important to have tracks of your sales and leads. With SYC Tracker, you particularly have no difficulty in tracing data.
They provide a detailed account of all the transactions, conversions, integrations, sales, and leads no matter how big or small your business is, but data creates room for improvement and improvisation.
SYC has a unique feature of 'Geo Stat', wherein you can actually analyze the performance of your website, on the basis of geographical boundaries. So, you will know what is the status within each country and city.
They help you by providing the latest keywords and click offers. This consistently improves sales, and you have acquired means of easy optimization options.
You can keep check of accomplishment traits by Video support or having data rates, mobile OS, etc, and validate them on their profitability.
You can add visual content or text files to engage the visitors on your webpage. You can allow them to drop a message or a query if they want to. Easy communication attracts the interest of the audience.
Verdict on Features
Both the Softwares offer similar yet some unique features. If we account for which one has more features then, AffiliateWP is better. But SYC Tracker has some unique features like Geo Stats, which AffiliateWP fails to provide. The add-ons' choice depends on the customers, which feature serves their purpose the best.
Ease of Use: AffiliateWP vs SYC Tracker
Ease of Use: AffiliateWp
AffiliateWP provides some of the best features any WordPress Plugin can offer. It is easy to install and use. You will find no difficulty in reaching out to the support team in case any issue arises.
It has a simple interface, with detailed key features. Mostly, you will not have any issue as such, and with all its features it stands out as a unique software altogether.
Ease of Use: SYC Tracker
Even if you are a beginner and not acquainted with any Affiliate software, you can still use this SYC tracker with no particular issue. They have an efficient Support system that guides you throughout. They have a user-friendly interface and easy navigation.
They have also provided all the relevant information about their service on their official website to provide a clear insight into the visitor.
So it doesn't matter if you are a merchant, agency, advisor, or just a starter, you can always use the SYC tracker for your business.
Verdict on Ease of Use
The verdict is simple. Both of them are compatible to the needs of the user but AffiliateWP can be used only for WordPress sites, whereas you can use Affiliate WP  for only WordPress sites, whereas SYC Tracker can be used for individual websites.
Customer Support at AffiliateWP vs SYC Tracker
Customer Support at AffiliateWP
AffiliateWP has a well-detailed FAQ page that covers many issues faced by the users when setting up and using AffiliateWP.
They also provide a large documentation section that contains articles dealing with topics that range from setting up the tool to a detailed explanation of the different add-ons offered and a dedicated section for FAQs as well.
They also provide a 24/7 email support to all the user and lifetime support to users who use the ultimate plan.
Customer Support at SYC Tracker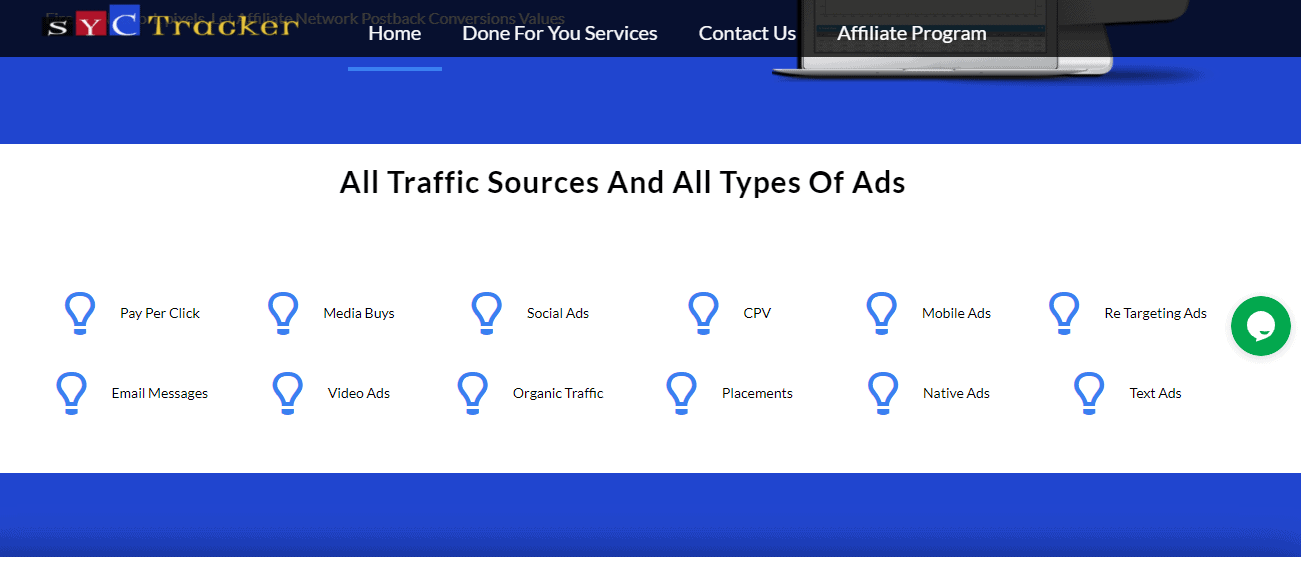 Although SYC Tracker does not provide an FAQ page or any sort of documentation, they do provide email and Skype support.
You can also contact them directly via a pop-up that appears on the webpage. SYC tracker also provides a form that one can use to post a question on their website directly.
Quick Links
FAQs | AffiliateWP vs SYC Tracker
🤔 Can I change the appearance of the Affiliate Area?
Yes, it is possible to change the appearance of the Affiliate Area using CSS. This can be done by adding your very own custom theme CSS code in the child theme's style.css file. It is added to the child's theme to prevent the loss of custom theme when the parent theme is updated. To know more about creating your custom theme for Affiliate Area visit this blog.
👉 Can we install AffiliateWP on a different website?
Absolutely. You can install AffiliateWP on a different website if you have used the WordPress Multisite Installation. Otherwise, it will track referrals only on the websites it is installed on. However, if you aim to promote sales on further websites, you may use the External Referral Links free add-on.
👍 Are these tools safe to use?
Yes, these two tools are perfectly safe to use. They have been tried and tested by a countless number of users online, and the testimonies themselves are a guarantee to their safety.
Conclusion: AffiliateWP vs SYC Tracker
When it comes to deciding which tool is best, we are at crossroads. Because each one has its own pros and cons. While AffiliateWP provides better features and customer support, SYC Tracker is more affordable for the larger public.
This doesn't mean SYC Tracker is behind in terms of features offered either. So which one do we choose? That is entirely up to you. You are the one who is at the liberty to choose the tool according to your requirements.
As said before if you require maximum functions for the least price then go for SYC Tracker while if you require a top-class performance then better go for AffiliateWP.
Because in the end you are the one who is going to use these services and so it is essential that the tools choose fits your needs perfectly.