In the fast-evolving world of cryptocurrency, advertising plays a pivotal role in connecting projects, services, and products with their target audiences.
As the crypto industry continues to grow and gain mainstream acceptance, businesses are seeking effective ways to promote their offerings within this specialized domain.
Enter crypto ad networks – platforms specifically designed to facilitate advertising within the crypto space.
In 2023, these networks have become essential tools for advertisers and publishers alike, providing a gateway to reach millions of engaged crypto enthusiasts worldwide.
This article delves into the top 10 crypto ad networks of 2023, presenting an overview of their unique features, pros, and cons.
From decentralized platforms that prioritize privacy to networks with extensive reach and diverse ad formats, these ad networks are shaping the landscape of crypto advertising.
Whether you are an advertiser seeking targeted campaigns or a publisher looking to monetize your crypto-related content, this list will help you navigate the ever-changing world of crypto ad networks and find the perfect match for your needs.
9 Best Crypto Ad Networks in 2023
Let's look at which platforms are building a name for themselves in the crypto ad networks. Some of the relevant firms functioning in the field are listed below.
Dragon X (formerly known as Ad Dragon) is a rapidly expanding crypto advertising platform that challenges the traditional model of crypto advertising.
As the world's first DeFi and Ethereum-based platform, it conducts all transactions in cryptocurrency, utilizing decentralized blockchain technology to power its solutions.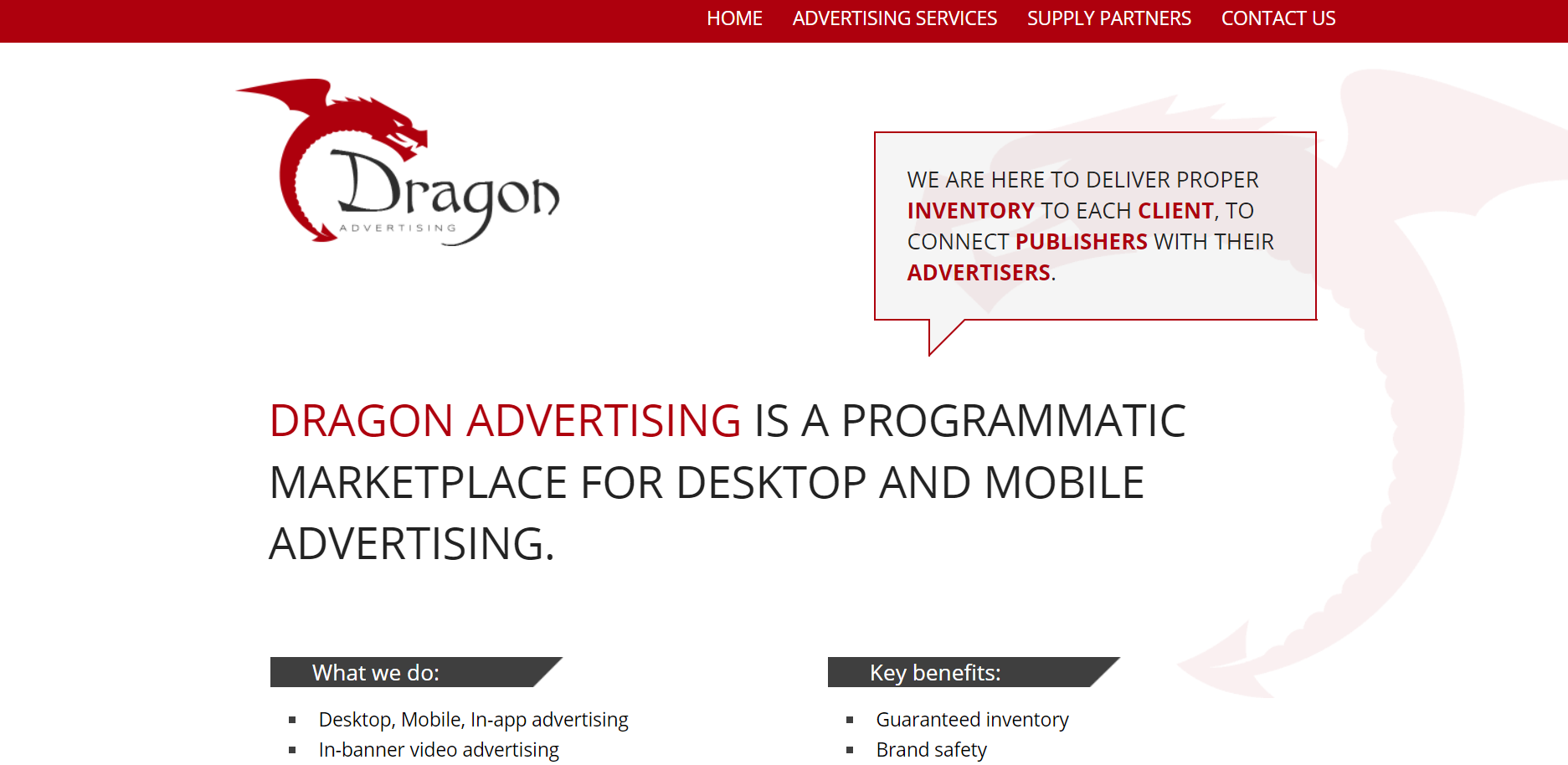 This decentralized approach sets it apart, as it prioritizes privacy and does not engage in data harvesting or mass surveillance. Instead, it empowers publishers and advertisers to create their ideal advertising scenarios.
Through an online marketplace, publishers can offer various advertising services such as sponsored posts, press releases, and banner ads, with the freedom to set their own prices.
Advertisers can then browse the marketplace to find the most suitable opportunities that align with their needs. Moreover, advertisers can customize the promotion of their crypto-related projects on the publisher's website, ensuring a tailored approach to their marketing campaigns.
Ad Dragon Pros and Cons
Ad Dragon Pros
Innovative approach to crypto advertising.

A transparent system reduces fraud risks.

Abundant options to fit various advertising budgets.

Privacy-focused ads and censorship-free networks.

Utilizes blockchain technology encryption for enhanced security.

Provides monitoring tools to measure campaign performance.

Incorporates modern advertising techniques like podcasts and influencer marketing.
Ad Dragon Cons
The lack of a strict vetting policy for publishers requires due diligence from advertisers.

Being a relatively new ad network, it may not have the same established reputation as some competitors.
DOT is a premier crypto ad network based in the UK, providing direct access to over 150 esteemed blockchain and crypto news websites.
Advertisers can tap into a niche audience keen on NFTs, DeFi, DAOs, and other blockchain technologies, even gaining exposure through popular crypto podcasts.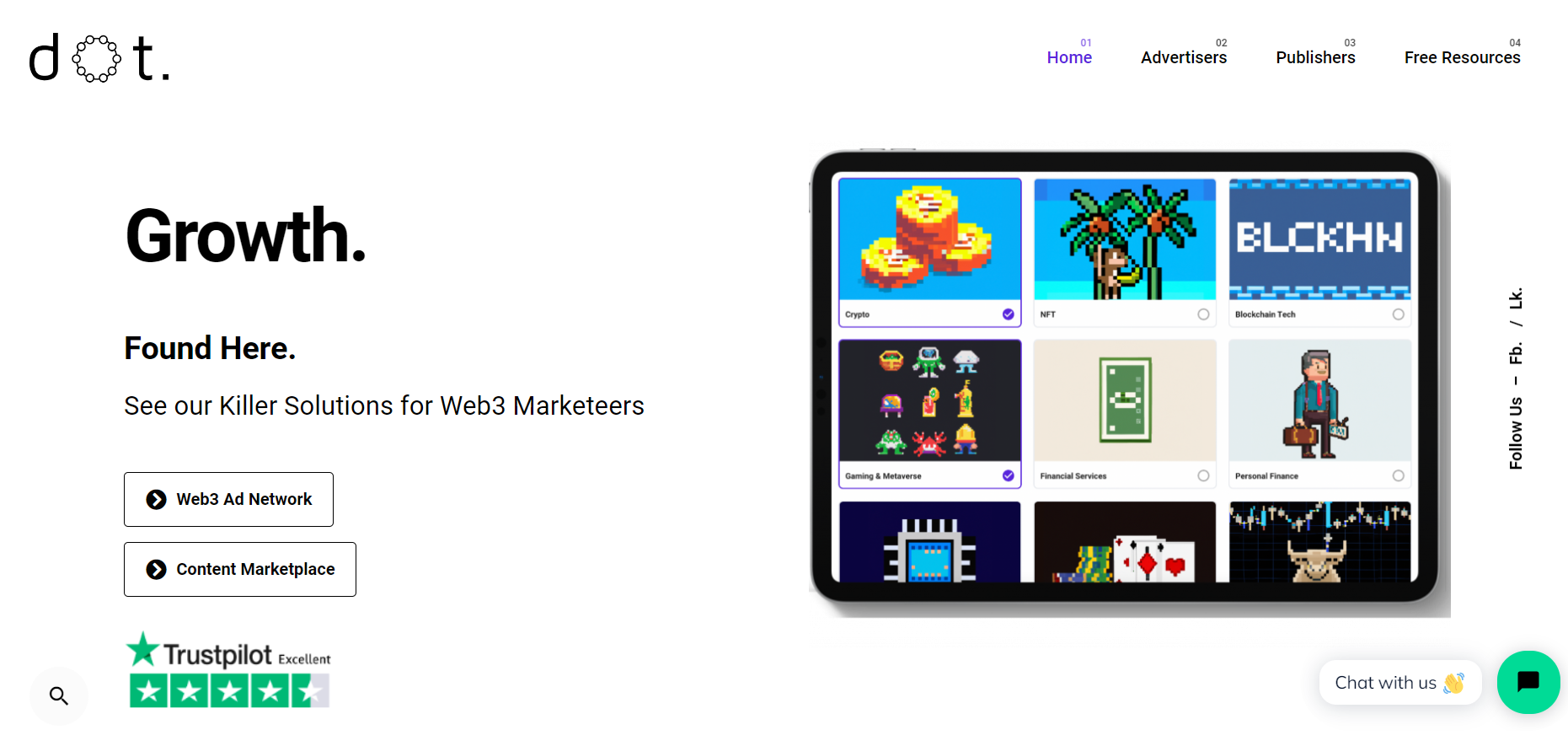 The network prioritizes results, ensuring conversions through targeted campaigns employing contextual and geo-targeting strategies.
Advertisers can enhance transparency by incorporating tracking links into their campaigns, offering comprehensive insights into their metrics.
DOT Pros and Cons
DOT Pros
Broad audience reaches premium crypto, gaming, DeFi, and Web3 publishers.

Transparent metrics for better campaign analysis.

Dedicated campaign management for optimal results.

Access to high-quality audiences through renowned partners.

One-click audience profiling for efficient targeting.

Comprehensive DOT Analytics Dashboard.

Monthly rolling plans with flexibility.
DOT Cons
Limited site acceptance, restricted to crypto, gaming, finance, and blockchain niches.

A higher starting budget of $999 may not suit smaller advertisers.
Adshares stands out as a unique crypto ad network that operates differently from traditional platforms like Google AdSense.
Rather than relying on intermediaries, it functions as a decentralized system connecting advertisers and publishers directly, allowing them to negotiate deals without any middlemen.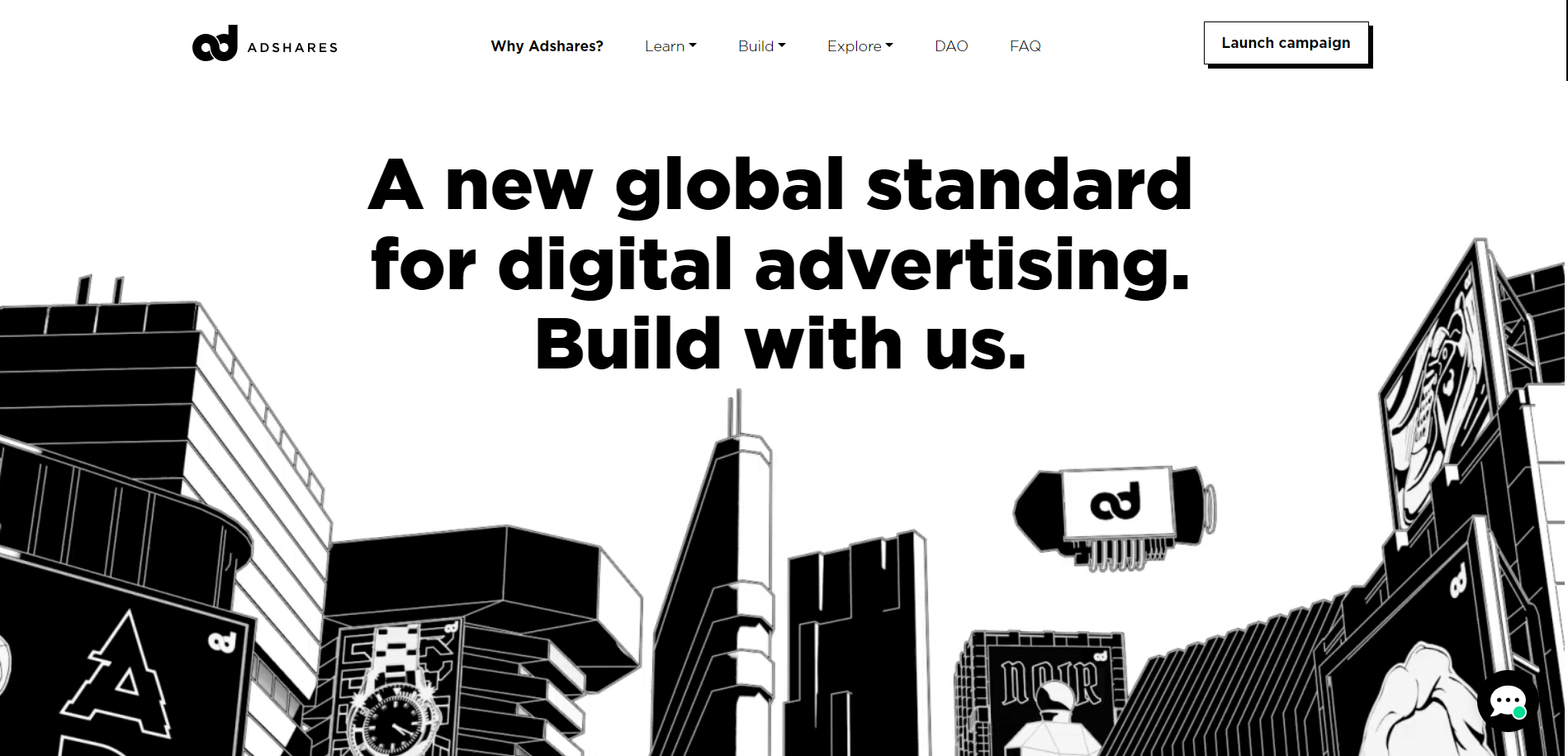 This approach enables advertisers to access programmatic ads across various digital spaces, including the metaverse, games, AR/VR, mobile apps, and websites while offering publishers the opportunity to monetize any digital real estate.
The platform boasts an open-source SDK, facilitating seamless integration with the blockchain ecosystem and ensuring transparency throughout ad campaigns.
This transparency plays a crucial role in eliminating bad actors that have plagued the ad industry.
With low fees attributed to its open ecosystem and decentralized ad servers, Adshares enables instant payments from advertisers to publishers, promoting a censorship-free environment and implementing Real-Time Settlement rather than traditional bidding systems.
Adshares Pros and Cons
Adshares Pros
Direct transactions between publishers and advertisers.

Enhanced fraud protection through transparency features.

Accessible for small advertisers with limited budgets.

Low fees within the open ecosystem.

Decentralized ad servers.

Instant payments from advertisers to publishers.

Censorship-free environment.
Adshares Cons
Individual transactions with publishers might be time-consuming.

Additional information on targeting options would be beneficial.
CoinAd operates as a stringent crypto ad network, exclusively accepting publishers on an invite-only basis. With a discerning eye, the network selects top-tier crypto websites, offering them an opportunity they can't resist.
By catering to trusted crypto websites with at least 100,000 daily page impressions, CoinAd empowers them to earn competitively from their expertise. This approach ensures advertisers receive highly relevant traffic, maximizing the impact of their ads.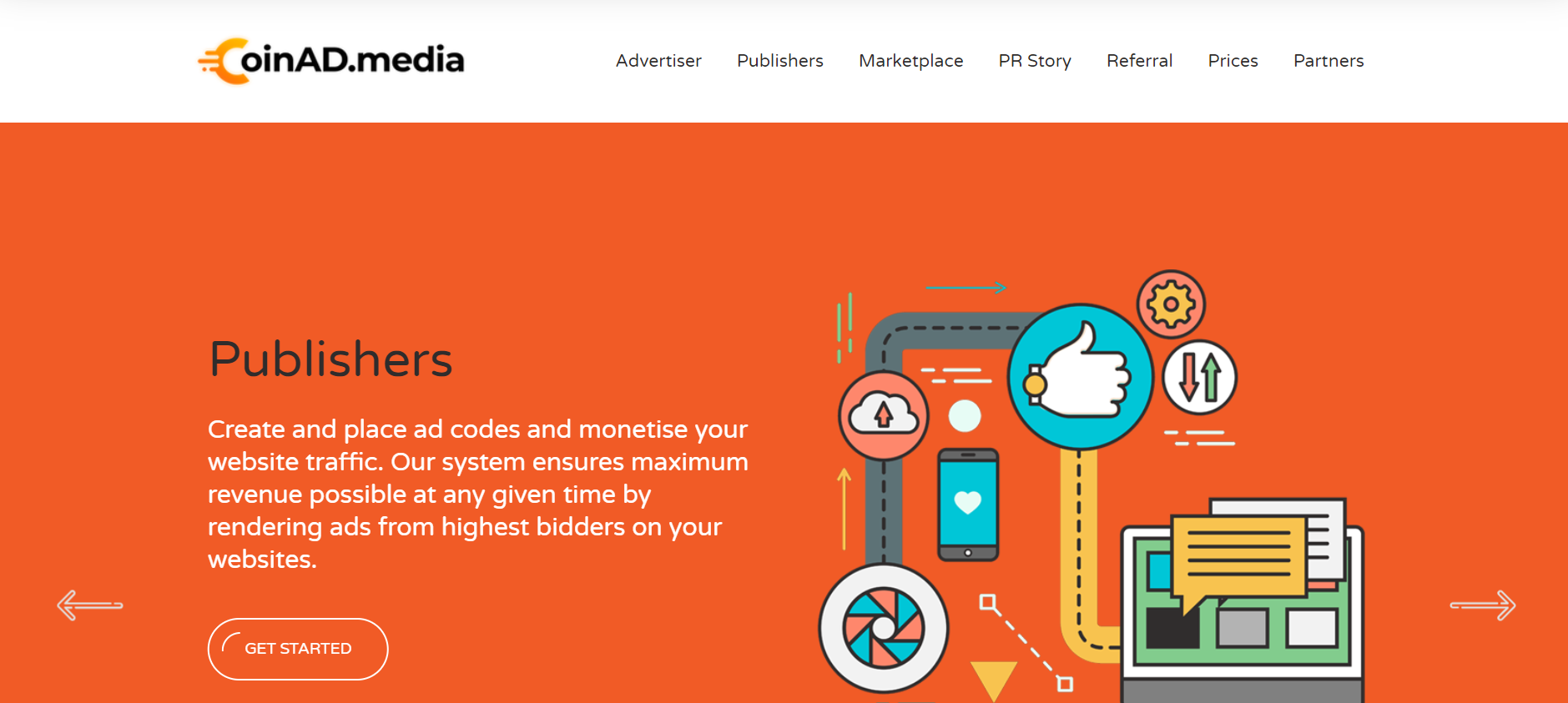 Unlike traditional ad networks, CoinAd refrains from auctioning advertising bids, providing all advertisers with equal exposure opportunities for their banners throughout the day.
The platform also features a marketplace, enabling advertisers to handpick the most suitable banner and news distribution packages to meet their specific requirements.
CoinAd Pros and Cons
CoinAd Pros
Reliable ROI with high-quality publishers.

Affordable ad campaigns start at $100.

Various ad formats are available.

Self-service and customizable ads.

Offers CPC and CPM, ad models.

Includes PR story distribution.

Minimum daily budget as low as $5.
CoinAd Cons
A limited selection of publishers due to an invite-only policy.

Additional targeting options would be beneficial.
Coin.Network elevates crypto campaigns with its meticulously curated partner sites, generating over 1 billion monthly impressions from an engaged user base of more than 50 million individuals.
As a subsidiary of BuySellAds, a prominent context-focused advertising platform that prioritizes privacy, Coin.Network ensures a secure and relevant advertising environment.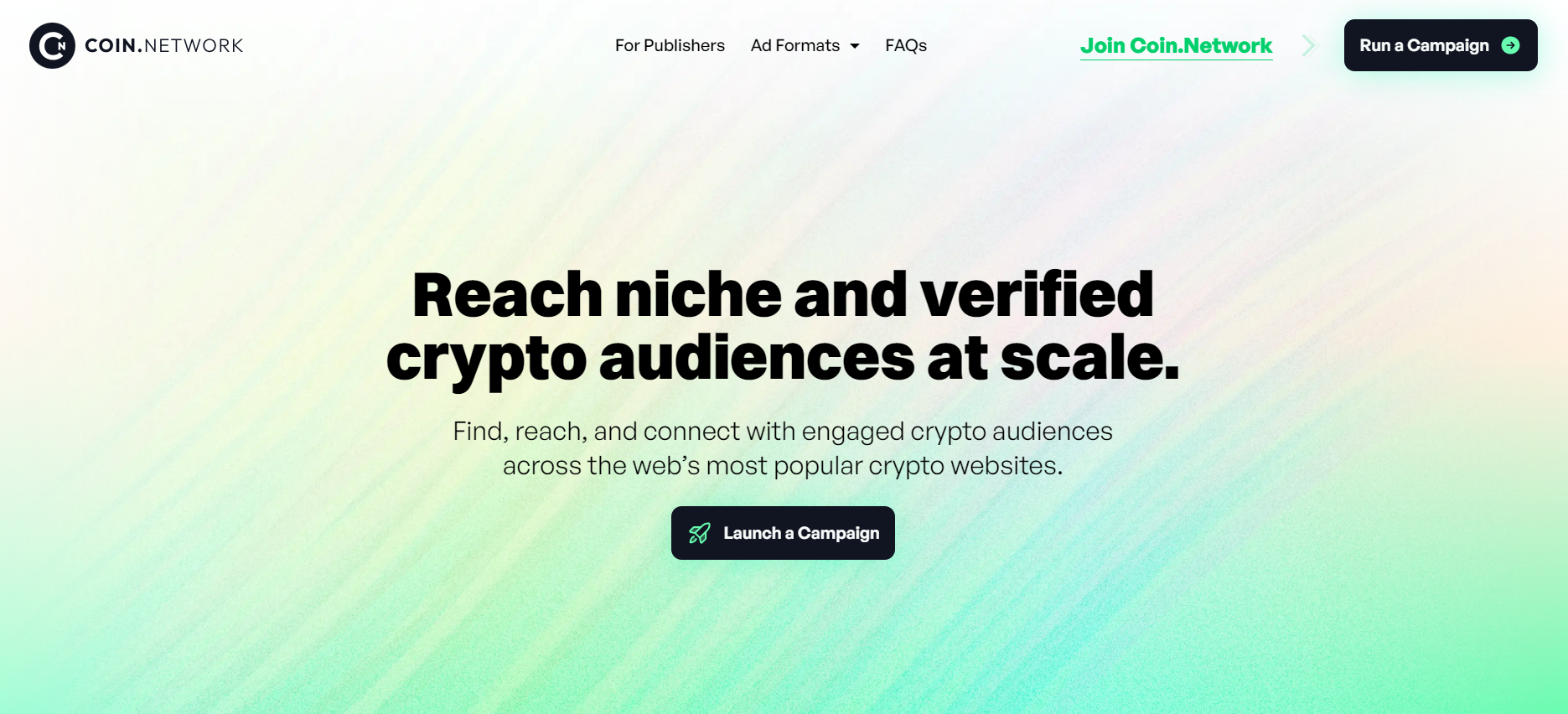 The platform offers diverse ad formats, granting advertisers the freedom to create Display and Native Ads. Additionally, Coin.Network provides the expertise of its performance marketing specialists who optimize campaigns to target the most suitable audiences.
With features like a full-stack management suite, geo, interest, and industry targeting, and the ability to display ads exclusively on top-tier crypto sites, advertisers can tailor their campaigns precisely.
Coin.Network Pros and Cons
Coin.Network Pros
Backed by a leading CPM and CPC advertising company.

High-quality, handpicked publishers.

Impressive monthly traffic and impressions.

Emphasis on non-disruptive ads.

Comprehensive targeting options.

Accepts fiat and various cryptocurrencies.

Ensures privacy-focused platform.
Coin.Network Cons
Self-serve campaigns require a high minimum budget ($5,000).

A limited selection of crypto websites for placement.
Bitmedia, a London-based crypto ad network, boasts a massive reach, engaging over 20 million global audiences each month and generating more than 1 billion impressions for advertisers.
Their utilization of AI ensures that users are presented with relevant ads while continuously improving the ad-serving algorithm through insights into user behavior.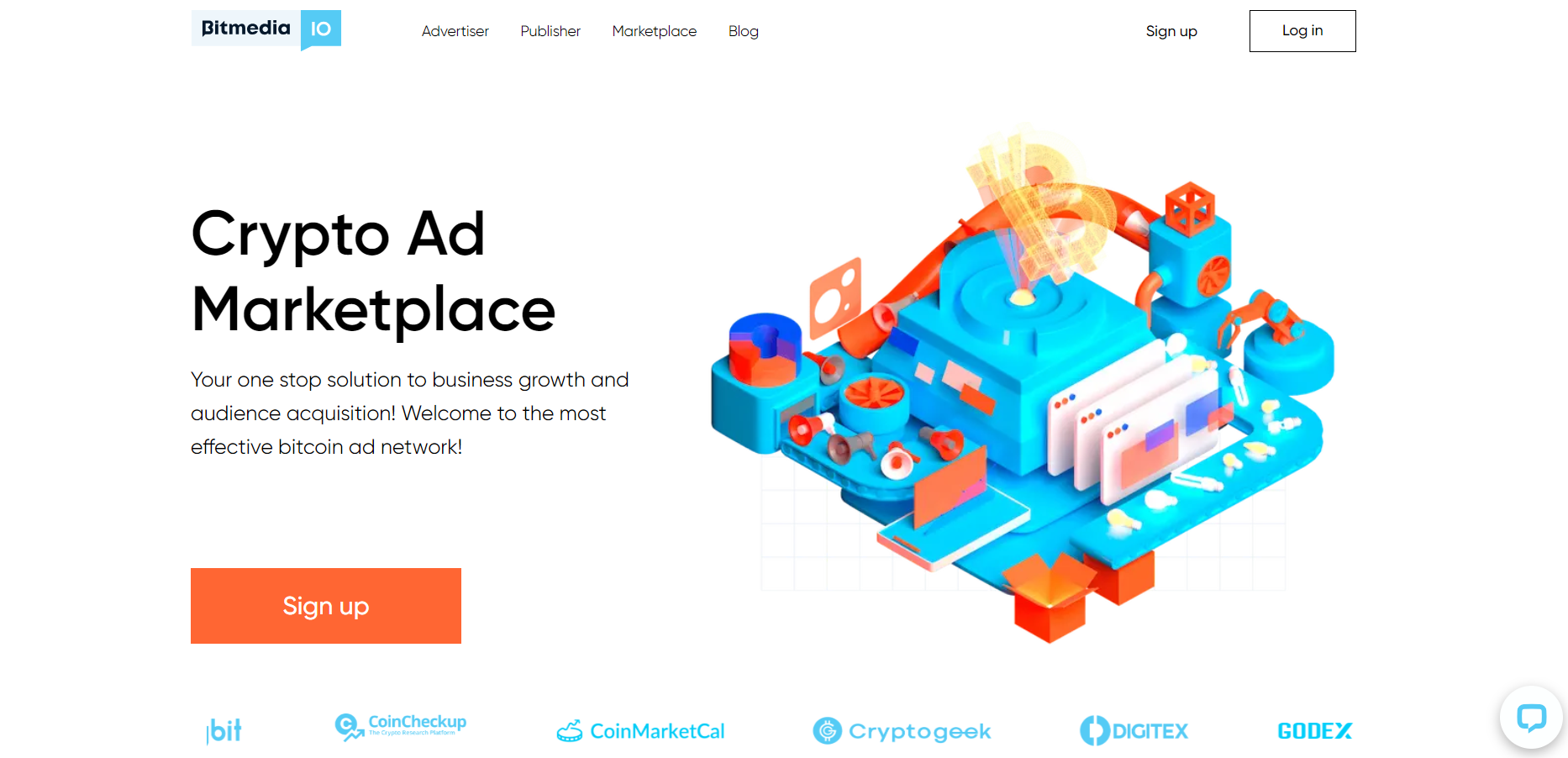 The platform offers a plethora of ad types, including rich media, HTML5, and display ads, providing crypto advertisers with a diverse range of options.
Both advertisers and publishers undergo careful screening to ensure the utmost quality. Bitmedia supports a price floor feature, allowing publishers to select only high-paying ads relevant to their audience. Advertisers should consider this when bidding, especially if they aim to attract high-volume websites.
Bitmedia Pros and Cons
Bitmedia Pros
An extensive network of top-tier crypto-related websites.

The abundance of ad types for advertisers to choose from.

Competitive payouts attract high-quality publishers.

Robust verification and security measures combat fraud, bots, and paid traffic.

Strong geotargeting, with significant traffic from the US, Canada, and Europe.

Offers various targeting options (geo, device, timing, frequency).

Dedicated round-the-clock support team.
Bitmedia Cons
Limited payment options—Bitcoin and fiat only.

No minimum deposit, but a minimum bid exists (0.0000205 BTC).
A-Ads (Anonymous Ads), a trailblazer in the crypto advertising industry since 2011, operates with a strong emphasis on privacy. Their user-friendly advertising platform stands out as it does not require any personal data from users.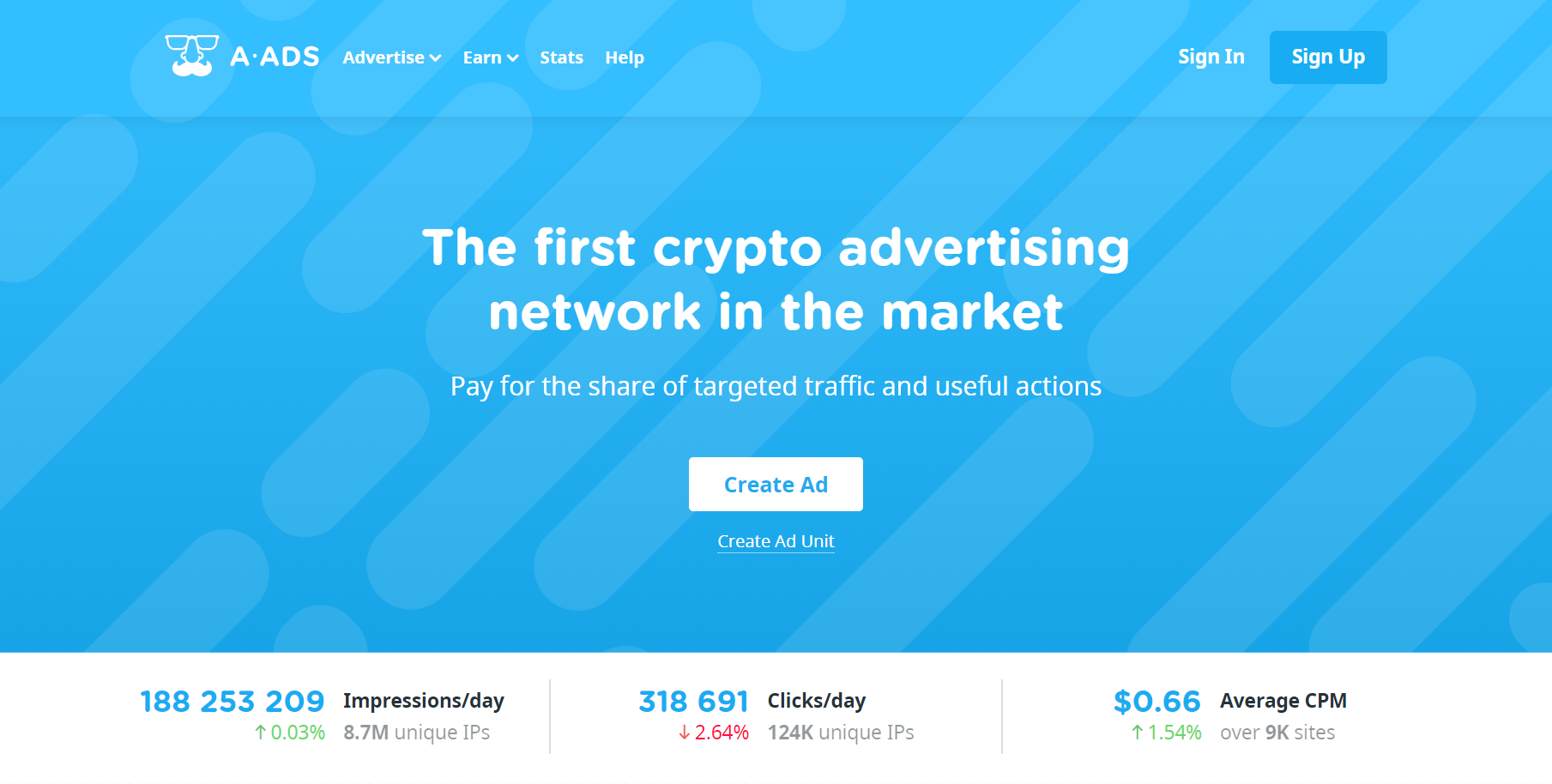 The network prides itself on safeguarding user privacy while providing real-time transparent statistics accessible on its website.
The platform offers publishers to block irrelevant advertisers, allowing advertisers to avoid unwanted websites and manual moderation. A-Ads welcomes ads from diverse industries, including gambling and NSFW, assigning each advertiser a distinctive tag for easy identification.
A-Ads Pros and Cons
A-Ads Pros
Multiple advertising models are available (CPD, CPA, CPM).

Quick and easy campaign setup.

Allows working on a daily budget to maximize ad spending.

Accepts various cryptocurrencies as payments.

Offers targeted ads based on site categories, GEOs, and quality range.

Transparent statistics and privacy protection.
A-Ads Cons
The potential risk of ads appearing on low-quality websites.

Premium Crypto Package may be expensive for some advertisers.
Cointraffic, established seven years ago, arose as a solution to the challenges faced by advertisers in connecting with reputable niche websites.
Previously, advertisers resorted to personal outreach to connect with publishers, leading to unqualified traffic and wasted ad budgets due to the absence of geo or device targeting.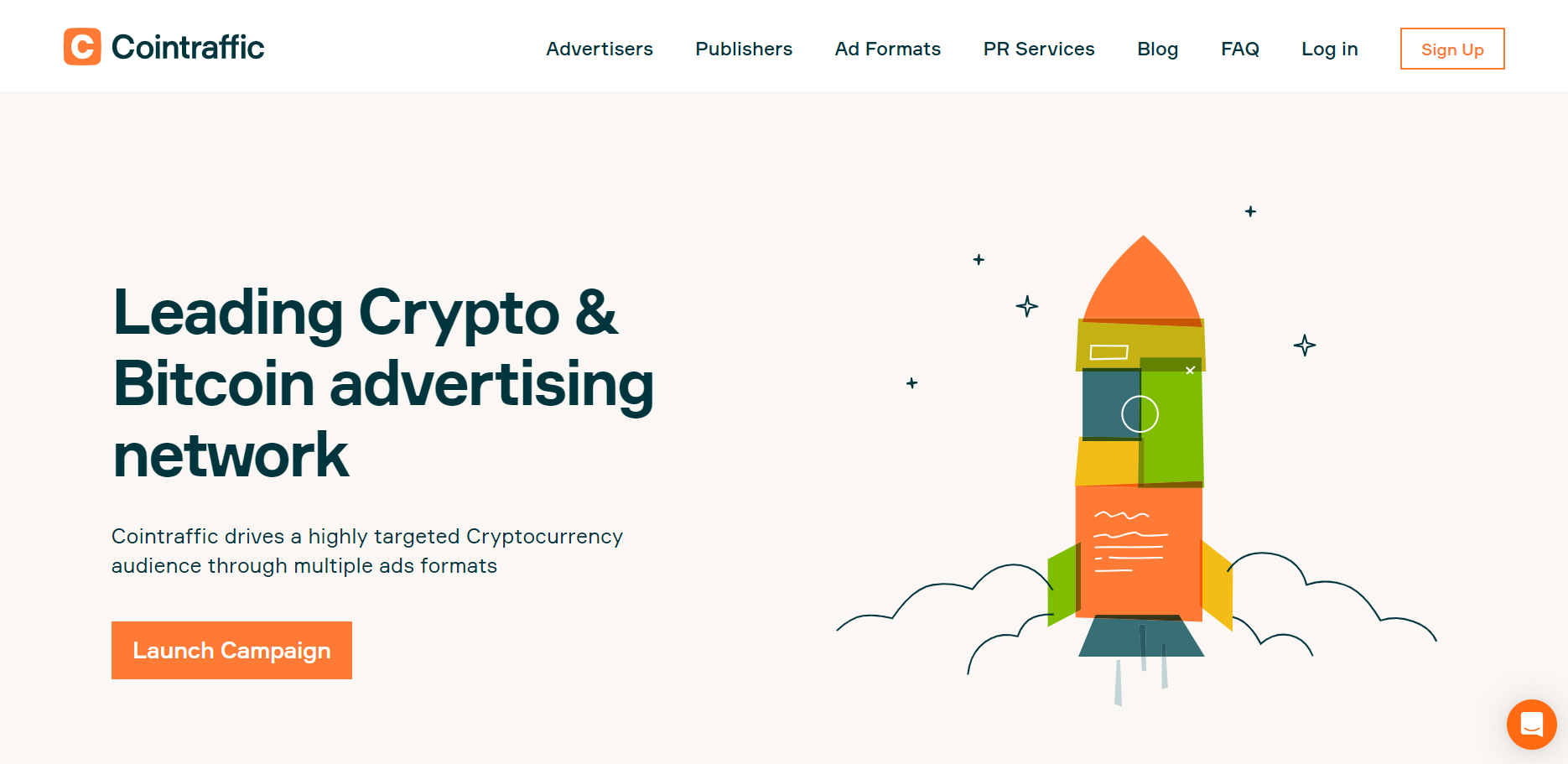 Recognizing the increasing demand for crypto ad networks, the founders of Cointraffic seized the opportunity to bridge this gap.
The platform's sign-up process is quick and straightforward, offering a self-service option for advertisers to set up campaigns within minutes. To ensure quality, publishers undergo vetting, with low-quality traffic sites being rejected.
This assurance allows advertisers' ads to exclusively appear on reputable websites, effectively reaching their target audience.
Cointraffic Pros and Cons
Cointraffic Pros
Rapid campaign activation, going live within minutes.

Variety of available banner sizes for flexible advertising.

Access to a vast volume of traffic.

Supports both fiat and cryptocurrency payments.

Offers a selective pool of high-quality publishers.

Provides geo and device targeting.

Wide range of ad formats available.
Cons:
Weak geo-restriction may lead to unqualified leads.

Limited to CPM plan, with additional CPM floor setting as an add-on service.
Coinzilla boasts an impressive reach, amassing 1 billion monthly impressions from more than 650 crypto websites across the globe. The platform embraces a wide array of traffic sources, accepting publishers that meet their basic requirements.
Advertisers benefit from seamless campaign customization with geo-targeting options and access to tracking and optimization tools to monitor and improve ad performance.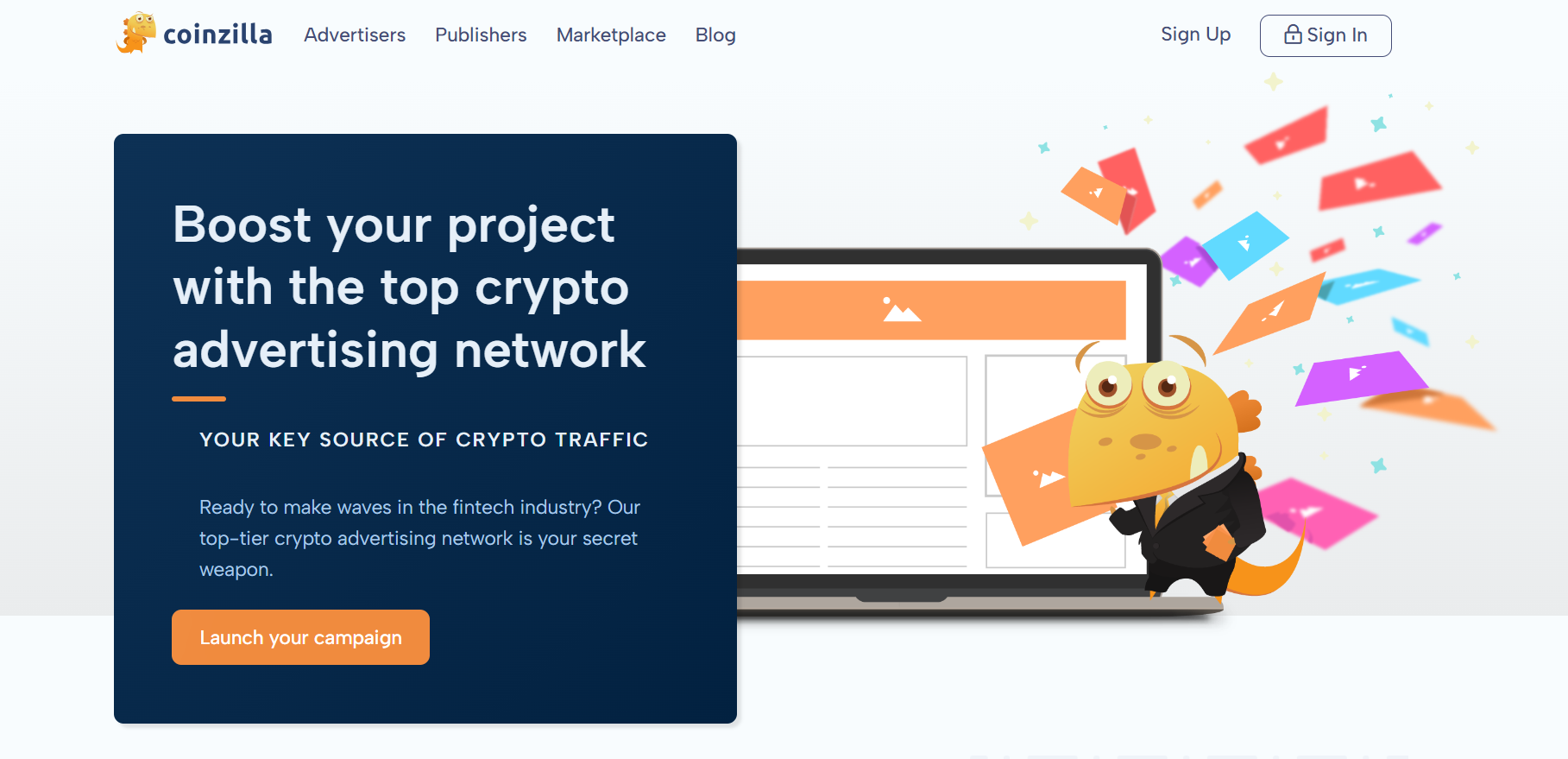 Coinzilla's features include fast setup within minutes, various ad formats in different sizes, self-serve campaign capabilities, adjustable budgets that accommodate advertisers starting with small investments, and support for HTML5 banners.
The platform is flexible in payment options, accepting both cryptocurrency and fiat payments while providing dedicated account managers for personalized assistance. The minimum budget requirement stands at 100 EUR.
Coinzilla Pros and Cons
Coinzilla Pros
Quick and efficient campaign setup with customization.

Multiple payment options, including SEPA bank transfer and crypto deposits.

Proven track record with the successful delivery of over 16,000 campaigns.

Access to diverse and abundant traffic sources.

Offers a variety of ad formats in various sizes.

Self-serve campaigns for easy management.

Dedicated account manager for personalized support.
Coinzilla Cons
Limited advertising model, restricted to CPM only.

Additional targeting options would be beneficial.
Quick Links:
Conclusion: Best Crypto Ad Networks 2023
The year 2023 marks a significant turning point for the crypto advertising industry, as the top 10 crypto ad networks have cemented their positions as vital players in this burgeoning field.
From innovative decentralized platforms to networks with vast global reach, each ad network showcased in this article offers unique advantages and solutions to meet the diverse needs of advertisers and publishers alike.
As the crypto market continues to expand, these ad networks will play a crucial role in promoting projects, products, and services within the cryptocurrency ecosystem.
In this fast-paced and dynamic landscape, staying ahead in the crypto advertising game requires choosing the right platform that aligns with specific goals and caters to the target audience.
As more businesses recognize the potential of the crypto space, the competition for attention intensifies.
By leveraging the power of these top-notch crypto ad networks, advertisers can harness the reach and engagement of millions of crypto enthusiasts while publishers can monetize their content effectively.
As we venture further into the future, these ad networks will continue to evolve, making crypto advertising a cornerstone of marketing strategies across the globe.