The world of online dating is massive, and it's offering a plethora of exciting dating affiliate programs to explore
And you know what's even more interesting? Dating falls under the "big three" of affiliate marketing – health, wealth, and love – which makes it incredibly promising!
Just imagine, the dating industry is worth a staggering US$2.5 billion per year in the region! It's no surprise when you consider that around 50% of all young people are single and searching for that special someone.
As an affiliate marketer, this presents a fantastic opportunity to tap into a lucrative market by leveraging content publishing and partnering with various high-paying dating affiliate programs.
Of course, it's essential to acknowledge that the dating niche is highly competitive. But fear not! There are clever ways to navigate around this fierce competition and carve out your own success story.
With the best dating affiliate programs, I am thrilled to explore this world of love, connections, and endless possibilities.
So, let's explore this exciting realm together and discover the secrets to thriving in this thriving market! Are you ready to spread the love and earn some fantastic affiliate commissions?
 Let's show the world that love isn't just a four-letter word, but a five-letter word…PROFIT!
10 Best Dating Affiliate Programs in 2023
Have a close look at the biggest dating affiliate networks listed below.
Commission rate: 30% per sale or $10/lead
Cookie duration: 45 days
eHarmony – the name rings a bell even for those who haven't tried online dating! It's incredible how they've been around since 1997, making them one of the oldest and most established dating websites on the internet.
What sets eHarmony apart is its clever algorithm, driven by a 29-step personality test, which boasts a high success rate in matching people.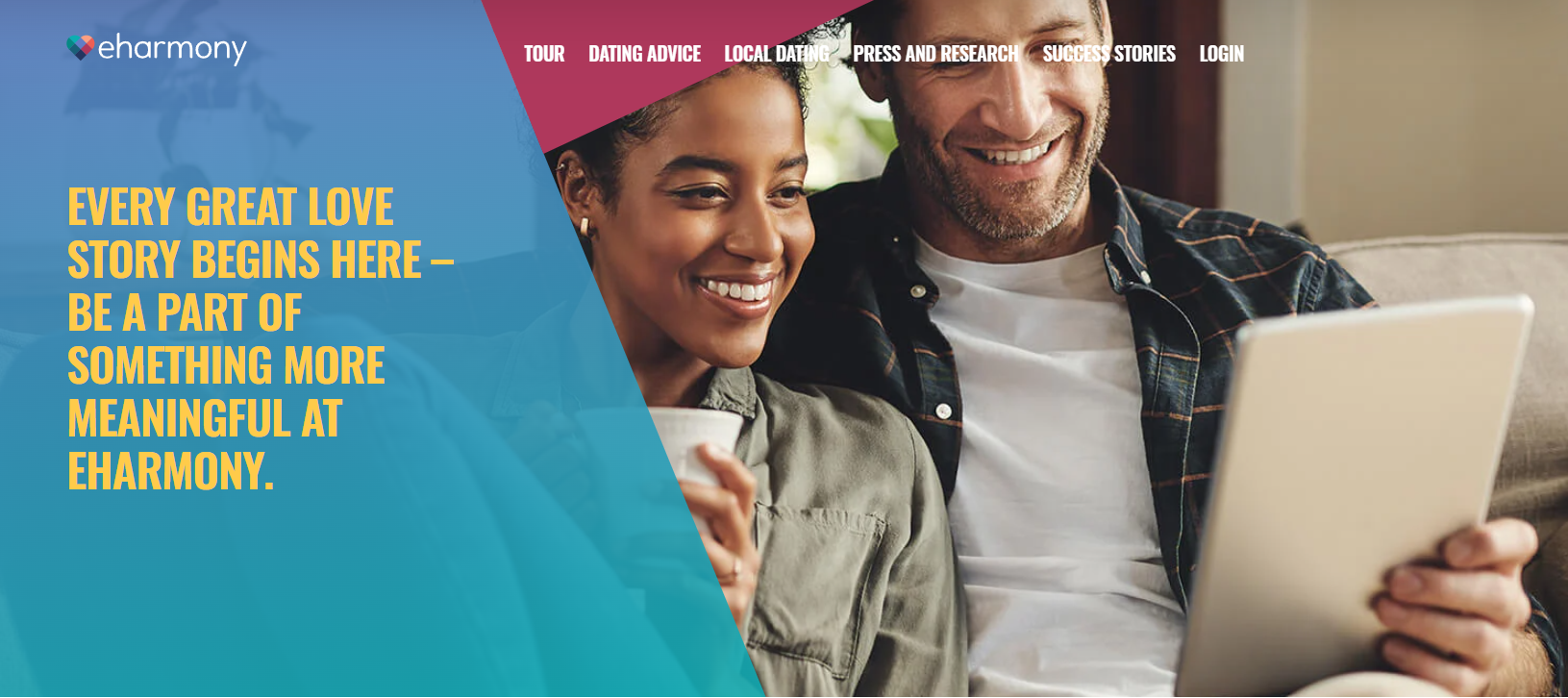 They've been responsible for connecting around 2 million people in love so far, creating new happy couples every 14 minutes! Now, that's an impressive track record.
So, let's talk about their affiliate program, which I find really enticing. When you join, you get paid $10 for every successfully completed relationship questionnaire or a generous 30% commission for a completed membership referral. That's pretty awesome, right?
Another cool thing is that eHarmony's affiliate program stands out as one of the best in the business, backed by solid metrics, on the Commission Junction platform.
As someone exploring the world of dating affiliates, eHarmony presents a compelling opportunity to be a part of a reputable brand with a proven success record. With their innovative approach to matchmaking, it's no wonder they've made so many happy connections!
Commission rate:  50%
Cookie duration: 120 days
Match.com is a dating site from the good ol' days that I once used myself. What stood out for me was the top-notch interface and the absence of any dating site crazies you might encounter on free platforms.
With Match.com, I found a better selection of potential matches that truly appealed to me. And it seems I wasn't the only one feeling this way, as they boast a massive 9 million members!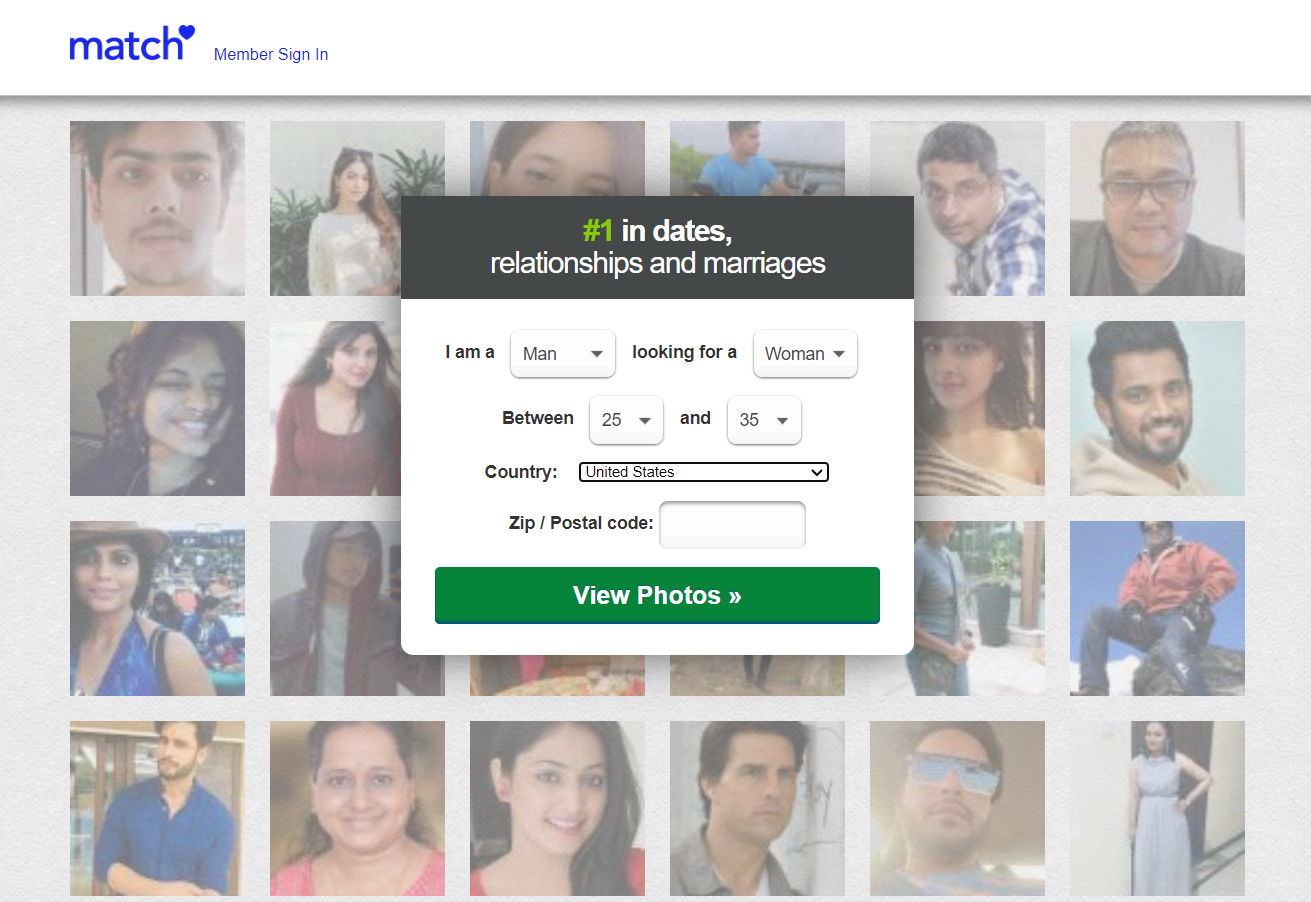 Their longevity is impressive too, having been in the online dating scene since 1993, which means they've had 24 years to perfect their platform.
Now, their EPC (Earnings Per Click) might not be mind-blowing, but what's more important is their high 'Network Earnings' score. This indicates that their affiliates are indeed making money, and that's what matters!
I was fascinated to discover that their top affiliates are banking a hefty $10,000 in affiliate commissions per month.
Can you believe that? But wait, it gets even better – I know some affiliates in this niche who have managed to double that amount! It's definitely not impossible to make it big in this arena.
So, if you're considering diving into the dating affiliate world, Match.com could be a great choice.
With their solid reputation, extensive member base, and successful affiliates raking in substantial earnings, it's a promising opportunity to find your perfect match in the affiliate marketing game! Let's make some serious money together!
Commission rate: $7 per lead
Cookie duration: 45 days
Elite Singles is all about bringing like-minded professionals together, and I must say, their approach makes perfect sense.
After all, having some common ground is essential for building a successful relationship, right? Other dating sites often overlook this crucial factor, but Elite Singles focuses on matching people with similar economic and educational backgrounds.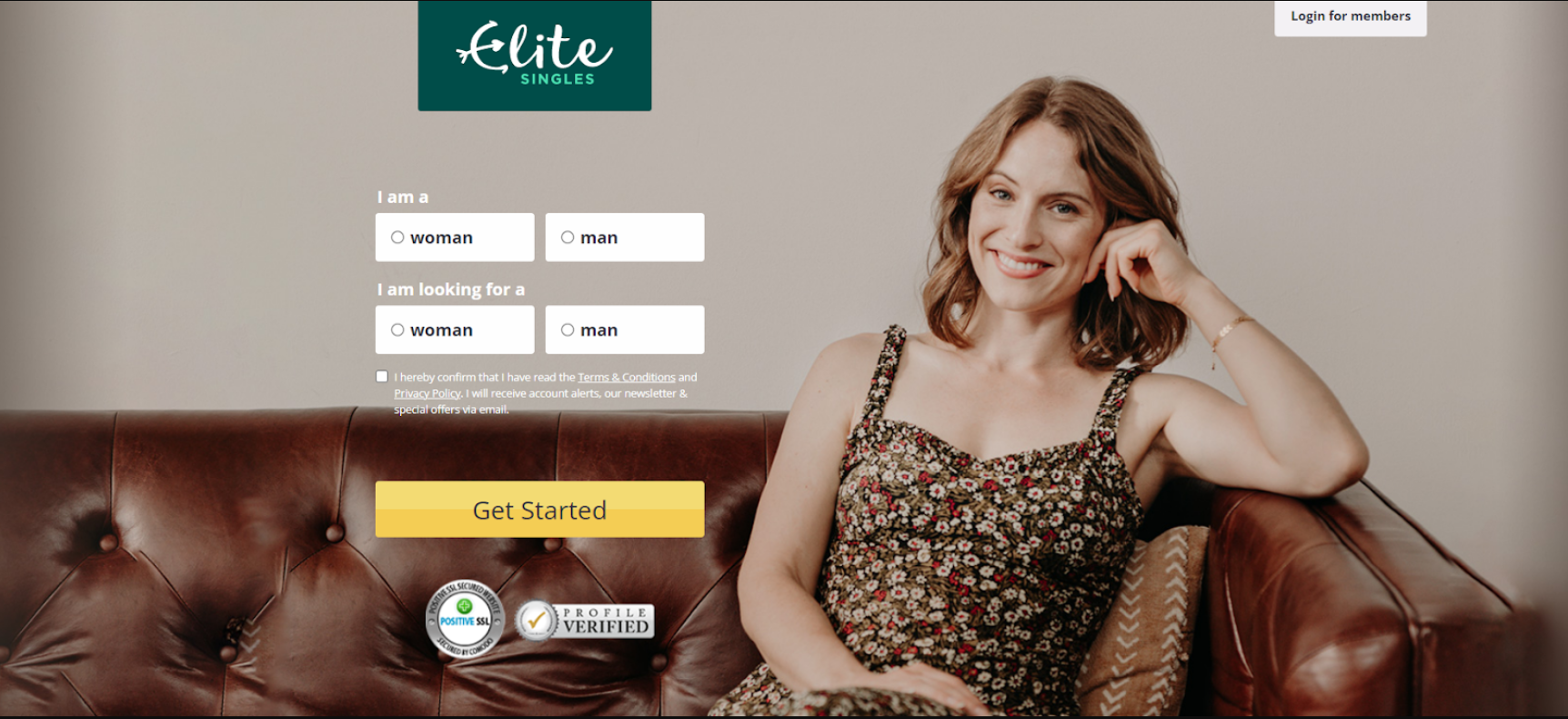 Now, some may see this as snobbery, but hey, it works! Their business model has proven to be successful, and that's what matters in the end.
The best part about their dating affiliate program is its simplicity.
You earn a cool $7 for every lead you send their way, but there's a catch – your referral needs to complete the site's personality test and meet their minimum requirements for new members. But hey, that's a small price to pay for potential long-term love, right?
One thing I've noticed is that dating sites aimed at professionals like Elite Singles are considered sub-niches. And guess what? Sub-niches like this one have very little competition. So, as an affiliate, you have a golden opportunity to stand out in a less crowded market.
Commission rate: $7 per signup
Cookie duration: 30 days
Silver Singles is a dating site that caters exclusively to singles aged 50 and above. It's a smart move considering the increasing number of older individuals in our population.
By 2050, it's predicted that 22% of the US population will be aged 65 or over, making this market even more promising.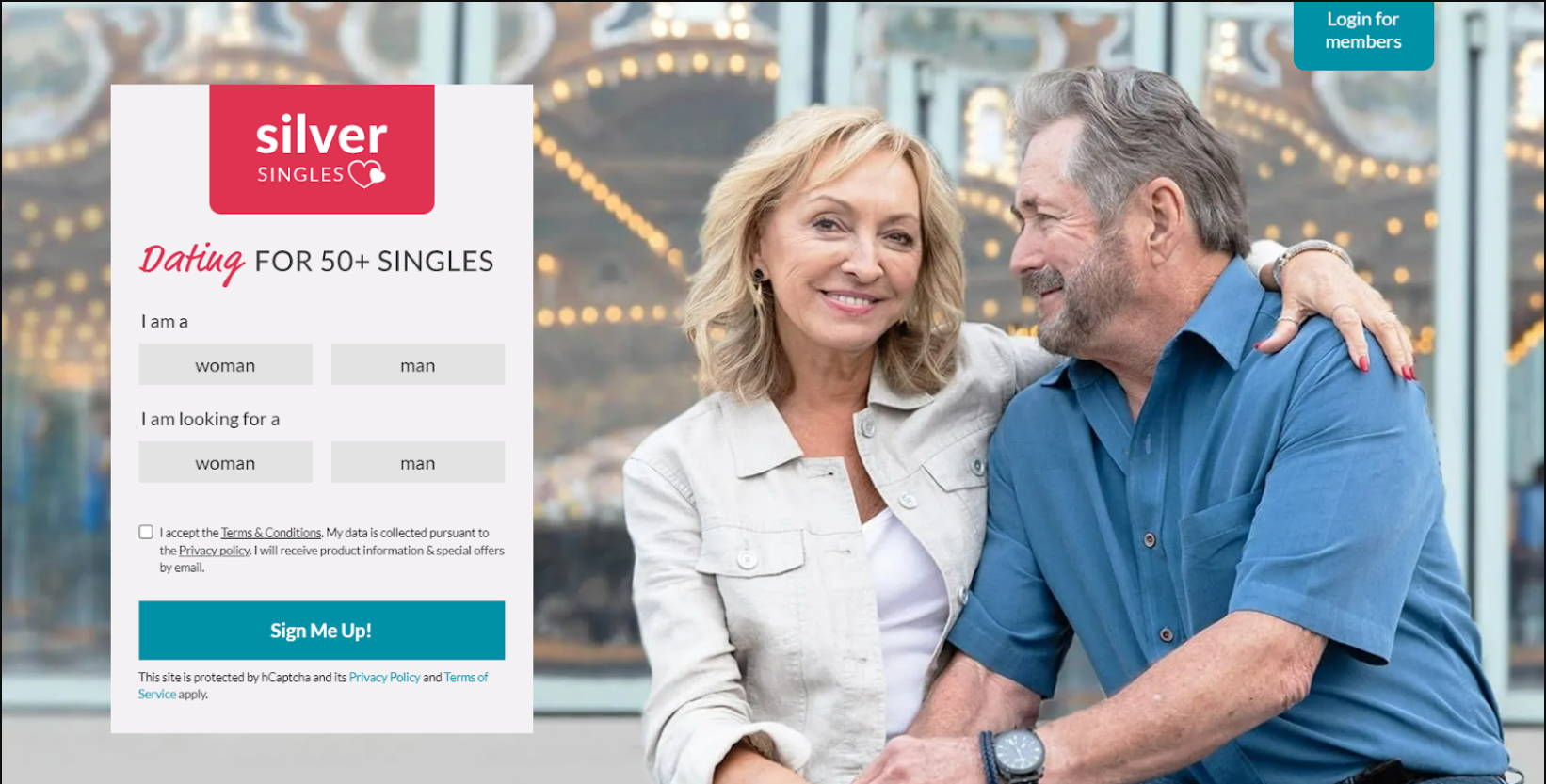 When you sign up for Silver Singles, you start your journey with a personality test. The site uses your test results to match you with compatible singles, presenting you with up to seven matches each day until you find that special someone.
As one of the leading dating services in its niche, Silver Singles offers various benefits to its affiliate partners.
They provide high-converting advertising materials, have a strong brand presence both online and on TV, and run top affiliate actions throughout the year to boost your chances of success.
However, it's essential to note that the terms of their dating affiliate program may not be the most attractive compared to others.
They offer a commission of $7 per signup, which means you'll need to drive a substantial amount of traffic and registrations to make this program work for you.
While the commission might not be as high as some other dating affiliate programs, the sheer size of the senior dating market and the potential for success with an aging population make Silver Singles an option worth considering if you're targeting the 50+ age group.
So, if you're up for the challenge and believe in the power of love in the golden years, why not give Silver Singles a try and see where the journey takes you? 
Commission rate: 40% per sale
Cookie duration: 120 days
Christian Cafe is a dating site that caters to Christian individuals, and with almost 2.4 billion followers worldwide, Christianity is indeed one of the world's largest religions. With such a vast audience, there's a significant market to tap into.
In the United States alone, 50% of the population identifies as born-again Christians, which presents a substantial opportunity for affiliate marketers to earn money through Christian Cafe's affiliate program.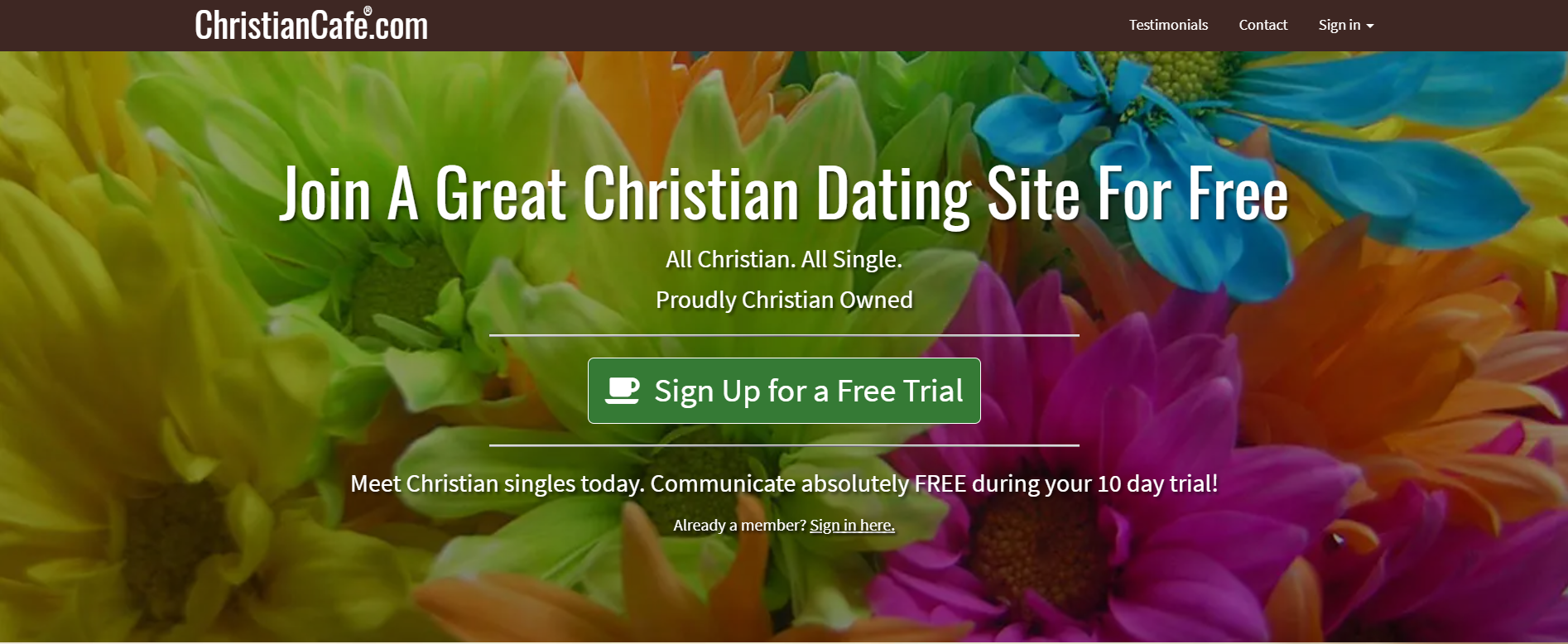 The site's track record is impressive, boasting more than 25,000 successful marriages facilitated through its platform. This success is a testament to its ability to connect like-minded Christians seeking meaningful relationships.
As an affiliate, Christian Cafe offers great earning potential with a commission rate of 40% per sale. What's even more appealing is the 120-day cookie window, one of the longest among dating affiliate programs.
This means that if a visitor clicks on your affiliate link and makes a purchase within 120 days, you'll still receive the commission.
The combination of a large Christian audience, a successful track record, and a generous commission and cookie window makes Christian Cafe's affiliate program an excellent opportunity for affiliate marketers looking to tap into the Christian dating niche.
If you're passionate about connecting Christian singles and helping them find love and meaningful relationships, then Christian Cafe might just be the perfect platform for you to earn a passive income while spreading love and faith.
Commission rate: $2 per lead
Cookie duration: 30 days
A leading online dating site for Christian singles, Christian Mingle caters to Christian singles in North America and around the world.
With over 2.18 billion Christians worldwide and millions converting to Christianity each year, this faith-based dating platform has a vast potential audience.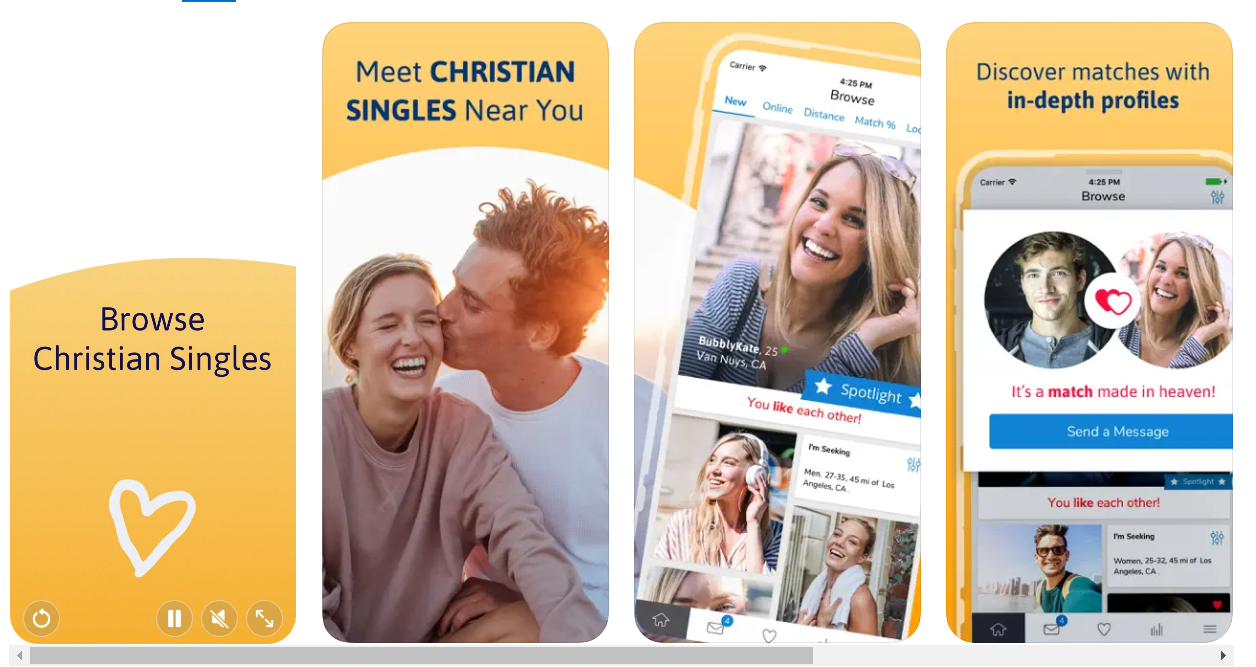 The unique aspect of the Christian faith is its emphasis on finding a lifelong partner and building a meaningful relationship centered on shared beliefs and values.
This makes Christian singles more inclined to invest in online dating sites that align with their spiritual journey and help them find like-minded partners.
Although it pays a lower commission rate of $2 per lead, Christian Mingle is one of the best Christian dating affiliate programs. The reason behind its success lies in the sheer size of the potential audience.
With hundreds of millions of Christian singles worldwide, there's an enormous market to promote this dating site to.
While the commission per lead may seem small, the high EPC (Earnings Per Click) indicates that a significant number of affiliates are earning a regular income from this program.
The success of Christian Mingle as a dating affiliate program is a testament to the power of targeting a specific niche and catering to a dedicated audience.
Affiliate marketers who can tap into the vast Christian singles market and effectively promote Christian Mingle have the potential to achieve substantial earnings.
So, if you're passionate about connecting Christian singles and helping them find love and lasting relationships, Christian Mingle's affiliate program could be the perfect match for you.
Commission rate: 50%
Cookie duration: 120 days
OurTime is a dating site that caters to a more mature dating audience, often referred to as "senior dating."
Contrary to the misconception that dating is limited to younger individuals, OurTime recognizes the growing number of single fiftysomethings who are seeking meaningful connections and companionship.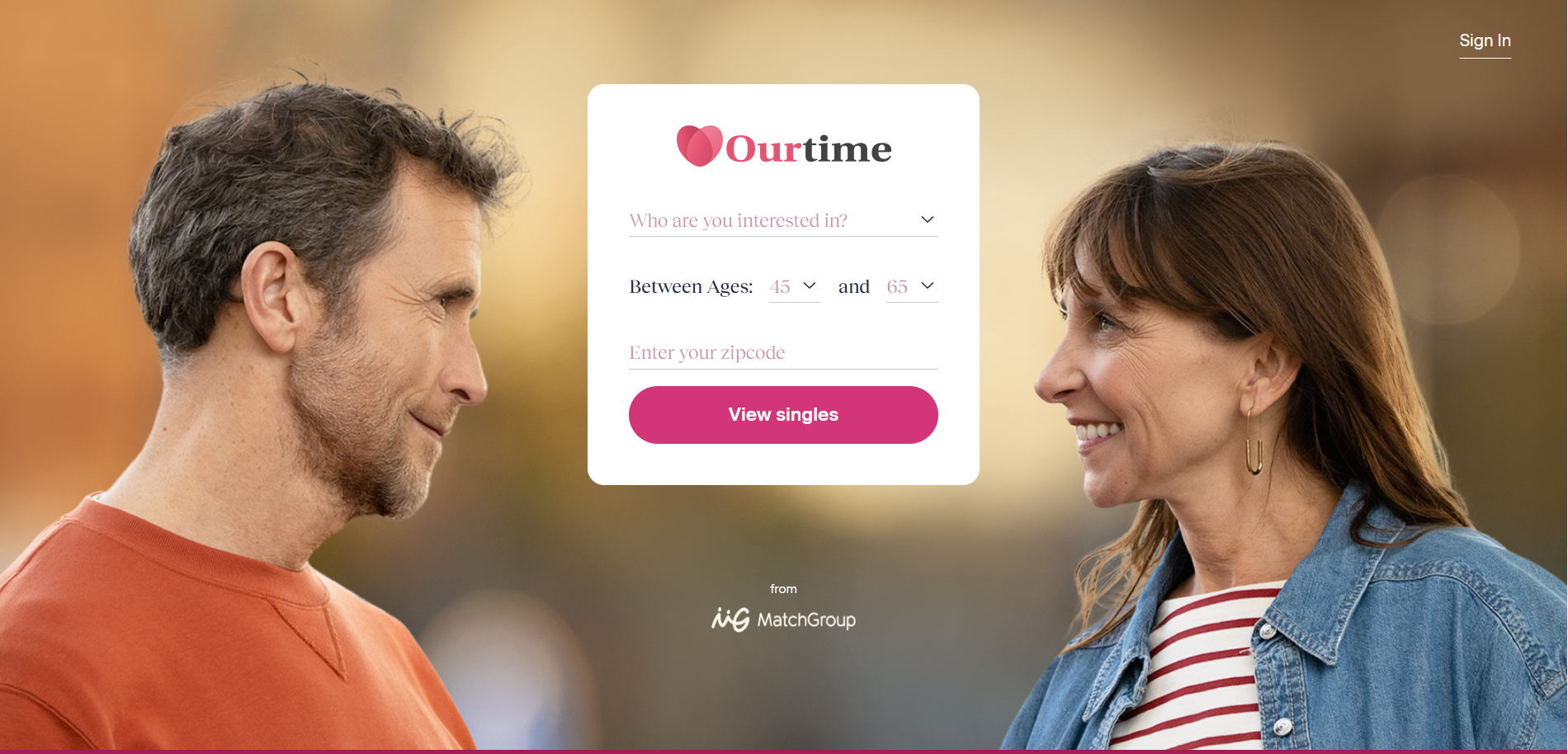 With mainstream dating sites typically focusing on younger demographics, there's a significant gap in the market for dating platforms that cater to a slightly older audience.
That's where OurTime.com comes in, providing a perfect opportunity for affiliate marketers to tap into this lucrative niche.
As part of the Match.com group of dating sites, OurTime.com offers a generous affiliate commission of up to 50% on all new referrals.
This means affiliates can earn approximately $12/£12 per commission per sale. While the "Network Earnings" score for this program might be lower, it doesn't diminish the potential for profitability, especially when combined with other "senior dating" offers.
For marketers looking to target an audience seeking mature relationships and companionship, promoting OurTime.com can be an extremely profitable venture.
By reaching out to the growing community of single fiftysomethings looking for love, you can help them find their ideal match while earning generous commissions along the way.
So, if you're passionate about connecting mature individuals and facilitating meaningful connections, consider adding OurTime.com to your list of dating affiliate programs. It could be the perfect fit for your affiliate marketing strategy.
Commission rate: 75% (first month only)
Cookie duration: TBC
Military Cupid is a niche dating site catering specifically to the military community, which includes the 1.3 million active members of the United States armed forces.
With such a substantial audience, there is a clear demand for a platform that connects military personnel and those who appreciate their service.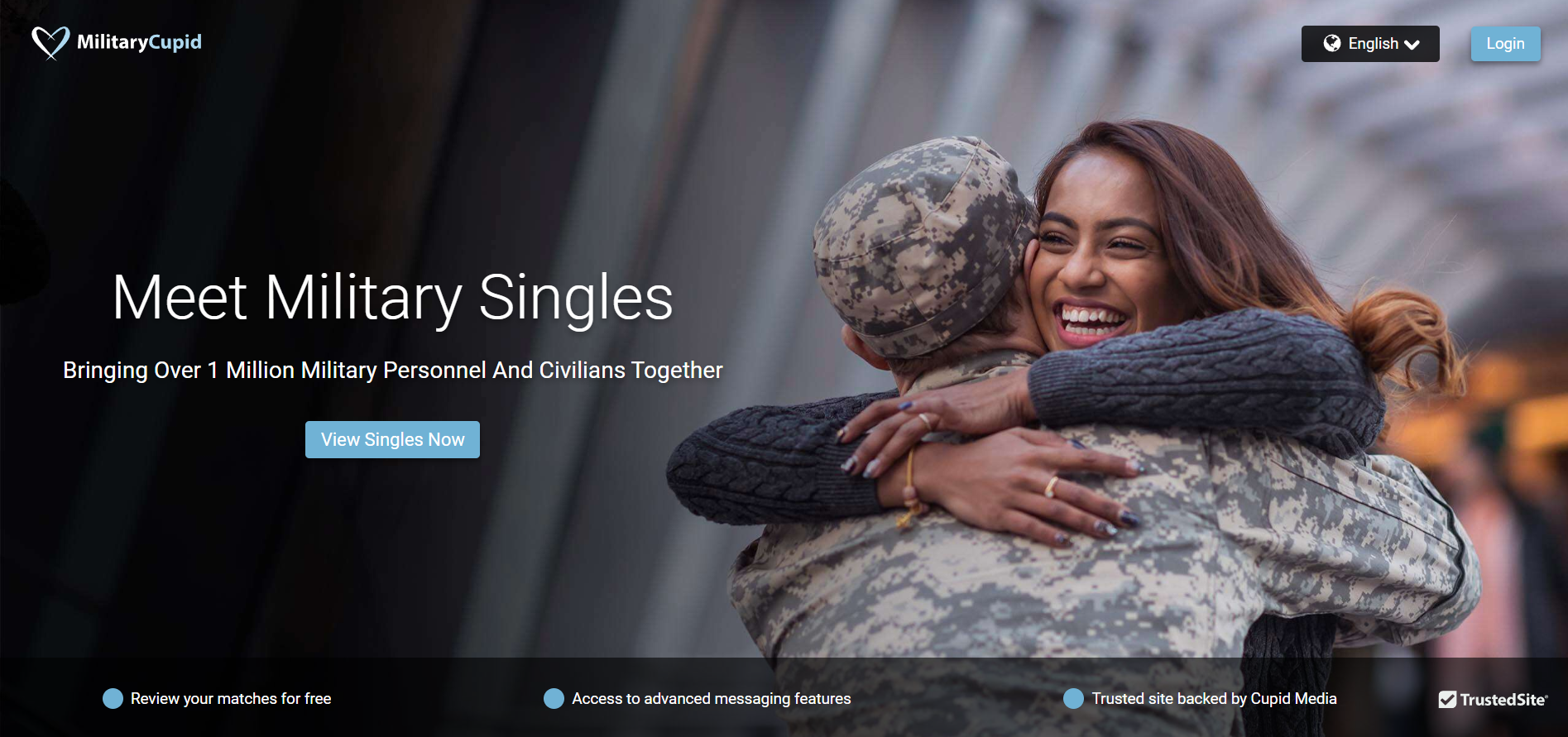 One significant aspect that sets Military Cupid apart is its focus on addressing the unique challenges faced by members of the military, such as long deployments and frequent relocations, which can strain relationships.
As a result, the site provides a much-needed platform for individuals in the military seeking meaningful connections and companionship.
The high divorce rate of 14% among serving soldiers, sailors, and pilots further highlights the need for a dating site tailored to this audience.
Military Cupid steps in to fill this gap in the market, providing a specialized platform where military personnel can connect with like-minded individuals who understand the demands and sacrifices of military life.
As part of the Cupid Network of online dating websites, Military Cupid benefits from a well-established and successful affiliate program.
With their expertise in converting visitors into paying members, they offer lucrative affiliate commissions for those promoting their site.
For affiliate marketers looking to tap into a niche dating market with substantial demand, Military Cupid presents a fantastic opportunity.
By connecting military members and appreciators of their service, you can not only help individuals find love but also earn generous affiliate commissions in the process.
So, if you're interested in supporting the military community and earning from a specialized dating platform, consider joining the Military Cupid affiliate program and be part of the journey of bringing hearts together.
Commission rate: $2 per lead
Cookie duration: 30 days
Jdate, brought to you by Spark Networks, is a dating site specifically designed for Jewish singles seeking meaningful connections within their faith community.
Just like Christian Mingle caters to Christians, Jdate focuses on providing a platform where Jewish individuals can meet, date, and potentially marry someone who shares their faith and values.

The demand for niche dating sites like Jdate is evident, as many Jewish singles prefer to connect with partners who understand their cultural background and beliefs.
For those seeking their "bashert," or soulmate, Jdate offers a perfect avenue to find love within the Jewish community.
One standout feature of Jdate is its active blog, showcasing numerous success stories of couples who have found love through the site. This social proof can be a valuable tool for affiliates, as it highlights the site's effectiveness in bringing Jewish singles together.
It's worth noting that Jdate's 'Network Earnings' score may appear lower compared to more mainstream dating programs. However, this is primarily due to the fact that there are approximately 15 million Jews worldwide.
As a result, Jdate's target audience is more limited compared to dating programs aimed at larger demographics.
Despite a potentially smaller pool of traffic, promoting Jdate as an affiliate can still be a lucrative venture.
With a dedicated user base of Jewish singles seeking genuine connections, there's ample opportunity to earn affiliate commissions while helping individuals find love within their faith community.
So, if you're interested in supporting Jewish singles on their journey to finding their match and want to be part of a niche dating affiliate program, consider joining Jdate and making a meaningful impact in the lives of Jewish daters worldwide.
Commission rate: 75% per sale
Cookie duration: 30 days
Cupid Media, an Australia-based company, stands out as a major player in the dating industry, boasting an impressive portfolio of 32 different dating sites and two blogs that cater to various sub-niches.
With a global reach of over 55 million customers per month and over 1.3 billion messages sent through its platforms, Cupid Media has proven itself as a prominent name in the world of matchmaking.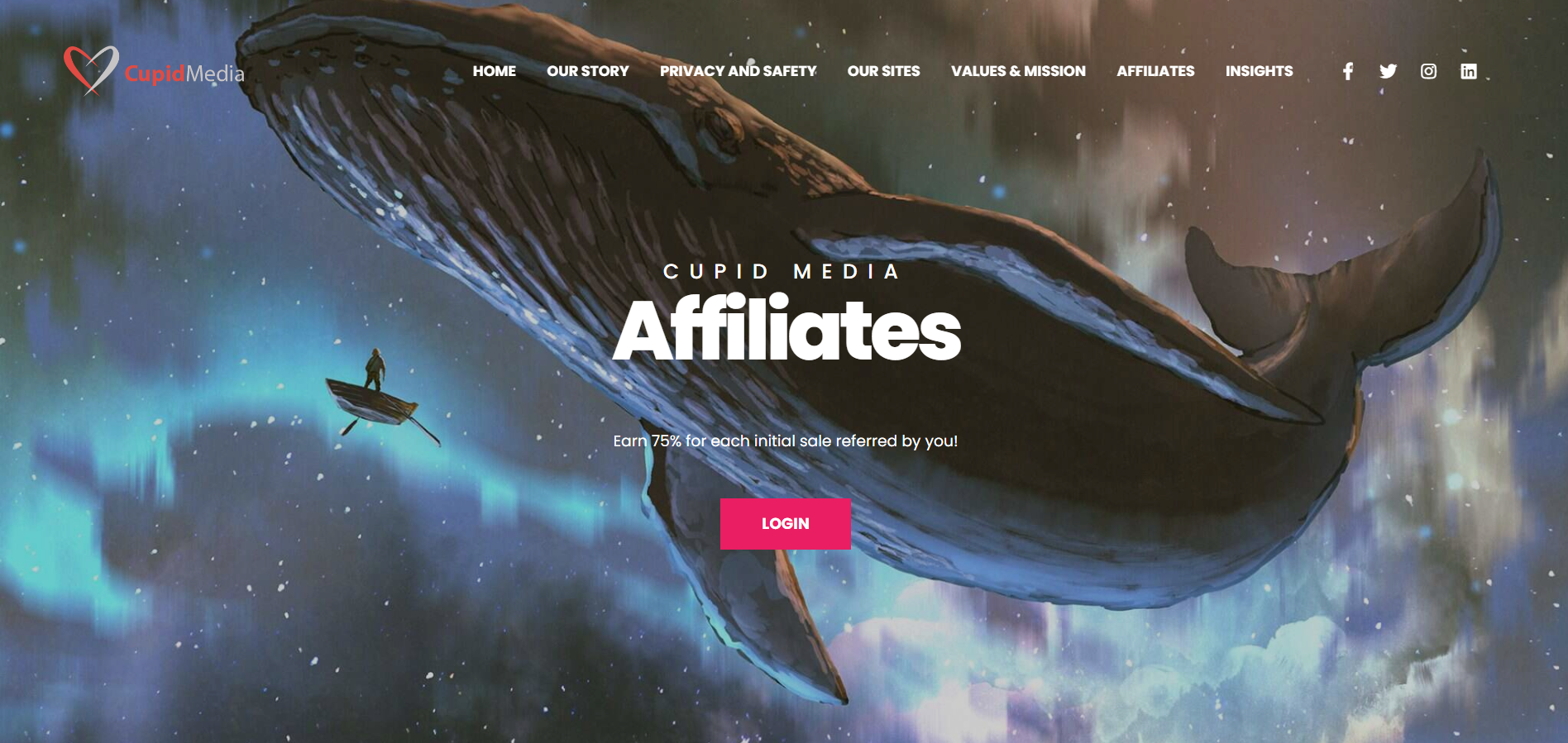 Now, let's talk about their dating affiliate program. If you're looking for a potentially high-paying opportunity, Cupid Media's affiliate program is worth considering. With a generous commission rate of 75% of the initial sale price, it offers significant earning potential.
However, there's a slight condition to note – you'll only receive a commission if your readers sign up for a paid Gold or Platinum-level membership, rather than a free Standard subscription.
This means that to make the most of this affiliate program, you'll need to focus on promoting the premium memberships that Cupid Media offers.
If you can effectively persuade your audience to opt for these higher-level memberships, you stand to earn substantial commissions as a result.
Quick Links: