Webinars have become an essential tool for businesses, educational institutions, and individuals to share knowledge and connect with their audience remotely.
There are various webinar platforms available in the market, but WebinarJam and EverWebinar are two of the most popular options. Both platforms offer unique features and benefits that cater to different needs. 
In this article, we will compare EverWebinar Vs WebinarJam in terms of their ease of use, pricing, customer support, and features to help you determine which platform is the best fit for your webinar needs.
Everwebinar vs WebinarJam |In-Depth Comparison 2023
What is WebinarJam?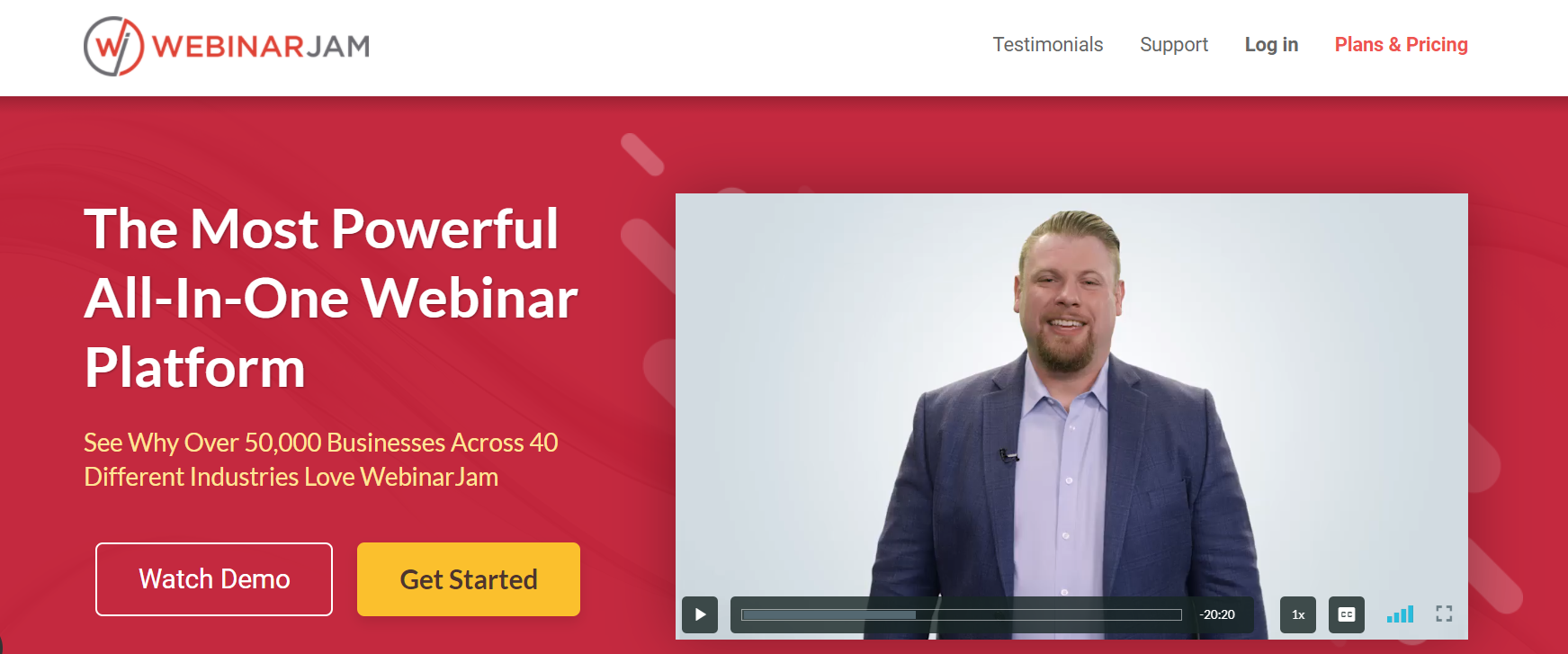 WebinarJam is an online platform that allows users to host and participate in webinars.
It offers a variety of features that enable hosts to conduct engaging and interactive webinars, such as customizable registration pages, live chat, polls, and Q&A sessions.
WebinarJam is designed to be user-friendly, and no technical knowledge is required to use it. Hosts can easily create and customize their webinar pages with a drag-and-drop editor and choose from various templates to match their branding. They can also schedule webinars in advance and send automatic email reminders to attendees.
One of the standout features of WebinarJam is its ability to support large audiences.
It can accommodate up to 5,000 attendees per webinar, making it an ideal choice for businesses and organizations looking to host webinars with a wide reach.
In addition, WebinarJam integrates with various email marketing and CRM platforms, allowing hosts to easily manage their contacts and follow up with attendees after the webinar.
WebinarJam also provides detailed analytics and reporting, giving hosts insights into attendee engagement and behavior during the webinar.
This information can be used to improve future webinars and make them even more engaging.
What is EverWebinar?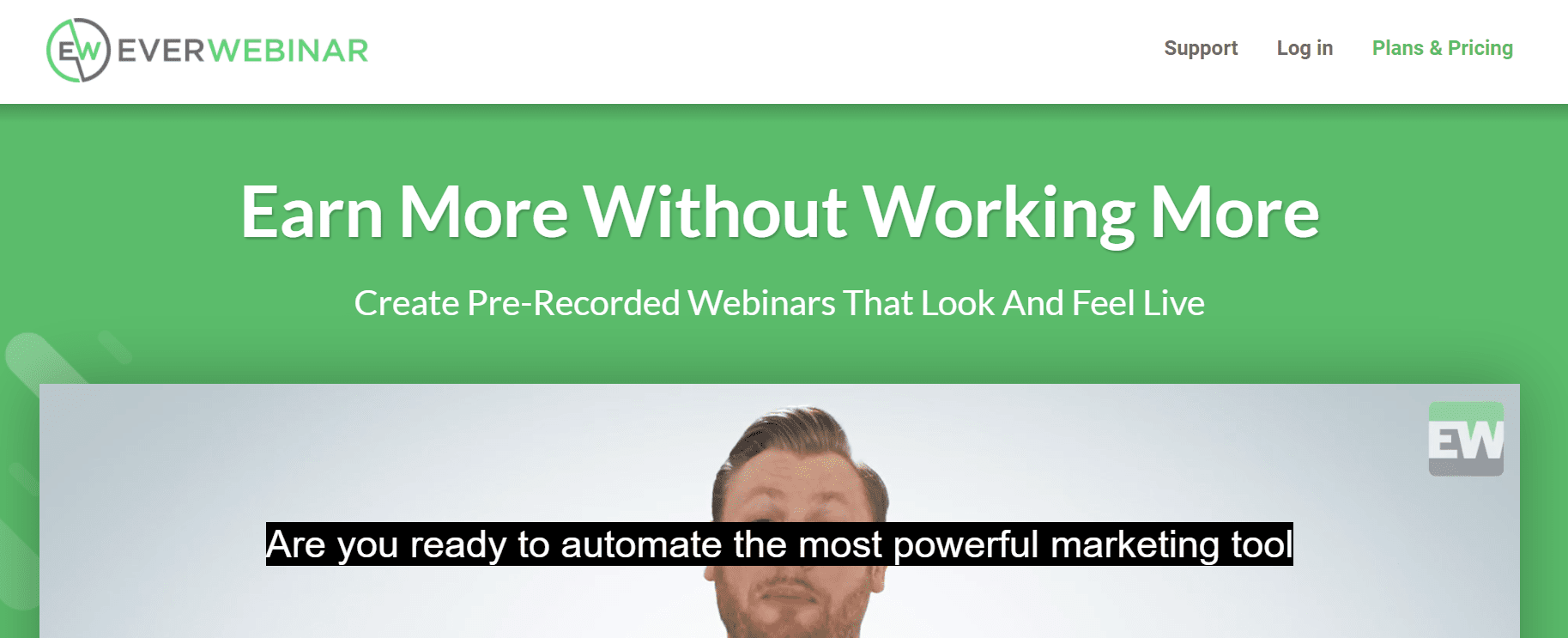 EverWebinar is an online platform designed to facilitate the hosting of webinars, which are virtual seminars or presentations conducted over the internet.
It is a cloud-based solution that enables individuals and businesses to connect with their audience, regardless of their location, by hosting live or pre-recorded webinars.
The EverWebinar platform offers a range of features and tools to help users create and manage their webinars.
These include customizable registration pages, automated email reminders, live chat, and the ability to conduct polls and surveys during the webinar.
Additionally, users can record their webinars and make them available for viewing at a later time.
One of the key benefits of EverWebinar is its ease of use. Users can set up and host a webinar in a matter of minutes, without requiring any technical expertise or specialized equipment.
The platform is also fully customizable, allowing users to brand their webinars with their own logos, colors, and images.
EverWebinar offers a range of pricing plans to suit different needs and budgets. Its basic plan is free to use and allows users to host webinars with up to 20 attendees.
For larger webinars with more attendees, paid plans are available that offer additional features such as advanced analytics and integration with third-party tools.
WebinarJam vs EverWebinar – Comparison
Ease of Use:
When it comes to ease of use, both WebinarJam and EverWebinar have intuitive user interfaces that are easy to navigate.
However, WebinarJam has a slight edge over EverWebinar in terms of user-friendliness. WebinarJam's dashboard is more organized and user-friendly, allowing users to schedule and host webinars quickly and easily.
EverWebinar, on the other hand, may take some time for users to learn the platform's interface and features.
Pricing:
WebinarJam and EverWebinar offer different pricing plans to their users. WebinarJam's pricing plans range from $499/year to $999/year, depending on the features and number of attendees required.
On the other hand, EverWebinar's pricing plans range from $25/month to $75/month, making it a more affordable option for users who require basic webinar features.
Customer Support:

Both WebinarJam and EverWebinar offer excellent customer support to their users.
WebinarJam provides users with a comprehensive knowledge base, FAQ section, and community forum where users can find answers to their questions.
The platform also offers email support and live chat support during business hours. Similarly, EverWebinar offers 24/7 customer support via email, live chat, and phone.
Additionally, users can access the platform's knowledge base and video tutorials to learn more about the platform's features.
Features:

WebinarJam and EverWebinar both offer a range of features to their users. WebinarJam provides users with advanced features such as automated webinars, interactive whiteboards, polls, surveys, and more.
The platform also allows users to customize their webinar pages and use their branding. EverWebinar, on the other hand, offers basic features such as screen sharing, HD video, chat, and recording.
While EverWebinar may lack some advanced features, it is an excellent option for users who require a simple and straightforward webinar platform.
WebinarJam vs EverWebinar Pros and Cons
WebinarJam Pros and Cons
| | |
| --- | --- |
| Pros | Cons |
| It is incredibly easy to use, even for beginners. | |
| Customizable Webinar Pages | |
| It integrates with a variety of third-party tools | |
| | |
| It provides detailed analytics on your webinar performance | |
EverWebinar Pros and Cons
| | |
| --- | --- |
| Pros | Cons |
| Simple and user-friendly interface | |
| | |
| High-quality video and audio | |
| | |
Alternatives of EverWebinar Vs WebinarJam
Quick Links:
Conclusion
Both WebinarJam and EverWebinar have their own unique strengths and weaknesses. While WebinarJam is more established and offers a wider range of features, EverWebinar is newer and more affordable.
Ultimately, the choice between the two platforms will depend on individual needs and preferences. If ease of use and comprehensive customer support is a priority, WebinarJam may be the better choice. 
On the other hand, if cost-effectiveness and advanced customization options are more important, EverWebinar may be the way to go.
Both platforms have their place in the market and provide valuable resources for those looking to host webinars.
WebinarJam On Social Media
We have been tirelessly working to improve #WebinarJam so you can create more world-class webinars…The new WebinarJam has officially launched TODAY 🙌 Instead of telling you…We'd rather SHOW you.

Join us for the Q&A tomorrow @11am PT. Register here: https://t.co/5SHjOIB15l pic.twitter.com/lxbQx7Igeo

— WebinarJam (@WebinarJam) November 9, 2021
Training new employees is a necessary task, but it's costly, it's time-consuming and your employees still ask questions for weeks.

Learn why webinars will make your #employee trainings more affordable, engaging and effective:https://t.co/UPN4OWehIt pic.twitter.com/VfzABpyJ6P

— WebinarJam (@WebinarJam) December 30, 2022
Did you know the team at Genesis Digital is fully remote all year round? 🤩

We've compiled a list of ways you can use webinar software to help your business. 👇

Get your first 30 days of Webinars for your remote business for only $1: https://t.co/lNNWEp3iQn #webinarsoftware pic.twitter.com/KvedmX9Ee6

— WebinarJam (@WebinarJam) December 30, 2022
WebinarJam on Youtube