I've tried both EverWebinar and WebinarJam, so today I will give you a side-by-side comparison of what each platform offers.
As someone who organizes and runs webinars for my business regularly, I know how important it is to have the right platform.
That's why I wanted to share my experience with these two tools–so you can make an informed choice about which one will best suit your needs.
So let's dive in and take a look at the pros and cons of EverWebinar vs WebinarJam!
Everwebinar vs WebinarJam- In-Depth Comparison 2023
What is WebinarJam?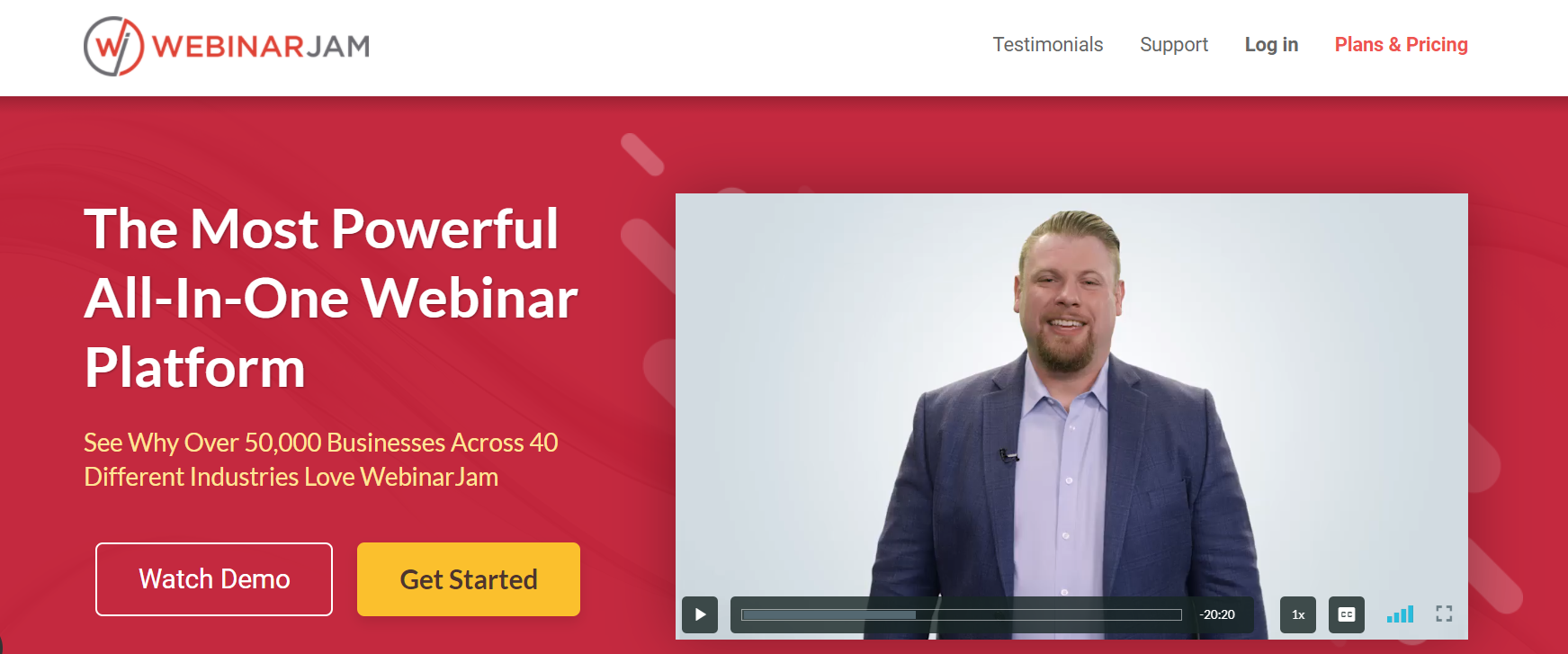 WebinarJam is an online platform that allows users to host and participate in webinars.
It offers a variety of features that enable hosts to conduct engaging and interactive webinars, such as customizable registration pages, live chat, polls, and Q&A sessions.
WebinarJam is designed to be user-friendly, and no technical knowledge is required to use it. Hosts can easily create and customize their webinar pages with a drag-and-drop editor and choose from various templates to match their branding. They can also schedule webinars in advance and send automatic email reminders to attendees.
One of the standout features of WebinarJam is its ability to support large audiences.
It can accommodate up to 5,000 attendees per webinar, making it an ideal choice for businesses and organizations looking to host webinars with a wide reach.
In addition, WebinarJam integrates with various email marketing and CRM platforms, allowing hosts to easily manage their contacts and follow up with attendees after the webinar.
WebinarJam also provides detailed analytics and reporting, giving hosts insights into attendee engagement and behavior during the webinar.
This information can be used to improve future webinars and make them even more engaging.
What is EverWebinar?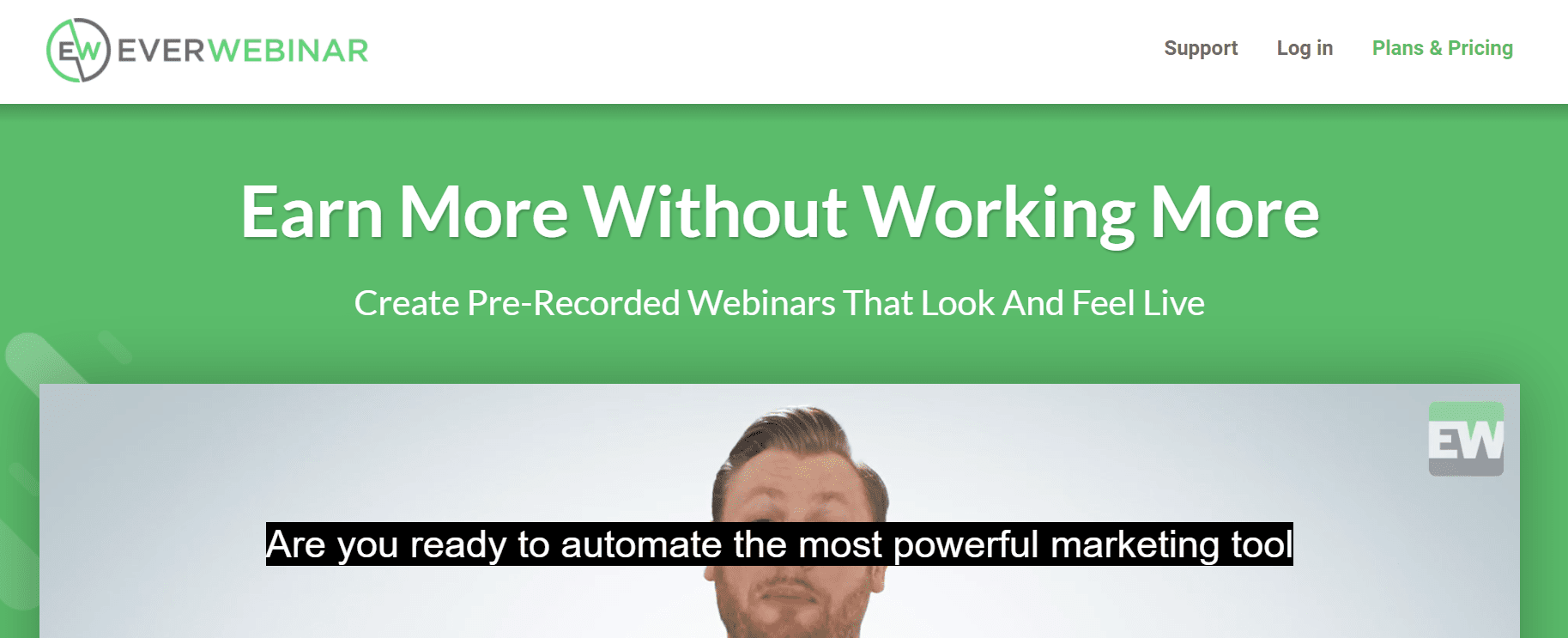 EverWebinar is an online platform designed to facilitate hosting webinars, which are virtual seminars or presentations conducted over the internet.
It is a cloud-based solution enabling individuals and businesses to connect with their audience, regardless of location, by hosting live or pre-recorded webinars.
The EverWebinar platform offers a range of features and tools to help users create and manage their webinars.
These include customizable registration pages, automated email reminders, live chat, and the ability to conduct polls and surveys during the webinar.
Additionally, users can record their webinars and make them available for viewing later.
One of the key benefits of EverWebinar is its ease of use. Users can set up and host a webinar in minutes, without requiring technical expertise or specialized equipment.
The platform is also fully customizable, allowing users to brand their webinars with their logos, colors, and images.
EverWebinar offers a range of pricing plans to suit different needs and budgets. Its basic free plan allows users to host webinars with up to 20 attendees.
For larger webinars with more attendees, paid plans offer additional features such as advanced analytics and integration with third-party tools.
Also Read: Everwebinar Coupons
WebinarJam vs EverWebinar – Ease of Use
WebinarJam
WebinarJam gives you two ways to set up your webinar: a quick one and a complete one.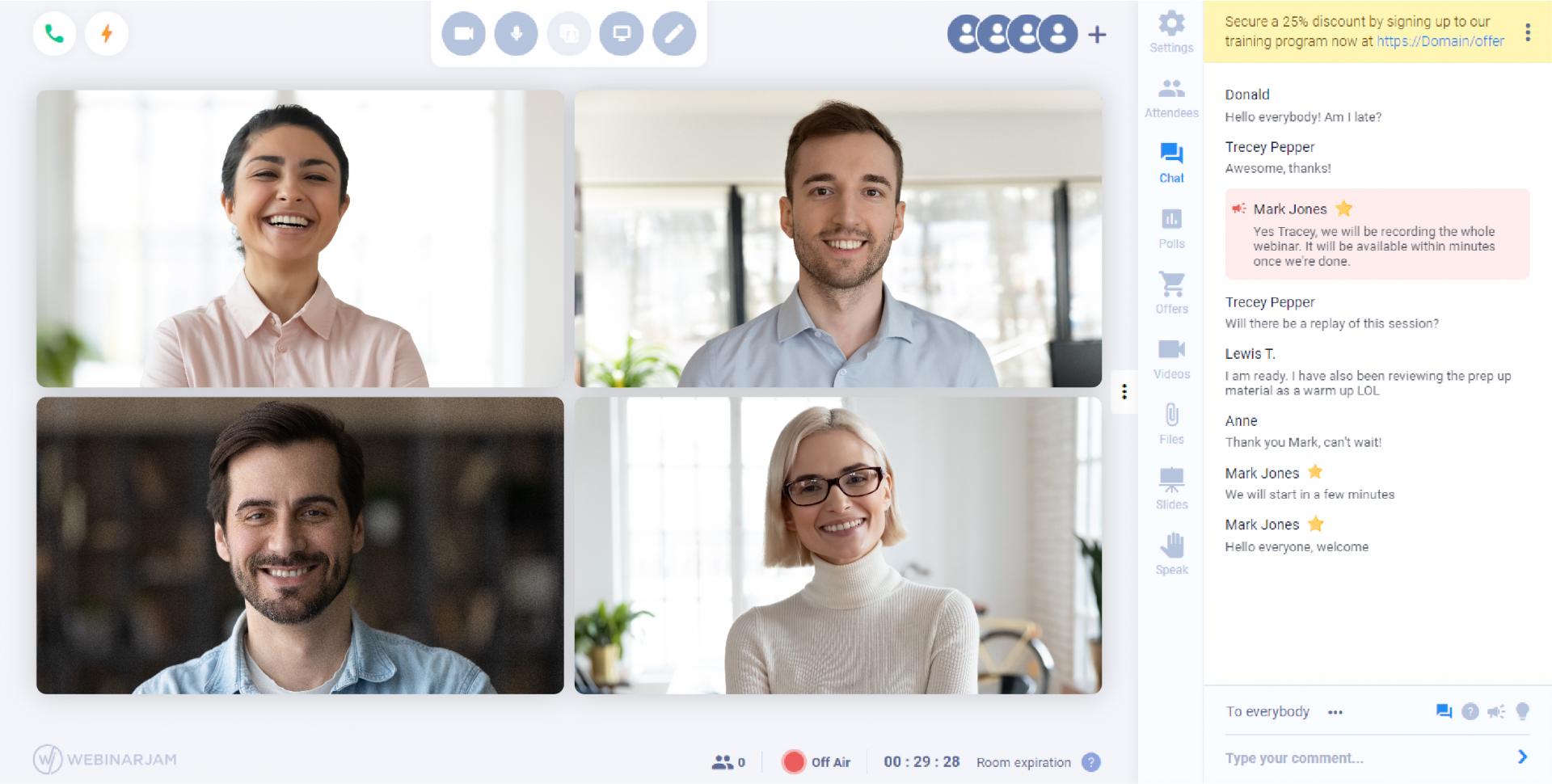 The quick setup is for getting your live event up and running fast. You can be live in just a few minutes, but it will have only the basics.
If you want more options and details, you should go for the 'complete setup.' It has more steps and might be a bit confusing if you're new to the platform. But the bonus is that it unlocks cool features in WebinarJam, making your webinar more interesting and engaging.
EverWebinar
Setting up EverWebinar involves several steps, and it's important to note that it's not the same as hosting a live webinar. Instead, you'll be streaming a video that you've pre-recorded. To get started, you'll first need to select the video you want to use for your webinar.
Once that's done, you'll move on to the basics, such as giving your webinar a name, writing a description, and choosing the language for your audience.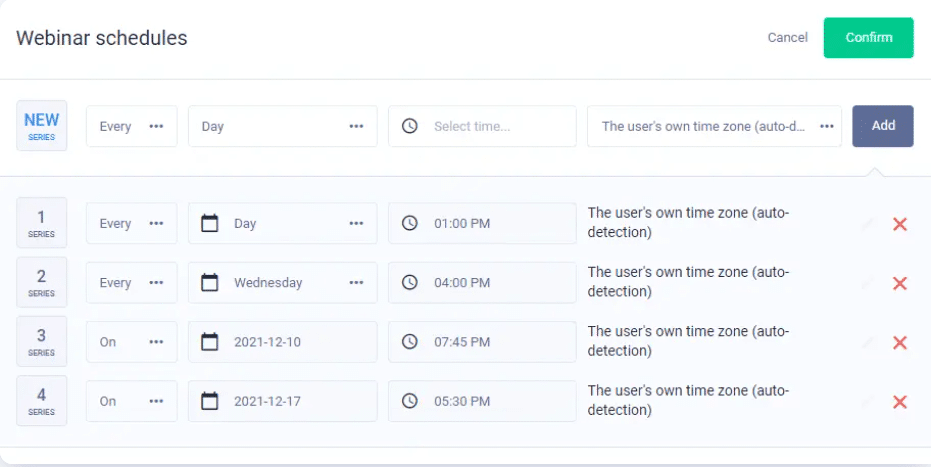 In addition to these fundamental details, you'll be asked to provide information about the person presenting the webinar and define a schedule.
You can customize the registration page, making it more engaging and informative for potential attendees.
WebinarJam vs EverWebinar: Registration Process
WebinarJam
WebinarJam offers a straightforward registration process. When someone clicks on your webinar link, they are instantly registered for your webinar. It's as simple as that. This means you can effortlessly share a one-click registration link with your mailing list, and anyone who clicks on it will be automatically registered for your webinar.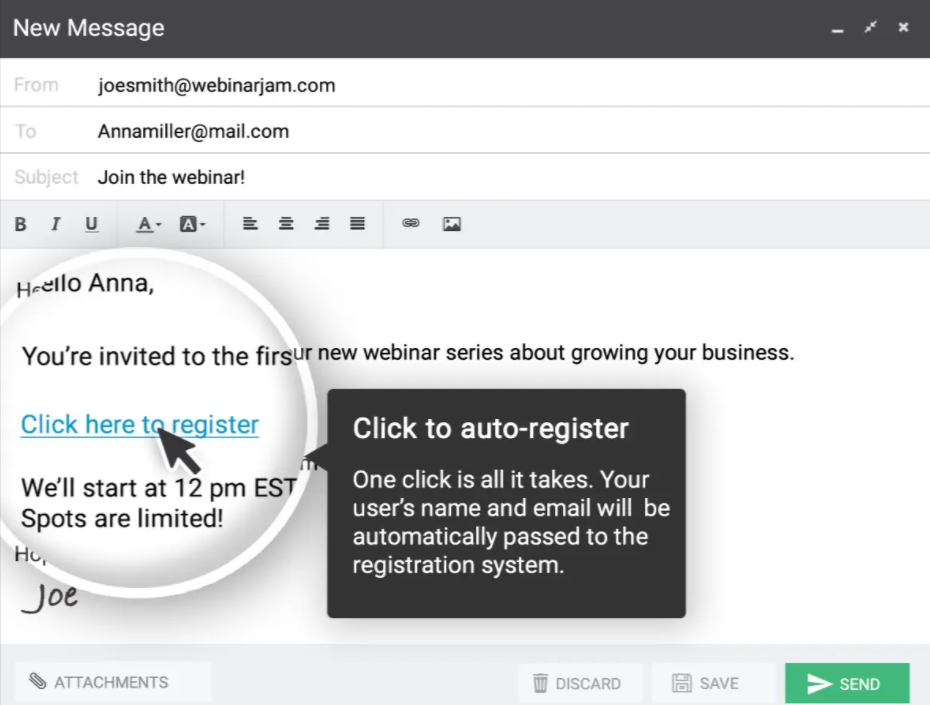 Furthermore, WebinarJam provides additional options for enhancing the registration process and gathering more information about your participants.
You have the flexibility to create a registration page and personalize its design to align with your preferences and branding. This way, you can tailor the registration experience to your needs even more.
EverWebinar:
EverWebinar works like WebinarJam in one important way: you can register with just one click. It's easy to send this special link to everyone on your email list so that they can join your webinar without any trouble.
EverWebinar also lets you create a registration page that looks how you want it to. However, there are some limits. You can only ask for a few things on this page: people's first and last names, phone numbers, and email addresses.
WebinarJam Vs EverWebinar: Audio/Video Quality
Let's look at the comparison of WebinarJam and EverWebinar based on audio and video quality:
WebinarJam
WebinarJam supports high-quality video at 30 frames per second (FPS) and full HD video resolution, ensuring clear visuals. Additionally, it provides crystal-clear audio for your webinars.
However, it's worth noting that there might be some quality concerns when you stream your WebinarJam event on YouTube. This is because the video stream gets compressed during the event, which can impact the overall quality of the live stream on YouTube.
EverWebinar
EverWebinar is optimized for an ideal video resolution of 720p, which provides high-quality visuals for your webinars. Alongside this, EverWebinar prioritizes delivering top-notch audio quality during your webinar sessions.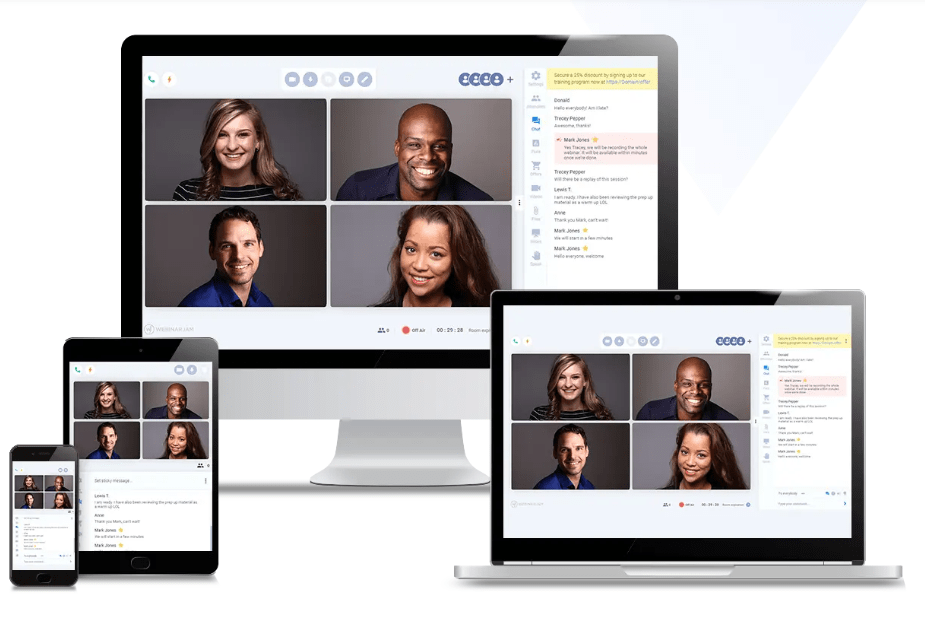 Thanks to its strong support for clear audio and fast HD video, you can confidently share PowerPoint presentations and images without worrying about losing quality.
EverWebinar vs WebinarJam Web Analysis Tools
Hosting a webinar is one thing, but analyzing how it went and making improvements is a whole different task.
WebinarJam
WebinarJam makes it easier by offering a set of analytics tools for your event.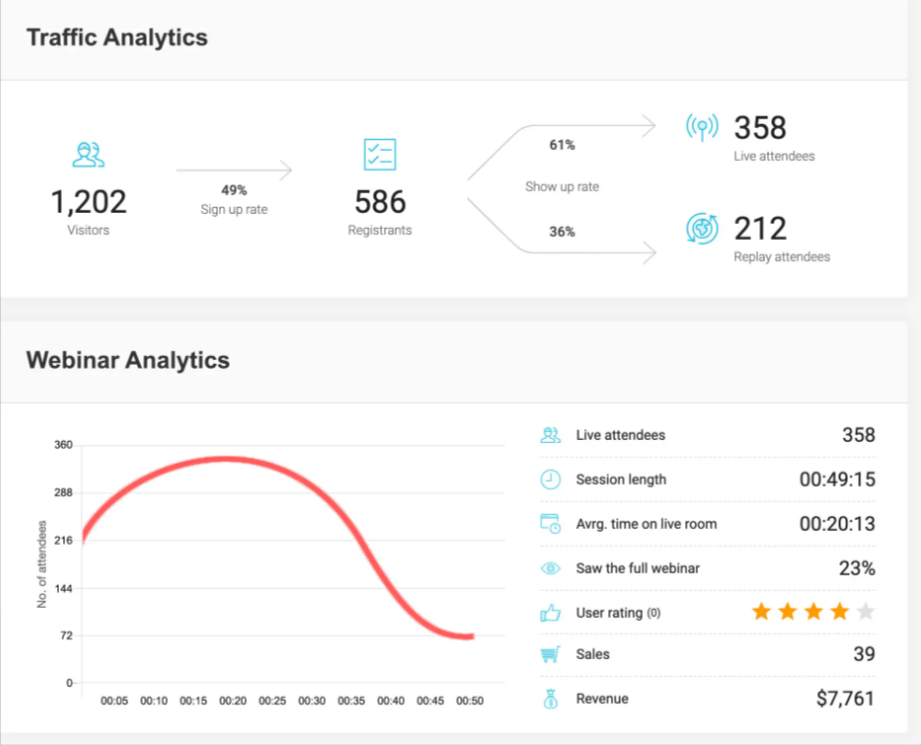 With these tools, you cananalyze various aspects of your live webinar, including traffic, engagement, monetization, and notifications. The traffic features help you keep an eye on things like how many people visited your registration page and how many attendees you had. If you're selling something during the webinar, you can also track sales numbers and conversions.
The best part is that you can access all these useful analytics tools right from your WebinarJam dashboard, making it convenient to assess and enhance your webinar performance.
EverWebinar
EverWebinar provides straightforward analytics tools for reporting on your webinars. You have the option to select the type of report that suits your needs.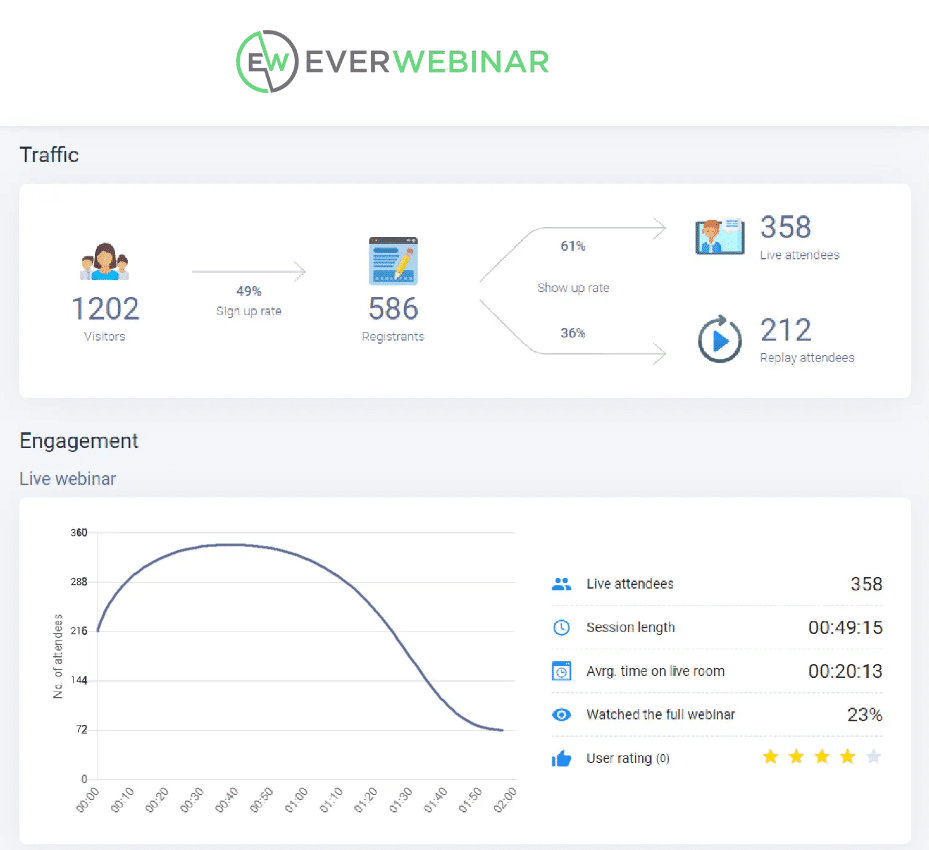 With the event analytics feature, you can examine key statistics such as the number of registrations and participants for your webinar. The 'attendee reports feature' allows you to keep tabs on important information about the people who attended your webinar. These simple analytics tools empower you to gain insights into your webinar's performance and your audience's engagement.
WebinarJam Vs EverWebinar Integration
WebinarJam
WebinarJam offers integration with tons of third-party apps and software. The list includes Zapier, YouTube Live, Twilio, iContact, ConvertKit, MailChimp, and more.
EverWebinar
EverWebinar offers integration options similar to its sibling platform, WebinarJam. Moreover, EverWebinar simplifies the integration process with various third-party applications and customer relationship management (CRM) systems, including Kartra, Aweber, Active Campaign, InfusionSoft / Keep, iContact, OntraPort, GetResponse, and many more.
EverWebinar vs WebinarJam Pricing:
WebinarJam and EverWebinar offer different pricing plans to their users.
WebinarJam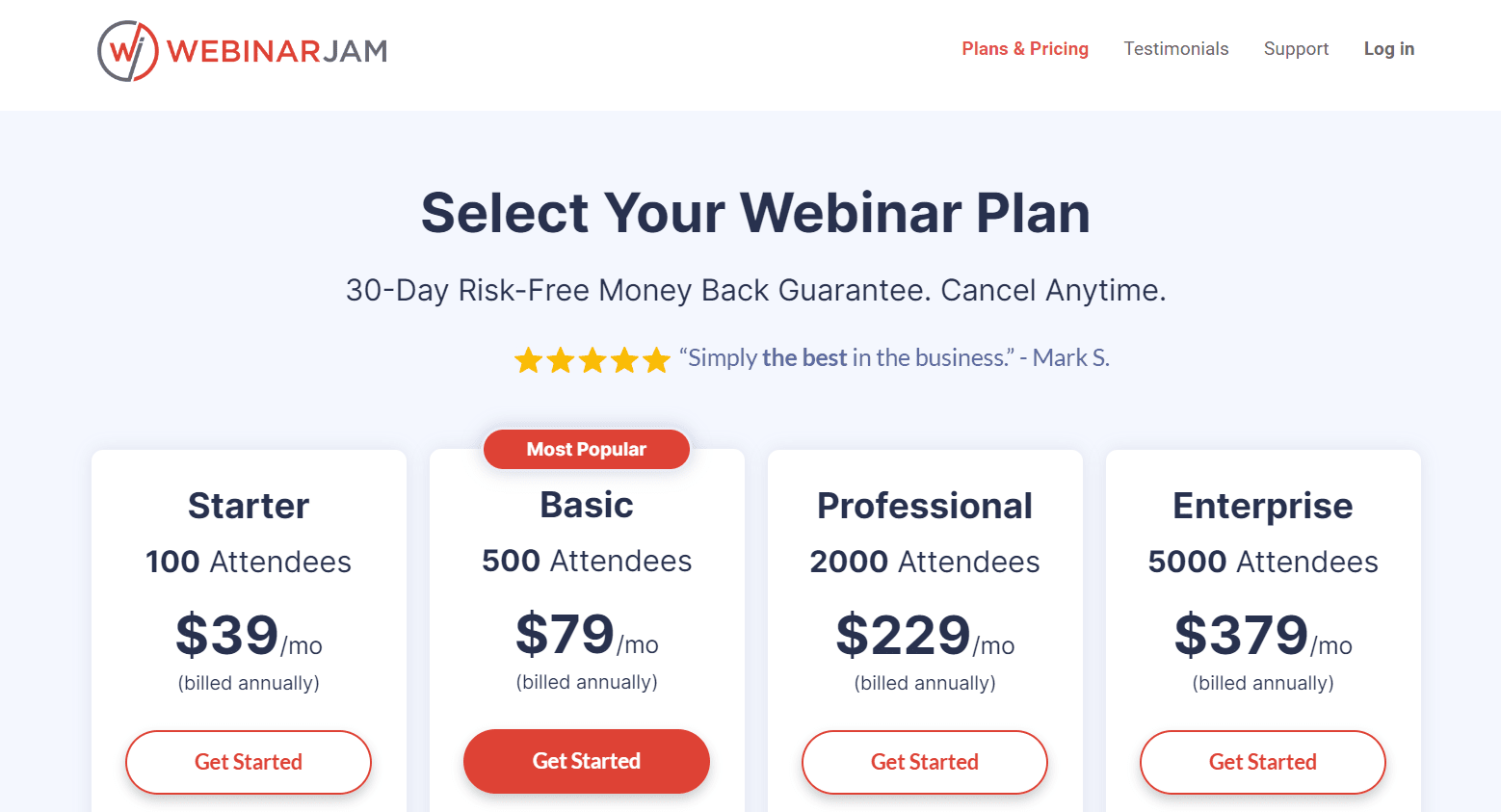 WebinarJam offers different pricing plans to cater to various needs:
Starter Plan ($39/month billed annually):

Allows up to 100 attendees per webinar.
One host.
Maximum webinar duration of one hour.
Unlimited webinars.

Basic Plan ($79/month billed annually):

Supports up to 500 webinar attendees per session.
Two hosts.
Maximum webinar duration of two hours.
Unlimited webinars.

Professional Plan ($229/month billed annually):

Accommodates up to 2000 webinar attendees.
Four hosts.
Maximum webinar duration of three hours.
Includes a Panic button feature.
Offers an Always-On live room.
Unlimited webinars.

Enterprise Plan ($379/month billed annually):

Designed for larger audiences, supporting up to 5000 webinar attendees.
Six hosts.
Maximum webinar duration of four hours.
Includes the Panic button feature.
Provides an Always-On live room.
Allows for unlimited webinars.
Includes access to a control center for advanced management.
Everwebinar: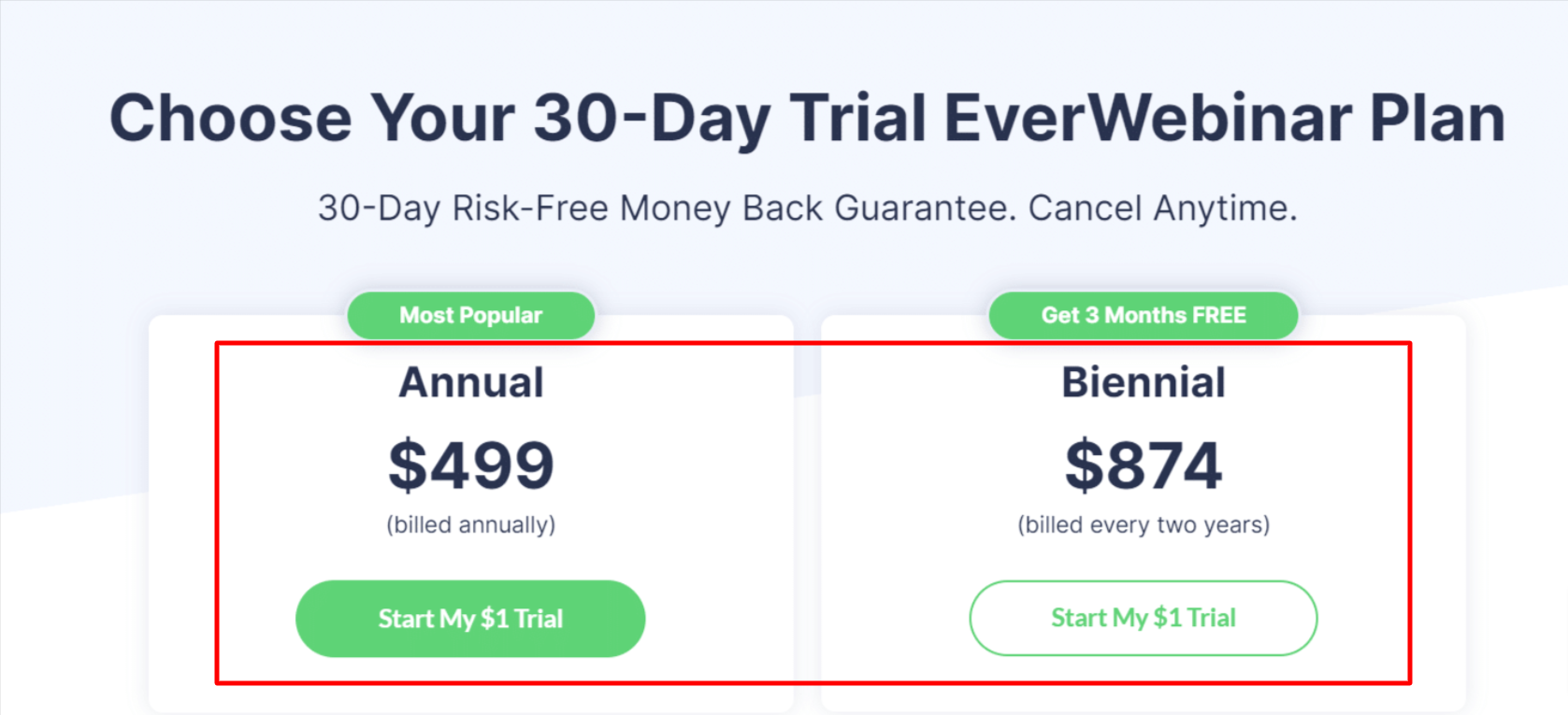 EverWebinar operates on an annual subscription basis, and they do not offer monthly plans. When subscribing to EverWebinar, you have the option to choose between two pricing plans:
Yearly Plan: This plan costs $499 per year.
Biennial Plan: The biennial plan is priced at $874 and covers a two-year subscription period.
These plans provide you with access to EverWebinar for the specified duration and include the features and benefits associated with the platform during that time.
WebinarJam vs EverWebinar: Customer Support:
Both WebinarJam and EverWebinar offer excellent customer support to their users.
WebinarJam provides users with a comprehensive knowledge base, FAQ section, and community forum where users can find answers to their questions.
The platform also offers email support and live chat support during business hours. Similarly, EverWebinar offers 24/7 customer support via email, live chat, and phone.
Additionally, users can access the platform's knowledge base and video tutorials to learn more about the platform's features.
WebinarJam vs EverWebinar Pros and Cons
| | |
| --- | --- |
| WebinarJam Pros | WebinarJam Cons |
| It is incredibly easy to use, even for beginners. | |
| Customizable Webinar Pages | |
| It integrates with a variety of third-party tools | |
| | |
| It provides detailed analytics on your webinar performance. | |
| | |
| --- | --- |
|  EverWebinar Pros |  EverWebinar Cons |
| Simple and user-friendly interface | |
| | |
| High-quality video and audio | |
| | |
Final Verdict on EverWebinar vs WebinarJam
Thank you for providing all the details for the WebinarJam vs. EverWebinar comparison. Based on the information shared, it's clear that both platforms have their strengths and are suitable for different webinar needs.
WebinarJam seems to excel in terms of simplicity and effectiveness for hosting live webinars, with straightforward setup and registration processes. It's an excellent choice for those who prioritize live interactions with their audience.
On the other hand, EverWebinar appears to be a strong option for fully automated webinars. Once set up, it offers convenience and low maintenance, making it ideal for those seeking to provide automated content while still delivering a valuable experience to their viewers.
Ultimately, whether you value live engagement or automation, the choice between WebinarJam and EverWebinar will depend on your specific webinar goals and requirements.
Read my other comparisons: