Webcams have undergone a tremendous spike in usage over the previous four years due to the increased remote working during the epidemic.
But many of us are still doing business and holding online meetings. To be more ecological, you may utilize software to construct a "webcam" instead of purchasing other hardware.
In this review, we will review Finecam, which conveniently converts old iPhones (or new ones, for that matter) into cameras for your YouTube, OBS, Skype, Zoom or other video chatting or live streaming software.
FineCam Review 2023: What Is FineCam?
FineCam is a practical webcam application. It improves the webcam quality of your desktop using your iPhone. Additionally, it comes with over 100 effects.
It is compatible with all of your favorite streaming and video-calling applications. FineCam is an excellent option for simultaneously launching the iPhone's front and back cameras.
The secondary frame may be positioned anywhere and, more crucially, resized to accommodate video conversations, live demos, broadcasts, and other reasons.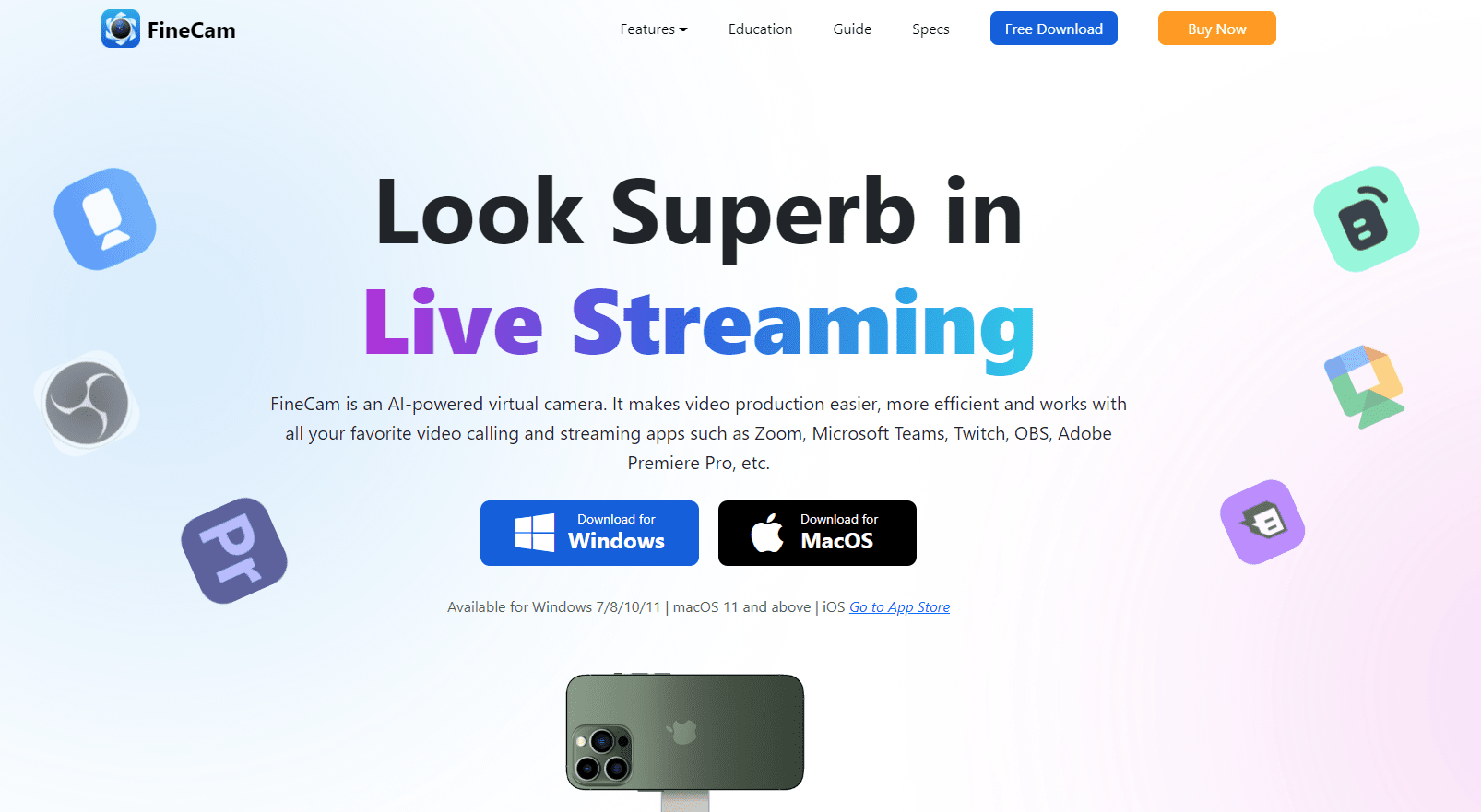 FineCam differs from other comparable applications in that it supports the plug-and-play approach for using the camera on an iPhone.
Utilizing the iPhone's 4K / 12 MP (Telephoto Wide, Ultrawide) camera, you may pick from various angles and fully use the device's capabilities.
Additionally, you may delete undesired backdrops in real-time.
FineCam – Use iPhone as a Webcam
Transform your iPhone into a high-end camera that harnesses the potential of WiFi and different angles to offer 4K footage at 60 frames per second.
You may zoom in/out, switch to portrait or landscape mode, choose a resolution, and utilize either the front or back camera or both, with the touch of a button.
In need of picture-in-picture mode?
It poses no trouble whatsoever. FineCam is a top-notch solution for concurrently shooting with the iPhone's front and back cameras.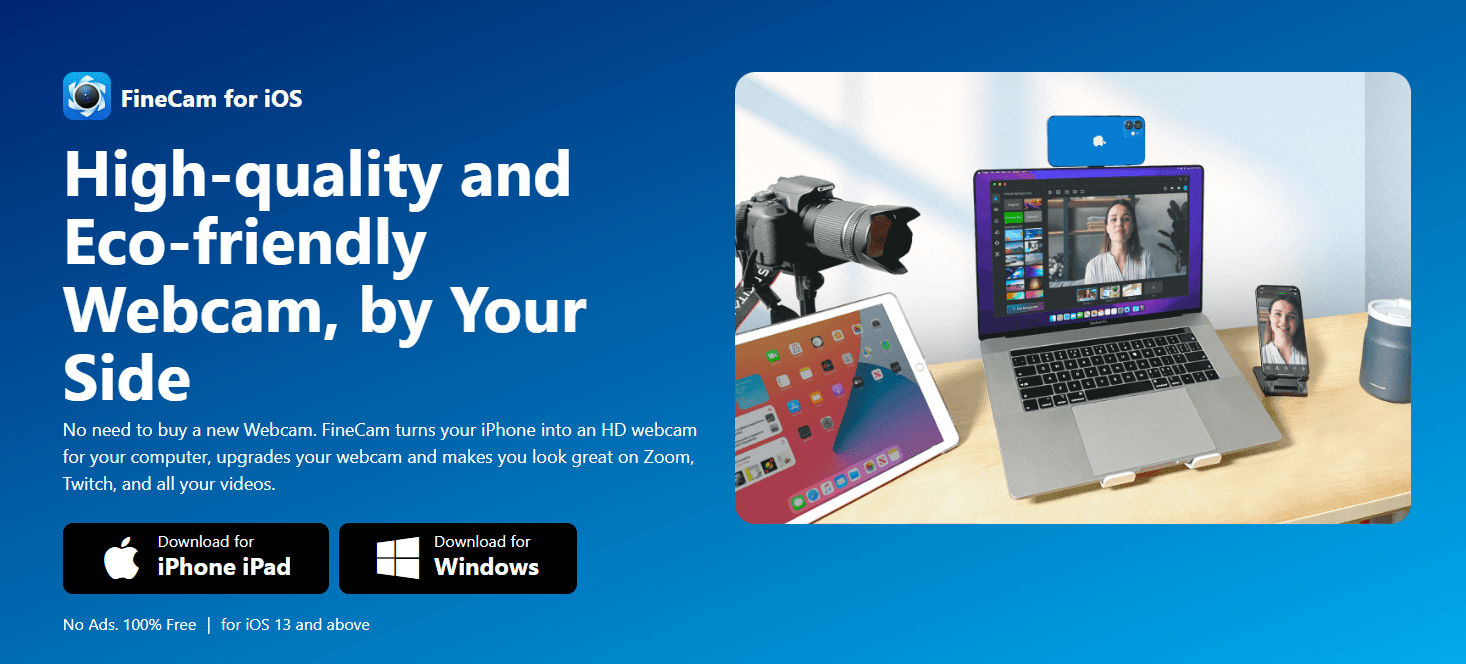 In addition, you may flexibly alter the frame's size and location to accommodate your conversations, presentations, streaming, and more.
There is no need for a second USB webcam. Simply add your mobile device to your preferred streaming applications.
FineCam enables you to roam freely while streaming from any location on the same network for the highest quality visuals.
Utilize your phone's higher processing power and image-enhancing algorithms to improve your appearance in remote meetings, live broadcasts, and all your recordings.
You May Like This:
FineCam Real-Time Video Processing Using Deep Learning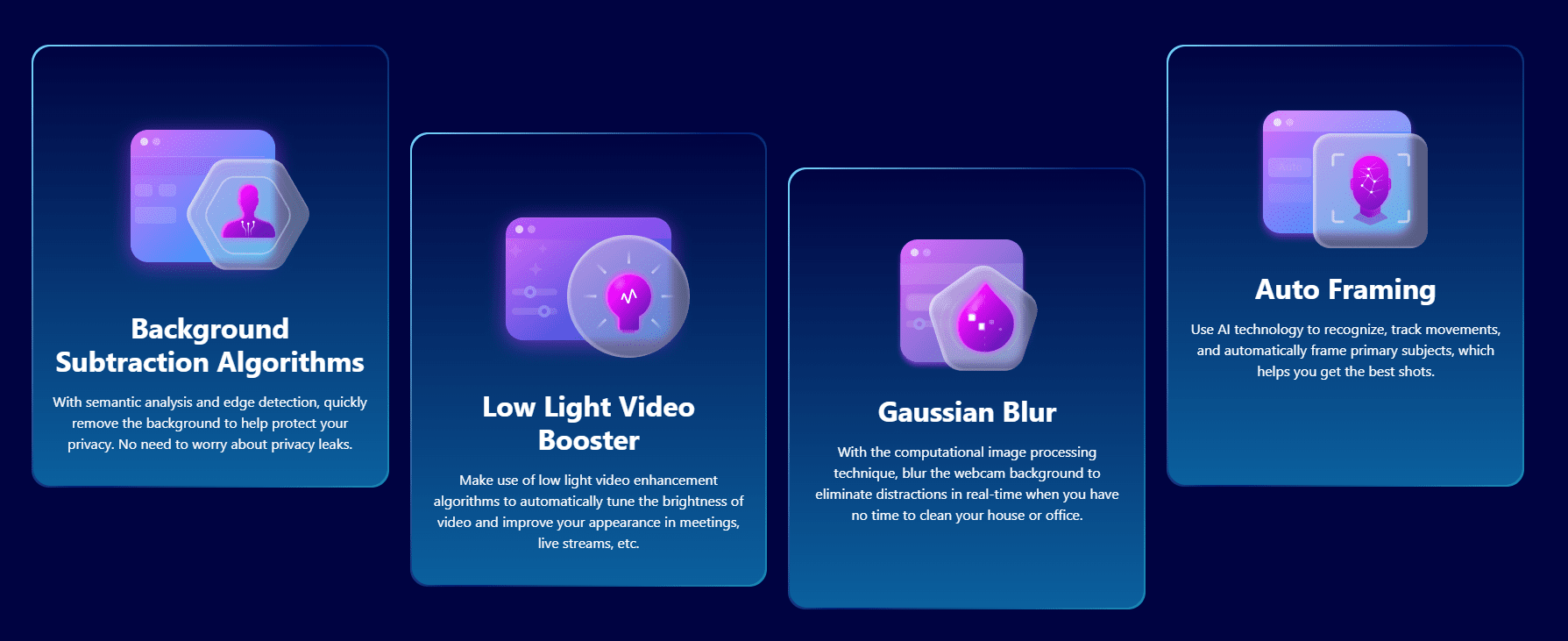 Auto Framing:
Utilize AI technology to detect major subjects, follow their motions, and automatically frame them for the best images.
Gaussian Blur:
When you have little time to tidy your home or workplace, you may reduce distractions in real time by blurring the webcam's backdrop using computational image processing.
Low Light Video Booster:
Utilize low-light video improvement techniques to improve your look in meetings, live streaming, etc., by automatically adjusting the video's brightness.
Background Subtraction Algorithms:
Using semantic analysis and edge detection, you may swiftly eliminate the backdrop to safeguard your privacy. There is no need to worry about privacy breaches.
Quick Links:
Conclusion: FineCam Review 2023
Finecam is terrific software that delivers advantages to whatever video conferencing applications you use it with.
By downloading the free version, you may have it immediately and begin immediately.
This will provide you with all the fundamental features.
I sincerely hope this article helps. Feel free to share your opinion on FineCam in the comment section.