Looking for the Corel VideoStudio review? Here is our detailed review of Corel Video Editor.
About Corel Video Studio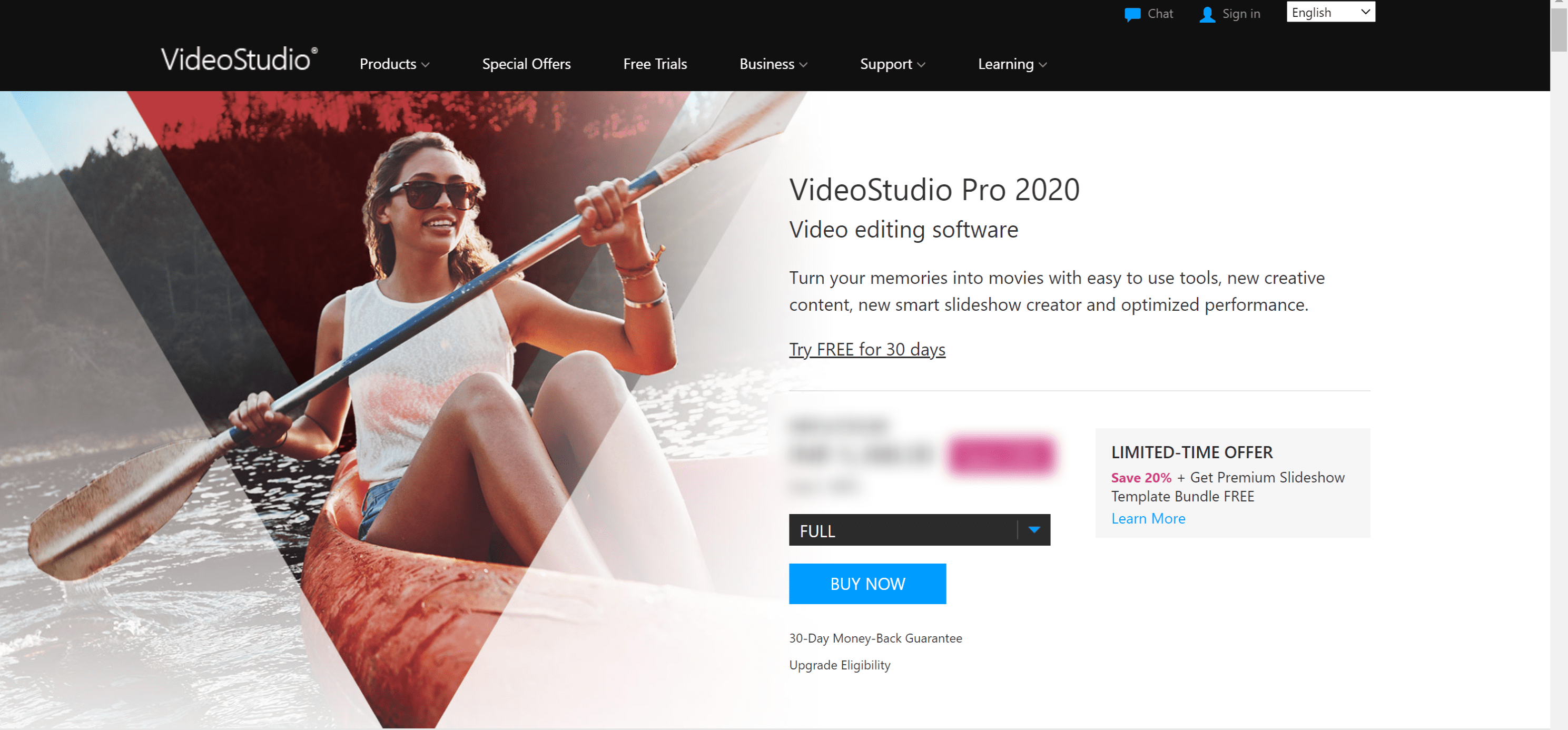 Corel Video Studio is one of the top-selling video editing software in the market. It has an appealing interface that supports both beginners and professionals to create stunning looking videos. It was designed by the reputed concern Corel has been in the industry since 1989. The company has gathered wide popularity through its several digital graphics software.
Are you looking to save on Corel VideoStudio? Check out the latest Corel VideoStudio Coupon Codes and save up to 35% OFF.
Ease of Use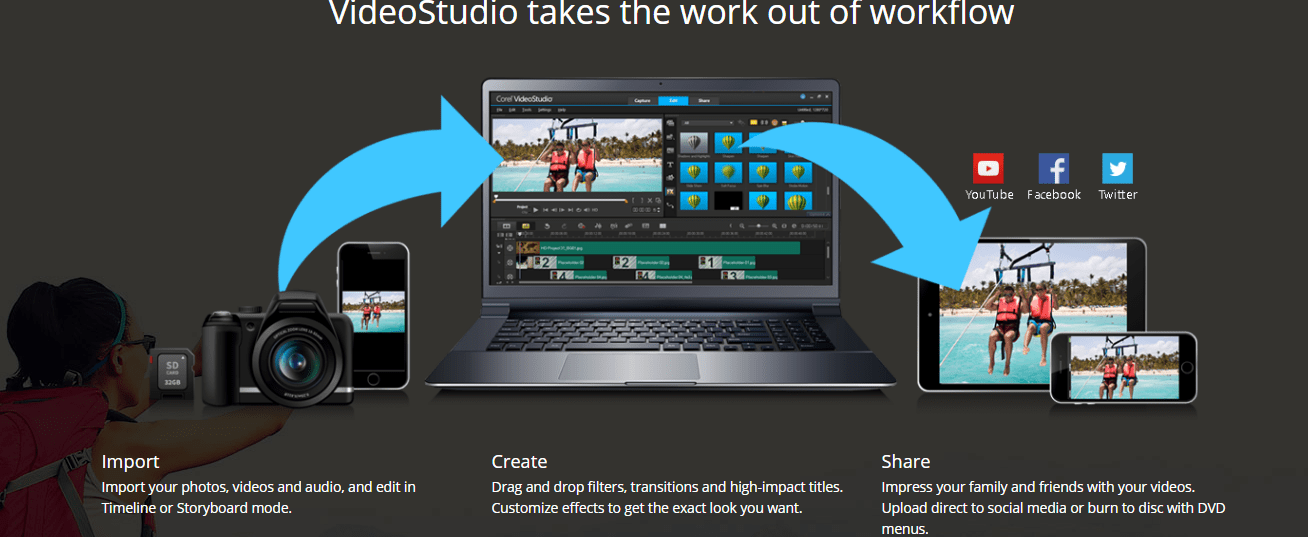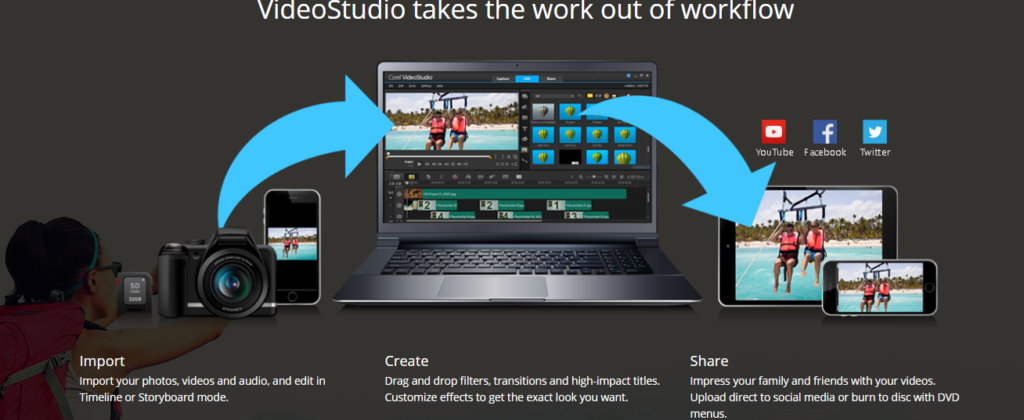 Corel Video Studio has a very pleasing three-pane view interface that helps edit videos easily. There are clear buttons on the right-hand side of the content video that gives access to all its features and tools. The software lets you resize and move the panels to make working on them easier and also customize interface layouts to switch from one mode to another easily.
There are three main functions on the interface namely capture, edit and share. It only takes a few minutes to build your own video on the software and a fast-flick option allows you to automatically create videos in just a few minutes.
There are plenty of resources for training and learning options on coral video studio. This will help beginners to easily adapt and learn their product. The company provides 45-day access to studio backlot.tv that consists of training materials and tutorials to guide you about their product. It also has a dedicated YouTube channel that helps starters to learn more about creating stunning videos.
Is Corel VideoStudio good for beginners?
VideoStudio is an easy-to-use and powerful application for creating and editing home movies. Despite its familiar user interface, the program's robust and easy-to-use features make it the best choice for many beginners.
It is a low-cost video editor that is ideal for beginners who want to edit home movie projects.
File Sharing Options
Corel Video Studio supports many of the popular video formats like AVI, MPEG, MOV and WMV. You can import files from a variety of devices like camcorders, cameras and smartphone devices.
Once you have finished the final product, you can export it to various social media sites like YouTube, Flickr, Vimeo and Facebook.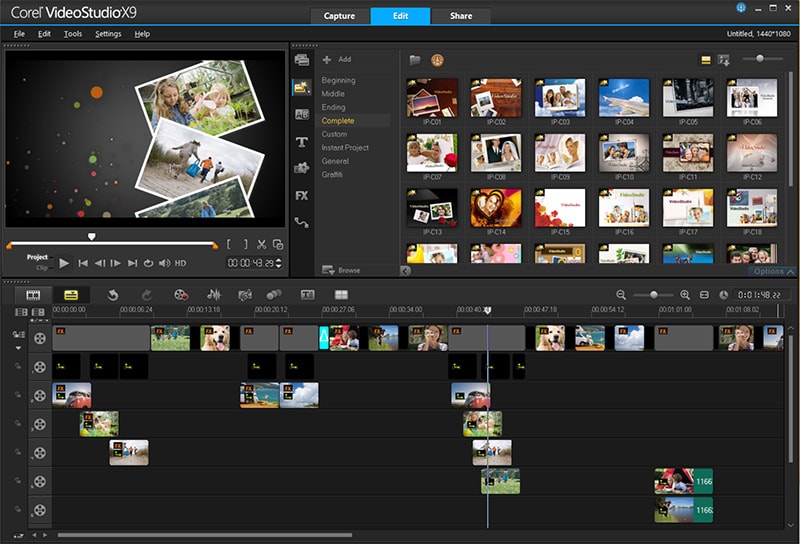 Corel VideoStudio Features
Editing Tracks: Corel video studio provides 21 video tracks, 2 title tracks, 8 audio tracks and one voice track to build your own video projects.
Storyboard and Timeline Combination: Just like all the video editing software, Corel video studio provides modes to edit your videos. Storyboard mode is a semi-automatic editing option for beginners to try the basic features while the timeline consists of advanced features for talented professionals.
Multi-cam Editing: This is one of the most popular features of the Corel video editor that enables you to switch on multiple camera angles at the same time. You can extend or shorten an angle on the multi-cam window mode.
Motion Tracking: You can add multiple items to track on the clips as well as automatically attach an object, text or effect to something that moves in your video to track them.
Video Transition and Effects: Corel Video Studio video editor has a wide range of transitions to add to your videos. Currently, it has over 150 transactions and 78 special effects.
Text Tool: Feature helps you to choose from 34 preformatted guidance and subtitles. You can change the font size to Asian and also add new styles to your videos.
More…..
Image Tools: Some of the tools include color balance, noise reduction and light enhancement that help correct errors in the images.
Picture In Picture: This tool allows you to resize and drag video clips and also preview a movie on simultaneous tracks.
Chroma Keying Tool: Also known as green screen is available on this video editor that allows you to capture images in a green screen background.
Graphic Tool: This allows you to add a solid color, subjects, frames and animations to your movies
Freeze Frame: This feature helps you to scrub a part of the video to freeze and stop all the soundtracks on the video to focus on a single frame.
Audio ducking and Normalization: You can automatically adjust the volume and background noise and it's particularly useful when you have a wider audience.
Scorefitter: This tool automatically adjusts your music to fit the length of the video.
Corel VideoStudio Pricing
The product is available in two levels namely, Pro which costs $79.99 and $59.99 for the upgraded version and an Ultimate package that costs $99 .99 and $79.99 for the upgraded version. The software can be downloaded on a device with Windows 8 and 7 operating systems.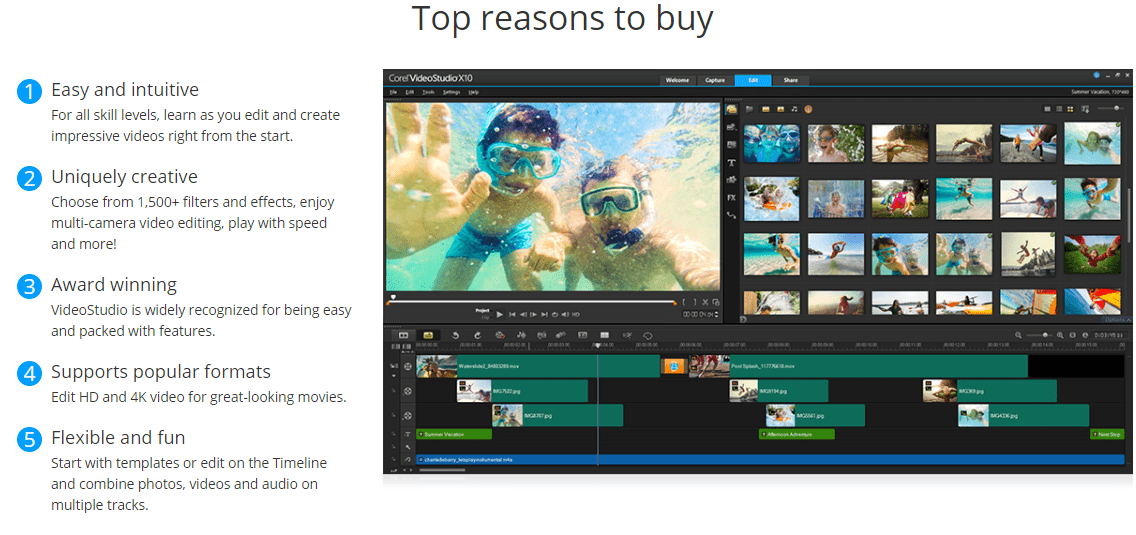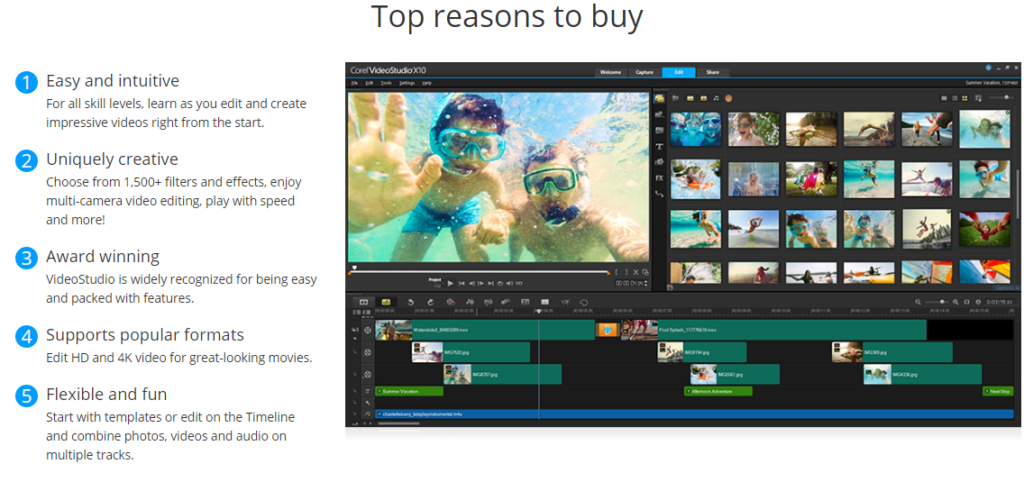 Corel Video Studio Pros & Cons:
Pros
Supports various file formats including AVCHD
Ability to share on social media platforms
Create your own templates through its features
Plenty of advanced editing tools
Motion tracking and multi-camera editing options
Cons
Conclusion: Is CorelVideoStudio a Good Video Editor? Corel VideoStudio Review
Corel Video Studio is one of the most feature-rich consumer video-editing packages that offers many high-quality editing tools and utilities. It has many latest features that are very rare to be present in other leading editing software available currently in the market.
If you want a professional video editing tool then this software can be a good investment for its user-friendly and intuitive interface. However, beginners may have to utilize one of their tutorials to learn more about the product before becoming a pro on this product.