In today's digital landscape, proxy providers play a crucial role in enabling secure and efficient online activities. Among the emerging players in this realm is IPRoyal, a proxy provider that has garnered attention for its range of features and services.
In this comprehensive review, we delve into the various aspects of IPRoyal to evaluate its performance, reliability, and suitability for different use cases.
From its unique offerings such as non-expiring rotating residential proxies to its dedicated support and exclusive proxy pool, I aim to provide an in-depth analysis of IPRoyal's strengths and weaknesses.
So let us begin.
IPRoyal Review 2023: What is IPRoyal?
IPRoyal, established in late 2020, may be considered one of the younger players in the realm of proxy providers. Initially, the company focused on renting IP space to other businesses.
However, it quickly shifted its attention towards directly selling proxies to customers. Today, IPRoyal boasts a range of four distinct proxy networks and a beta-stage API designed specifically for scraping Google.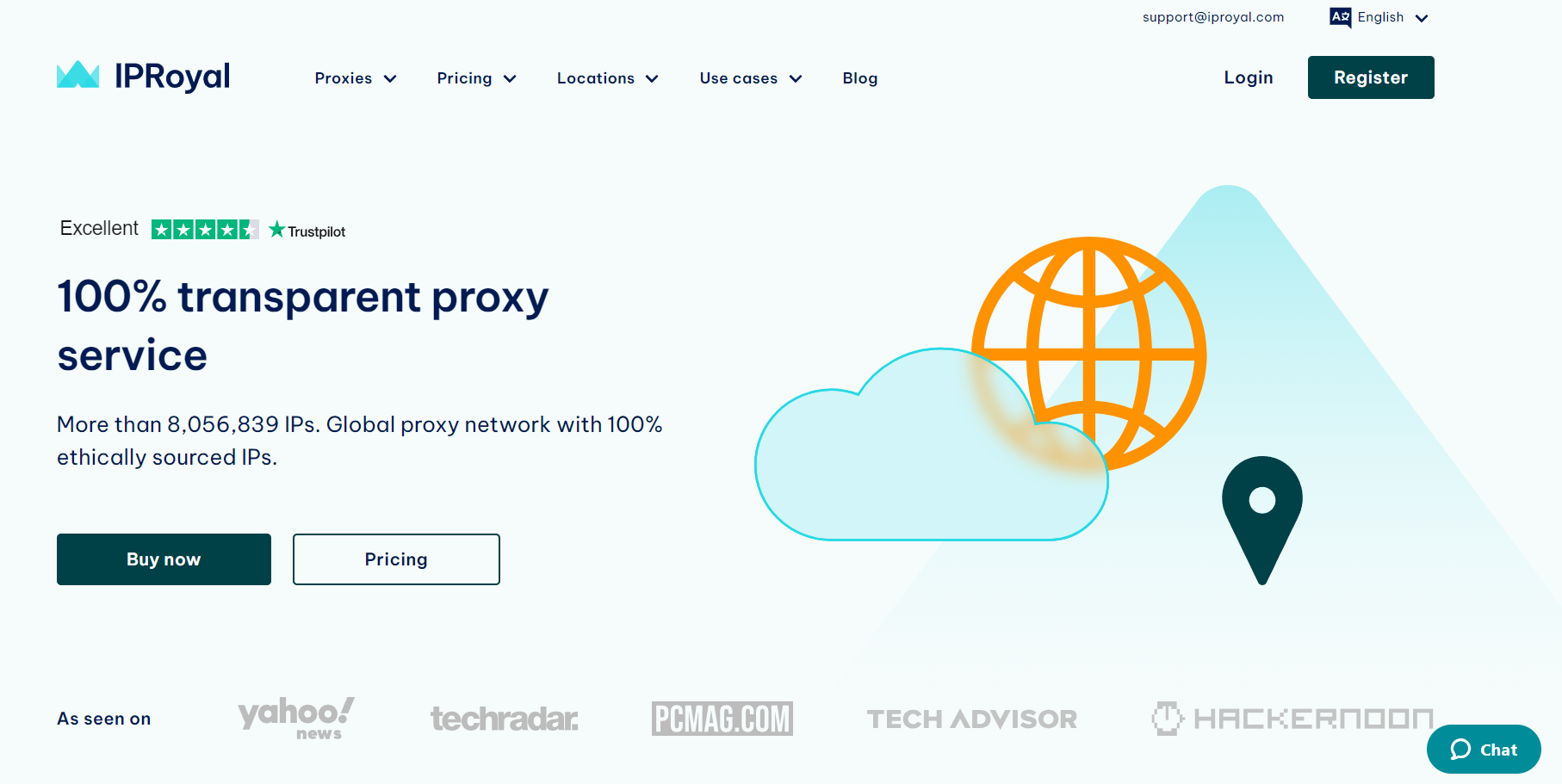 To source residential proxies, IPRoyal relies on a proxyware application called IPRoyal Pawns. While attempting to build its own pool of proxies, the company also resold proxy infrastructure for a period of time.
Unfortunately, the source abruptly terminated their contract. Despite this setback, IPRoyal managed to recover swiftly and now controls a monthly network consisting of approximately 250,000 residential addresses.
Positioning itself as an affordable service, IPRoyal caters primarily to small-scale clients who are willing to spend between $10 and $100.
However, the company is also open to selling terabytes of residential traffic for larger projects or reselling purposes. It is worth noting that IPRoyal has shown a particular interest in catering to sneakerheads.
This is evident from their active presence on Discord and Twitter, where they share shoe-related information.
IPRoyal Pricing & How To Buy Guide
Step – 1: Go to the official website of IPRoyal, and click on 'Pricing'.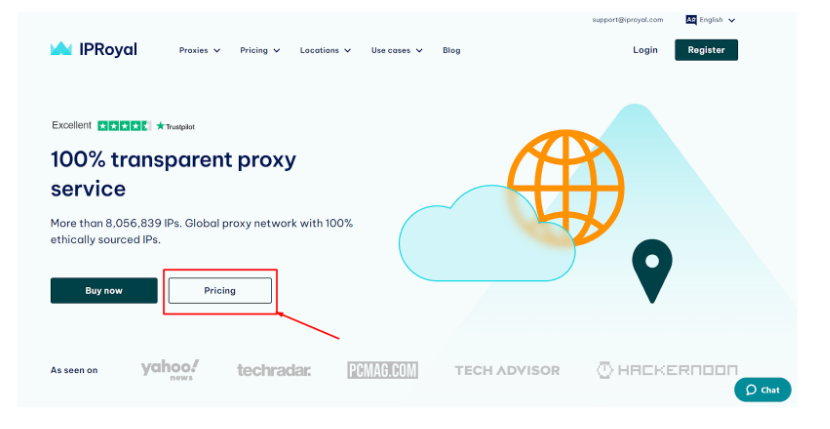 Step – 2: Click on 'Buy now' below the plan of your choice.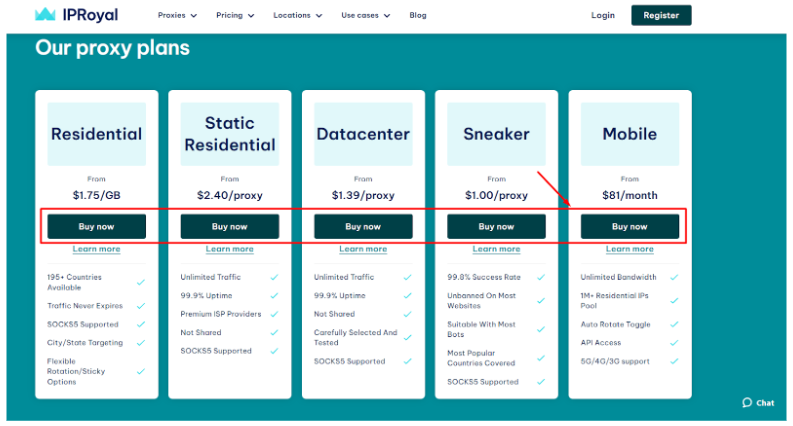 Step – 3: Click on 'Sign up'.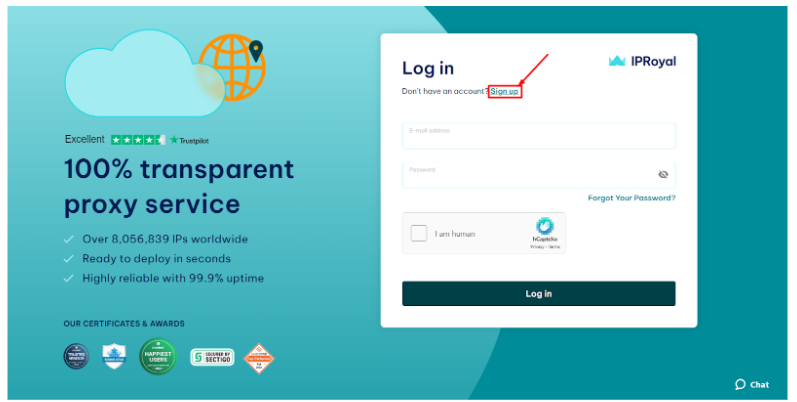 Step – 4: Fill in the details asked for, check the box, and click on 'Sign up'.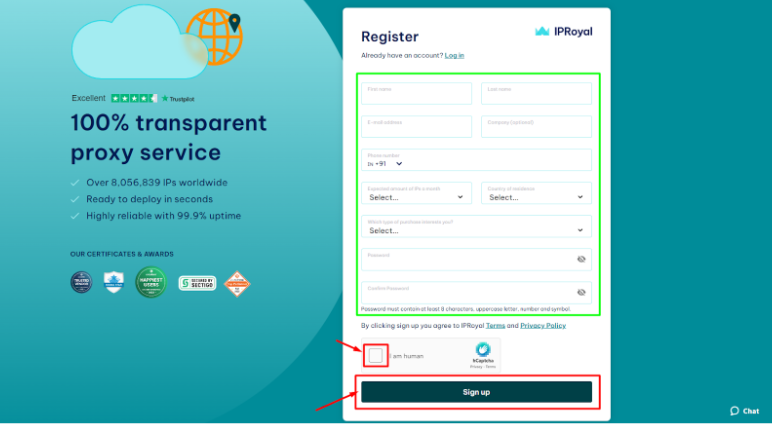 Verify your email address.
Step – 5: Click on 'Make a deposit'.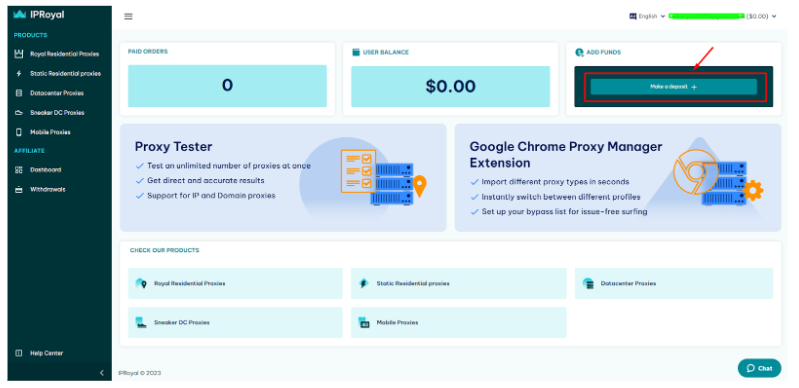 Step – 6: Choose a payment method of your choice, fill in the amount and currency, and click on 'Deposit'.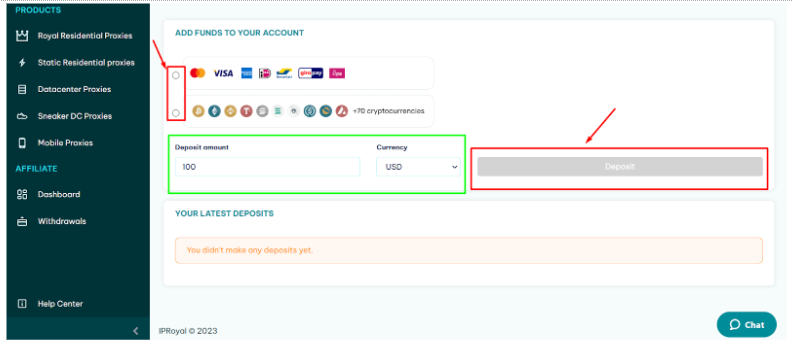 Complete the payment and that is it. You are good to go.
Pros & Cons Of IPRoyal
Pros
Unlimited concurrent sessions for enhanced flexibility.

Customizable proxy list generation for tailored configurations.

Extended location support for global IP addresses.

Opportunity to share resources and earn money.

Automatic IP address rotation for enhanced anonymity.

Reliable and fast sneaker proxies for successful copping.

Affordable pricing, suitable for small-time clients.

Dedicated 24/7 support for prompt assistance.

Broad proxy pool coverage for diverse needs.

Non-expiring rotating residential proxies for uninterrupted access.
Cons
Small IP pool, limiting the number of available IPs.

Creating excessive concurrent sessions can lead to performance issues.
Quick Links:
Conclusion: IPRoyal Review 2023
My review of IPRoyal reveals a promising proxy provider that offers a range of impressive features.
With unlimited concurrent sessions, customizable proxy list generation, and extended location support, users have the flexibility to tailor their proxy usage to their specific needs.
The opportunity to share resources and earn money through IPRoyal Pawns adds an enticing benefit for users.
However, it's important to consider the relatively small IP pool and exercise caution when managing concurrent sessions to avoid any potential performance issues.
Nevertheless, IPRoyal delivers reliable sneaker proxies, affordable pricing, and dedicated 24/7 support, positioning itself as a strong contender in the proxy market.
With its ambitious growth plans and commitment to customer satisfaction, IPRoyal has the potential to become a top-tier proxy provider in the near future.