In this comprehensive MarsProxies Review, we delve into the world of MarsProxies, a leading provider of proxy services that aims to enhance online experiences for individuals and businesses alike.
With an array of innovative features and a commitment to exceptional performance, Mars Proxies has earned a reputation for being a reliable and trusted choice in the realm of proxies.
Whether you're an online shopper looking to overcome geo-restrictions or a sneaker enthusiast seeking an edge in the competitive market, Mars Proxies offers a range of solutions tailored to meet your specific needs.
So let us begin.
What are Mars Proxies? – All You Need To Know Before Starting Out!
MarsProxies—an out-of-this-world provider that has carved its niche in the industry. With a focus on delivering exceptional proxy services, MarsProxies distinguishes itself by offering both datacenter and residential proxies, catering to various specific use cases.
This UK-based company has gained a reputation for its high-quality offerings and reliable infrastructure, making it a go-to choice for individuals and businesses alike.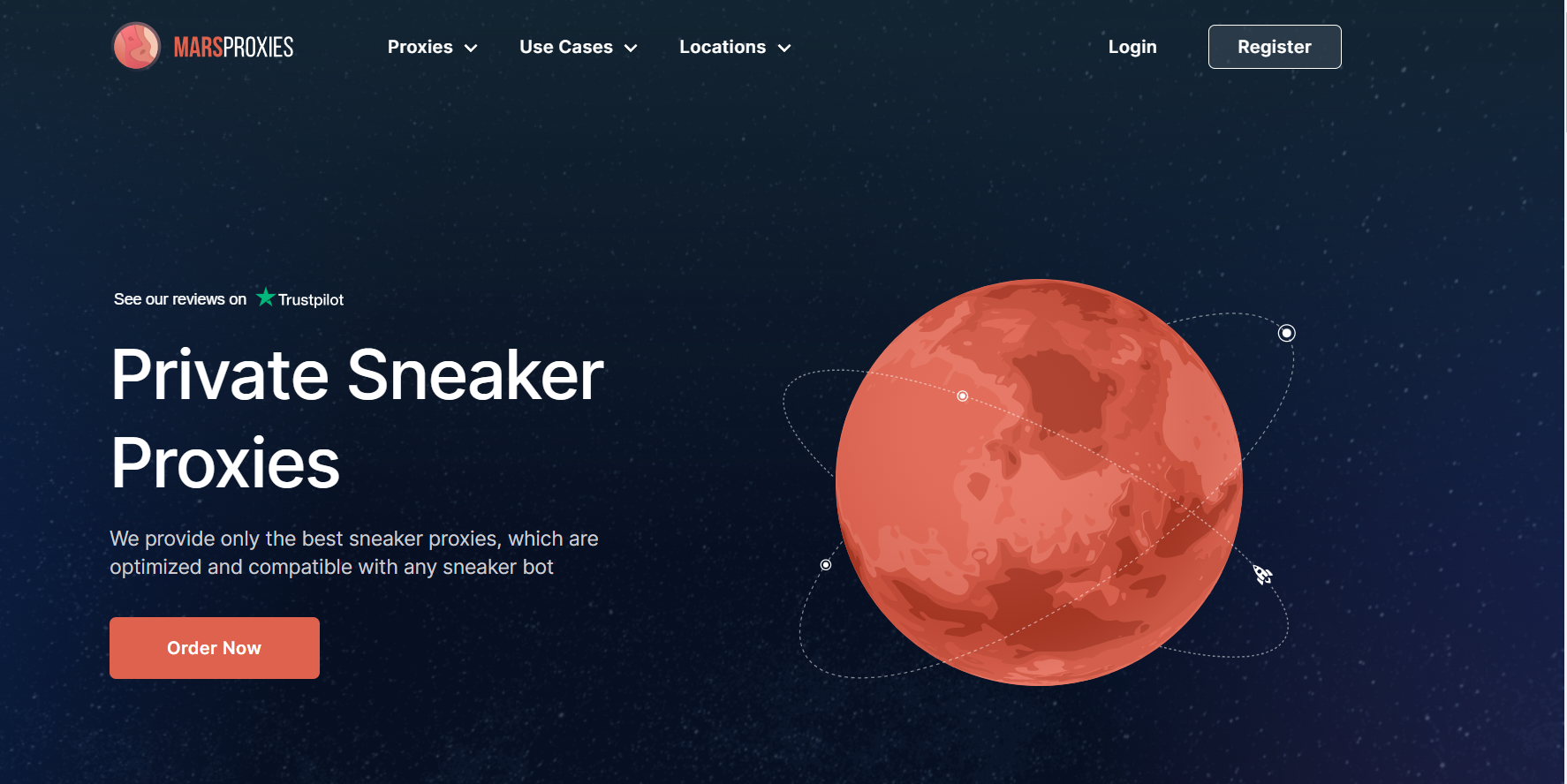 One of the standout features of MarsProxies is its extensive pool of over 250,000 unbanned residential IP addresses.
These addresses enable users to establish connections with websites and online platforms without any restrictions, ensuring seamless browsing and data retrieval experiences.
Whether you require proxies for online shopping, market research, or sneaker botting, MarsProxies has got you covered with its high-speed and dependable solutions.
Navigating through your proxy orders and managing your traffic usage is made effortless with MarsProxies' intuitive dashboard.
The user-friendly interface allows you to effortlessly monitor your usage, track your orders, and make adjustments as needed.
This streamlined approach empowers users to optimize their proxy usage efficiently, saving time and effort in the process.
Mars Proxies Pricing & How To Buy Guide
Step – 1: Go to the official website of Mars Proxies, scroll down, and click on 'Order now'.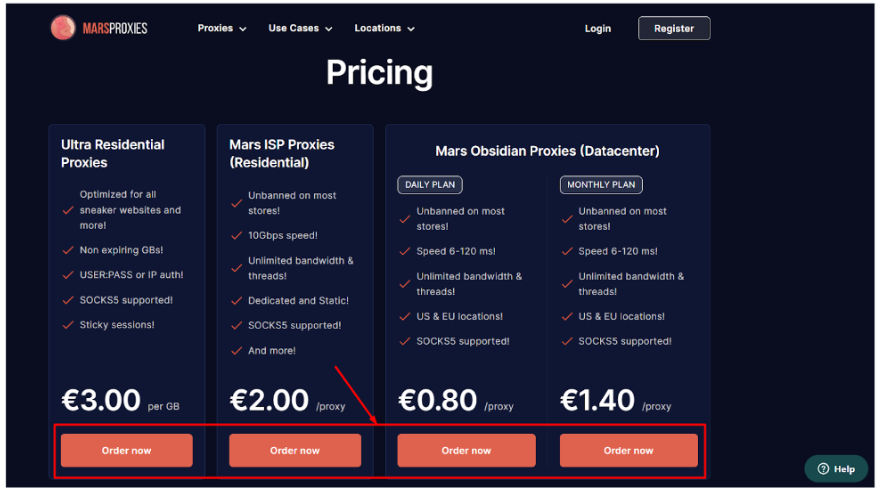 Step – 2: Click on 'Sign Up'.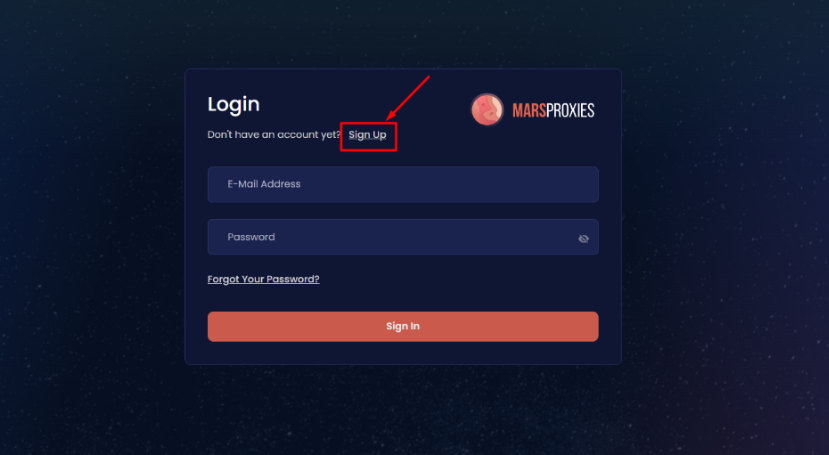 Step – 3: Fill in the details asked for, check the box, and click on 'Register'.
Make sure you verify your email then.
Step – 4: Click on 'Deposit'.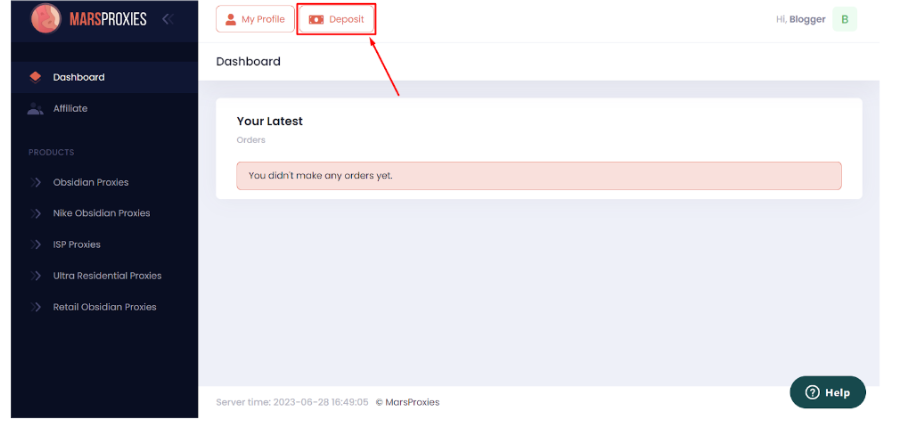 Step – 5: Choose a payment method, fill in the payment details, and click on 'Pay'.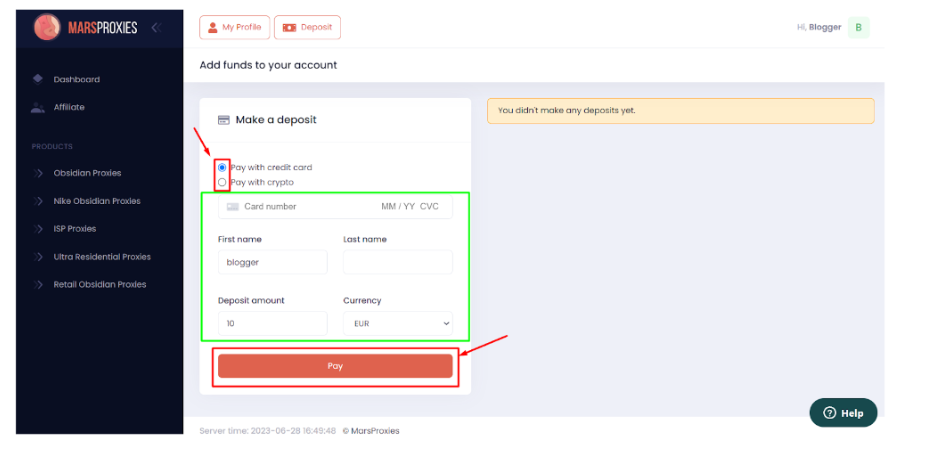 Complete the payment and start using Mars Proxies.
Pros & Cons Of MarsProxies
Pros
Access multiple IP addresses in various locations.

Indistinguishable sneaker bots to avoid order cancellations and bans.

Reliable proxies to navigate evolving bot protection measures.

Higher chance of successfully copping limited-edition sneakers.

A vast network of proxy servers ensures optimal performance.

Cloaks bot activity for seamless online sneaker releases.

Fast and stable connections for smooth bot operations.

User-friendly dashboards for convenient proxy management.

24/7 customer support for prompt assistance and solutions.

Competitive edge in the sneaker copping game.
Cons
The learning curve for setting up and managing proxies.
Quick Links:
Conclusion: MarsProxies Review 2023
Mars Proxies emerges as a top-notch proxy service provider, offering a wide range of proxy solutions tailored to meet the diverse needs of individuals and businesses.
Their impressive features, such as multiple IP addresses, indistinguishable sneaker bots, and reliable infrastructure, position Mars Proxies as a reliable choice for seamless online experiences, whether it's online shopping or sneaker copping.

With their user-friendly dashboards, exceptional customer support, and a commitment to staying ahead of evolving bot protection measures, Mars Proxies empowers users to overcome obstacles and achieve success in their online endeavors.
While there may be some associated costs and a learning curve, the benefits far outweigh the cons.