You've been procrastinating for a long time now and you're finally feeling the pressure. You want to get good GRE score, but you don't know which course is right for you.
The right decision can make all the difference in their chances of getting into the desired college or university. When choosing a GRE course, make sure to take into account what your needs are.
That's why we've compiled a list of comparisons on Magoosh vs Kaplan including the pros and cons for the Magoosh GRE and Kaplan GRE courses.
Here, we have shared and compared the two best courses; Magoosh GRE vs Kaplan GRE July 2021.
You will also find the comparison between Magoosh and Kaplan as given:
Magoosh vs Kaplan GMAT
Magoosh vs Kaplan MCAT
Magoosh vs Kaplan SAT
We have outlined the pros, cons and detailed comparison between these courses.
Let's take a look at a glance.
Magoosh vs Kaplan Comparison: Top Pros & Cons of Magoosh & Kaplan
About Magoosh GRE
Magoosh is a young company founded in 2009 by four entrepreneurs in Berkeley, California. Its mission is to provide excellent preparation courses for high-quality exams at an affordable price.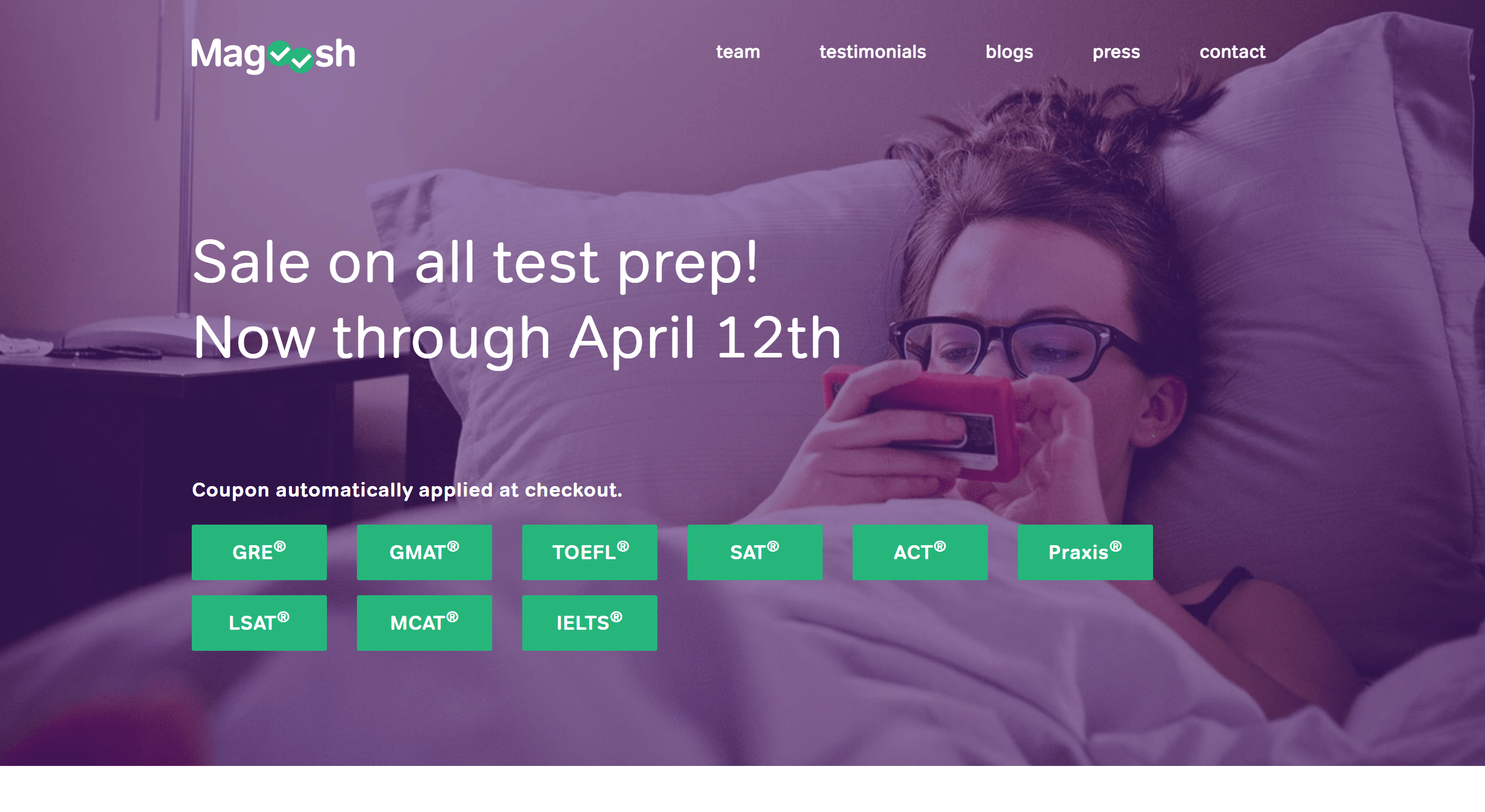 They currently offer course options for GRE, GMAT, TOEFL, SAT, ACT, LSAT, MCAT, IELTS, and Practice. From the beginning, its goal was to make test preparation affordable, entertaining, and useful. 
At this time, they offer personal preparation courses that cost between $149 – $179 depending on the option chosen.
The main strength is to provide good value for money and to provide students with an amazing mobile app that helps them learn on the go.
Also, they offer a guarantee for improved competitive results (e.g., more than five additional points in the ERM or a refund) as well as e-mail support and well-designed video courses.
If you want to see more courses about GRE, GMAT, SAT, and ACT, you can check out our detailed comparison about Kaplan vs Princeton Review. We have covered its full insight, pros and cons, pricing, and much more.
Pros:
Affordable Pricing plans
100% Online Platform
Offers various courses
Money Back Guarantee
Cons: 
Less Practice Tests
No Essay Evaluation
About Kaplan:

Kaplan, on the other hand, is the oldest company for test preparation in the world. It was founded in 1938 and now serves students from all over the world.
Unlike Magoosh, it offers a wide range of preparation courses for all imaginable standardized tests.
It also has a more extensive infrastructure with hundreds of educational centres around the world.
They offer much more than just personal preparation courses. Kaplan's greatest strength is the ability to create an online classroom that can meet 6 to 10 students sharing the same learning experience.
Of course, this type is more expensive and costs between $1,000 and $3,000. But they are great for students who prefer to work with a teacher.
Fantastic customer service and the cancellation of some personal courses are the leading cause of complaints. Overall, Kaplan enjoys a high reputation in the student community.
Pros:
Amazing Online guides and tutorials
Live and Interactive lessons
Large number of tests and lessons
Stellar customer support
Cons: 
Pricey
Less mobile-friendly
Which One Is Better: Magoosh vs Kaplan Courses? 
In this article, I will review the features and benefits of both options in personal preparation courses. 
Magoosh does not have an excellent YouTube channel for GRE, SAT, ACT, and TOEFL, but Kaplan does!
The MCAT is one of the toughest exams you'll ever pass. This 7-hour, 30-minute beast will put your knowledge and skills to test in chemistry, critical analysis and reasoning, biology, psychology, and more. It also costs $315 per test, so better be prepared!
Magoosh MCAT Course only offers its rhythm option.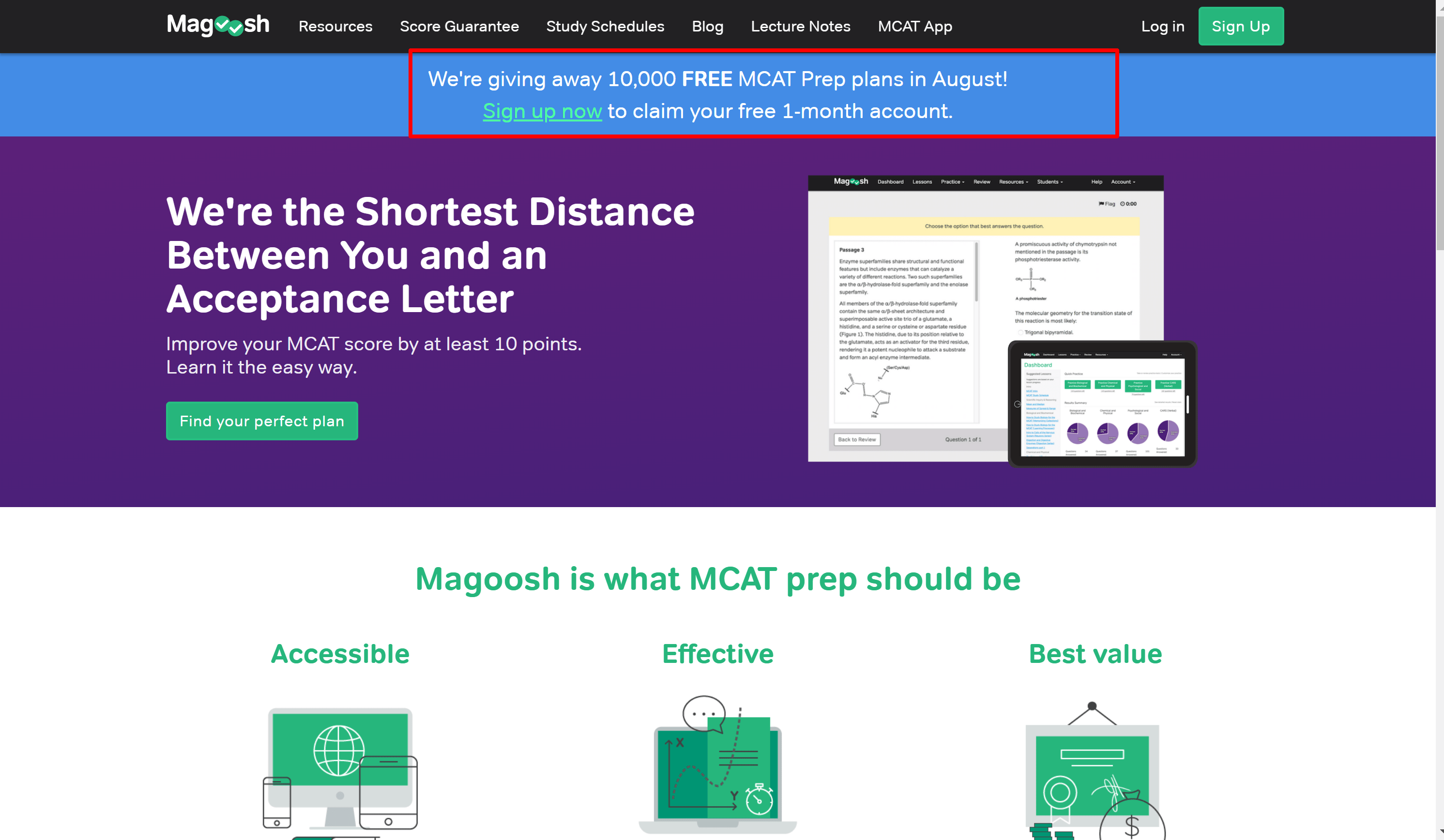 Therefore, in this general description, I will compare it with the Kaplan rhythm option to make it entirely correct.
Kaplan also offers a variety of MCAT preparation methods (including online and classroom courses). However, we will sign up for another exam.
The first thing that will surprise you here is a significant price difference.
The Kaplan self-study course costs more than $1,500 for five months, and the Magoosh course costs only $99 for 12 months. Therefore, before deciding on one or the other, consider your budget.
In terms of value for money, Magoosh wins here clearly. At a super low price, they offer over 745 practice questions, three full practice exams, and 380 video lessons.
That's a lot, especially since Magoosh's mobile app is much better and can be used to process learning material.
Magoosh vs Kaplan GMAT: Is Kaplan Good For GMAT? 

When comparing Magoosh with Kaplan for GMAT, the most significant differences are:
Magoosh mobile apps are designed specifically for GMAT preparation and are easier to work with than Kaplan's.

Magoosh includes email tutoring with GMAT packages and video tutoring as an update. Kaplan needs an update for the training.

Magoosh guarantees a 5 point (premium) increase in score, while Kaplan only guarantees an increase in score.

Magoosh has a free 7-day trial of his service. Kaplan has free events to test its functioning.

Magoosh offers two field tests (Premium). Kaplan offers nine practice tests and the "Test Day Experience," which allows you to complete a GMAT practice test in the real test center, ideal if you are thinking about testing.

Kaplan contains 2 GMAT preparation books and an MBA Admission Guide. Magoosh does not offer any preparation books.
So, Kaplan or Magoosh For GMAT?
I agree with Magoosh here. Your GMAT preparation is one of the most innovative and best-qualified courses.
It can be said that Magoosh is involved in the GMAT. They offer video tutorials as part of their Guided Study Package.
This is the only course in which they currently offer video tutorials. To increase your guarantee of 50 points is also very generous.
Magoosh vs Kaplan GRE Prep: Is Kaplan or Magoosh better GRE?
When it comes to comparing Magoosh to Kaplan for the GRE report, these are the main differences:
Mobile apps are designed specifically for GRE and are easier to work with than Kaplan's.

Magoosh includes email tutoring, but Kaplan needs a tutorial package to get personalized support.

Guarantees a 50 point increase in the score. Kaplan only guarantees an increase in the score.

Offers a free 7-day trial. Kaplan offers free events to test its service.

Kaplan offers in contrast to Magoosh, 37 practical tests. Kaplan also provides a unique "test day experience" that allows you to do a hands-on experiment in your real GRE facility to put your nerves to the test in case of anxiety for tests.

Offers four books to prepare GREs, while Magoosh does not provide any.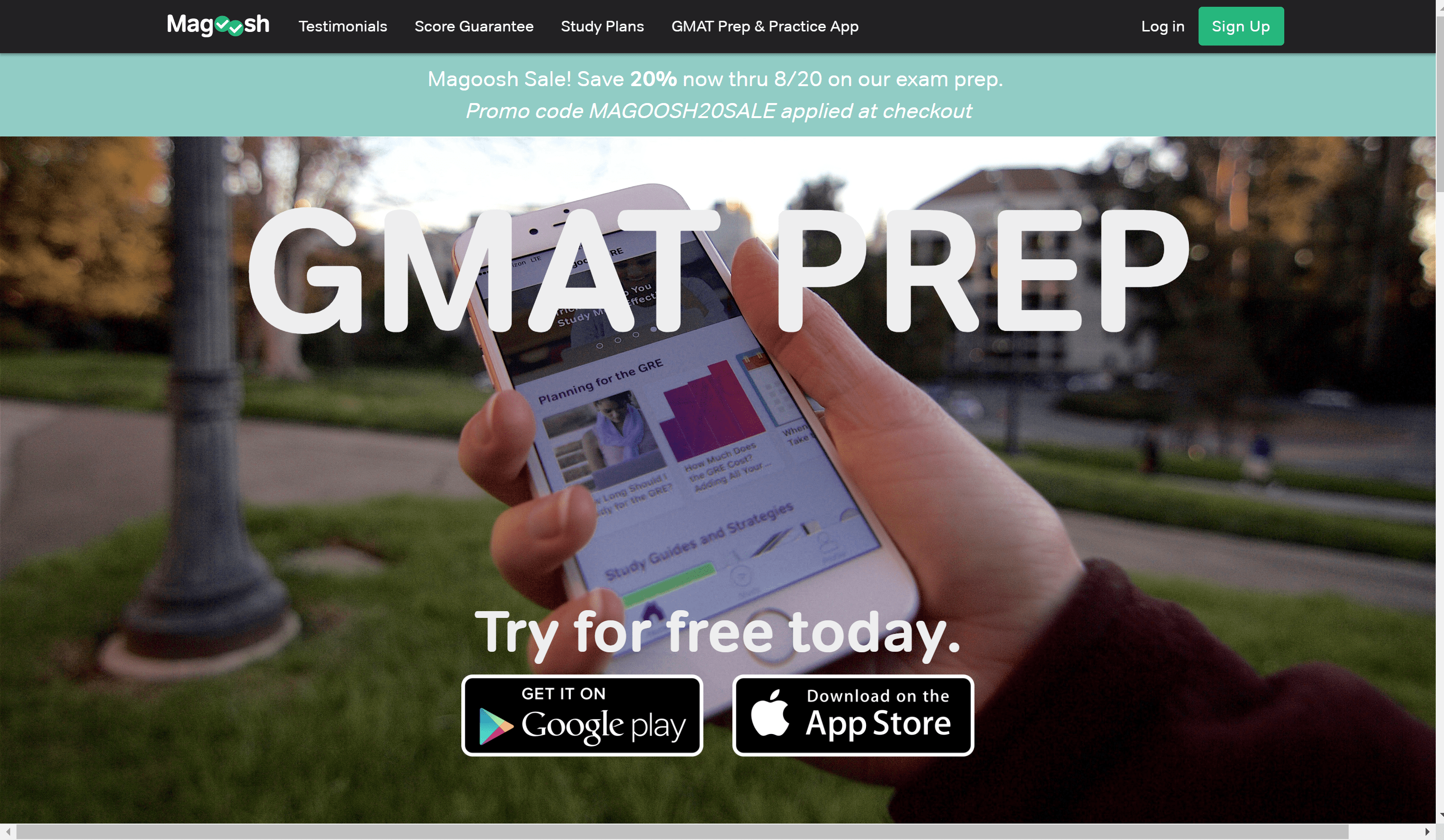 Magoosh is also known for its preparation for the GRE. With a substantial discount on what you pay with Kaplan, you get a personalized experience at your own pace, especially for those who want to check their cell phones. Here is the advantage of Magoosh.
Magoosh vs Kaplan SAT / CAT (Which SAT review course is better, Magoosh or Kaplan?)
The Magoosh and Kaplan courses are remarkably similar for both CAT and SAT.
I used their SAT courses for this comparison, but if your child wants to follow the CAT, the differences are minimal. Consider the following differences when comparing Kaplan and Magoosh:
The Magoosh Mobile App is specifically designed for SAT/CAT preparation and is easier to work with than Kaplan.

Magoosh guarantees an increase of 100 points in the SAT and 4 points in the CAT. Kaplan only guarantees an increase.

Magoosh offers a free 7-day trial. Kaplan offers free events to test its service.

Kaplan offers eight practice tests with 3 Magoosh practice tests.
Keys For Preparing The GRE Test:
Know Your Skills (What's Your Score Today?).

Create a syllabus (based on your target score, target universities).

Know how much you can try (the program is useless if you do not know its limits).

How long would it take to reach the objective score (hard work and determination)?

Even the best GRE books can do a lot and bring you closer to your goals, but each candidate is limited in time and skills.

How long would it take for the 5-point score to improve? It's easy to improve your score from 140 to 145 to 150.
Any increase in points over 150, however, requires effort and time.
Can you define a realistic GRE goal based on your previous academic skills and achievements?
One of the most frequently asked questions: How many books from GRE Test Prep can you buy?
What Books Should You Study For GRE? 
Here are some books for the quantitative sections of the GRE: Strategies and Practice Test.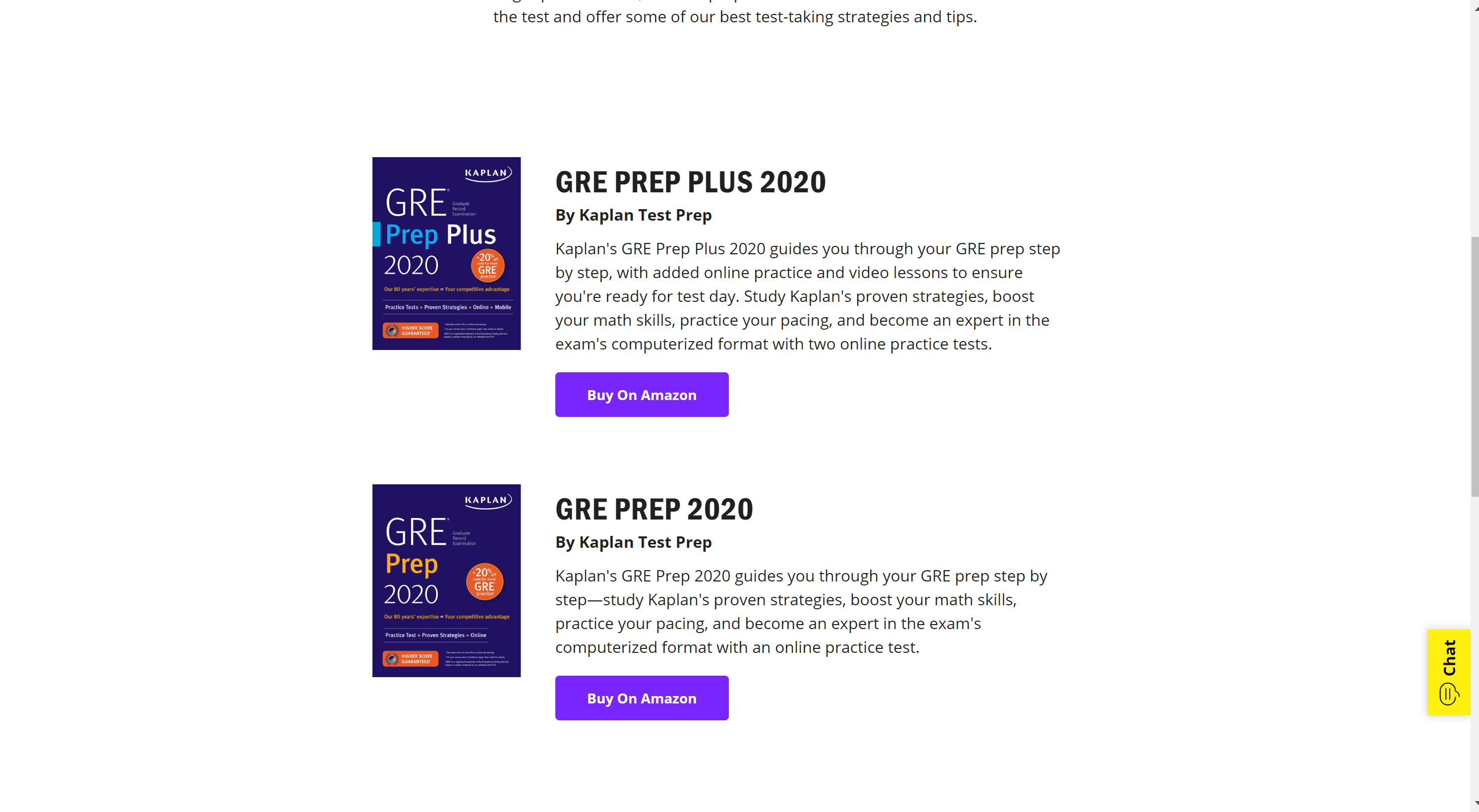 500 GRE Math Memory Cards (Manhattan).

Magoosh GRE Prep Books – (contains books for algebra, word problems, trigonometry).

Math notebook for GRE Kaplan Review.
The Main Verbal GRE Books
Here are some books in preparation for the GRE Verbal Section. Most students spend more time preparing the oral part than the mathematical part.
After identifying your weak verbal sections, read some books to improve those specific weak sections.
Magoosh

GRE Preparation Books (GRE Verbal Guide).

Magoosh reading comprehension.

GRE Vocab Ability Over 800 powerful memory and memory tips.
Refund policy: Magoosh vs Kaplan
Magoosh: If you are unhappy with the product for any reason, within 7 days of purchasing or upgrading your account, they will cancel your account and give you a full refund. You don't have to prove anything to quit the program.
Kaplan: Whereas Kaplan unfortunately does not provide refund policy as Magoosh. Once you sign up for the course then there is no returning back after signing up, you can't change your mind if you don't want to take the course. The money is gone.
Is Magoosh GRE Worth It?
In that case, I give Magoosh a conditional recommendation. The difference in costs between Magoosh and Kaplan is not as important in Abitur examinations.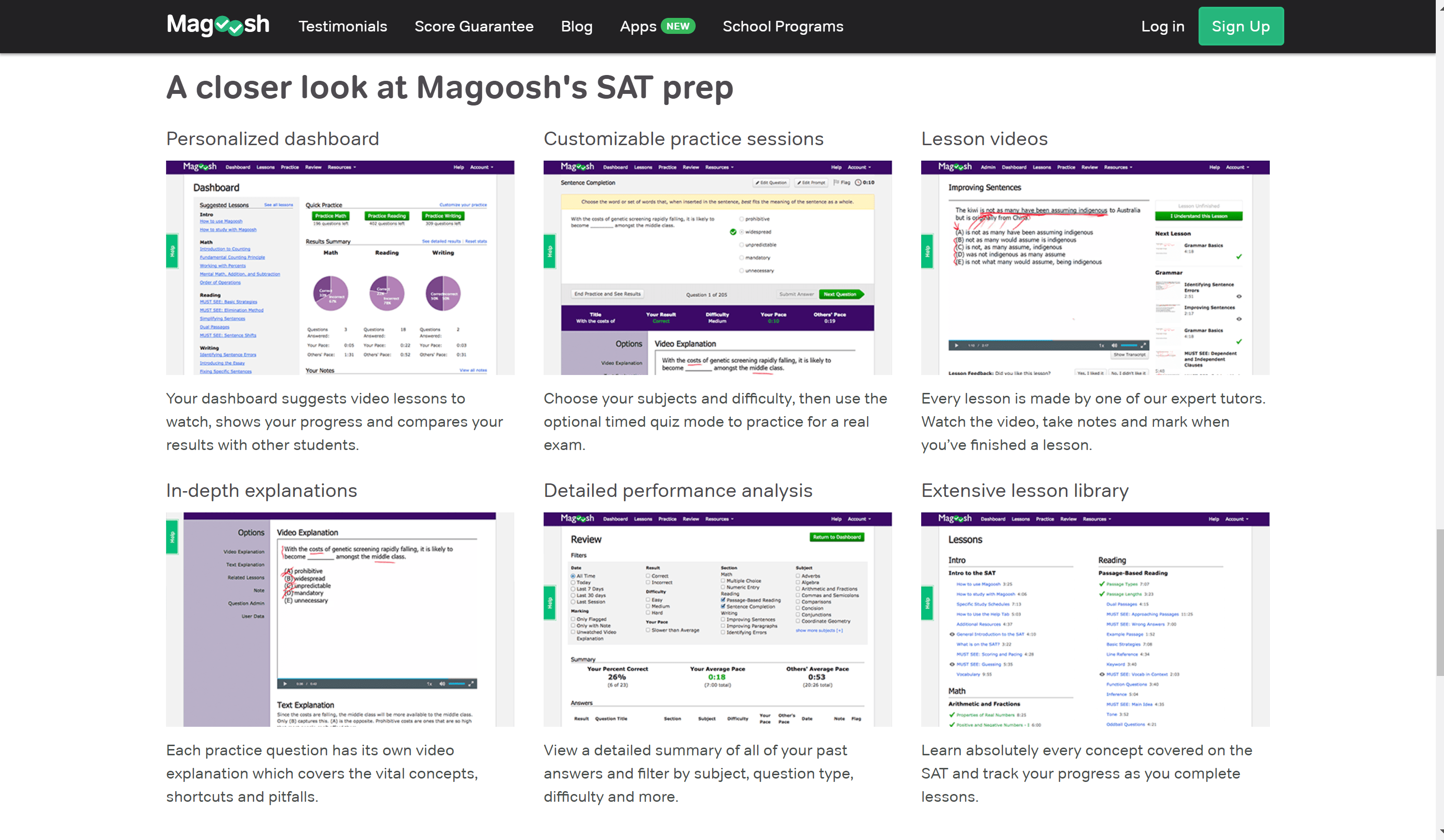 However, the mobile learning approach will attract many students. You just have to make sure that your child is disciplined enough to follow them.
Kaplan offers more learning materials, such as the eight field tests, but often 17-year-olds are not used to it.
I recommend subscribing to the free 7-day trial of Magoosh. If it works well, stay with them.
Kaplan Testimonials & Custiomer Reviews: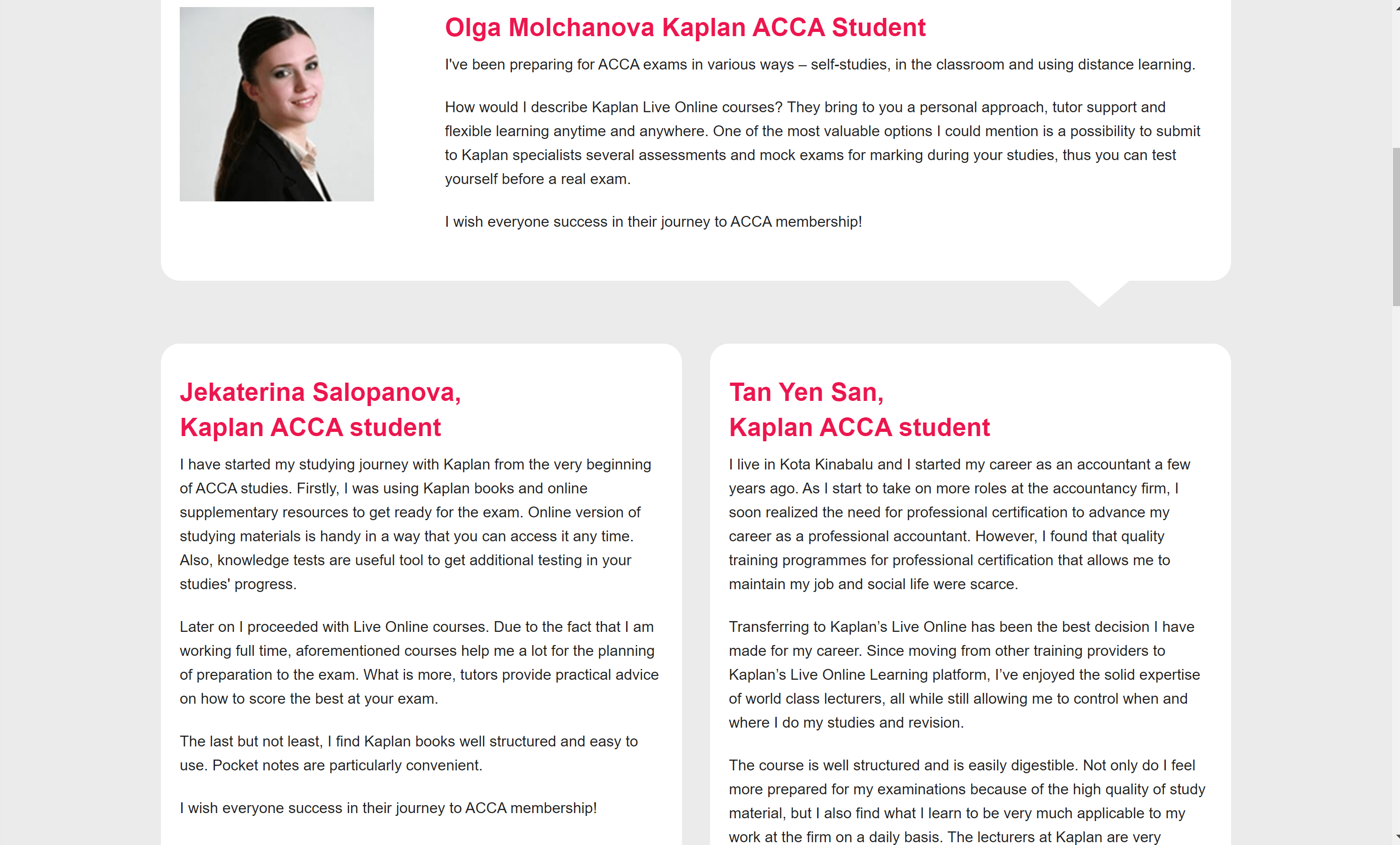 Magoosh vs Kaplan vs Princeton Review vs Manhattan Prep: 
So, how does Magoosh and Kaplan fare against the other competitors such as Princeton Review and Manhattan prep.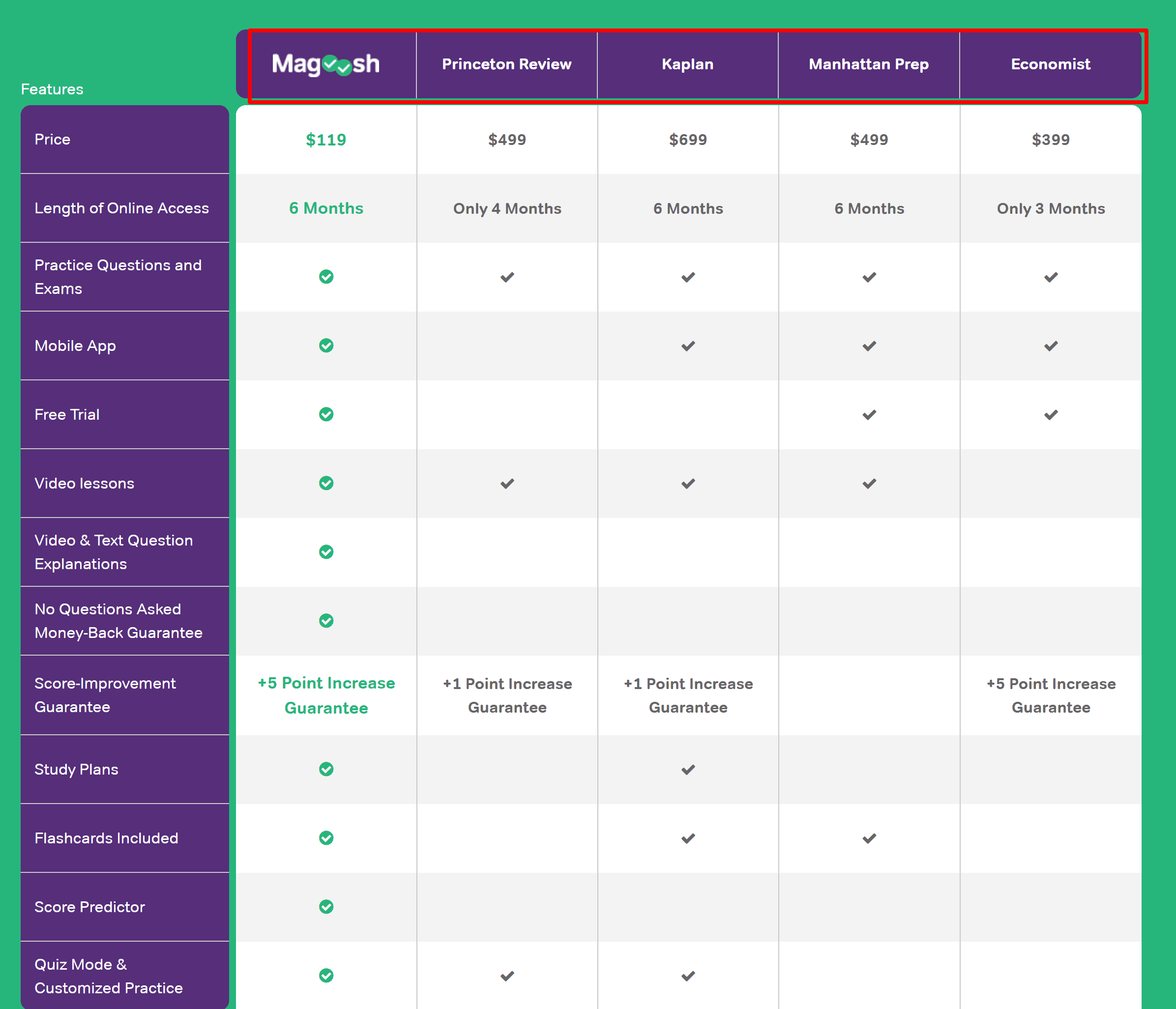 FAQs Related To Magoossh vs Kaplan Comparison:
✅ How accurate is Magoosh score predictor GRE?
Magoosh Score Predictor gives an accurate measure. If the dashboard predicts 159, you can get nearly 157-163.
💲 How much does Magoosh cost?
Magoosh costs somewhere around $129/month for a GRE course. For Magoosh GMAT course, the pricing is around $149/month.
⚡ How much does Kaplan GRE coure cost?
Kaplan GRE course cost around $450 up to $1,200 depending on the format of class and the level of access you need.
👉 Does Magoosh Offer Free Trial?
Yes. Magoosh Free Trial is available for 1-week that gives unlimited access to 20 lesson videos and 20 practice questions.
💯 Is Magoosh harder than actual GRE?
Magoosh has almost the same difficulty level as the actual GRE. Some aspects of GRE might seem harder but overall, it is almost the same.
💼 Which GRE prep course costs more – Kaplan or Magoosh?
When compared for pricing, Kaplan is far more pricey than Magoosh. The pricing of Kaplan is 2.5x more than the Magoosh courses.
🔥 What's the main difference between Magoosh and Kaplan GRE prep courses?
Magoosh and Kaplan for GRE have a basic difference that the Magoosh offers the only pre-recorded lessons whereas Kaplan gives prep books and live classes.
⚡ What Is difference between Magoosh and Kaplan Course Guarantees?
There is always some course guarantee. Magoosh gives a 7-day trial and full refund if the score does not increase by 5. In the case of Kaplan, they offer the retake of courses with which you are not satisfied.
✔ Which company provides more study material, Kaplan or Magoosh?
In terms of study materials, Kaplan leaves Magoosh behind. While the Magoosh offers only 1,500 problems and 3 full-length practice tests, Kaplan offers 5,000+ problems and 7 full-length practice tests.
🥇 Is only Magoosh enough for GRE?
Yes. Magoosh can be a great choice for GRE that comes with 6 months GRE study plan. It has affordable pricing plans and amazing lessons. However, if you need more lessons and practice tests, we would recommend Kaplan.
Social Media Posts of Magoosh & Kalpan
In 1 Hour: CyberVista Lead Content Developer, Tim Stover, will discuss all things dark web: myths, misconceptions, and realities of both the dark web and deep web, and will conclude with a live demonstration. Don't miss out: https://t.co/LsqzHKsToS pic.twitter.com/aDmwfTaC7X

— CyberVista (@CyberVistaEd) May 19, 2021
Is the MCAT computer-adaptive? How do you prepare for the MCAT? We answer your #MCAT FAQs in this post!✨ #medschool
🔗https://t.co/FwGfLdc1oC pic.twitter.com/2v9EFHGGuo

— Magoosh (@magoosh) May 20, 2021
Magoosh vs Kaplan GRE Verdict: Which One Wins The Battle? Is Only Magoosh Enough for GRE?
The Magoosh GRE and Kaplan exam preparation courses are great for you if you set a curriculum and follow it. If you want to learn at your pace, use only online material.
This is also a great solution for you if you usually need an explanation that goes beyond the text but does not want to sit in a classroom.
Magoosh is the best option for GRE prep. Its online videos and study tools will help you master content in a way that's easy to understand, while also giving you an opportunity to practice with questions just like those on the actual exam.
Kaplan has some great materials too, but they don't provide as many options for students who are looking for more than one resource or want someone else to do their thinking for them (i.e., if they're not self-motivated).
If your goal is simply to pass the test without doing much work at all, then Kaplan may be right up your alley. But if you really want to get into grad school? You must really watch out Magoosh.
With the variety of explanations and the depth with which Magoosh explains every problem of the GRE and Kaplan GRE preparation courses are an excellent choice for most types of learners and students.
If the options for Magoosh GRE test preparation do not seem appropriate, look at other options, such as Manhattan Prep or Princeton Review.
Quick Links
Magoosh Videos:
You can also access the sample test papers on their YouTube channel: 
Kaplan Videos (Amazing Video Lessons):