In this blog, I am going to discuss the Top 7 Facebook Messenger Apps For Desktop And Mobile 2023
No doubt, we all probably use the world's biggest social network called Facebook.
We all are familiar with Facebook and as it let us share our daily moments along with many other things with tons of features loaded.
Facebook is available on the web as well on Android and iOS devices. But unfortunately, there is no official desktop app.
Facebook initially released Facebook Messenger in August 2011, here messenger provides an instant messaging service along with a software application.
For instance, you cant use many Facebook accounts on the official Messenger app.
It may happen that you want better notification on a desktop and even the browser extension.
No problem, third-party developers are there to help you out with this problem.
So here in this post, you will get Best Facebook Messenger Apps for Desktop and Mobile.
List of Best Facebook Messenger Apps
1) Messenger for Desktop
Price: Free
Platforms: Windows, Mac, and Linux
This is one of the easiest ways to access Facebook Messenger Apps on a desktop computer.
Here Messenger for Desktop is a free tool for all major operating systems (OS) as it lets you do everything like making calls to friends, sending chat stickers, and many more things.
This software bundle is regularly checked for viruses along with other types of malware.
Don't worry all your personal details and the integrity of your operating system will never be compromised.
The main advantage of having this app can also work with standard desktop computers. This software is specially designed to work with both 32-bit and 64- bit Windows Operating System.
Here it also comes with 32-bit Mac OS formats along with a 64-bit option are available.
2) Franz
Price: Free
Platforms: Windows, Mac, and Linux
Here, Franz is a fantastic cross-platform tool which is an all-in-one app for many instant messaging services.
From my point of view, run Facebook Messenger with Franz because it integrates with Linux well.
The best part of having this amazing software is you can run multiple Facebook Messenger accounts.
Just download this program and connect to Facebook and put this program into credentials. After the log-in process, you will have the same Facebook Messenger as usual. Here like Facebook Messenger it also supports native notifications.
If you are willing to set up another Facebook Messenger account just click the Franz icon and choose the Messenger under Add New Service. You have the liberty to add as many accounts as you can.
Franz is available for 32-bit and 64-bit Windows along with Mac OS X and 32-bit and 64-bit Linux.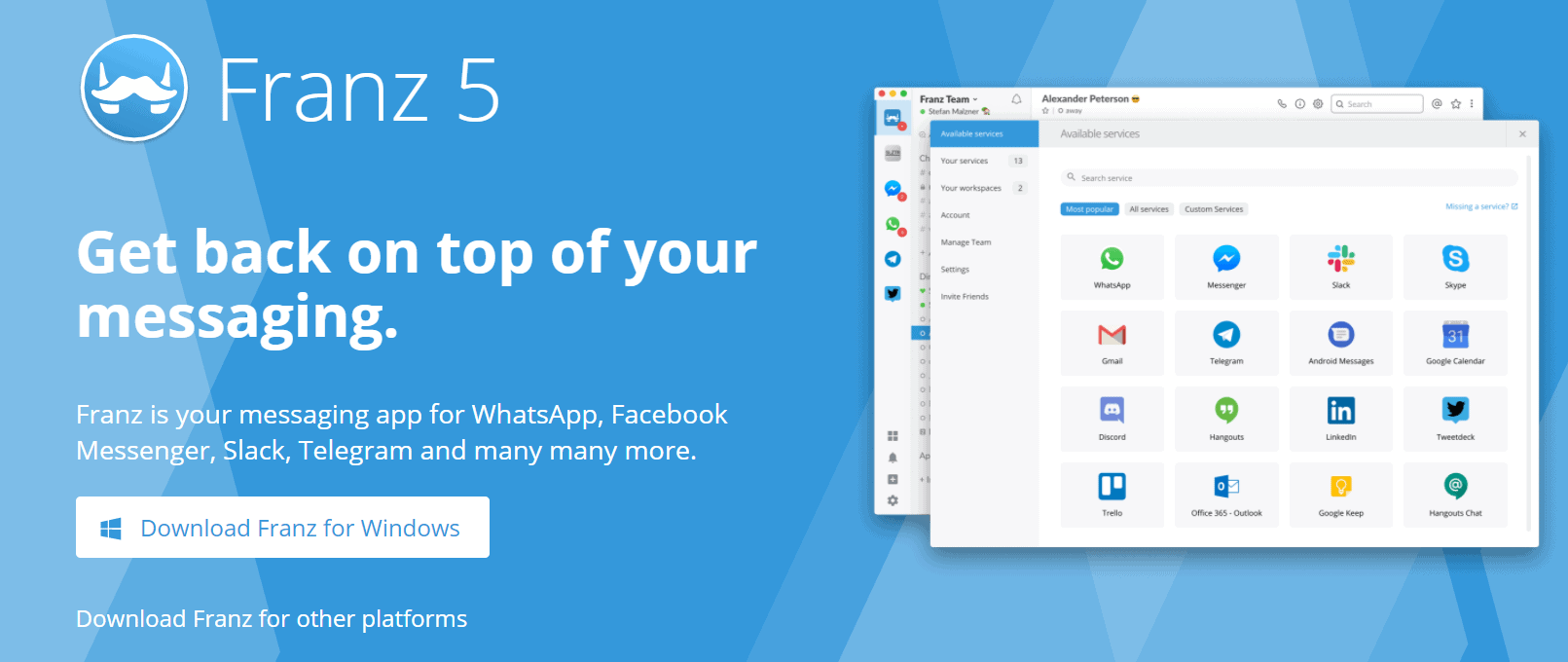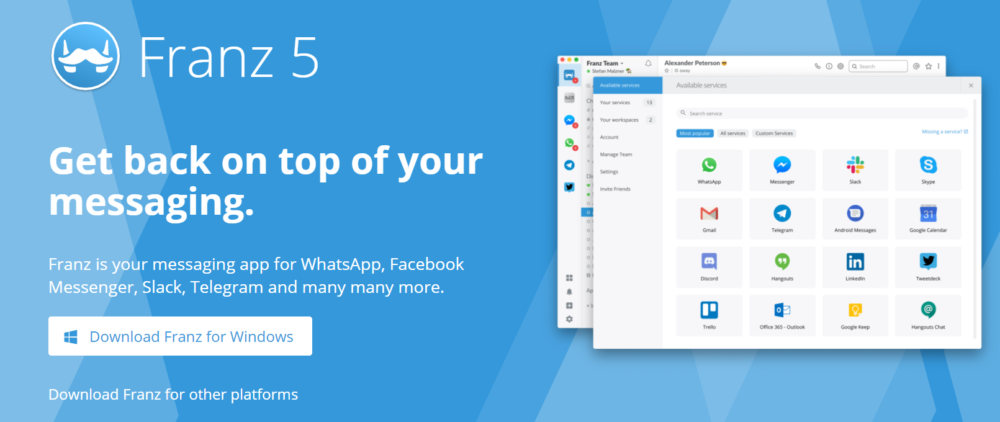 3) Current for Mac
Price: $2.99
Platforms: Mac
Here comes the Current for Mac as its name suggests, this software is only available for Mac users only and this is not available on other platforms.
Current is more than about Messenger, as it's one of the best Facebook for Macs. This awesome software comes with two special features for Messenger.
Basically, this first one is Current works from the Mac Menu Bar, due to which you can just click the little icon at any time and you will get a tiny window just to browser your Messages.
But the second is the latest and cool part, as it lets you separate chat windows so that you don't miss any message along with carrying multiple conversations at the same time while doing other things.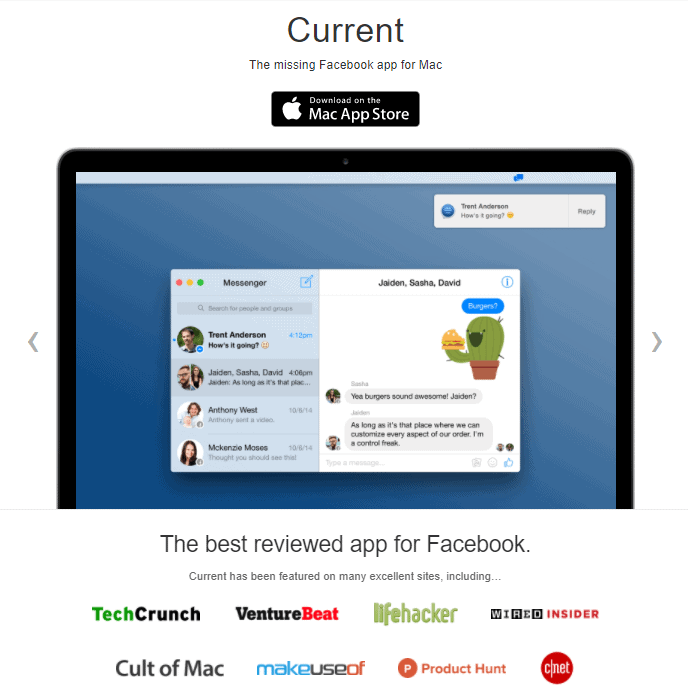 4) Facebook Messenger for Firefox:
Price: Free
Platform: Mozilla Firefox (Windows, Mac, and Linux)
As Mozilla's Firefox has an amazing Facebook extension.
Here Firefox sidebar is customizable and the extensions are like an all-in-one sidebar that will let you make the most use of it.
Here, the Firefox Messenger add-on will need you to sign-in with your FB account.
Once you are done with the log-in process it will work as the mobile version of the Facebook Messenger app.
With this amazing software, you can make voice-calls and many more things but before accessing those features you have to accept the Terms and Condition.
Don't worry, it's really simple to use this software along with the handy extension.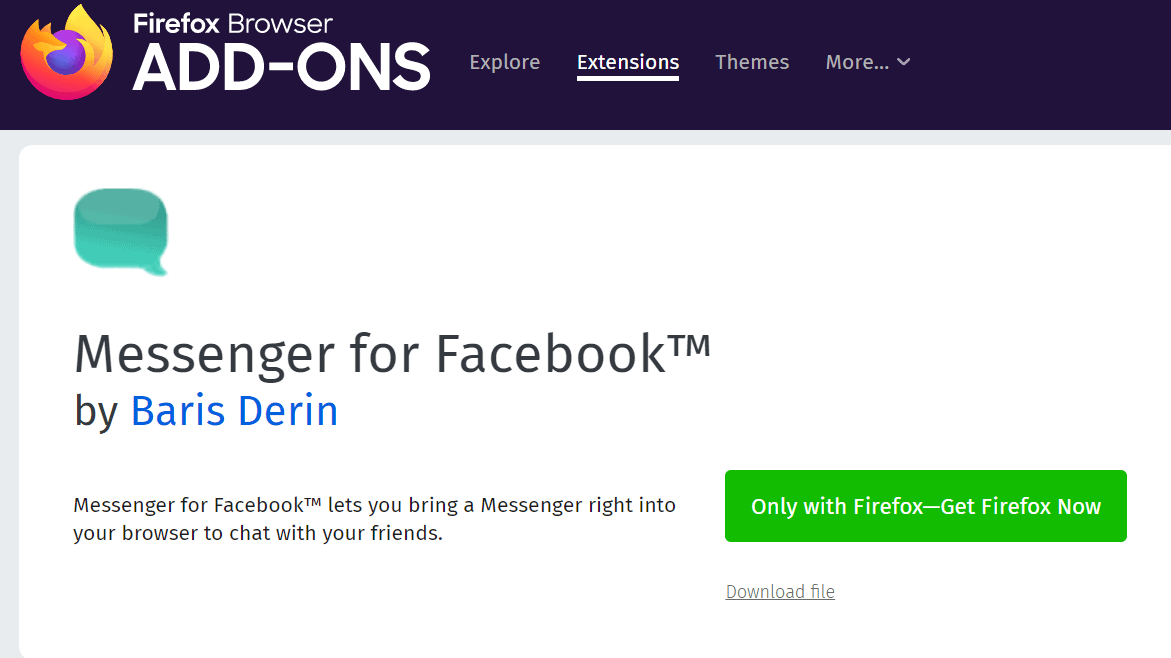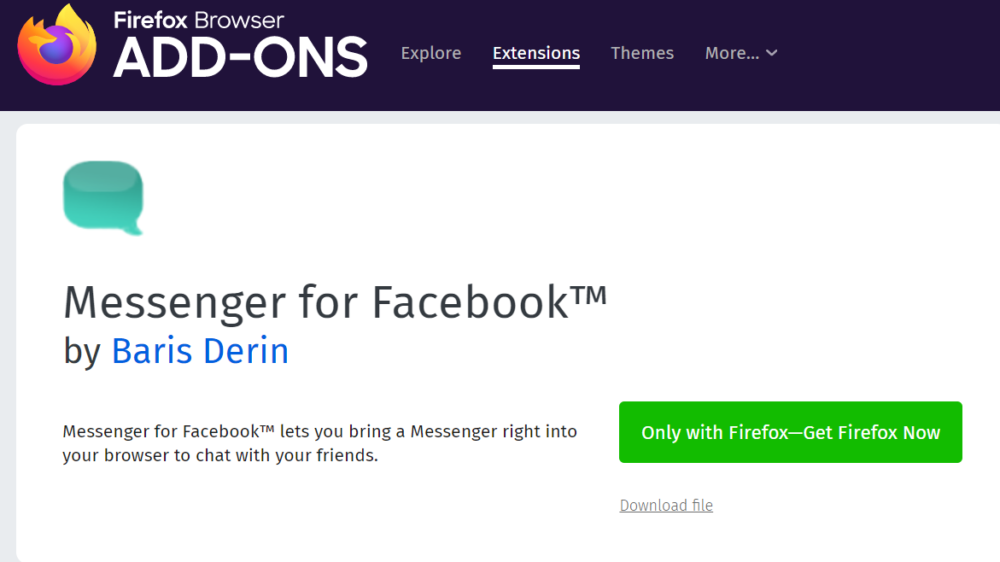 5) Facebook Messenger Panel
Price: Free
Platform: Google Chrome (Windows, Mac, Linux)
If you really prefer Chrome to Firefox, then here you will not get the sidebar. But here you will get an always-on Messenger window. It's all through the built-in Panels feature, here you will have to enable it before using.
You will get a tiny window popup that can be used outside of the chrome.
All you need to get do is just log into Facebook and you will be able to start chatting with your friends.
The best thing is that it doesn't matter which tab you browse, Facebook Messenger Panel will be at the top of it will be minimized right where the status bar will be.
6) Friendly Social
Price: Free
Platform: iOS, Android
Here the Facebook Messenger is quite good for iOS, especially with the features like Chat Heads. But the worst part is that you can only use a single Facebook account.
But if you really want to use multiple accounts here then, you should use an app called Friendly Social.
Basically, it's a free Facebook app, which is not particularly made for messenger, but the best part is that the Facebook Messenger part will work perfectly.
Now you are not just limited to one Facebook account, set up as many accounts as you can, and switch over one another instantly.
But here you cant use two accounts simultaneously, here you need to log-out and log-in into another every time.
Here you will get only account notifications at one time, but here you can use IFTTT on iPhone just to get notifications from many accounts.


7) Lite Messenger
Price: Free
Platform: Android
Are you fed up with allowing Facebook Messenger for many different aspects of the phone?
Sometimes you are not even sure before allowing it, you may think what it needs that access or when it will be going to use it.
Here comes the Lite Messenger, which really focuses on giving you control instead of Facebook.
Lite Messenger will require no access to your personal data. It supports notification, looks pretty good, and comes with many magnificent features.
An example of that you can easily switch on a setting that will stop another know that you have seen their messages or not.
Here you will also see many other features too, so just go ahead and get started with this app on the android device.
Quick Links
FAQs | Facebook Messenger Apps
🙋‍♀️ Is there an alternative to Facebook Messenger?
Telegram has emerged as one of the best alternatives to Facebook Messenger, WhatsApp, and all the other mainstream messaging apps. The client-side code is open-source; the server-side code is proprietary.
🤷‍♂️ What are the different messenger apps?
They are normally centralized networks run by the servers of the platform's operators, unlike peer-to-peer protocols like XMPP. Some examples of popular messaging apps include WhatsApp, Facebook Messenger, China's WeChat, and QQ Messenger, Telegram, Viber, Line, and Snapchat.
🤔 Is Messenger really private?
"A secret conversation in Messenger is end-to-end encrypted and intended just for you and the person you're talking to," Facebook says, implying that messages which are not "secret" risk being accessed by more than "just you and the person you're talking to.
Conclusion | Facebook Messenger Apps 2023
It's not only Facebook everywhere in the market, there are many other fast-growing social networks. So you can find many other instant messaging apps rather than Facebook Messenger. You should also get started with WhatsApp, Viber and Line, and many others in the market too.
I hope this post-Best Facebook Messenger App suits your purpose well. Share this post on all trending social media platforms.