In this article, we have featured Unbounce Pricing in 2022. The Launch plan is designed for entrepreneurs and small enterprises who are just getting started with web marketing.
Unbounce's feature selection is generous at this entry-level pricing tier. The Launch plan allows for the usage of unlimited landing pages and popups/stick bars, which is a huge benefit for businesses new to online marketing.
Monthly traffic constraints of 20,000 unique visitors per month may be an issue with this tier. Importantly, this Launch Tier only provides 500 Conversions.
Conversions occur when a visitor achieves an objective, such as clicking on a call to action button or completing a lead-generating form.
Conversions are likely to be the first area where you will run out and need to upgrade to the Optimize tier for many users.
With this package, you also have full access to all of Unbounce's configurable landing templates and popups.
Again, with many carriers, this capability is often restricted to higher levels. They have been tested for convertibility and are tailored to various campaigns such as lead generation and product launches, as well as different business industries.
You may wish to develop landing page campaigns in a different time zone or on a certain email marketing release timetable at times. Or perhaps you want to publish but aren't near a computer. These launches can be scheduled using the Launch plan.
You can also target users directly by city or country, or you can specify what customers view depending on their cookie history, using the sophisticated targeting function.
These templates are integrated with the Unbounce landing page builder, which allows you to generate sales pages in any format you desire. Using the Style Guide function, you can use this tier to display your branding across all landing pages.
The Smart Builder, an alternative landing page builder that employs machine learning and AI to create higher converting landing pages, is also featured.
Based on the material you're producing, Copy Insights will then offer conversion-optimized headlines. Unbounce's Launch strategy includes mobile breakpoints for mobile optimization.
This implies that landing pages developed for desktops are automatically optimized for mobile viewing, so you don't need to make any adjustments.
Unbounce seamlessly interfaces with all major software platforms via the Launch using Zapier, as well as directly with applications such as Mailchimp and Shopify.
Full customer service is also available. The Essential Plan includes phone, email, and live chat support. At lesser price tiers, you are often limited to email help, so this is a wonderful feature. Client Sub-accounts are infinite, allowing you to handle multiple clients from a single account. Before diving into the article check out the Latest Unbounce coupon codes & deals.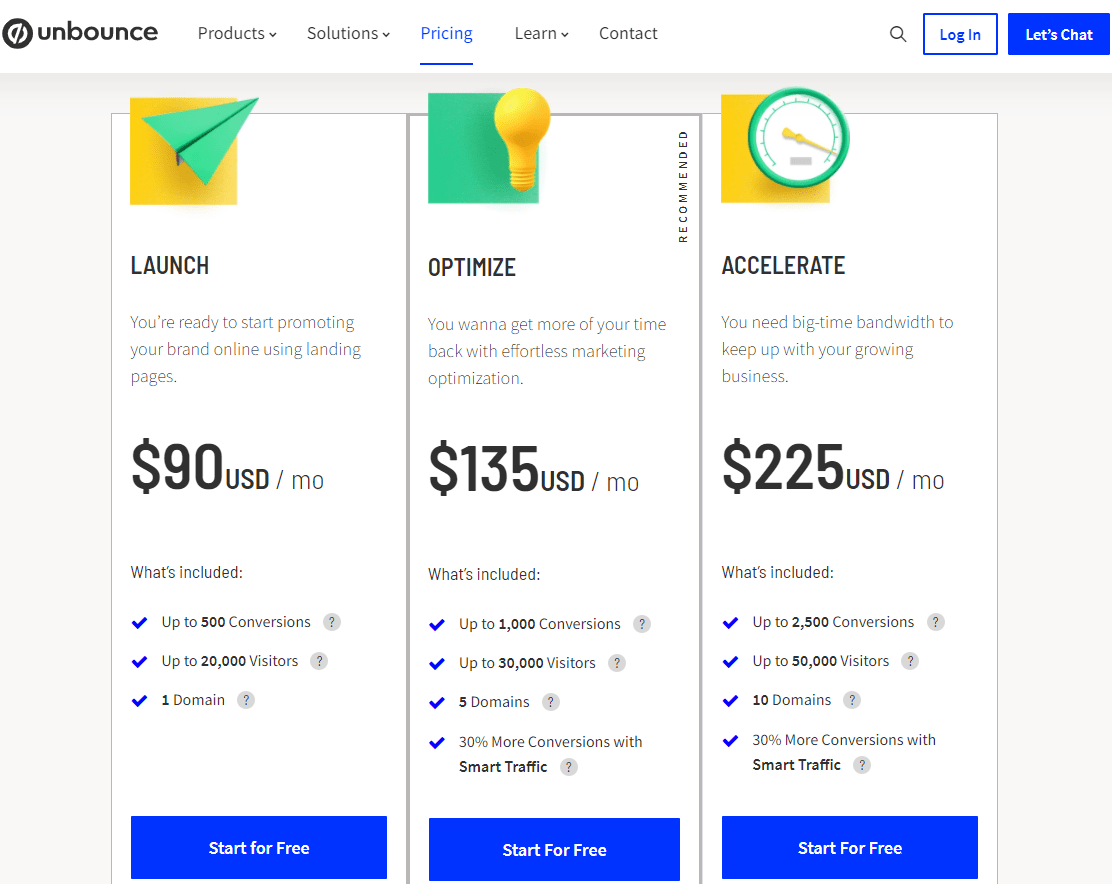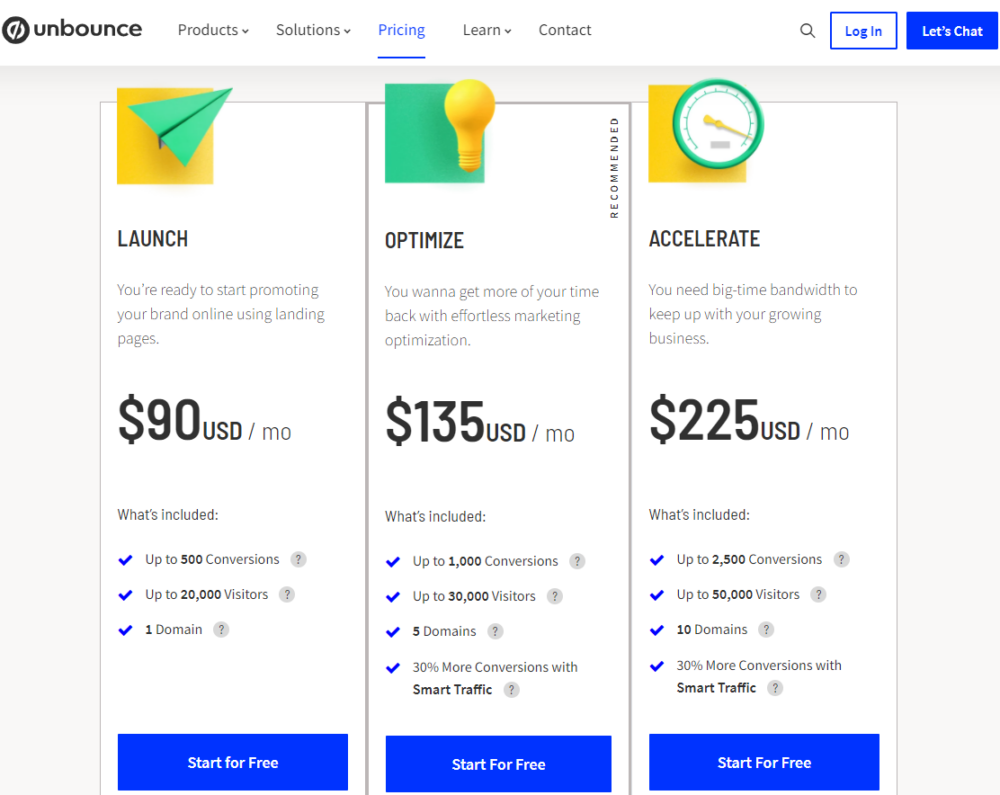 Unbounce Pricing Launch Plan (The First Pricing Plan)
The Unbounce Launch plan is $90 per month.
The following are the special benefits that come with the Launch premium price plan:
There is one domain.
Up to 20,000 people may attend.
Up to 500 conversions are possible.
Even for seasoned internet company marketers, that's a lot of traffic.
Unbounce allows you to quickly develop and launch landing pages.
Especially when they also provide you with a plethora of totally customizable landing page layouts.
The following are some of the additional fantastic features that come with the Launch plan:
Free web hosting.
Increased speed.
Image optimizer that works automatically.
Unsplash's image library.
Compliance and security.
A builder that is mobile-friendly.
Conversion analytics in real time.
This Unbounce package is ideal for individuals who are just getting started with landing pages.
Plan Unbounce Optimize (Recommended)
The Unbounce Optimize plan costs $135 per month.
Here are some of the special benefits that come with the Optimize premium plan:
three domains
Up to 30,000 tourists are expected.
Up to 1,000 conversions are possible.
You receive all of the features from the prior Launch plan, as well as:
A and B tests
Users are unrestricted.
Text replacement that is dynamic (DTR).
Conclusion: Unbounce Pricing Plans 2022
Here's one last look at Unbounce's price options:
Unbounce Launch costs $80 per month (or $72 per year).
Unbounce Optimize costs $120 per month (or $108 per year).
Unbounce Accelerate costs $200 per month or $180 per year.
Unbounce Scale costs $300 per month (or $270 per year).
I hope this post assisted you in finally answering the popular question:
Unbounce is how much does it cost? But wait, there's more. Allow you to make the best decision on which plan is best for you. Thank you for stopping by and reading this in-depth pricing plan page.