In this article, we have featured Unbounce Pricing Plans in 2023. The Launch plan is designed for entrepreneurs and small enterprises who are just getting started with web marketing.
Unbounce's pricing plans are designed to fit any budget and can easily scale as your business grows.
With flexible plans and add-on services, you can customize your package to get exactly the features you need for optimal results.
Plus, with generous discounts available for a long-term commitment, you can save big on full subscriptions without sacrificing quality.
Whether you're a small business or an enterprise organization, Unbounce has a pricing plan that will work for you. So, let's discuss in detail Unbounce's pricing here in the article. 
Let us check out Unbounce pricing plans. 
What is Unbounce?
Previously, "landing page" was just another marketing jargon used to make marketers appear intelligent.
Six men, including Unbounce CEO Rick Perreault, were convinced that landing pages were the next big thing in marketing, whereas most buzzwords die as soon as they are mentioned.
When the team set out to improve consumer experiences, it had nothing but a 500-square-foot room in Vancouver and an untested marketing strategy.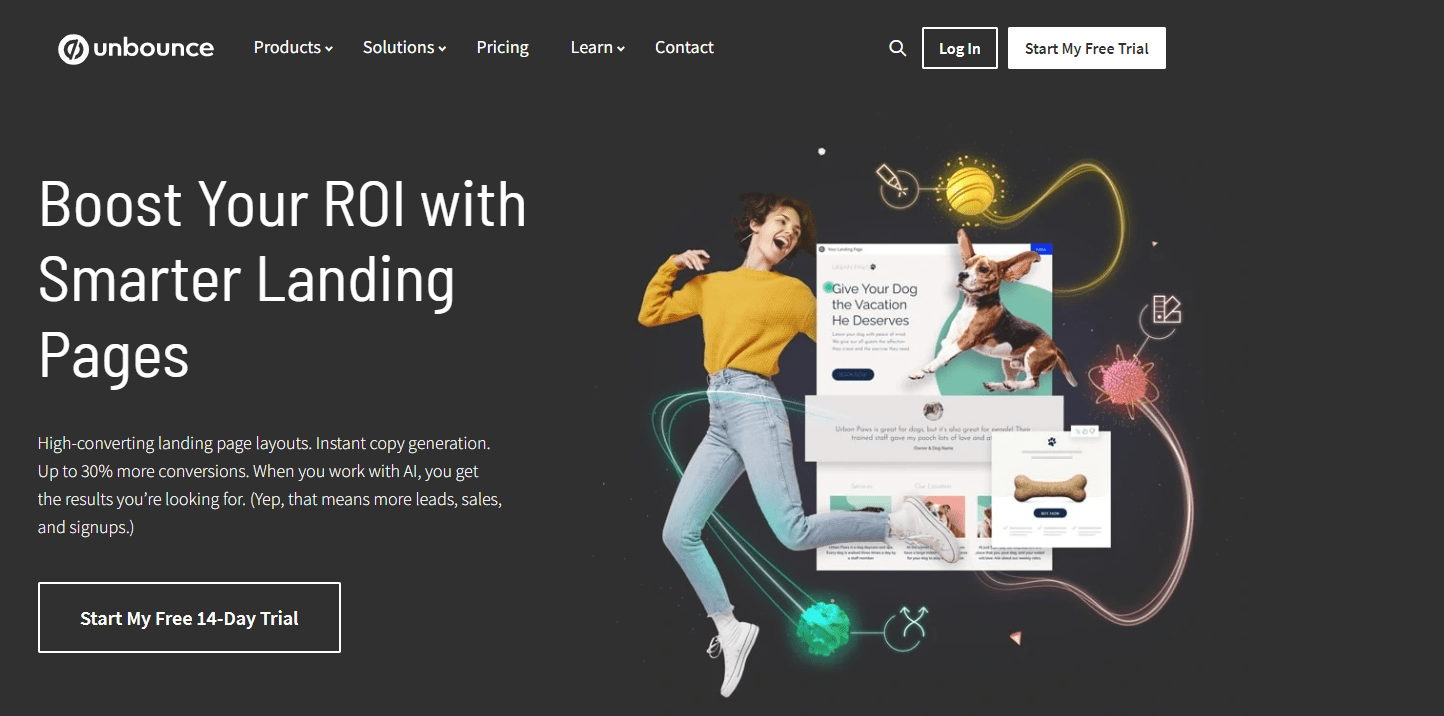 Unbounce's landing page technology currently accounts for over 500 million conversions across 15,000 clients.
There's no denying why Unbounce is one of the most popular and well-respected landing page firms in the world, with a highly motivated workforce that shares distinct and diverse core beliefs in serving its clients.
It is, however, one thing to have a stellar market reputation. Unbounce is a great app, but is it right for me? Discover how Unbounce can increase conversions and help your business.
Monthly traffic constraints of 20,000 unique visitors per month may be an issue with this tier. Importantly, this Launch Tier only provides 500 Conversions.
Conversions occur when a visitor achieves an objective, such as clicking on a call to action button or completing a lead-generating form.
Conversions are likely to be the first area where you will run out and need to upgrade to the Optimize tier for many users.
With this package, you also have full access to all of Unbounce's configurable landing templates and popups. Again, with many carriers, this capability is often restricted to higher levels.
They have been tested for convertibility and are tailored to various campaigns such as lead generation and product launches, as well as different business industries.
You may wish to develop landing page campaigns in a different time zone or on a certain email marketing release timetable at times.
Or perhaps you want to publish but aren't near a computer. These launches can be scheduled using the Launch plan.
You can also target users directly by city or country, or you can specify what customers view depending on their cookie history, using the sophisticated targeting function.
These templates are integrated with the Unbounce landing page builder, which allows you to generate sales pages in any format you desire.
Using the Style Guide function, you can use this tier to display your branding across all landing pages.
The Smart Builder, an alternative landing page builder that employs machine learning and AI to create higher-converting landing pages, is also featured.
Based on the material you're producing, Copy Insights will then offer conversion-optimized headlines. Unbounce's Launch strategy includes mobile breakpoints for mobile optimization.
This implies that landing pages developed for desktops are automatically optimized for mobile viewing, so you don't need to make any adjustments.
Unbounce seamlessly interfaces with all major software platforms via the Launch using Zapier, as well as directly with applications such as Mailchimp and Shopify.
Full customer service is also available. The Essential Plan includes phone, email, and live chat support. At lesser price tiers, you are often limited to email help, so this is a wonderful feature.
Client Sub-accounts are infinite, allowing you to handle multiple clients from a single account. Before diving into the article check out the Latest Unbounce coupon codes & deals.
What Makes Unbounce Worth Its Price?
1. Integrations:
If you aren't new to lead generation, you should be aware of the importance of utilizing third-party solutions, such as email marketing and marketing automation software, to put your leads to use.
You can add these applications to your lists after integrating them with Unbounce.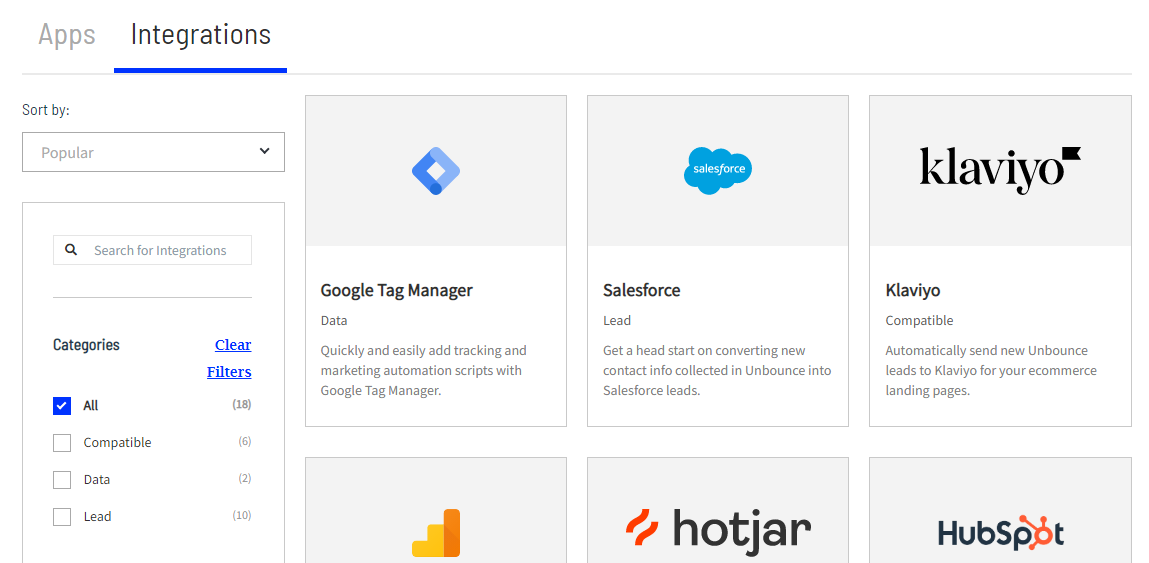 Unbounce understands this as well, which is why the landing page editor includes native connectors for managing leads.
If your preferred tool is not among the native integrations, Zapier is also supported by Unbounce. This enables hundreds of app connections, allowing you to further automate your marketing routine.
2. Popups and sticky bars:
Not all of your readers will go directly to your landing pages. Some will navigate to different pages on your website.
You can collect these visitors by setting up a sticky bar or a pop-up form on your website.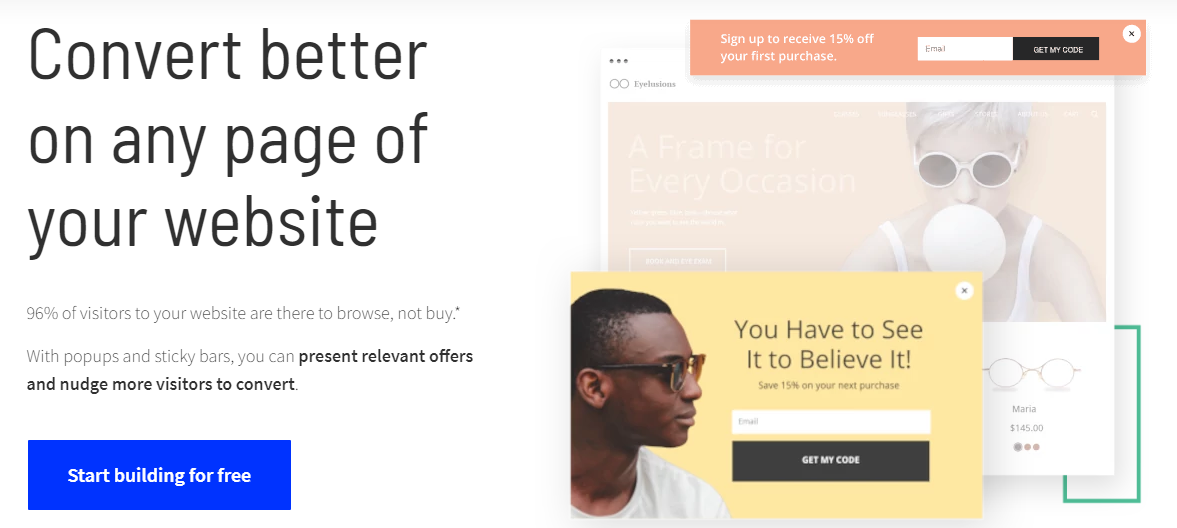 Check out the Sneek Peek area to see how either would appear on your domain if you enter your domain there.
Once you've decided on one, you'll notice that creating them is similar to creating landing pages.
Create your popup or sticky bar using a template instead of starting from scratch.
Just like landing pages, popups, and sticky bars can be built from scratch, or you can use a template builder to customize their appearance.
When changing either, you can use Unbounce's drag-and-drop editor. Add new items and modify existing ones to achieve the desired look and feel.
After creating the form or bar, you must select the website or web page where it will be displayed.
You can also customize how it appears on the specified website by configuring triggers, periodicity, and other factors.
Finally, copy and paste the generated code into the area of your website where you want the popup or form to appear.
3. Using Smart Traffic:
Using Unbounce's Smart Traffic can save you time and effort when it comes to A/B testing.
It will automatically redirect users to the page with the highest conversion rate, as determined by the tool's data.
When the functionality is enabled, the variations will go through a learning phase. It assesses visitors' behavior and characteristics to determine the variation to which they will respond best.
4. Running A/B tests:
If A/B testing is something you enjoy, copy the current page to create a variation that can be edited and run alongside the original.
You may create as many page versions as you need. However, make sure that as few components as possible are tested.
A/B testing is used to determine which variation converts better so that conversion rates can be increased.
Extreme changes that make the variations indistinguishable from the original page will not yield the best results for your test.
You must first determine the weights of the versions before releasing them. Setting the percentage determines how frequently they are shown to visitors.
5. Using dynamic text replacement:
Personalization is one of the most effective methods for increasing conversion rates. You can entice visitors to click your button or fill out your form by including their names in the page's content.
In the case of Unbounce, it is possible to run paid advertisements and display the keyword that the visitor selects for organic search on landing pages.
Quick Links:
Conclusion: Unbounce Pricing Plans 2023
Here's one last look at Unbounce's price options:
Unbounce Launch costs $80 per month (or $72 per year).
Unbounce Optimize costs $120 per month (or $108 per year).
Unbounce Accelerate costs $200 per month or $180 per year.
Unbounce Scale costs $300 per month (or $270 per year).
Unbounce is an excellent tool for companies looking for a simple way to improve their web presence and maximize conversions from their digital efforts.
Unbounce, with its flexible pricing plans and extensive feature set, provides marketers with all of the tools they need to customize their websites and drive better results.
Unbounce provides powerful website optimization tools at an affordable price to businesses of all sizes.
Unbounce has the right package for you, whether you're a small business looking for a low-cost solution or an enterprise organization interested in running large-scale A/B testing campaigns.
Take advantage of everything Unbounce has to offer and begin optimizing your website right away!