If you're tired of the complexities and expenses that come with traditional bank-issued cards for your business, I've got something interesting to share.
Meet Wallester Business, the alternative payment solution that aims to save you both time and money.
With Wallester Business, you can quickly issue virtual and physical VISA cards to your employees and easily track all their payments and expenses.
The platform offers convenient cash management features and a fully white-labeled service, giving you the freedom to design your card program.
So Excited to know more and if you're a small to medium-sized business looking to simplify expense management and move away from shared credit cards, Wallester Business might just be the solution you've been searching for.
Let's take a closer look at what Wallester Business has to offer, its good points and not-so-good points, and how much it costs.
This way, you'll have all the information you need to decide if it's the right choice for you. Let's get started!
Wallester Business Review 2023: What Is Wallester Business?
Wallester Business is a fintech solution designed for both new and established companies. It partners with VISA to offer various financial products like debit cards and prepaid cards for businesses.
The main purpose of Wallester is to centralize your company's spending and expenses. After setting up your account for free, you can add money to it through bank transfers to cover your expected business expenses.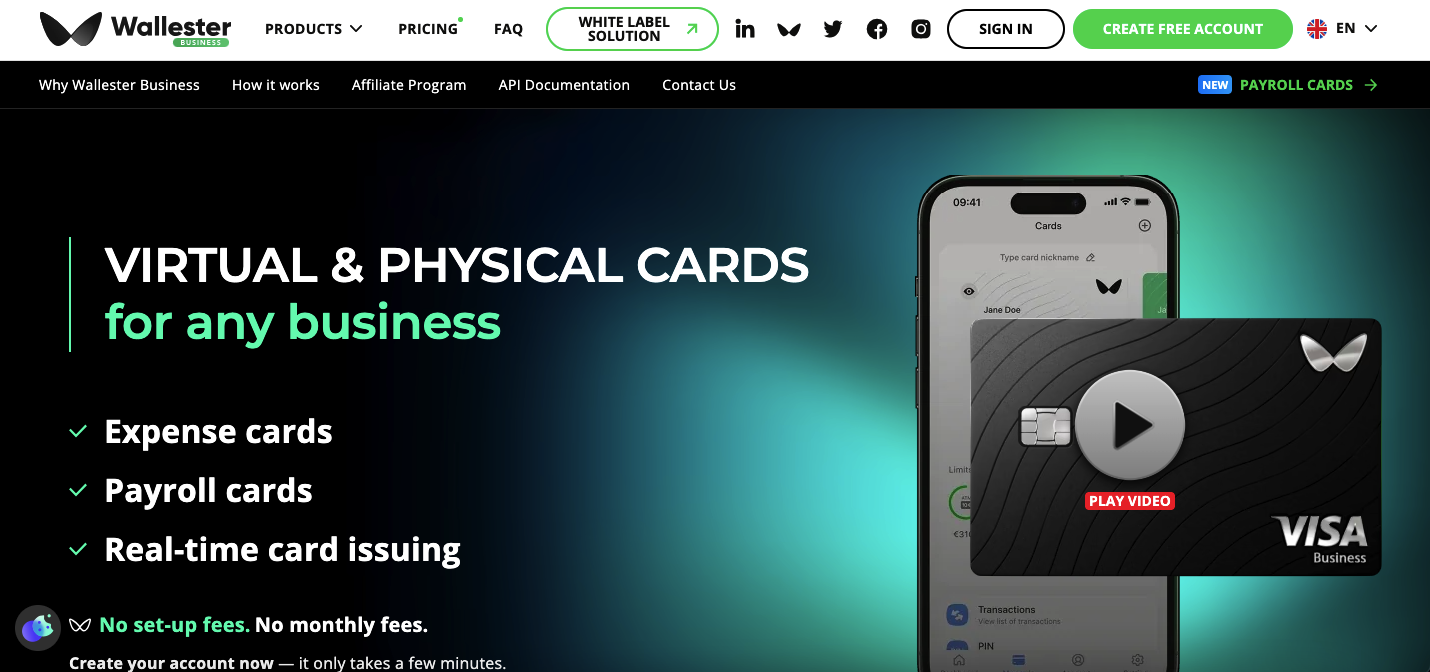 Once there's money in your account, you can issue virtual and physical VISA cards to your employees.
These cards enable them to spend from the expense account, following their specific spending limits. You can manage all of this using Wallester's mobile app, available for iOS and Android.
The app provides various financial management features, such as automatically categorizing spending, issuing and freezing cards, setting PIN reminders, and generating automated expense reports.
It also allows for smart receipt attachments and invoice storage. Wallester's payment cards are also useful for paying gig economy workers.
You can provide them with virtual cards pre-loaded with their salary, and they can transfer the money to their accounts or use the virtual card for spending.
How does it work?
Here's how Wallester Business works in 3 simple steps to streamline your expenses:
Sign Up and Top Up Your Account:

Start by creating a free Wallester Business account. Complete the verification process and then add funds to your account through a bank transfer.
Issue and Set Corporate Cards:

Next, you can create both physical and virtual cards for your employees. These cards provide instant access to the funds, and you can set individual spending limits for each employee.
Control Expenses in Real Time:
Now, your employees can freely make payments using Wallester Business cards. You can track and manage all the expenses in one unified system, helping you have better control over your company's finances.

With these steps completed, you're all set to start using Wallester Business and enjoy the benefits of their Plug&Play platform in the world of finance!
Wallester Business Processes
1. Media buying with Wallester Business
It is a seamless process that empowers businesses to efficiently manage their ad campaigns.
By signing up and topping up their account balance, users can instantly issue unlimited virtual cards for any ad platform, including Facebook, Google, TikTok, and more.

With the first 300 cards being free, businesses can kickstart their media buying journey cost-effectively.
Wallester Business offers a smart and flexible solution for budget allocation and real-time expense control, making it easier to stay within budget.
It's the ONE & ONLY SMART solution for media buying, providing businesses with the tools they need to succeed in their advertising efforts.
2. Budget Management with Wallester Business
Wallester Business offers an efficient budget management solution that caters to businesses of all sizes, from startups to large corporations.
By creating separate cards for different teams and projects, businesses can easily streamline budget allocation and keep a close eye on corporate expenses.

The platform provides smart tools and real-time expense control, enabling businesses to stay within their set budgets effectively.
With innovative solutions tailored to the specific needs of each business, Wallester Business ensures seamless and hassle-free budget management, making it a valuable asset for optimizing financial processes.
3. Reports on Wallester Business with its Mobile App
Wallester Business offers a mobile app that gives you valuable insights into your company's spending. You can access detailed expense reports, including general budget statistics and specific card data.
The app allows you to filter corporate expenses based on spending type and payment status, making it easy to track and manage your financial activities.

Additionally, the platform allows you to create account statements for specific periods and export the data in various formats such as Excel, PDF, or CSV files. This feature enables you to analyze your financial data in a convenient and organized manner.
Moreover, Wallester Business provides an API that facilitates seamless integration with third-party financial accounting platforms.
By integrating with these tools, you can consolidate the expenses you've tracked, manage bills and overheads, and keep track of your income and budget more efficiently.
However, it's important to note that setting up these integrations may require technical expertise from someone on your team since native integrations with third-party accounting tools are not available.
Wallester Business Pricing
Here's the detail of the pricing plans offered by Wallester Business:

FREE Plan (€0 / month):
This plan is ideal for those starting with basic needs. It includes up to 300 virtual cards and an unlimited number of physical cards. You can enjoy multi-functional cards and access essential platform features without any monthly cost.
PREMIUM Plan (€199 / month):
The PREMIUM plan is the most popular choice, offering advanced functionality to streamline your financial processes, expense control, and payment management.
With up to 3,000 virtual cards included and the option to add more for €0.20 per card per month, it provides flexibility to cater to your growing business needs.
PLATINUM Plan (€999 / month):
The PLATINUM plan is designed for businesses with higher demands. It offers up to 15,000 virtual cards with the possibility to add more for just €0.10 per card per month.
This plan provides a wide range of Wallester Business cards and complete platform functionality to meet various business goals.
ENTERPRISE SUITE (Custom Pricing):
The ENTERPRISE SUITE offers personalized solutions for large-scale businesses. With custom pricing, you can tailor the plan to fit your specific requirements.
This premium plan includes a Customer Success Manager, onboarding assistance, custom contracts, 24/7 priority support, a dedicated account manager, and open developer APIs for seamless integration.
All Packages Include:
Expense control app for iOS and Android, enabling you to monitor and manage expenses efficiently.

The payroll cardholders will receive a monthly payment of just €1 per cardholder.

First-class delivery of physical cards for €20 per card.

High spending limits to accommodate your business needs.

Lightning-fast support in online chat for quick assistance.

Automated and manual data export to Excel, CSV, and PDF for easy record-keeping.

Compatibility with popular e-wallets like Apple Pay, Google Pay, Samsung Pay, and more.

Integration capabilities with accounting systems to streamline financial management.
Choose the plan that aligns with your business goals, and enjoy access to all the powerful features that Wallester Business offers!
FAQs: Wallester Business Review
What features can you access before receiving the physical card?
As soon as your Wallester Business card is issued, you can start using it right away without waiting for its delivery. The Wallester app offers complete functionality, allowing you to top up your card balance instantly, make online purchases, and connect your card to convenient contactless payment systems like Apple Pay, Google Pay, and Samsung Pay.
How do you top up the balance?
Topping up your account balance is easy. You can do it by making a transfer from any bank operating within the European Economic Area and Great Britain, using the provided IBAN details.
Where can you use the cards?
Wallester Business cards are part of the Visa Business class, making them widely accepted in all countries that support the international VISA payment system. Whether you need to make payments via card terminals, online purchases, or ATM cash withdrawals, these cards have you covered.
Which currencies are supported?
Although the card account is initially opened in euros, you can use the Wallester Business cards to make payments in any currency. The payment system will automatically handle the currency conversion based on the current exchange rate. This flexibility allows you to transact in various currencies with ease.
Quick Links:
Conclusion: Wallester Business Review 2023
In conclusion, Wallester Business offers a smart and efficient solution for managing expenses, payroll, and payments for businesses of all sizes.
With its virtual and physical VISA cards, streamlined budget management, and real-time expense control, Wallester Business empowers businesses to take charge of their finances.
The platform's mobile app provides valuable insights into spending, and the API integration allows for smooth integration with third-party accounting platforms.
While some limitations exist, such as accounts being available only in EURO and limited native integrations, the overall benefits make Wallester Business a valuable tool for businesses looking to optimize their financial processes.
Whether you're a small startup or a large corporation, Wallester Business offers flexible pricing plans to suit your specific needs.
So, why wait? Streamline your business expenses and payments today with Wallester Business.