Every parent should keep track of their kids' locations and online activities. It's possible to do this with a variety of apps (I've written extensively about them).
The right choice of app is important, though, when something as vital as the safety of your child is at stake. I completely understand his feelings as a parent.
This week, I will discuss two of the best monitoring apps for parents: Bark and Qustodio. The choice isn't always clear. Each has its pros and cons. Comparing them side-by-side, it is easy to distinguish the differences.
It is my hope that this information will help you make an informed decision about keeping your kids safe.
Bark vs Qustodio 2023– Ultimate Comparison
Bark vs Qustodio: Screen Time Management and Web Filtering
The purpose of screen time management is to limit the amount of time your child spends staring at a screen. Digital media addiction is a growing problem among kids. With this feature, that can be prevented.
Bark offers many options for managing screens. Different times can be scheduled, including school time, homework time, free time, etc. You can allow or block different types of websites during each time period. 
You may want to block websites related to social media, streaming, and gaming during homework time. You can open them all during free time. Switch off the internet during bedtime.
Wireless coverage is available throughout your home with Bark Home. All devices your child uses, not just their phone or laptop, will be covered by these rules.
Screen time is also available in Qustodio. With Qustodio, control over screen time is more granular than with Bark. 
Winner: Qustodio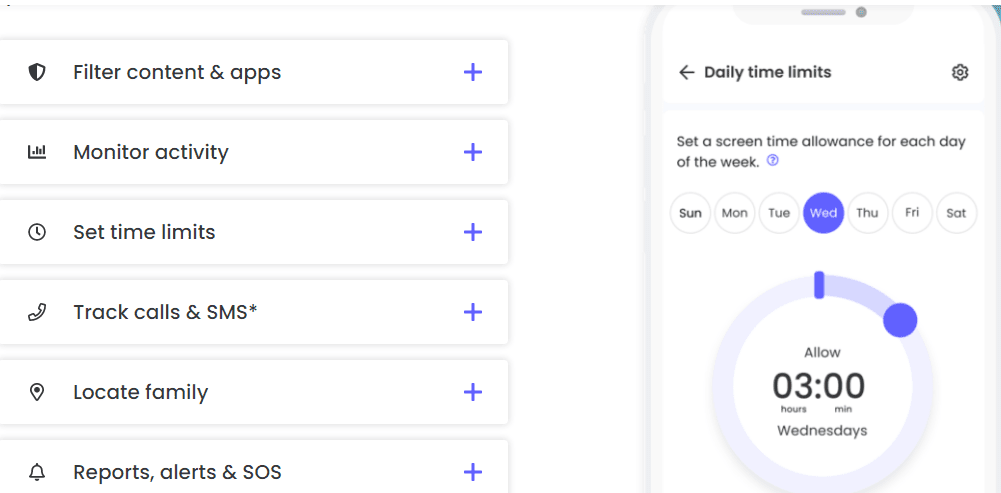 Bark vs Qustodio: Web Filtering
Additionally, you can block specific websites, or groups of websites, using web filtering. Adult websites should always be blocked. You can block streaming and gaming websites completely if you ground them for a few days.
Web filtering is available in Bark as well as Qustodio. Whenever your child stumbles across a suspicious or mature website, smart filtering recognizes it and blocks it before it is viewed.
Winner: Tied
Bark vs Qustodio: Location Tracking
Bark's location tracking feature proves to be remarkably useless. Your child's location will not be tracked by Bark in real-time and provided to you.
You can still check in with your child using Bark, but it only functions as a platform for checking in. To find out where they are, send them a message and ask them to check-in.
You won't be able to find your child's location if they want to hide it from you. When they get home, they might decide that it is better to hide their location so they can hear what you have to say when they get home.
You can also get a continuous real-time update on their location using Qustodio, which has a full array of location-tracking features. You can also follow in your children's footsteps by following their history. Qustodio has the advantage here over Bark.
Winner: Qustodio
Bark vs Qustodio: Geofencing
Geofencing defines a zone in which children are safe from harm. Your house may be included in this. You could expand the area by moving to an established neighborhood with a lot of friends. A warning will be sent to you if your child goes outside the boundary.
Geofencing is not available on Bark. Since almost all parental control apps have this feature, it is a huge oversight.
Geofencing is also available in Qustodio. When your child leaves a 'safe area', Qustodio will automatically alert you.
Winner: Qustodio
Bark vs Qustodio: App Usage Limits
Scrolling is the key to social media apps of the modern age.. A game or app that you don't want your child to use may be overused by them.
App usage limits are available on both Bark and Qustodio. The limits can be set per day.
The modern era of social media is all about scrolling. It's easy to scroll without noticing how long it takes. Limiting children's app usage is a good idea.
Winner: Tied
Bark vs Qustodio: Social Media Monitoring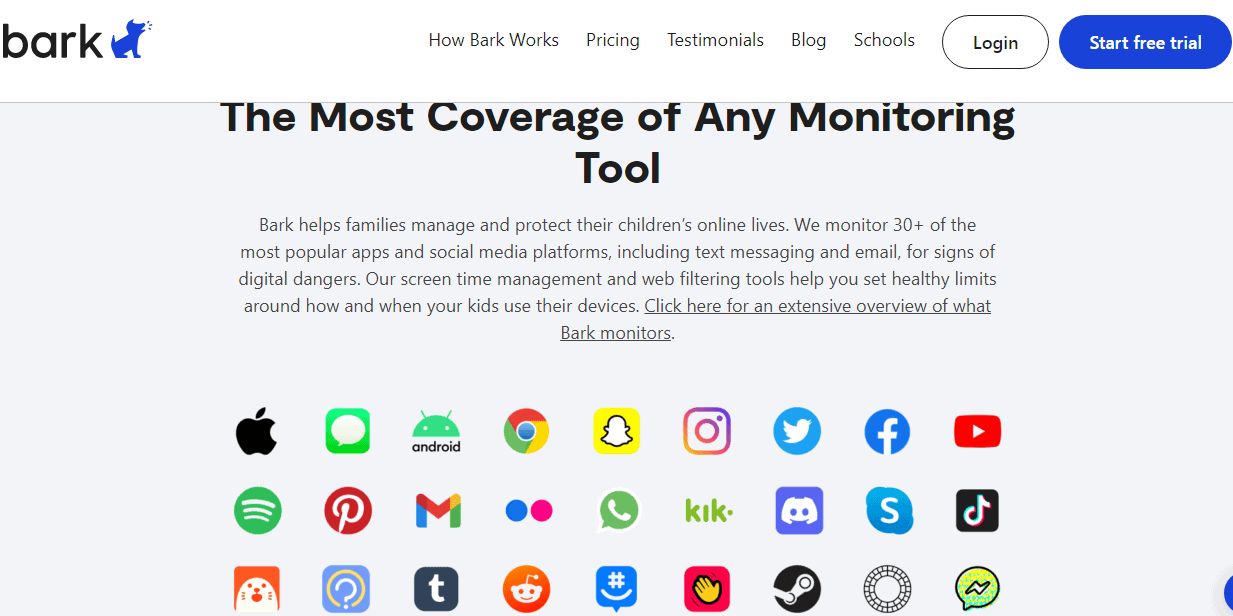 Parental control apps are used primarily for monitoring social media.
This feature is available in Bark as well as Qustodio. The platform support for Bark is larger, however. 
Bark monitors Instagram, Twitter, Snapchat, TikTok, and other social media apps. In addition, there are new sites like Lipsi, VSCO, and LiveMe. that you probably haven't seen before.
Unlike Qustodio, which supports only popular apps like Facebook, Twitter, and Instagram. It is possible that your children and or her friends might slip under the radar if they use unusual apps. Qustodio, however, goes into this more in-depth. You can access your child's Facebook account directly and see their private posts and photos.
Winner: Bark
Bark vs Qustodio: Call and Text Monitoring and Filtering
Additionally, it is extremely important to monitor incoming phone calls and text messages. That's not as dangerous as giving them free access to the internet and social media. Phone calls and text messages can also cause a lot of trouble.
Both Android and iOS devices can be monitored by Bark, including contacts, texts, and saved photos. Calls or text messages from incoming devices cannot, however, be blocked. 
When your child calls, Qustodio will send you alerts. Full-text messages are also recorded. And you can block phone calls from Android phones. You can intercept incoming calls and redirect them to the parent's phone. You cannot call blocked numbers outgoing.
Winner: Qustodio
Bark vs Qustodio: Finding Dangerous Content
Work keeps us busy as parents. It is not possible to read all the text messages sent by a child. Their lightning-fast fingers make keeping up with them near impossible. Automation can help.
Artificial intelligence is used by Bark to identify problematic content. Mature and violent content, age-inappropriate images, cyberbullying, grooming, and drug use all fall under this category. Bark automatically detects and alerts you when any of these things are detected in your child's environment. The system is always on.
Unfortunately, Qustodio does not provide automated detection for those who contact your child or what content your child views. To find out the problems with Qustodio, you will have to spend some time reviewing the reports.
Winner: Bark
Bark vs Qustodio: Remote Controlling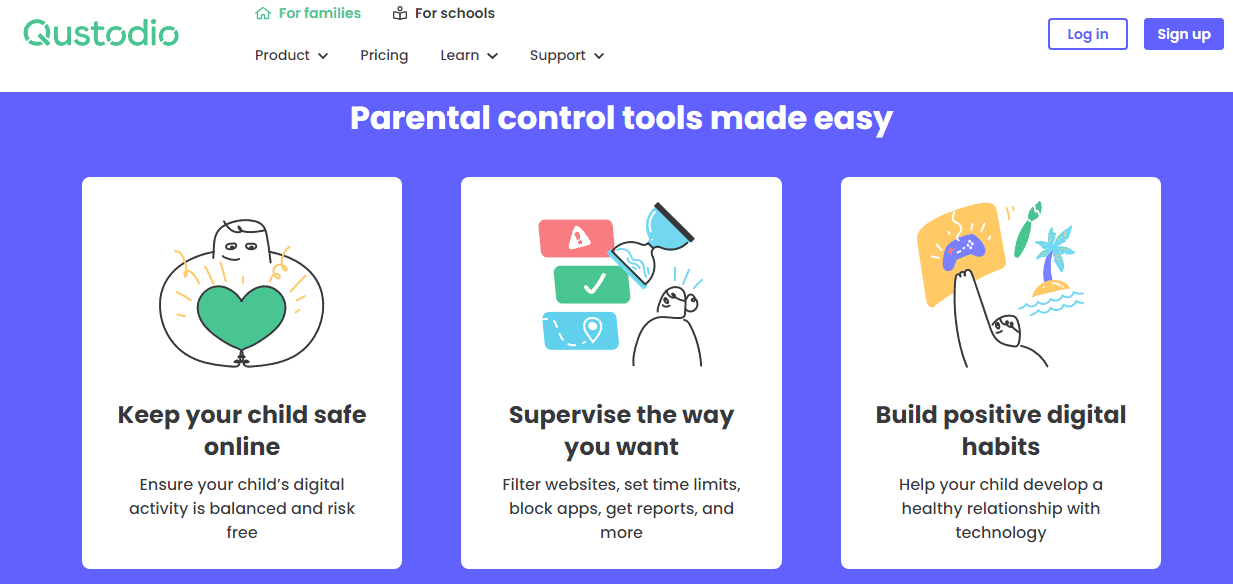 In remote controlling, commands are sent to a phone remotely. Shutting down, restarting, locking up, or taking photos stealthily are all possible with remote commands. There are many uses for them.
There is no remote-control feature on Bark or Qustodio. The parent will probably need some technical know-how to use these features, so it's for the best!
Winner: Tied
Bark vs Qustodio: Ease of Use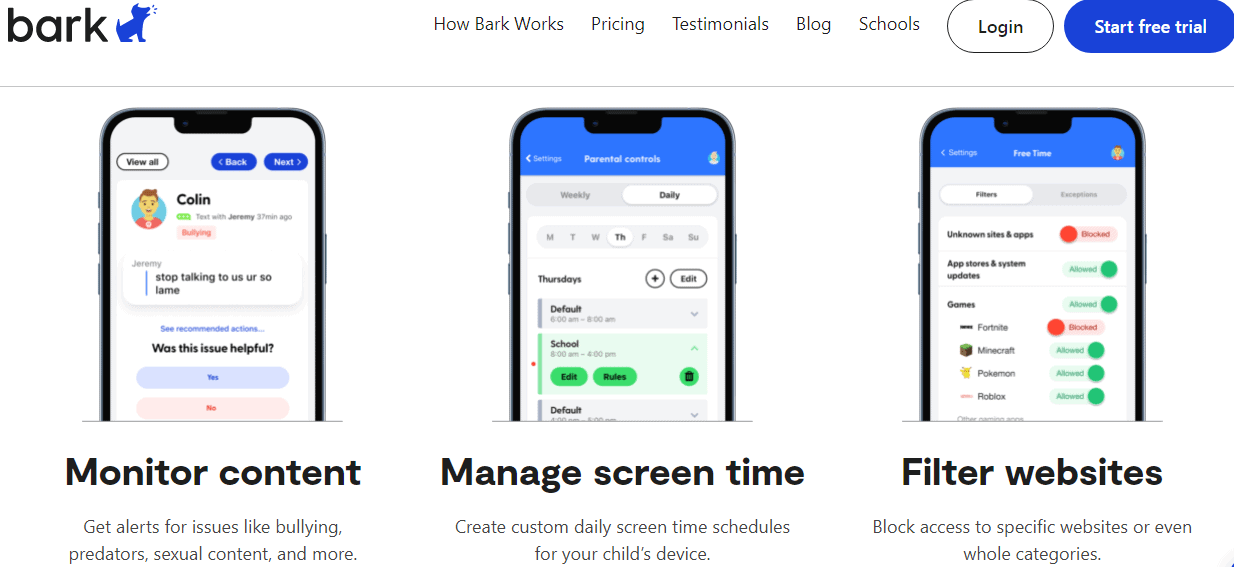 Technology is not for every parent. Some kids may already be well ahead of the game. Still, monitoring them is important. That's why I compared the ease of use of each app.
You may need to revoke your child's phone's jailbreak or root in order to install some monitoring apps. However, this might expose your child to risk. The phone might also lose its warranty. Qustodio and Bark do not require you to jailbreak them.
Qustodio and Bark are both easy to install. The monitoring dashboards are easy to use. During the initial setup of Bark, you will need to install the 'Parents' app on your phone and the 'Kids' app on your child's device. Kids can be restricted and connected to one or more apps when the Kids app is set up.
Qustodio and Bark differ primarily in one way. Secrecy is a defining feature of Qustodio. Your child should never find out about Qustodio.
However, Bark emphasizes the importance of open communication between parent and child. You should talk to your child about the Bark Kids app and why it is important since it will be visible on their phone. Though they may not like it, most children will understand that it is for their own safety.
Winner: Bark
Bark vs Qustodio: Let's Talk about Pricing
Lastly, there is a major difference in pricing between the two. It could make or break the deal for some people.
Bark features two plans: 
Premiere and Jr. Only $49 a year is the Jr plan. Currently, the application only monitors screen time, filters web traffic, and tracks location. Monitoring and alerts are included in the Premium version, which costs $99 per year. 
The Jr version is too limited, so I would recommend purchasing the Premium edition. You can test-drive the program for 7 days for free.
There is a free version of Qustodio. However, it has very limited features. One device can be monitored, and basic features like web filtering and screen time are supported.
It is a little more expensive to start off with a paid plan. For a family of five, it would cost about $55 annually. The cost increases to about 97 dollars if you need to keep track of 10 devices.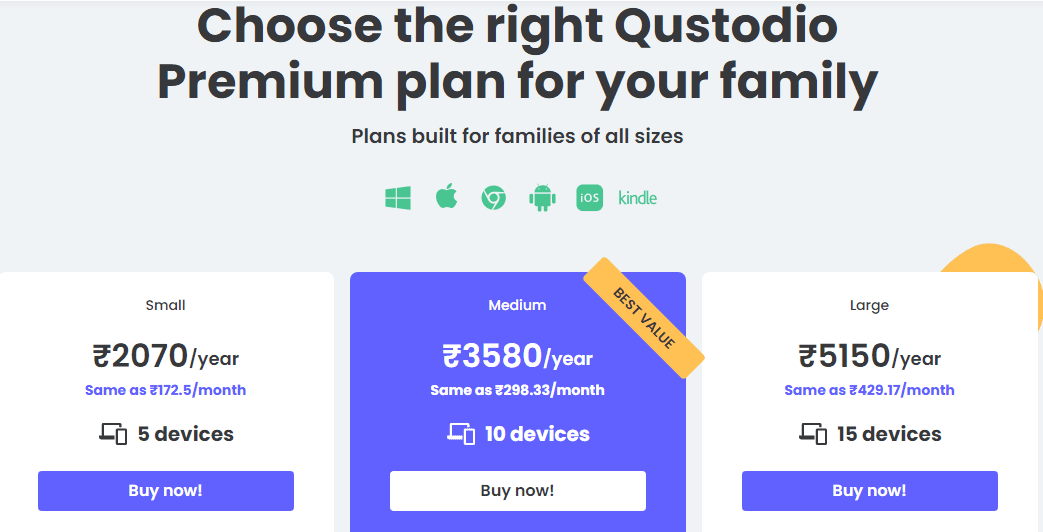 Winner: Tied
Quick Links
Bark vs Qustodio: Wrapping Up 2023
Qustodio and Bark are both excellent monitoring programs. However, their targets are different.
Qustodio positions itself as the most comprehensive monitoring app on the market. As a result, you know exactly what type of content and messages your child is looking at every time you read their messages.
Bark, on the other hand, is more considerate of the child's privacy. By monitoring the child, it encourages a positive relationship between parents and their children. 
Using it, parents can protect their children from excessive internet usage or social media use. Using this method does not violate a child's privacy, but it allows parents to intervene when necessary.
Both of these apps are quite good and I have used them personally. You have to decide which one you prefer.