In the rapidly evolving landscape of online advertising, adult-oriented businesses face unique challenges in effectively reaching their target audience and maximizing their return on investment.
To navigate this specialized domain, advertisers turn to adult ad networks that cater to the explicit content market. 
These networks offer a diverse range of ad formats, powerful targeting capabilities, and comprehensive analytics to optimize campaign performance.
In this article, we delve into the world of adult ad networks and explore the top contenders that stand out for their high-quality traffic, innovative features, and exceptional results in the adult advertising space. 
Whether you're an experienced adult marketer or new to the industry, this guide will help you discover the best adult ad networks that can unlock new levels of success for your campaigns.
10 Best Adult Ad Networks in 2023
To assist you further, I've selected the top ten adult ad networks that can do wonders for your adult site.
With an impressive track record, RollerAds boasts over 10,000 direct publishers and an astounding 1.2 billion daily impressions, ensuring that affiliates have a plethora of opportunities to generate clicks and conversions.
Primarily known for its push ad format, RollerAds also offers the OnClick (popunder) ad format and is gearing up to introduce more ad formats in the near future.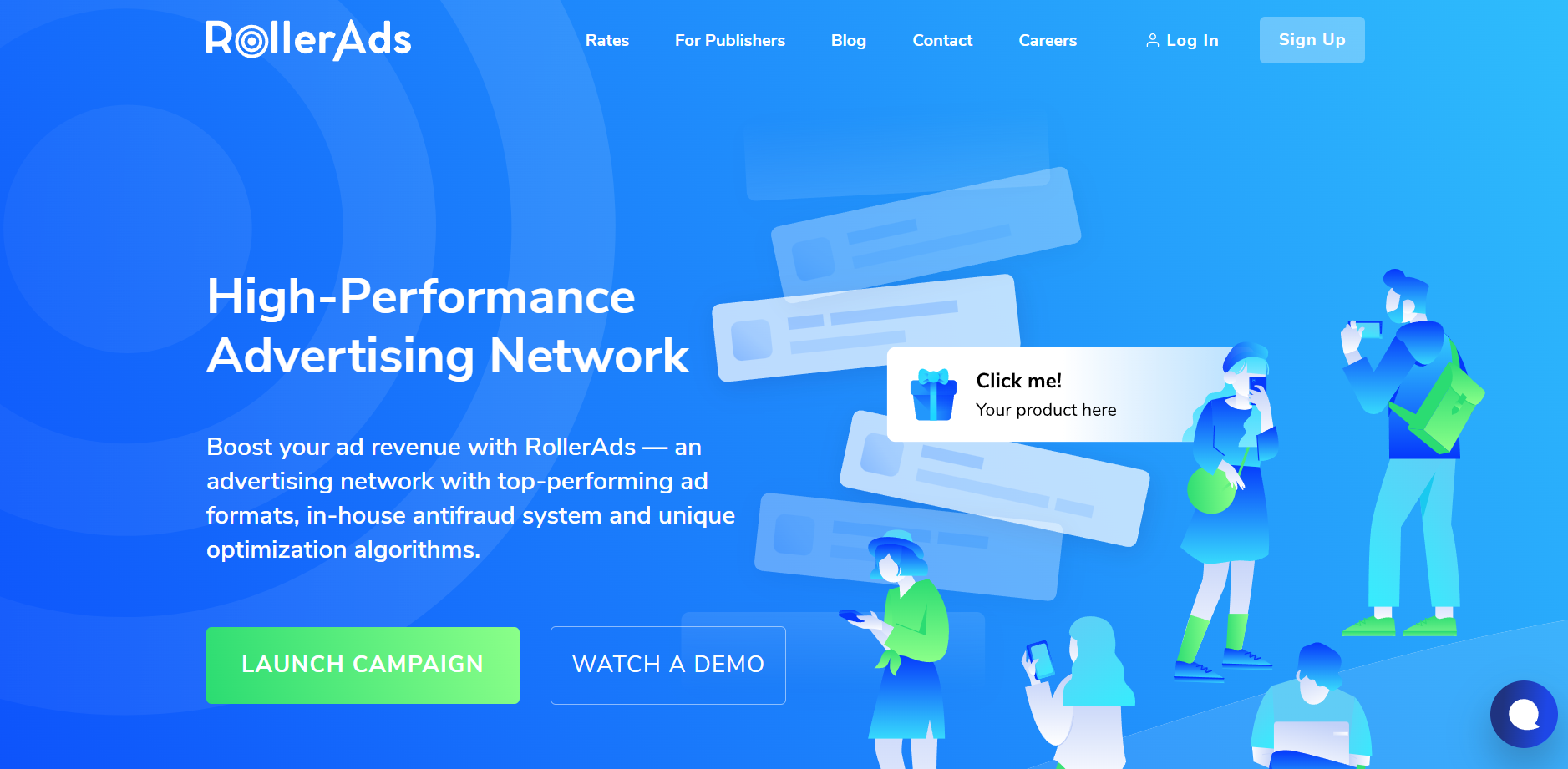 This diversity allows advertisers to experiment and find the most effective approach to reach their target audience.
One of the key strengths of RollerAds is its high Click-Through Rate (CTR), which is complemented by a constantly refreshed user database.
Additionally, the platform provides a wide range of targeting options, giving advertisers the tools they need to launch winning campaigns right from the start.
RollerAds Pros and Cons
RollerAds Pros
High CTR & conversions (10K+ publishers).

Diverse ad formats, OnClick launching.

Extensive targeting options, Zone Exclusion.

CPC & CPM bidding, low $0.001 bids.

Real-time stats & advanced tracking.

Convenient creative library.

Suitable for multiple verticals.
RollerAds Cons
Limited customer support (Messenger & email).

Non-premium traffic may need optimization.
AdMaven is the perfect choice for you. With approximately a billion active users, 90% of whom originate from direct publishers, this platform ensures better conversion rates compared to other networks.
AdMaven offers two highly effective ad formats: pop ads, and push notification ads.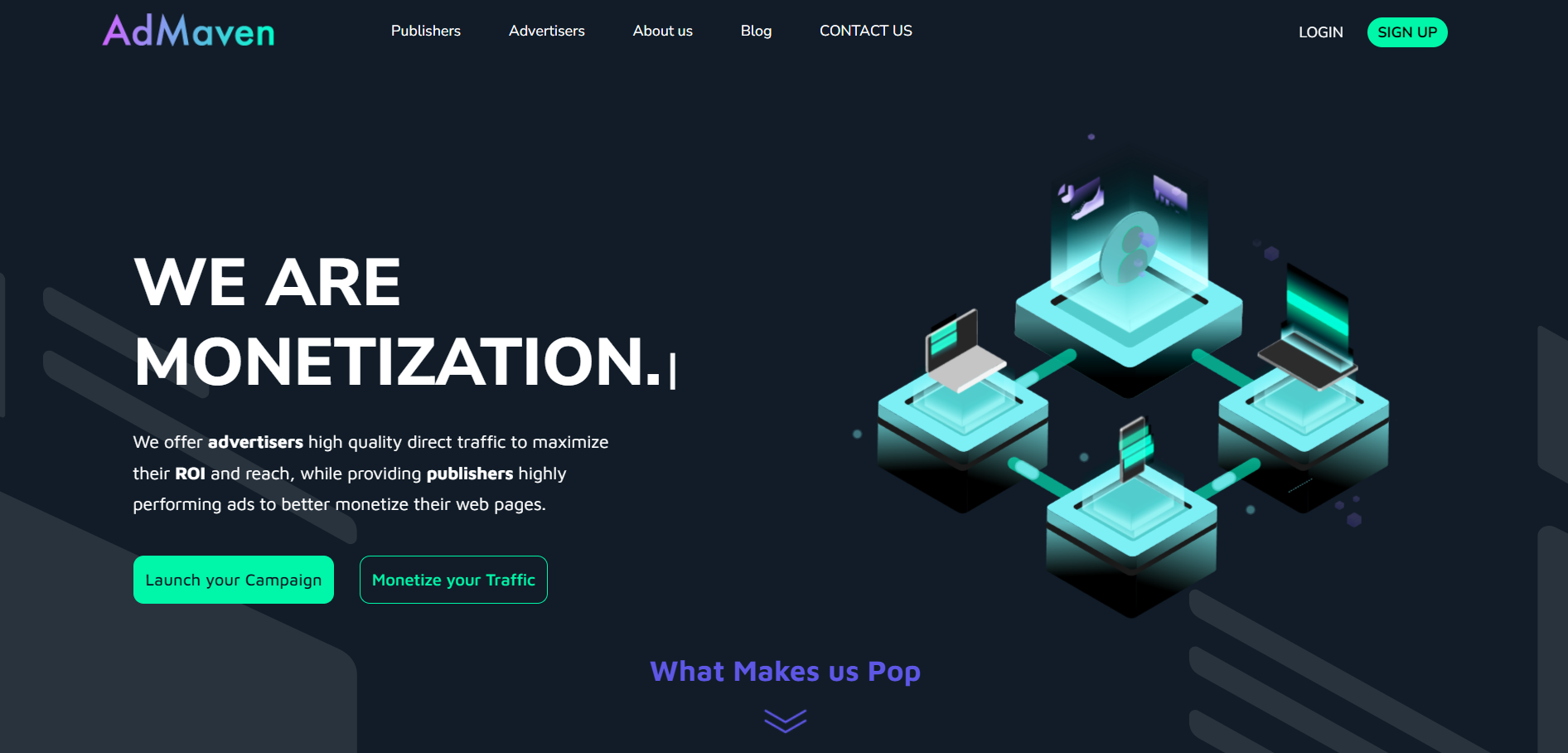 Their pop traffic is particularly well-suited for adult web games, and adult mobile content, as a significant portion of it is sourced from adult sites.
Campaign creation on AdMaven is a breeze, providing advertisers with a user-friendly interface to set up their campaigns quickly and efficiently.
Additionally, the platform allows you to incorporate virtually every macro you need to properly monitor your campaign's traffic, ensuring optimal performance and results.
AdMaven Pros and Cons
AdMaven Pros
Exclusive traffic with high conversion rates.

Billion active users, 90% direct publishers.

Effective push notification & pop ad formats.

Easy campaign creation & macro monitoring.

Affordable pop rates start at $0.0002.

Competitive push ad rates from $0.001.

Fully integrated with The Optimizer.
AdMaven Cons
Limited to push and pop ad formats.

A minimum deposit is required for access.
Since its inception in 2006, JuicyAds has been a trailblazer in the adult advertising industry, revolutionizing the landscape with its innovative approach to direct buy purchasing.
Setting itself apart from other ad networks, JuicyAds offers a unique experience to its clients by providing direct buy options in addition to the flexibility of running RON (Run-of-Network) campaigns.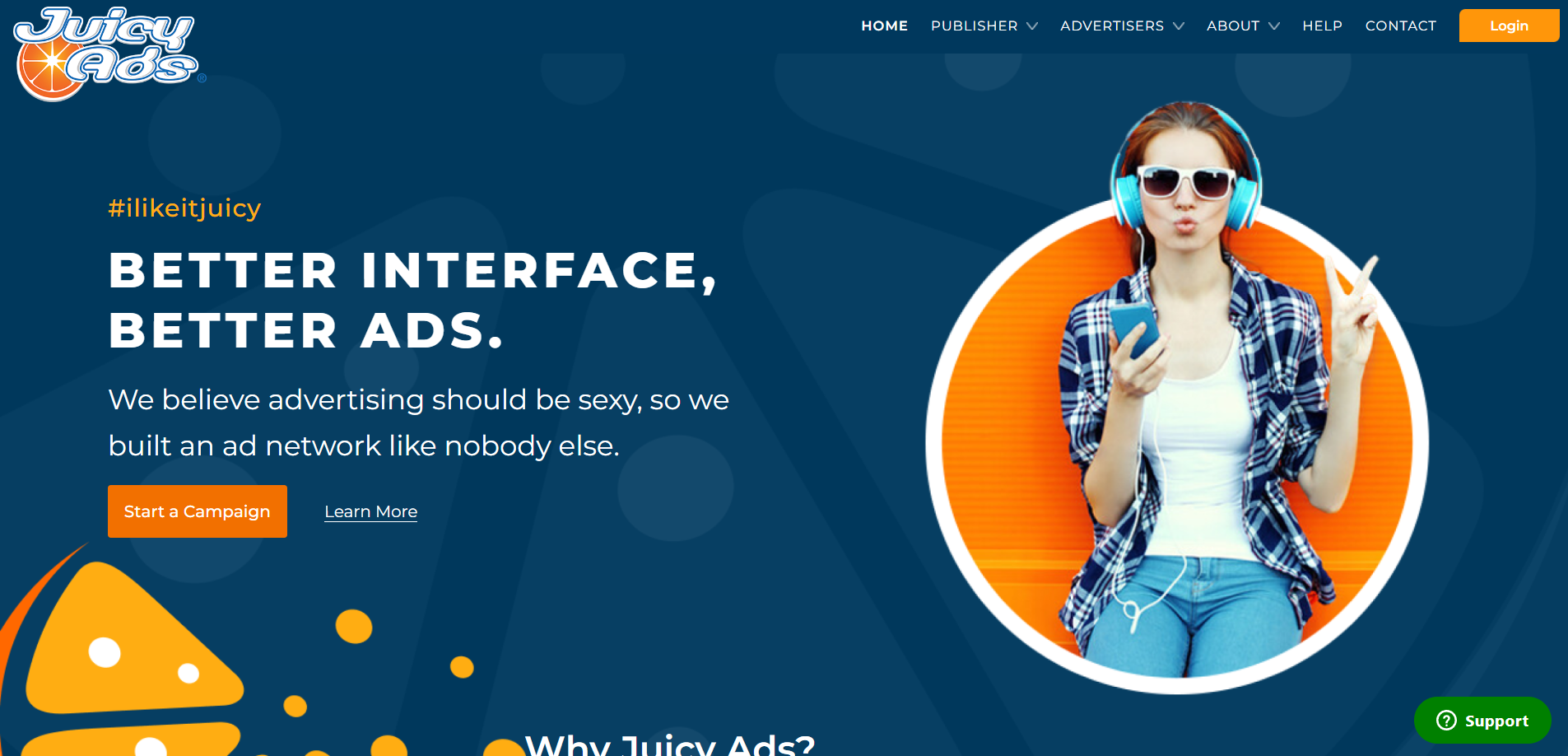 One of the standout features of JuicyAds is its diverse range of ad formats.
Advertisers have access to a wide selection, including traditional banners, seamless native ads, attention-grabbing pop-unders, and even special formats like float ads and in-video ads. 
Over the years, JuicyAds has garnered significant recognition, amassing more than 30 accolades from both the adult and advertising industries.
This impressive track record solidifies JuicyAds as the go-to choice for advertisers seeking to make a bold impact in the realm of adult advertising.
JuicyAds Pros and Cons
JuicyAds Pros
Innovative direct by purchasing.

Flexibility with RON campaigns.

Wide range of ad formats.

Banners, native ads, pop-unders, and more.

Special formats like float and in-video ads.

Over 30 industry recognitions.

The go-to choice for bold adult advertising.
JuicyAds Cons
Limited focus on non-adult niches.

Potential competition in the adult advertising market.
Push House stands as a dynamic RTB (Real-Time Bidding) Push notifications ad network, catering to both adult and mainstream traffic.
`The platform boasts an impressive volume of over 14 billion daily impressions, spanning more than 180 Geos worldwide, ensuring a vast pool of potential customers for advertisers.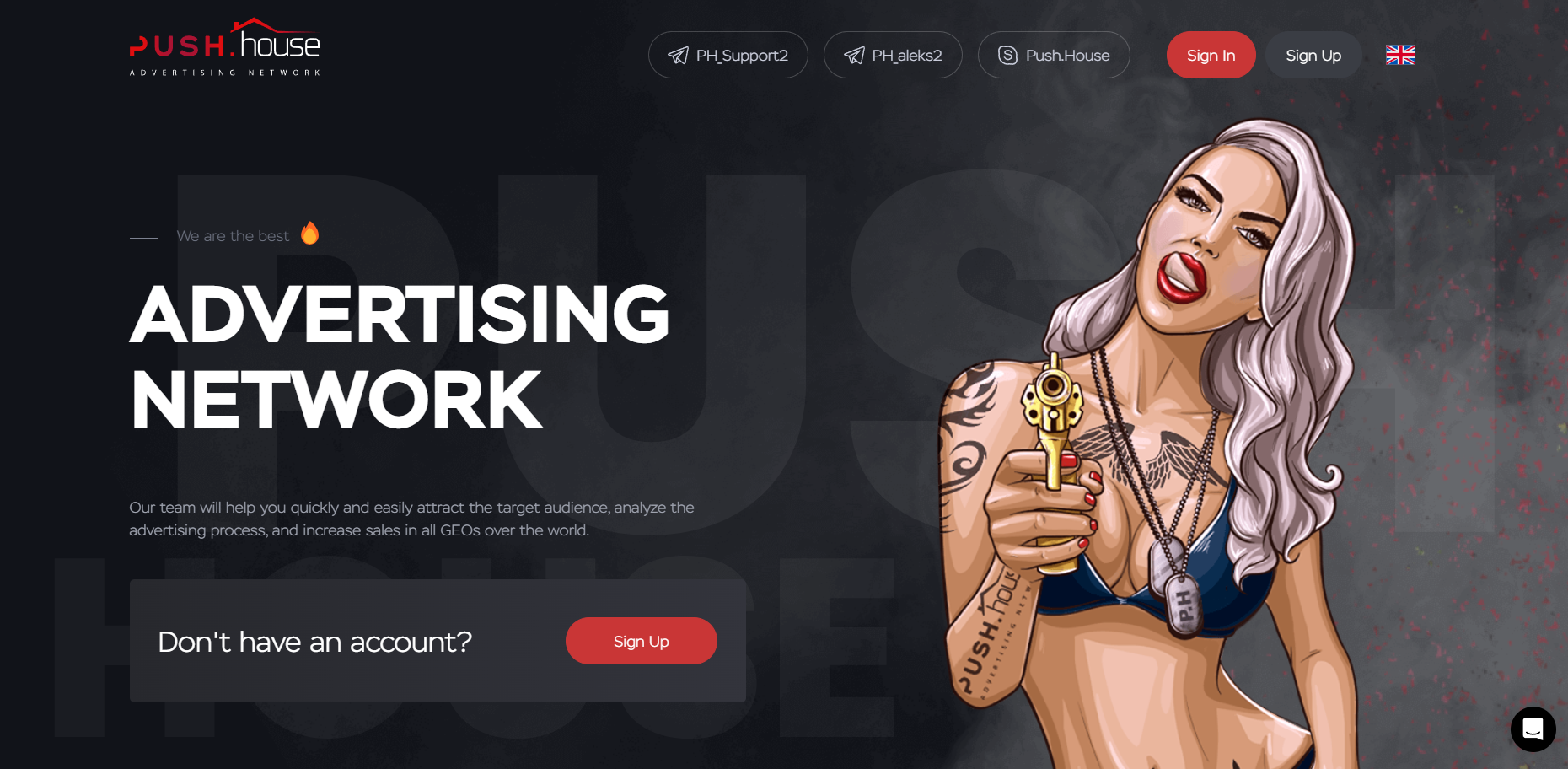 For affiliates specializing in Adult Push campaigns, Push House provides a welcoming and user-friendly interface.
The platform offers a diverse selection of ad formats, including Push, In-Page Push, PWA (Progressive Web App), and iOS Push, enabling affiliates to precisely target their campaigns to the right audience for maximum impact.
To streamline campaign creation, Push House offers Ready Sets, which feature high-converting creatives that affiliates can readily utilize to test their offers and enhance their Return on Investment (ROI).
This feature empowers affiliates to kick-start their campaigns effectively, saving time and resources.
Push House Pros and Cons
Push House Pros
High-volume RTB Push ad network.

A mix of adult and mainstream traffic.

Diverse ad formats for precise targeting.

Ready Sets for efficient campaign creation.

Extensive targeting and segmentation options.

Assigned network manager support.

Minimum deposit of $50 with various payment options.
Push House Cons
Not suitable for non-Push affiliates.

Strict content policies for adult campaigns.
PopAds is a leading ad network that specializes in Internet popunders and popups.
This platform empowers advertisers with full control over their campaigns, allowing them to set budgets, target specific visitors, and establish frequency caps to optimize their advertising efforts.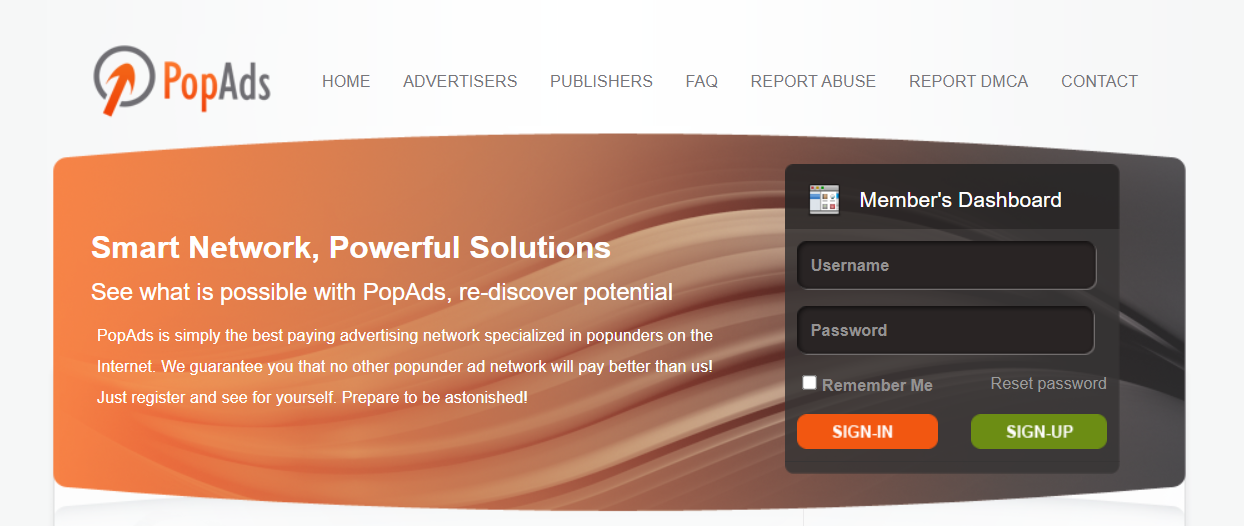 One of PopAds' standout features is its customizable reporting system, which provides advertisers with valuable insights into campaign performance.
Moreover, what sets PopAds apart from other ad networks is its unique targeting options.
Unlike mobile carriers, PopAds allows advertisers to choose the Internet Service Provider (ISP) for each campaign, ensuring even more precise audience targeting.
Although the platform predominantly offers carrier traffic, this feature gives advertisers an edge in reaching their desired audience with greater accuracy.
PopAds Pros and Cons
PopAds Pros
Specialized in popunders and popups.

Full control over budgets and targeting.

Unique ISP-based targeting for precision.

Extensive inventory with high impressions.

Customizable reporting for campaign insights.

Smart bid system for cost-effectiveness.

An efficient platform for reaching the target audience.
PopAds Cons
Limited ad formats (popunders and popups).

May not suit all advertising objectives.
ClickAdilla stands as a powerful global self-serve ad network, providing a wealth of premium adult traffic sources.
With over 4.5 billion users spanning 240+ countries, this platform proves to be a dominant force for dating affiliates seeking to reach their target audience effectively.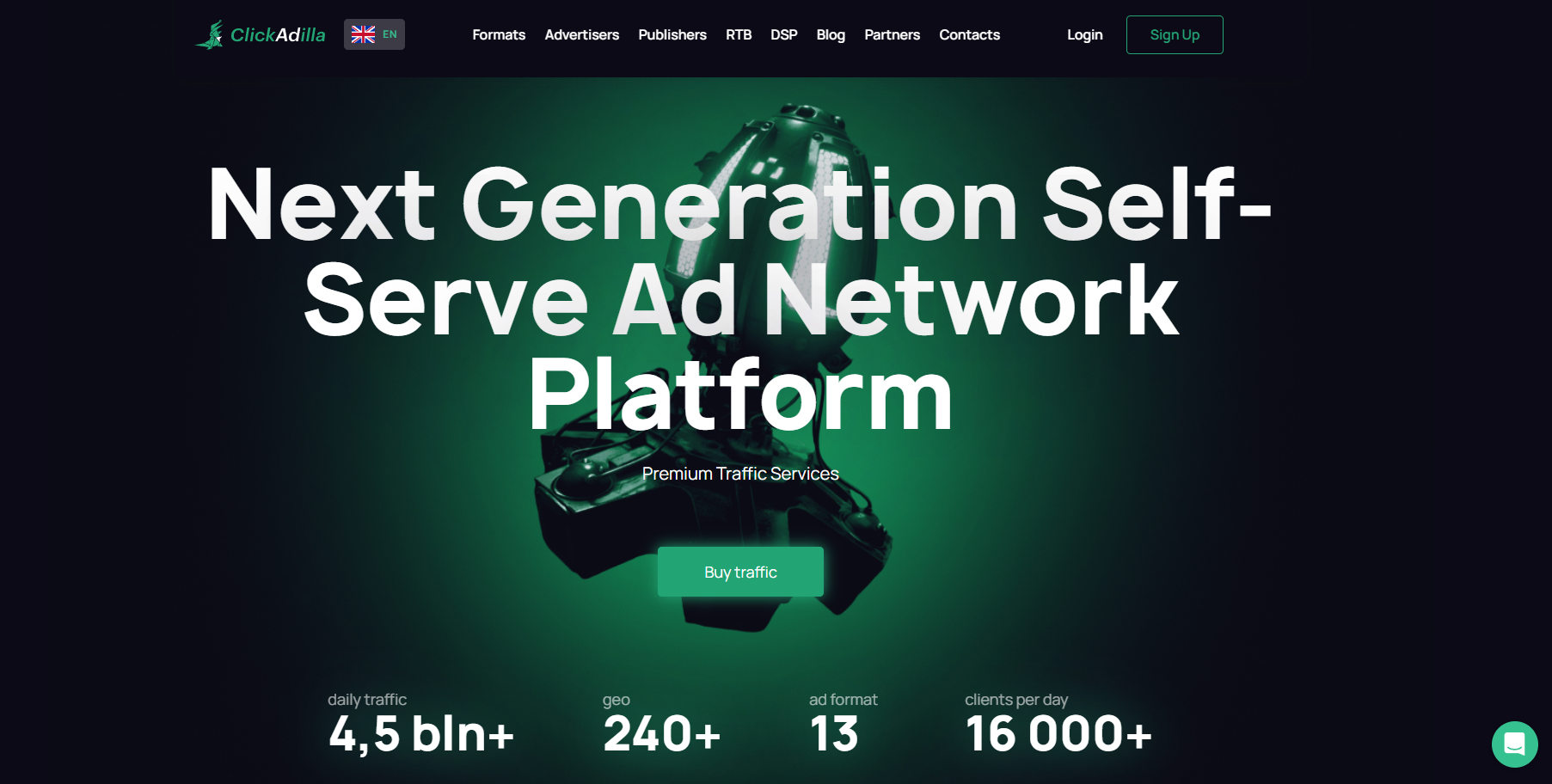 One of ClickAdilla's key strengths lies in its diverse array of ad formats, offering advertisers 13 options to choose from, including Native, video, banner, interstitials, pop, and push ads.
Moreover, the platform excels in targeting capabilities, allowing advertisers to fine-tune their campaigns.
For advertisers seeking premium adult traffic sources, ClickAdilla delivers exceptional flexibility. Affiliates can choose between Run-of-Network (RON) traffic and Premium Adult traffic sources.
An impressive feature allows advertisers to handpick premium adult sites to target, further enhancing campaign performance and relevance.
ClickAdilla Pros and Cons
ClickAdilla Pros
Premium adult traffic sources in 240+ countries.

13 ad formats with versatile targeting options.

Handpick premium adult sites for campaigns.

Smart targeting algorithms for optimal performance.

In-house anti-fraud ad tech for security.

Seamless integration with popular trackers.

Low minimum deposit, diverse payment options.
ClickAdilla Cons
Limited focus on non-adult niches.
PlugRush empowers advertisers with a diverse range of ad formats, including Push, Display, Pop, and Native, allowing them to select different kinds of targets for their campaigns.
This flexibility enables advertisers to tailor their approach and effectively reach their desired audience.

A standout feature of PlugRush is its competitor analysis, which shows advertisers where their next competitor is and how they should bid to secure the desired traffic.
This level of insight requires advertisers to remain vigilant and proactive to achieve optimal results and outperform competitors.
PlugRush operates on CPV (Cost Per View) campaigns, allowing advertisers to pay per view.
Remarkably, advertisers can achieve excellent traffic results with bids as low as $0.003, making it a cost-effective option to maximize campaign ROI.
Plug Rush Pros and Cons
Plug Rush Pros
Diverse ad formats with powerful targeting.

Competitor analysis for strategic bidding.

CPV campaigns with low bids ($0.003).

Transparent insights for informed decisions.

Versatile options for targeting and customization.

Cost-effective solution for maximizing ROI.

Powerful ad network for competitive traffic.
Plug Rush Cons
Does require continuous monitoring for optimal results.

Limited ad format options for certain campaigns.
As a prominent adult ad network, TrafficStars boasts an impressive daily impression volume of 3 billion, drawing from premium ad inventory provided by exclusive publishers worldwide.
Advertisers on TrafficStars gain access to a wide range of advanced targeting and optimization tools, offering granular control over their campaigns' performance.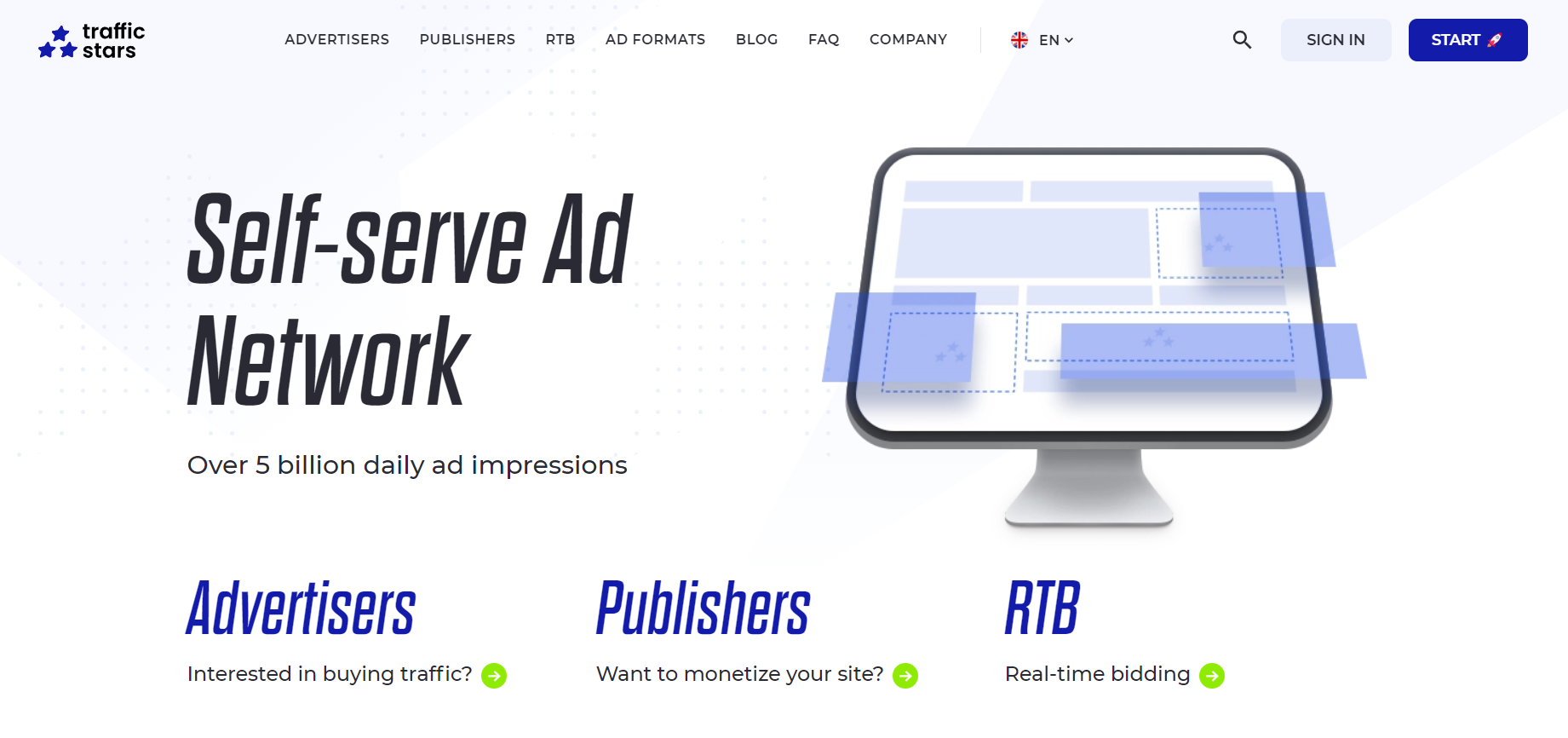 This level of precision targeting ensures that advertisers can effectively reach their desired audience, increasing the chances of driving high-quality traffic and conversions.
The platform provides advertisers with an extensive array of options for audience targeting, offering 35 adult categories to choose from. 
Moreover, advertisers can design their campaigns using top-performing ad formats such as banners, native ads, video pre-roll, video IM slider, push notifications, pops, and interstitial ads.
This variety allows advertisers to tailor their approach to suit their campaign objectives and audience preferences.
TrafficStars Pros and Cons
TrafficStars Pros
3B daily impressions, premium inventory.

Advanced targeting & optimization tools.

Diverse ad formats for campaign customization.

Cost-effective CPMV price model.

Real-time bidding on premium inventory.

Smart targeting for higher ROI.

Reliable high-quality traffic source.
TrafficStars Cons
Limited to adult advertising niche
TwinRed emerges as an innovative and forward-looking adult ad network, equipped with all the essential tools to elevate your Return on Investment (ROI) to new heights.
The platform boasts mind-boggling volumes of high-converting traffic sourced from a global network of high-performing publishers.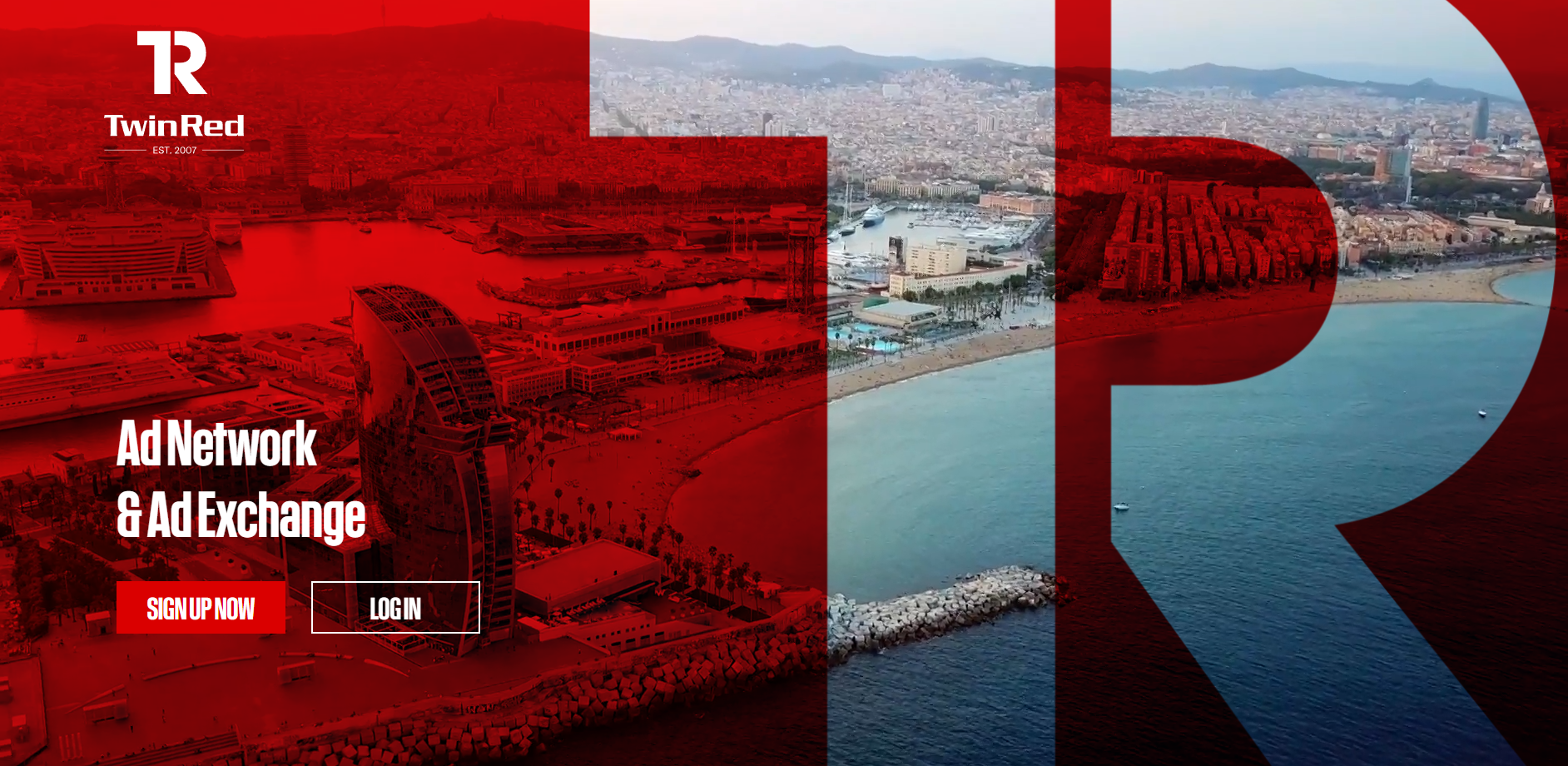 Advertisers on TwinRed can capitalize on real-time bidding for premium inventory, providing opportunities to secure valuable ad placements for maximum impact.
Additionally, the platform offers a diverse selection of high-converting ad formats, including pops, push notifications, native ads, and interstitial ads.
With TwinRed's array of excellent optimization tools and advanced targeting features, advertisers can fine-tune their campaigns for optimal performance.
Creating campaigns is a seamless process, as the platform offers a quick and easy setup from the account dashboard, streamlining the campaign launch process.
TwinRed Pros and Cons
TwinRed Pros
Innovative & forward-looking adult ad network.

Insane volumes of high-converting global traffic.

Real-time bidding on premium inventory.

High-converting ad formats (pops, push, native, interstitials).

Excellent optimization & advanced targeting tools.

Quick & easy campaign creation.

Exceptional returns on popular adult offers.
TwinRed Cons
Not all formats are completely functional yet.
ExoClick emerges as the leading and most comprehensive adult ad network, offering an abundance of stats and data to empower advertisers in making informed decisions while optimizing their campaigns.
The network boasts an extensive reach, making it a powerhouse in the industry.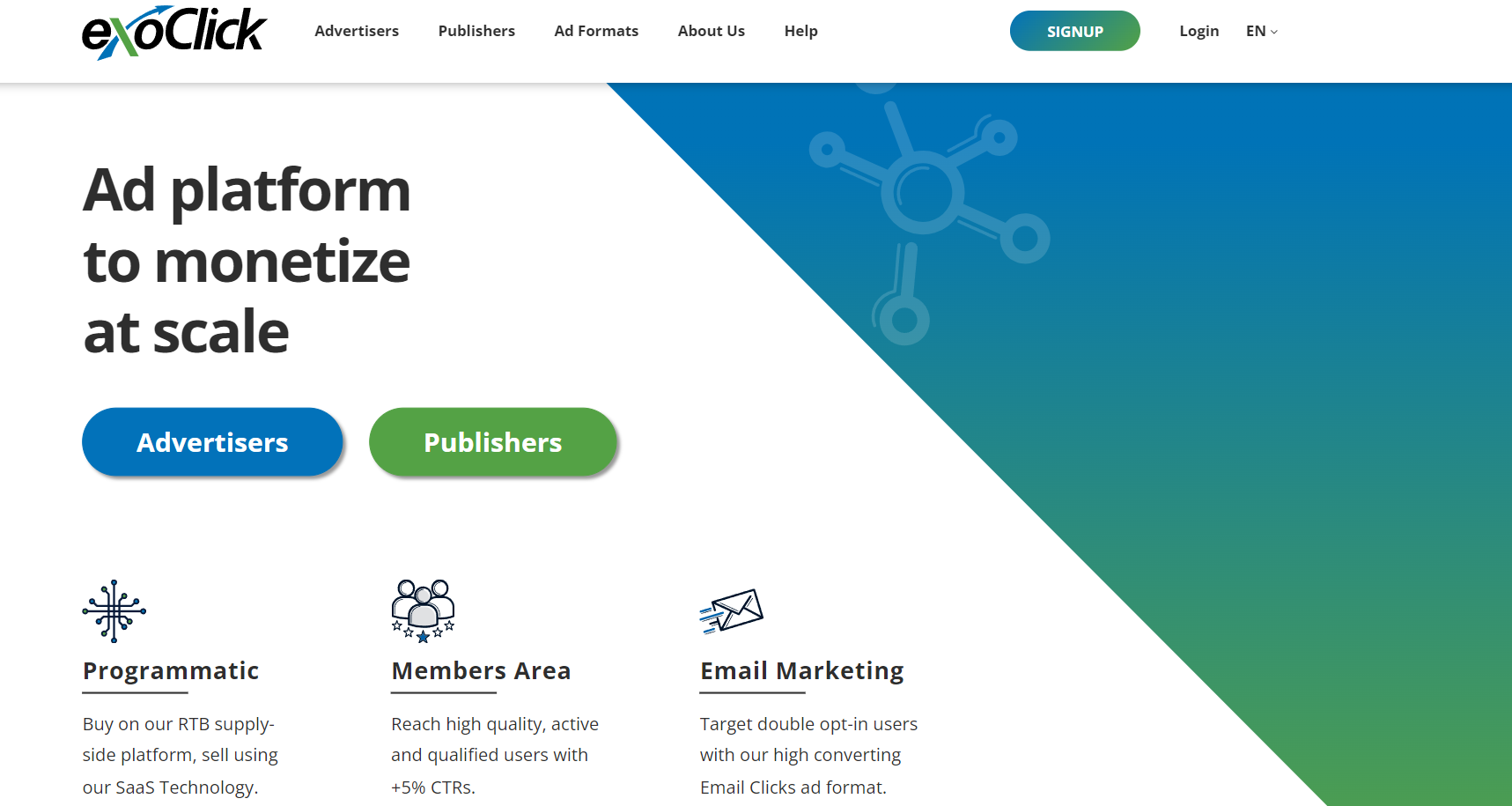 With access to high-quality websites and substantial traffic volumes across various locations, advertisers have ample opportunities to explore and capitalize on its vast audience.
The platform's analytics are second to none, delivering comprehensive data and insights to advertisers.
These detailed stats enable advertisers to gain a deeper understanding of their campaign performance, audience engagement, and user behavior.
ExoClick Pros and Cons
ExoClick Pros
Comprehensive adult ad network with rich analytics.

Extensive reach and high-quality websites.

SmartCPM for intelligent campaign optimization.

Abundant stats and data for informed decisions.

Diverse traffic exploration options.

The ultimate choice for adult advertising success.
ExoClick Cons
The fraud detection system needs to get better
Quick Links:
Conclusion: Best Adult Ad Networks 2023
Navigating the world of adult advertising requires a strategic approach and access to the best resources.
In this article, we explored the top adult ad networks that have proven to be game-changers for advertisers in the explicit content market.
These networks offer a wealth of benefits, including high-quality traffic, diverse ad formats, advanced targeting options, and comprehensive analytics.
Whether you're focused on push notifications, popunders, native ads, or other ad formats, the best adult ad networks featured here have the tools and features to help you achieve your campaign objectives.
From real-time bidding to smart optimization algorithms, these platforms are designed to maximize your return on investment.
As the adult advertising industry continues to evolve, staying ahead of the competition requires partnering with ad networks that understand the unique demands of this niche.
By leveraging the power of the best adult ad networks, advertisers can reach their target audience effectively, drive conversions, and unlock new levels of success.
Keep in mind that success in the adult advertising realm also requires adherence to ethical guidelines and compliance with platform policies.
Always prioritize transparency, user consent, and responsible advertising practices to build a long-lasting and sustainable brand reputation.