Main Differences Between Omnisend vs Mailchimp
Omnisend is a marketing automation builder that connects all parts of the platform together. Mailchimp, on the other hand, lets you run ads on social media or postcards.

Omnisend doesn't look at how customers act to figure out how likely they are to buy, but Mailchimp does.

Mailchimp has a mobile app, but Omnisend does not.

Mailchimp has a website builder, but Omnisend does not.
The main thing that stood out when we looked at both of them is that Omnisend makes marketing automation much easier and more flexible. Everything you need is on the platform, so you can use it to make detailed, custom marketing automation.
MailChimp, on the other hand, only has pre-made automation that is very limited (for example, sending an email campaign OR starting an ad campaign). Omnisend is the better choice if you want to use marketing automation.
They also have different things to offer. Omnisend has SMS messaging, which is a great way to get in touch with potential customers.
Mailchimp, on the other hand, has postcard ads, as well as ads on social media and Google. In fact, Mailchimp has more features overall, like its free website builder and mobile app.
You may also like:
Omnisend vs Mailchimp – Differences in Creating Email Campaigns
With Omnisend, it's easy to make newsletters that look great. Because it has a library of beautiful and professional email templates. You can easily change these templates to fit your brand.
You can save and use these changes again and again. If you have more than one store, you can even share the templates you've saved between the stores.
You can even make actionable emails for your eCommerce store that can help you make more sales.
The drag-and-drop Content Editor makes it easy to make campaigns with dynamic content blocks like Product Picker, Scratch Cards, Dynamic Discount Code, and Product Recommendations that are designed for eCommerce.
You can use a customer's profile information, shopping history, and other filters to create audience segments that you can then target with your campaign or not.
You can improve your open rates by using the built-in Campaign Booster and A/B testing tool.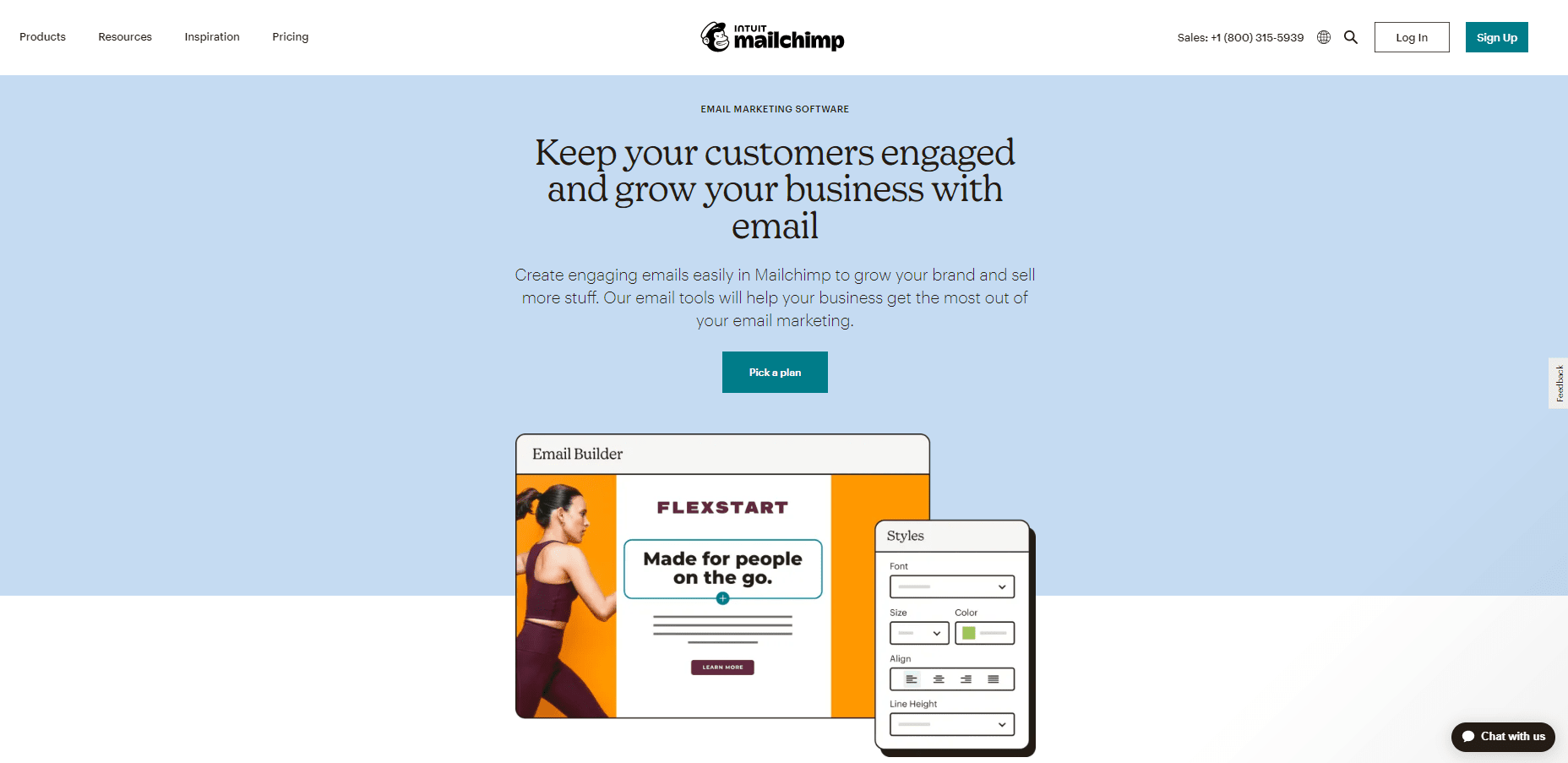 MailChimp also has a template library that you can use to make an email quickly that looks good. The drag-and-drop editor is easy to use and can help you make your emails look how you want them to.
Also, MailChimp's content studio lets you store and organize all your images and files, so you can always find what you need for your campaigns.
MailChimp also lets you automate your marketing and keeps track of your campaigns with a real-time analytics system. You can also use API or SMTP to send transactional emails quickly and with your own name.
Use API or SMTP to send transactional emails like order confirmations quickly and with a personal touch.
Verdict – Even though both MailChimp and Omnisend have a template library and tools for making changes, I found that Omnisend's features are better.
I will say that for simple users, this is a tie between the two platforms. But Omnisend can make your life easier if you want to use these email marketing tools for an eCommerce business.
Omnisend vs Mailchimp – Differences in Sending Web Push Notifications
Use Web Push Notifications if you want to quickly retarget your customers with personalized push notifications that are built into your eCommerce marketing.
Like SMS marketing, Mailchimp doesn't have this built into the system. But Omnisend makes it easy to add push notifications to workflows that are already automated.
You can combine push notifications with emails or use them as a backup for automated SMS to reach more people with the same message
Push Notifications can be used for:
Push for Cart Abandonment

Push for Transactional Messages

Push for Browse Abandonment

Push for Promotional events
Push notifications can certainly boost your eCommerce sales when used wisely.
Verdict: When it comes to Push Notifications, Mailchimp does not compete with Omnisend. Mailchimp lacks a robust Push Notification system, whereas Omnisend does. Omnisend is the clear winner in this case.
Omnisend vs Mailchimp – Differences in Setting Up Customer Segmentation
Omnisend was created with eCommerce enterprises in mind. It allows you to segment your audience based on various transactional events and buying behaviors.
Its clever client segmentation based on lifecycle aids in the retention of your most valuable customers. Omnisend assigns a lifecycle stage to each customer dynamically and displays this information in an easy-to-read lifecycle stage map.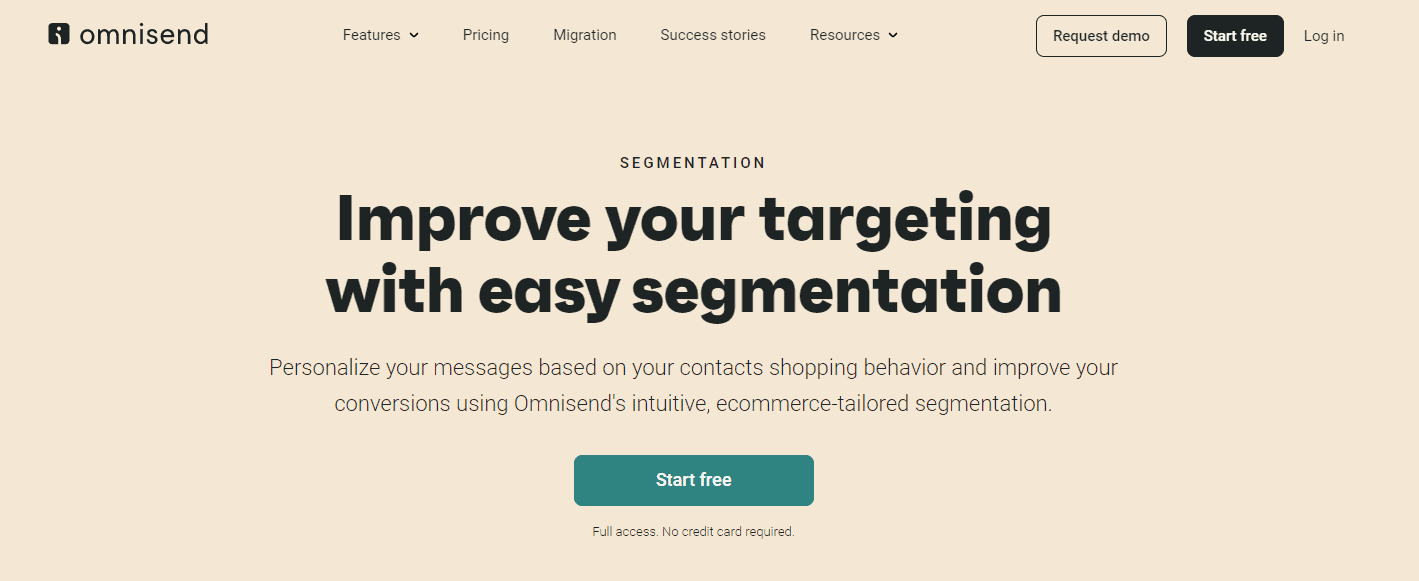 Mailchimp, on the other hand, has a simpler segmentation tool. It allows you to filter your contacts based on a common behavioral pattern as well as user attributes such as language, platforms, email clients, and so on.
Verdict –Mailchimp's categorization tool is far from thorough if you run an eCommerce firm. It may be appropriate for small websites that require a restricted segmentation option. Omnisend is the way to go for segmentation on longer lists and functional eCommerce businesses.
Differences in Tracking Sales & Reporting
Omnisend, as a platform-oriented for online businesses of all sizes, includes robust eCommerce reporting and analytics solutions.
You can easily keep track of the sales that Omnisend is driving you with accurate revenue attribution and reporting using its reports. You may also track the sales generated by all campaigns.
With its extensive reporting features, you can identify which campaigns and workflows are contributing the most to your bottom line and which segments have the highest engagement.
You may also compare the performance of email, SMS, and other channels against a variety of crucial parameters.
Furthermore, Omnisend Benchmarks allows you to compare your brand's performance to that of similar e-commerce sites in the industry.
Mailchimp also includes reporting capabilities in its system. You may get all of your marketing data from one location.
The growth, engagement, and revenue statistics can help you discover more about your audience's activity. Mailchimp, like Omnisend, allows you to compare open, click, and unsubscribe rates to your industry peers.
However, when compared to Omnisend, the reporting in Mailchimp appears to be more rudimentary. In addition, unlike Omnisend, if you run a Shopify store, you will need third-party apps to use the full reporting feature.
Verdict: I'll give Omnisend a tiny advantage here. Though both platforms have reporting elements built in, Omnisend appears to have more robust and advanced reporting and sales tracking functionality built right into the system.
Quick Links:
Conclusion: Omnisend vs Mailchimp 2023
If you are looking for a platform that seems to be a Jack of all trades, you can try out MailChimp.
However, you must note that several other services often offer better features than MailChimp more economically.
Now, if you need a platform that does marketing automation in the best possible way, Omnisend is the way to go.
Overall, I found Omnisend as a more powerful tool to automate your marketing campaigns. It is particularly apparent if you are going to use the platform for your eCommerce business.
While MailChimp offers most of the basic email marketing tools, Omnisend has a more powerful suite of services under its umbrella.