Many users are concerned about their data security when using cloud storage services. Numerous high-profile data breaches have been in recent years, making it difficult to trust companies with sensitive information.
Fortunately, pCloud offers a solution to this problem. With its client-side encryption, pCloud ensures only users can access their data. This makes it an ideal option for individuals and businesses seeking a secure and reliable cloud storage service.
In addition to its strong encryption, pCloud offers a range of features that do it a versatile and user-friendly service. Whether you are a business owner looking to collaborate with colleagues or an individual looking to back up your files, pCloud has something to offer.
Let us understand more about pCloud in detail.
What is pCloud? – All You Need To Know About pCloud Before Buying
pCloud provides client-side encryption through its optional component, pCloud Crypto. With pCloud Crypto, files are encrypted using an encryption key created by the user, called a Crypto Pass.
This provides an additional layer of security, and pCloud cannot decrypt the files. The standard approach followed by pCloud encrypts files using the AES-256 encryption algorithm and applies TLS/SSL, an additional layer of encryption that protects files while in transit.
pCloud offers many features, including the ability to backup photos and videos from mobile devices and social media platforms and backup Dropbox itself.
However, the free and premium versions of pCloud miss some sharing features for teams and groups. To access these features, you will need to choose the business plan.
pCloud takes pride in assuring its users of the best security measures available, including the pCloud Crypto challenge. The company has given hackers worldwide a challenge to hack into their Crypto protection, and they have yet to pass their protection.
pCloud is headquartered in Switzerland, with stronger privacy and security laws than most nations. However, the potential problem is that pCloud is a small company with approximately 30 employees.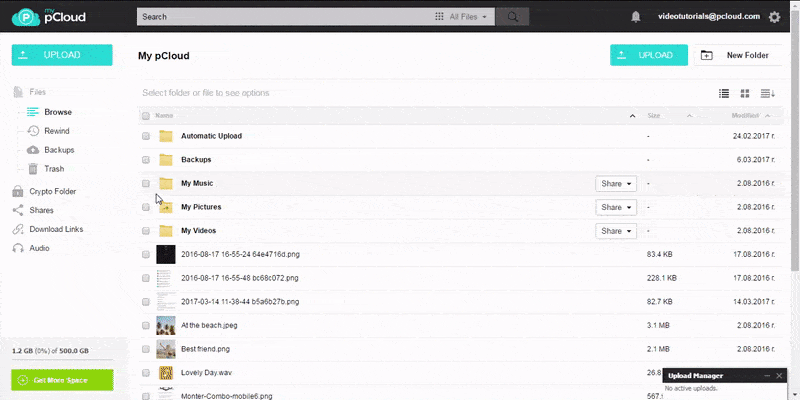 Also, read:
Who is pCloud For?

Individuals
Whether you're a student, a freelancer, or an average user, pCloud can meet your cloud storage needs. It offers a user-friendly interface and is available on almost all platforms, making it easy for anyone to get started.
You can back up your photos, videos, and social media accounts like Facebook and Instagram. With pCloud, you'll never have to worry about running out of space on your phone or losing important files.
Businesses
pCloud is an ideal solution for businesses of all sizes. Its advanced security measures and compliance with various regulations make it a great choice for companies that deal with sensitive information.
pCloud also offers collaboration and sharing features, allowing teams to collaborate on real-time projects. However, some sharing features like teams and groups are only available in the business plan.
Security-Conscious Users
pCloud takes pride in offering top-notch security measures to its users. It provides client-side encryption with pCloud Crypto, a paid add-on offering zero-knowledge privacy.
The pCloud Crypto challenge is also worth mentioning, as it demonstrates the founders' confidence in their protection. As a result, users who prioritize their privacy and security can trust pCloud to keep their data safe.
Best Features of pCloud
Backups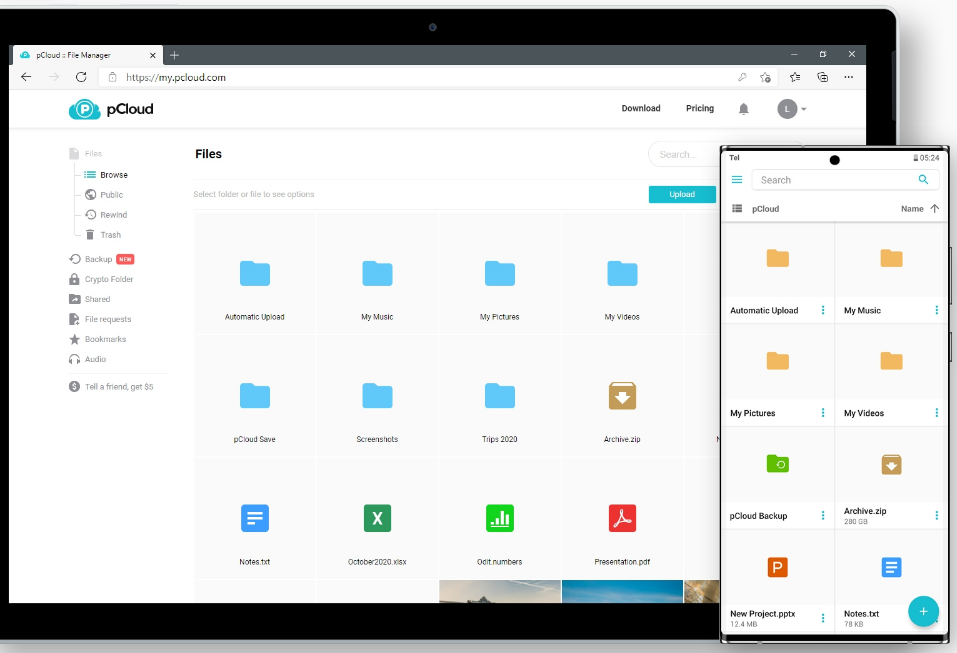 With pCloud, you can back up your files from various cloud storage services such as Google Photos, Google Drive, OneDrive, Facebook, and Dropbox. This feature lets you centralize your data on pCloud, making it easier to manage and access your files from one place.
File Management
pCloud offers several file management features that enhance your file organization and accessibility. These features include file versioning, data recovery, remote upload, online document preview, and a rewind account.
File versioning allows you to keep track of changes made to a file over time, while data recovery enables you to restore deleted files.
Remote upload allows you to transfer files directly to your pCloud account from another website, and online document preview allows you to view files without downloading.
Media and Usability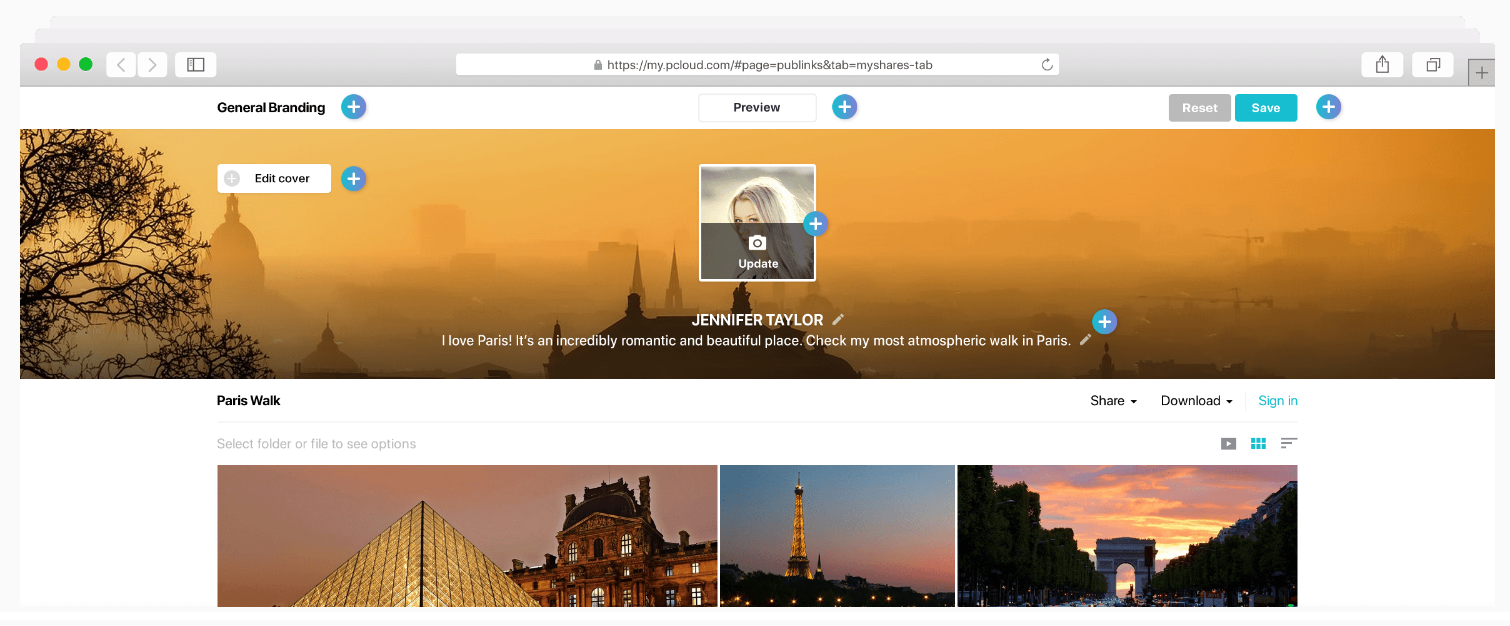 pCloud's media and usability features are designed to provide a seamless user experience. These features include a built-in video player, video streaming, an audio player with playlists, and unlimited file size and speed.
With these features, you can watch videos and listen to music without downloading them and upload files of any size at high speeds.
Security
pCloud's security features are designed to ensure your files are safe and secure. These features include TLS/SSL channel protection, 256-bit AES encryption for all files, five copies of files on different servers, and an option for an extra layer of encryption.
With these features, you can be sure that your files are protected from unauthorized access and data breaches.
Collaboration
pCloud's collaboration features are designed to make it easier to share files and work with others.
These features include sharing links and file requests, inviting users to shared folders, getting detailed stats for your links, and branding your shared links.
With these features, you can easily collaborate, whether working on a project with colleagues or sharing photos with family and friends.
You may also like:
How Easy is it To Use pCloud?
pCloud is a cloud storage service that offers users a simple and user-friendly interface. You can easily get started with a manual registration or single sign-on with Google or Facebook accounts. The service includes sample data that lets you explore its sharing features.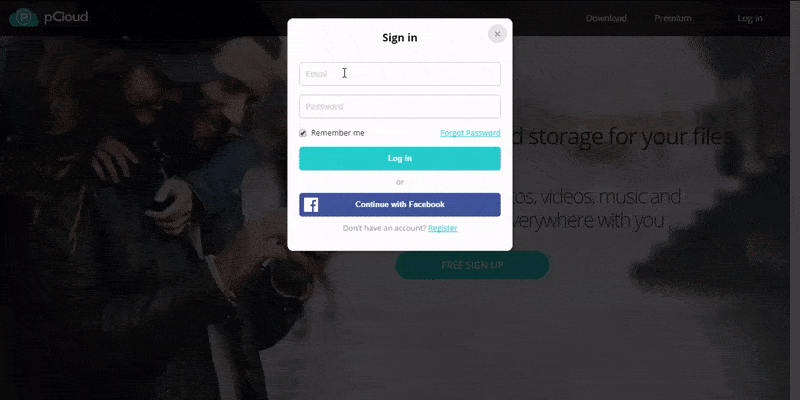 The file management system is impressive, and you can easily sort and search shared files. Uploading files is simple, and you can use the upload manager or drag and drop files from your desktop.
pCloud's six-step wizard helps you utilize all its functions, unlocking additional storage space for each completed step.
The desktop client is intuitive and installs as a desktop applet in the status bar. It adds a virtual drive to your file manager, a mirror copy of your pCloud account. The mobile app allows you to upload photos and videos directly from your phone.
pCloud offers a client-side encrypted drive called pCloud Crypto, which provides unlimited storage but requires users to note their security key to access lost files.
The bandwidth throttling control feature is also valuable, which is set to unlimited by default.
pCloud Pricing Plans: How Much Does It Cost? 
Step – 1: Go to the official website of pCloud and click on 'Pricing'.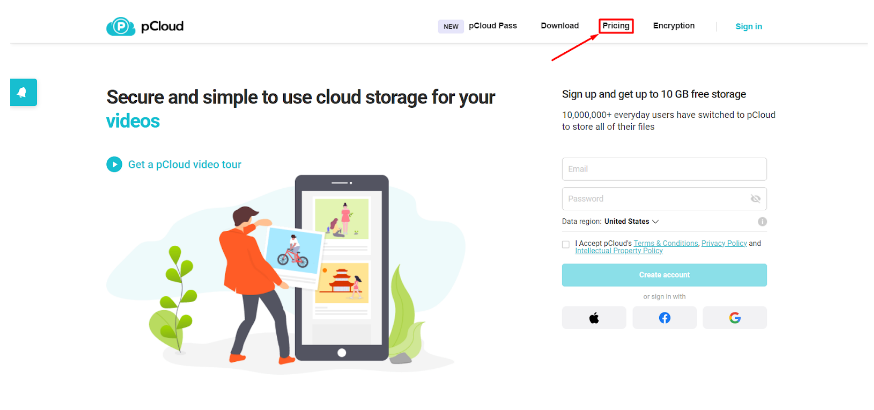 Step – 2: Choose a plan of your choice. Note that they also have Family and Business Plans.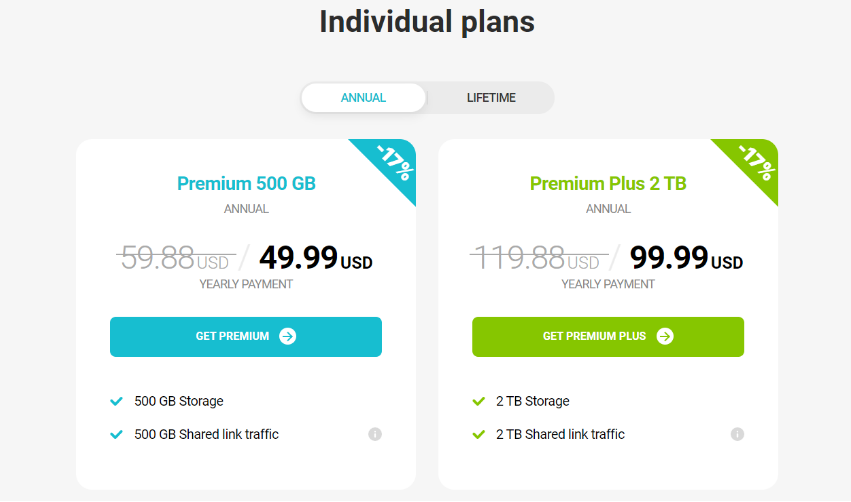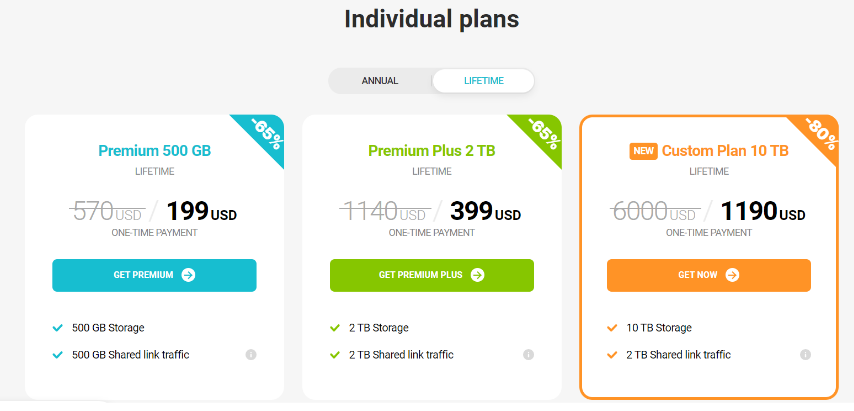 Step – 3: Click on 'Sign up'.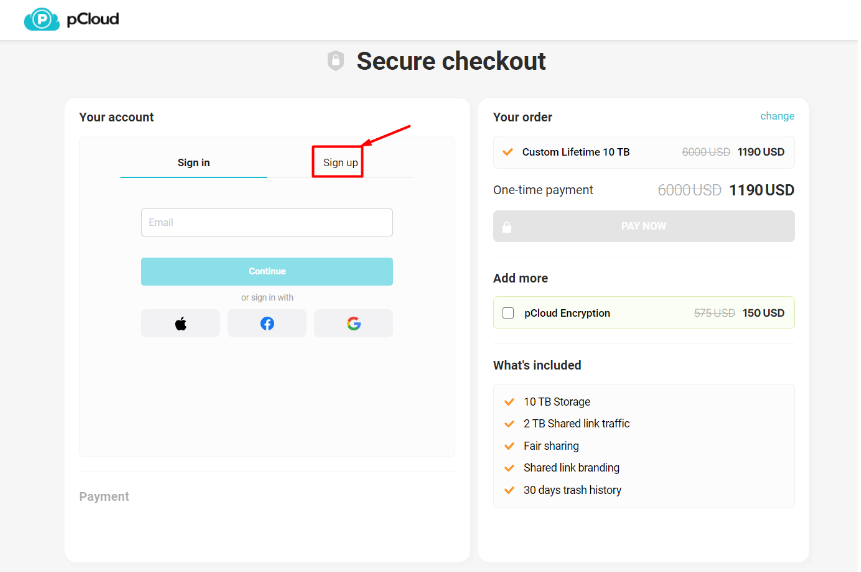 Step – 4: Fill up the details asked for, check the box, and click on 'Create account'.
Step – 5: Fill up the details asked for and click on 'PAY NOW'.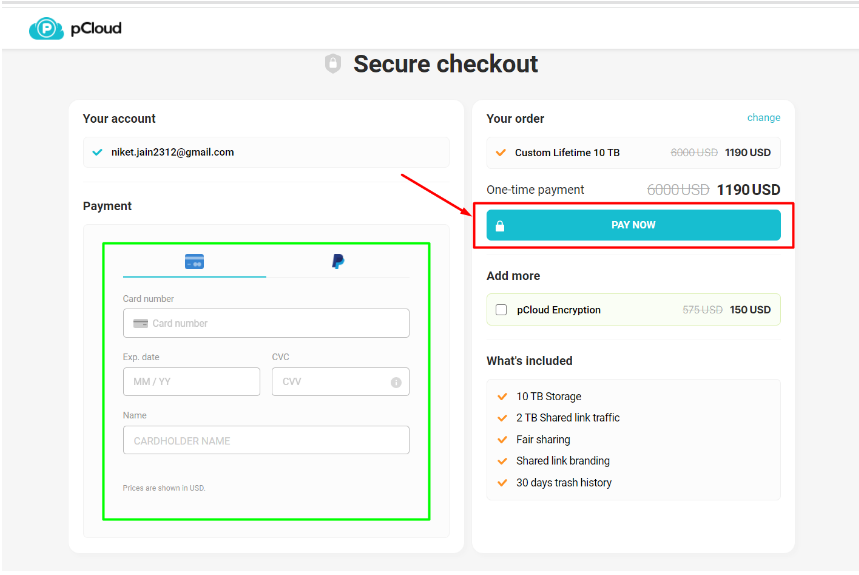 That is it. You are good to go.
Why pCloud is better than Dropbox?
| | |
| --- | --- |
| pCloud | Dropbox |
| pCloud is available for personal as well as business use. | Dropbox is used solely for business purposes. |
| The first 20 GB is free under certain conditions. | Starting cost is $ 50 per month. |
| It offers great space for storage. | The storage space is comparatively less. |
| pCloud keeps the downloaded file in the cloud. | Files get downloaded locally. |
| The performance speed is 6 times better while uploading or downloading files. | The speed of Dropbox is relatively low while uploading or downloading larger files. |
| pCloud security with Crypto is unbeatable at a reasonable price. | There are some issues related to data encryption. |
Dropbox launched its Smart Sync, a desktop app for opening files kept in the cloud. This was similar to pCloud Drive which was already operating from past three years ago.
If we look at the overall aspect pCloud Drive has much better functionality than Dropbox Smart Sync. pCloud offers free space to its all plan members, while Dropbox charges a certain amount from all users.
pCloud Drive is much cheaper than Dropbox Smart Sync if we opt for other paid plans. And also you get access to less space on the cloud. With the paid plan, you get 5 TB of space at $49.95/m, whereas at $50 per month, you get only 2 TB by opting for Dropbox Smart Sync.
pCloud Drive doesn't take up space on your local disk whereas Smart Sync would take some space as per their requirement. If you deal with smaller files, then there is no such issue with Smart Sync, but in the case of big files, there might be a problem.
Even the speed of performance matters a lot and here also pCloud Drive wins the battle as it has been seen in the demos that pCloud has six times faster speed than Dropbox.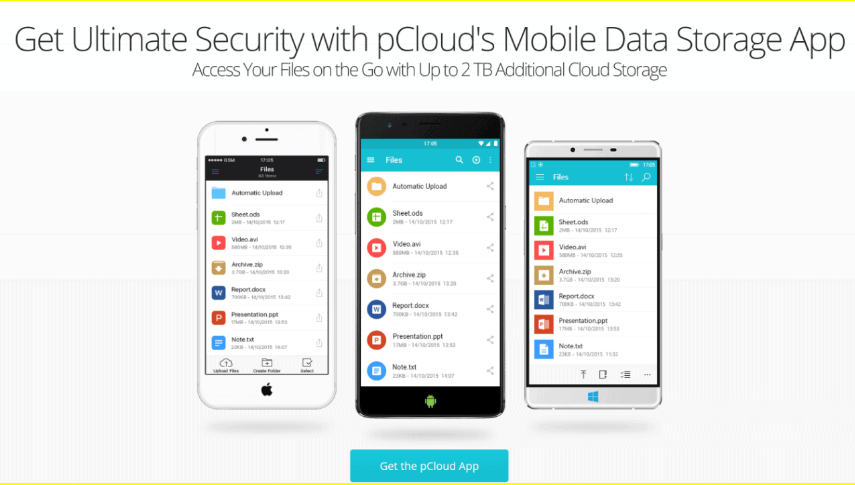 Even if we look at the security features, Dropbox Smart Sync has nothing to offer as compared to pCloud.
With the extra advantage of pCloud Crypto, you can add it anytime to your existing plan and enjoy the unbeatable safety of your files and folders. Crypto offers the highest level of client-side protection. Dropbox has no such strongly protective service for your confidential documents.
Though the Smart Sync from Dropbox is not a weak feature, but still needs some consideration when compared to pCloud components. If you are looking for a real virtual partner to look after your valuable data as well as save space on your PC, then pCloud is the right choice.
How Secure is pCloud?
pCloud is a cloud storage service that provides users with strong security and privacy features. However, the level of security and privacy you receive from pCloud largely depends on how you use the service.
pCloud's security features are impressive. The company uses strong encryption to protect the files you send to and receive from their servers. Their corporate practices for safeguarding your data on their servers also comply with industry standards.
However, pCloud claims that its approach to encryption is unique, and since the service is not open source, users must rely on the company's word for the security of their encryption.
Though pCloud conducted an encryption challenge several years ago, a third-party security audit would provide additional reassurance.
Regarding privacy, pCloud's location in Switzerland is a major plus. Switzerland is known for its strong privacy laws and does not require cloud storage services to retain user data.
However, it's still possible for pCloud employees or government entities to access your files. The only way to ensure true privacy is by using the optional, extra-charge pCloud Cryptosystem.
This encryption method protects your files from prying eyes, but files protected by pCloud Crypto cannot be shared.
If you are creating a new pCloud account, choosing a server in the European Union is recommended, as this will provide more security for your data.
Conclusion
pCloud offers a secure and user-friendly cloud storage service suitable for many users, including individuals and businesses.
Its unique features, such as pCloud Crypto, backup options for social media platforms, and its availability on various platforms make it a strong competitor in the cloud storage market.
However, the need for sharing features in the free and premium versions and limited backup options may deter some users.
Overall, pCloud's commitment to security and privacy and its array of features make it a reliable choice for those needing cloud storage.