In the ever-evolving world of affiliate marketing, finding a reliable and reputable network is paramount to maximizing your earnings and achieving success. One such network that has garnered attention and positive feedback is Profit Pixels.
With its diverse range of high-converting offers, advanced tools, and dedicated support, Profit Pixels has established itself as a trusted platform for publishers and advertisers alike.
In this comprehensive Profit Pixels review, I will delve into the key features, pros, and cons of Profit Pixels, shedding light on why it has become a preferred choice for affiliate marketers seeking lucrative opportunities.
So let us begin.
Profit Pixels Review 2023: What are Profit Pixels?
Profit Pixels is an established and reputable online affiliate marketing network that specializes in performance-based advertising.
With a strong track record and a diverse portfolio of clients, Profit Pixels offers a range of cutting-edge solutions and tools for advertisers and publishers to maximize their revenue potential.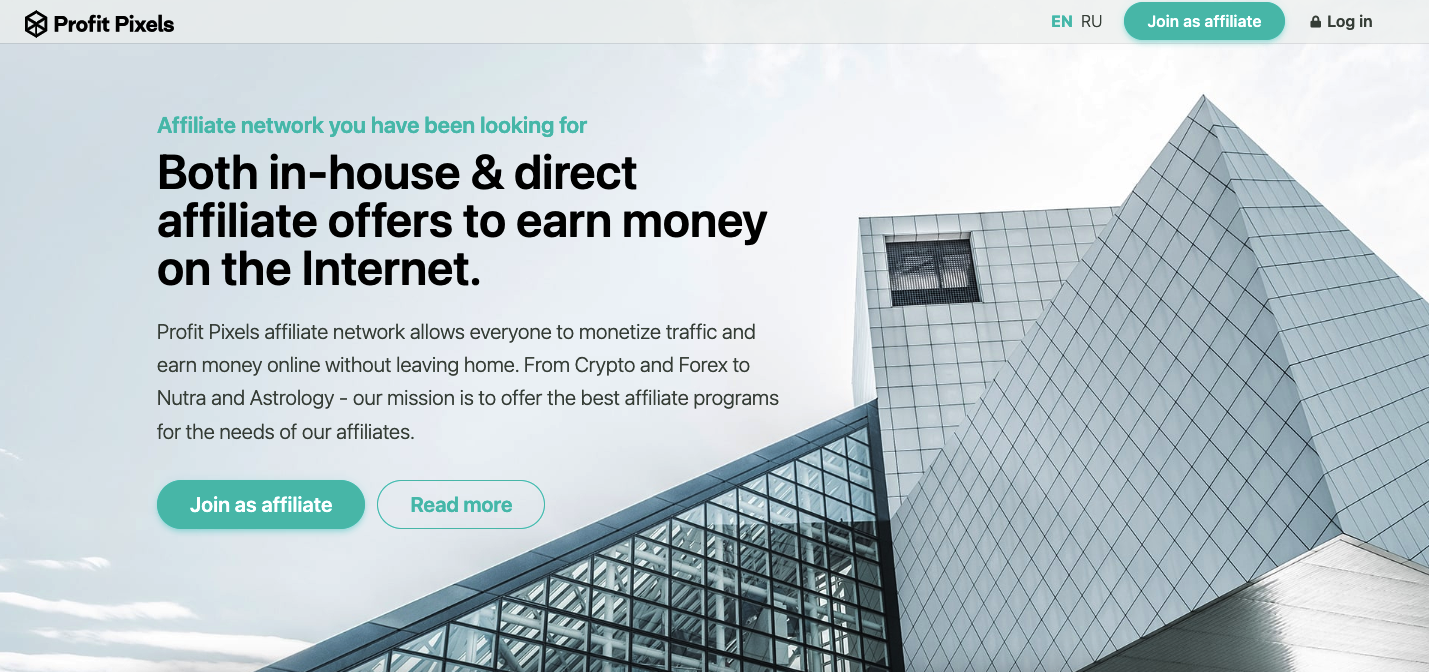 Profit Pixels operates as an intermediary between advertisers seeking to promote their products or services and publishers looking to monetize their online traffic.
The network employs a performance-based model, where publishers are rewarded for driving desired actions, such as clicks, leads, or sales, on behalf of the advertisers.
This approach ensures that both parties benefit from a mutually advantageous partnership, as advertisers only pay for measurable results, while publishers have the opportunity to earn attractive commissions.
One of the key strengths of Profit Pixels is its extensive selection of high-converting offers across various verticals and SmartLinks.
Each publisher can create a unique SmartLink containing any offers (OneLink tool). Contact the manager to create a SmartLink, in case you find any difficulty.

The network collaborates with renowned global brands, spanning industries such as crypto, finance, nutra (health&beauty), e-commerce, dating, and more.
This diversity allows publishers to find offers that align with their niche and audience, enhancing their chances of success in driving conversions.
Affiliate Models Offered by Profit Pixels
1. CPA Affiliate Programs: Earn Big with Cost Per Action –
Cost Per Action (CPA) is one of the most popular affiliate models in the industry, and Profit Pixels offers a wide range of CPA affiliate programs.

Under this model, affiliates receive payouts for each targeted action performed by leads. Typically, these actions include making a deposit or completing a purchase.
From Crypto and Forex to Beauty affiliate programs, Profit Pixels enables affiliates to earn significant commissions online by promoting offers that align with their audience and niche.
2. CPL Affiliate Programs: Monetize Sign-Ups with Cost Per Lead –
Profit Pixels also provides CPL (Cost Per Lead) affiliate programs, allowing affiliates to earn payments for each sign-up generated from their traffic.

There are two main types of CPL offers: Single Opt-In (SOI) and Double-Opt-In (DOI). In the SOI model, the lead fills out a sign-up form to trigger the conversion.
On the other hand, the DOI model requires the lead to confirm their sign-up through an email confirmation link. While CPL payouts may be lower compared to CPA, this model presents an opportunity to monetize cheaper traffic effectively.
3. IVR Affiliate Programs: Profit from Pay Per Call –
Profit Pixels offers IVR (Interactive Voice Response) affiliate programs, which operate on a pay-per-call basis.

With this model, affiliates receive a fixed payment for every minute of a phone conversation initiated by their traffic. IVR affiliate offers are commonly used in finance, legal, and astrology niches, allowing affiliates to target an audience interested in specific services.
By connecting the right audience with call center specialists, affiliates can increase their earnings per call and maximize their profits.
4. Revenue Share Affiliate Programs: Partner in Long-Term Profits –
Revenue Share is a classic affiliate marketing model offered by Profit Pixels. Under this model, affiliates receive a fixed percentage of the revenue generated by the leads they refer.

This can apply to various actions, such as user purchases, deposits, or profits from betting or trading operations.
Revenue Share provides affiliates with the opportunity to build long-term partnerships with advertisers and benefit from ongoing commissions based on the success and profitability of the referred leads.
How To Join the Profile Pixels Affiliate Program?
Step – 1: Go to the official website of Profile Pixels and click on 'Join as an affiliate'.
Step – 2: Fill in the details asked for and click on 'Next Step'.
Step – 3: Fill in the traffic information and click on 'Next Step'.
Step – 4: Choose who you are, fill in a coupon code, check the box, and click on 'Sign up'.
That is it. Soon your account will be approved and you can start earning.
Note that it is important to provide valid messenger contact information because your assigned manager will be contacting you there only in order to approve your account.
Quick Links:
Conclusion: Profit Pixels Review 2023
After a thorough review of Profit Pixels, it is evident that this affiliate marketing network offers a wealth of opportunities for publishers and advertisers alike.
With its diverse range of high-converting offers across various verticals, advanced tools, timely payouts, and dedicated support, Profit Pixels stands out as a trusted and reliable platform.
The network's commitment to transparency, innovation, and maximizing affiliate earnings is commendable.
Publishers can benefit from a vast selection of handpicked offers, advanced tracking systems, and real-time analytics, allowing them to optimize their campaigns and maximize their revenue potential.
Advertisers, on the other hand, gain access to a wide network of trusted publishers, ensuring broad exposure and reach for their products or services.
While Profit Pixels boasts numerous advantages, it is important to acknowledge the potential limitations. Some niche-specific offers may be limited, and competition in popular verticals can be high.
However, these challenges are not unique to Profit Pixels and can be overcome with strategic planning and a targeted approach.