In today's digital landscape, online publishers face the ever-growing challenge of effectively monetizing their websites and content while ensuring a seamless user experience.
Among the various advertising formats available, pop-under ads have gained popularity as an effective means of generating revenue for publishers. 
These non-intrusive ads open behind the main browser window, capturing users' attention without disrupting their browsing experience.
However, not all pop-under ad networks are created equal, and publishers need to choose the right ones to maximize their earnings while maintaining a positive user experience. 
In this article, we will explore some of the best pop-under ad networks available for publishers, examining their key features, benefits, and how they cater to publishers' diverse needs.
How Does Pop-Under Ad Networks Help Publishers?
1. Additional Revenue Stream:
Pop-under ads present an additional revenue stream for publishers. By displaying these ads discreetly behind the main browser window, publishers can earn income without disrupting users' browsing experience.
As users close their current session, the pop-under ad becomes visible, capturing their attention and potentially leading to higher click-through rates and conversions.
2. Diverse Advertising Formats:
Pop-under ad networks offer publishers a range of advertising formats beyond traditional banner ads.
This diversity enables publishers to experiment with different formats to find the most effective ones for their audience.
From video ads to interactive elements, pop-under ad networks allow publishers to showcase ads that resonate with their users, increasing the likelihood of engagement and ad interaction.
3. Increased Monetization Opportunities:
Pop-under ad networks provide publishers with increased monetization opportunities, particularly for websites with significant traffic.
Publishers can leverage their traffic volume to display pop-under ads more frequently, leading to a potential boost in revenue.
For publishers with niche audiences, pop-under ads can be targeted to specific users, further enhancing ad relevance and potential earnings.
4. Precise Targeting Capabilities:
Many pop-under ad networks offer advanced targeting options, allowing publishers to display ads based on user demographics, behavior, interests, and location.
This precise targeting ensures that the right ads reach the right audience, increasing the likelihood of ad clicks and conversions.
As a result, publishers can provide a more personalized user experience, further fostering user engagement and loyalty.
5. Real-Time Reporting and Insights:
Pop-under ad networks typically provide publishers with real-time reporting and analytics.
These insights allow publishers to track the performance of their pop-under ads, including click-through rates, impressions, and revenue generated.
With real-time data at their fingertips, publishers can make data-driven decisions, optimizing their ad placements and maximizing their earnings.
10 Best Pop-Under Ad Networks in 2023
The top pop-under advertising networks for 2023 are listed below.
RevenueHits is a leading ad network that stands out for its innovative contextual and ad-serving technology which is geo-targeted, making it an excellent choice, particularly in light of the General Data Protection Regulation (GDPR).
This cutting-edge technology allows advertisers to display relevant ads based on the context of the content and the location of the user, ensuring a more personalized and engaging ad experience.
One of the key advantages of RevenueHits is its flexibility in terms of monetization options.
Publishers have the opportunity to generate revenue from a wide range of digital assets, including toolbars, widgets, add-ons, mobile sites, and websites.
This diversity empowers publishers to maximize their income potential across various platforms and channels.
RevenueHits Best Features –
100% fill rate across all regions

Versatile ad formats: text, pop-ups, apps, widgets, and more

No minimum traffic required for publishers

GDPR-friendly advertising platform

Highly rated ad network
Infolinks provides a groundbreaking solution to address the issue of banner blindness associated with traditional banner ads, where users tend to ignore intrusive ads.
Infolinks tackles this problem with a diverse range of free-to-use and profitable ad units that deliver high-value content without disrupting the user experience.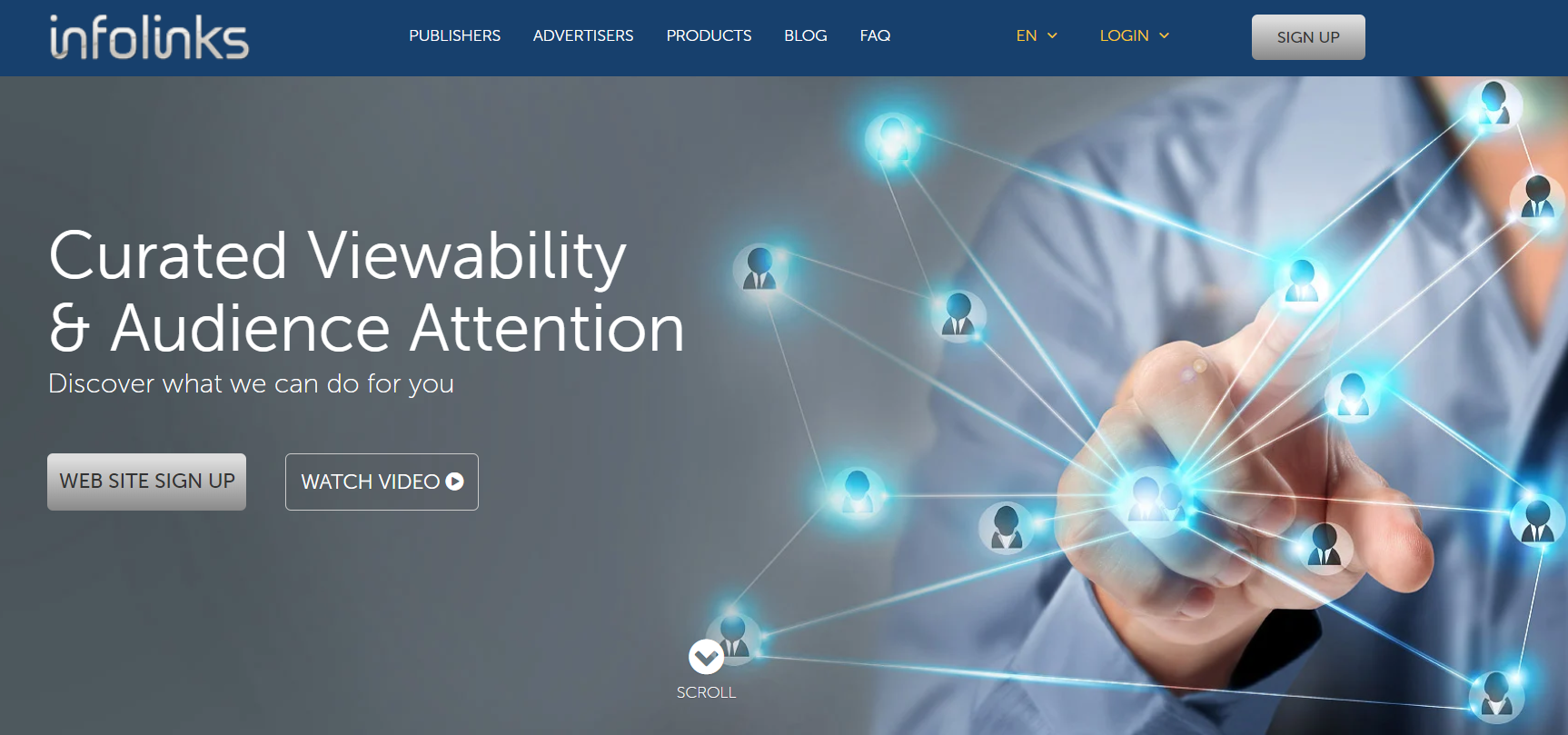 By offering these ad units, Infolinks ensures that the advertisements seamlessly blend with the website's content, making them less intrusive and more engaging for users.
This approach not only mitigates banner blindness but also leads to better search engine optimization (SEO), as it enhances the overall user experience and reduces bounce rates.
Infolinks Best Features –
Innovative ad units combat banner blindness.

InFold, InText, InTag, InFrame, In-Screen options.

Improved SEO and user experience.

Relevance and engagement for users.

High monthly revenue for publishers.

Partners with major advertisers like Facebook, and Microsoft.

Easy integration, no setup fees.

Multiple revenue models, no minimum traffic requirement.
Media.net is a prominent advertising platform that leverages the vast Yahoo! Bing contextual ad network, offering a wide array of ads from national and local advertisers.
This comprehensive pool of advertisers ensures a 100% fill rate across all verticals and ad formats, guaranteeing that publishers' ad inventory is fully utilized.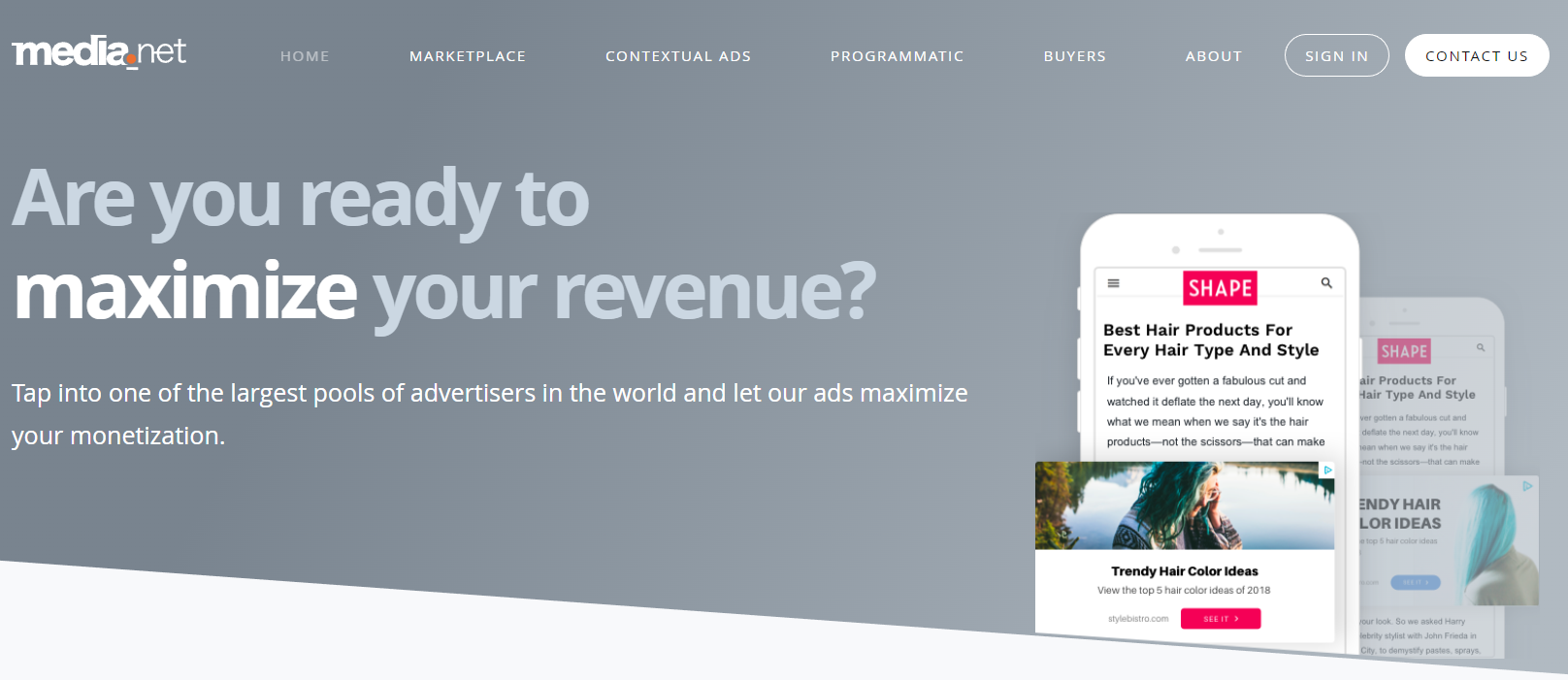 A remarkable aspect of Media.net is its impressive roster of publishers, including top names like Forbes, Elle, Reuters, Cosmopolitan, and CNN.
This signifies the platform's credibility and ability to attract high-profile publishers, making it an appealing choice for advertisers.
Media.net Best Features –
Yahoo! Bing contextual ad network integration

100% fill rate across all ad formats

Trusted by top publishers like Forbes, CNN

Supports standard IAB ad sizes

Access to high-quality ads from major DSPs

Diverse ad formats: interstitial, native, contextual, mobile docked

Flexible revenue models: CPM, CPC, CPA

No minimum traffic requirement for publishers.
PropellerAds is a leading advertising platform that offers comprehensive support for various banner ad sizes, including 728×90, 300×250, 160×600, and 120×600, in addition to on-click and in-banner video ad formats.
By strategically placing these ads, publishers can expect impressive Cost Per Mille (CPM) rates, reaching as high as $1-2 for inventory in the United States and the United Kingdom.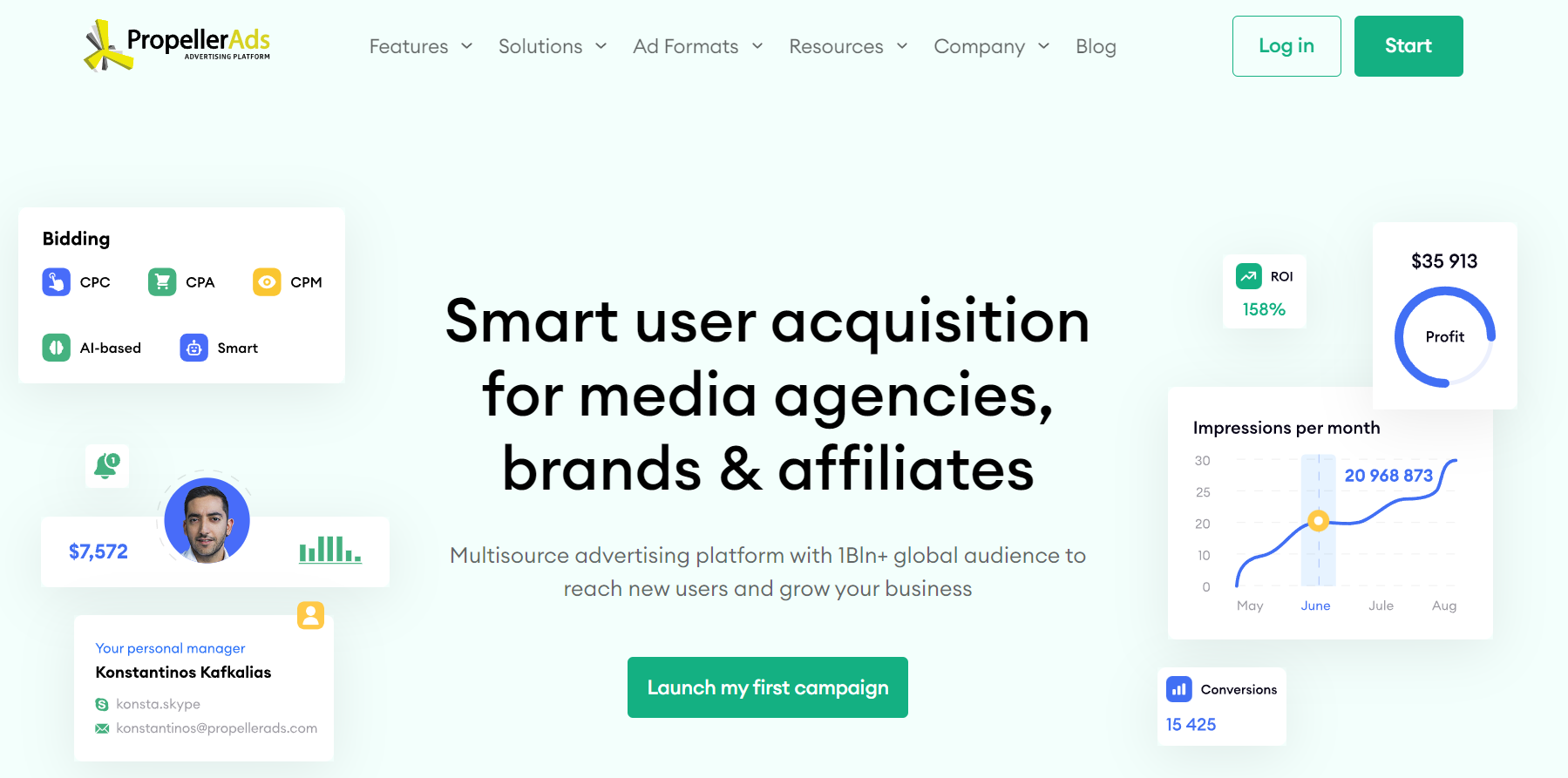 A key strength of PropellerAds lies in its extensive reach, boasting 70,000 active campaigns worldwide.
To ensure the utmost ad quality, the platform conducts manual checks, diligently removing unsafe and suspicious advertisers from the network.
This stringent vetting process guarantees that publishers' websites maintain a high standard of ad content and safeguards the overall user experience.
PropellerAds Best Features –
Comprehensive support for standard and video ad formats

High CPM rates up to $1-2 for US and UK inventory

70,000 active worldwide campaigns

Manual checks for ad quality and safety

100% monetized inventory for publishers

Timely payouts and personal account manager

Real-time reporting for detailed insights

No minimum traffic requirement for publishers.
TrafficForce serves as a dynamic platform that empowers both publishers and advertisers to optimize their ad revenue through a diverse range of online advertising solutions.
As an ad network, TrafficForce specializes in selling targeted website and mobile traffic on an impression basis, ensuring advertisers reach their desired audience effectively.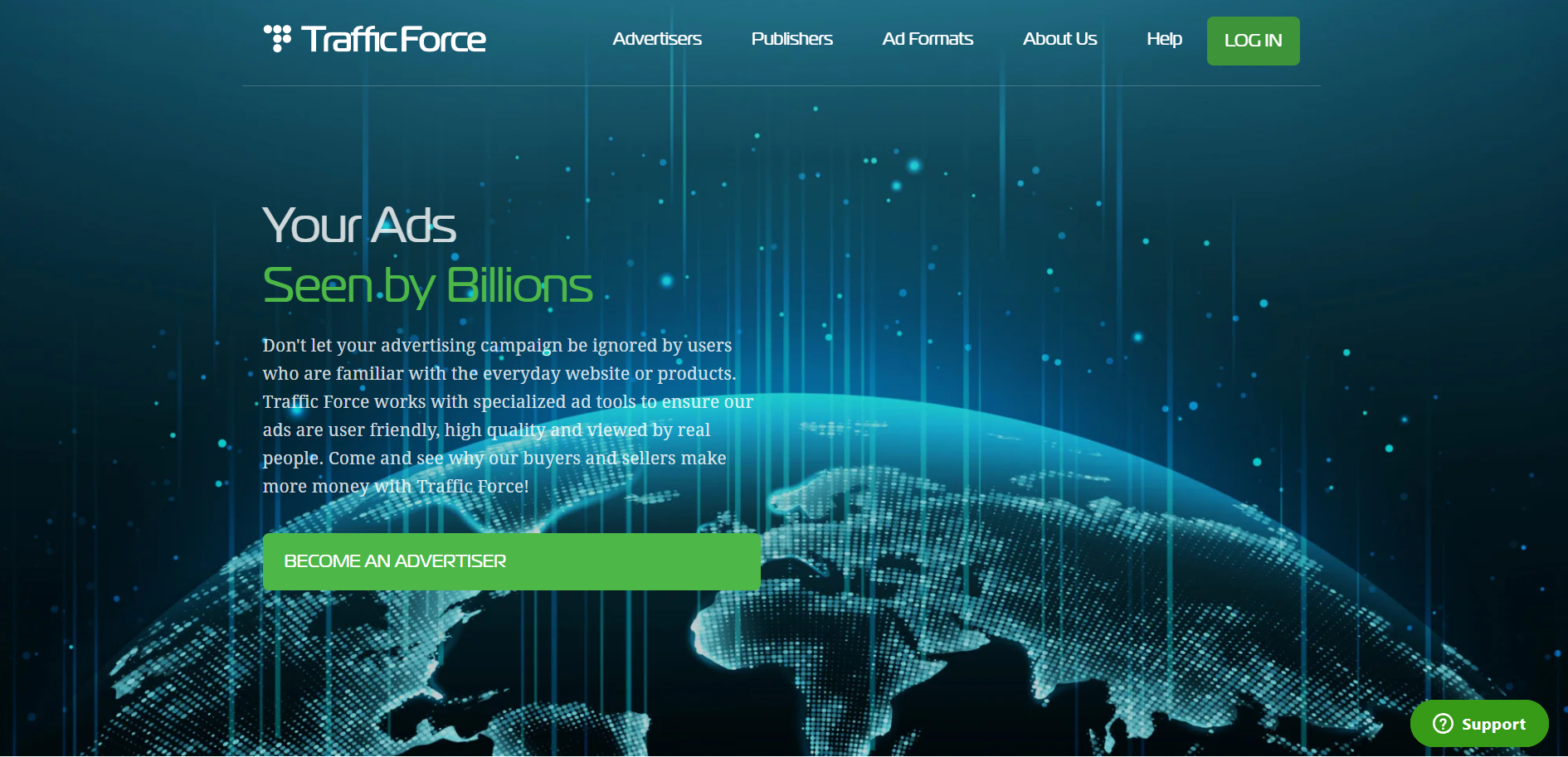 One of the key advantages of TrafficForce is its position as a supply-side platform (SSP). This strategic position enables publishers to gain access to an extensive network of over 100 demand-side partners.
By tapping into this vast pool of potential buyers, publishers can maximize their ad-fill rates and revenue opportunities.
TrafficForce Best Features –
Maximizes ad revenue for publishers and advertisers.

Sells targeted website and mobile traffic.

Connects publishers to 100+ demand-side partners.

Uses header bidding and open RTB technology.

Offers display banners, pop-under, IM floaters, and in-stream video ads.

CPM revenue model for steady income.

No minimum traffic requirement for publishers.

Leading ad network with diverse ad formats.
SmartyAds SSP is a media-selling network specifically designed to cater to publishers looking for intelligent revenue optimization solutions.
With an impressive daily impression count exceeding 2 billion, SmartyAds boasts the highest eCPMs, Click-Through Rates (CTRs), and fill rates across all geographical regions, reaching as high as 100%.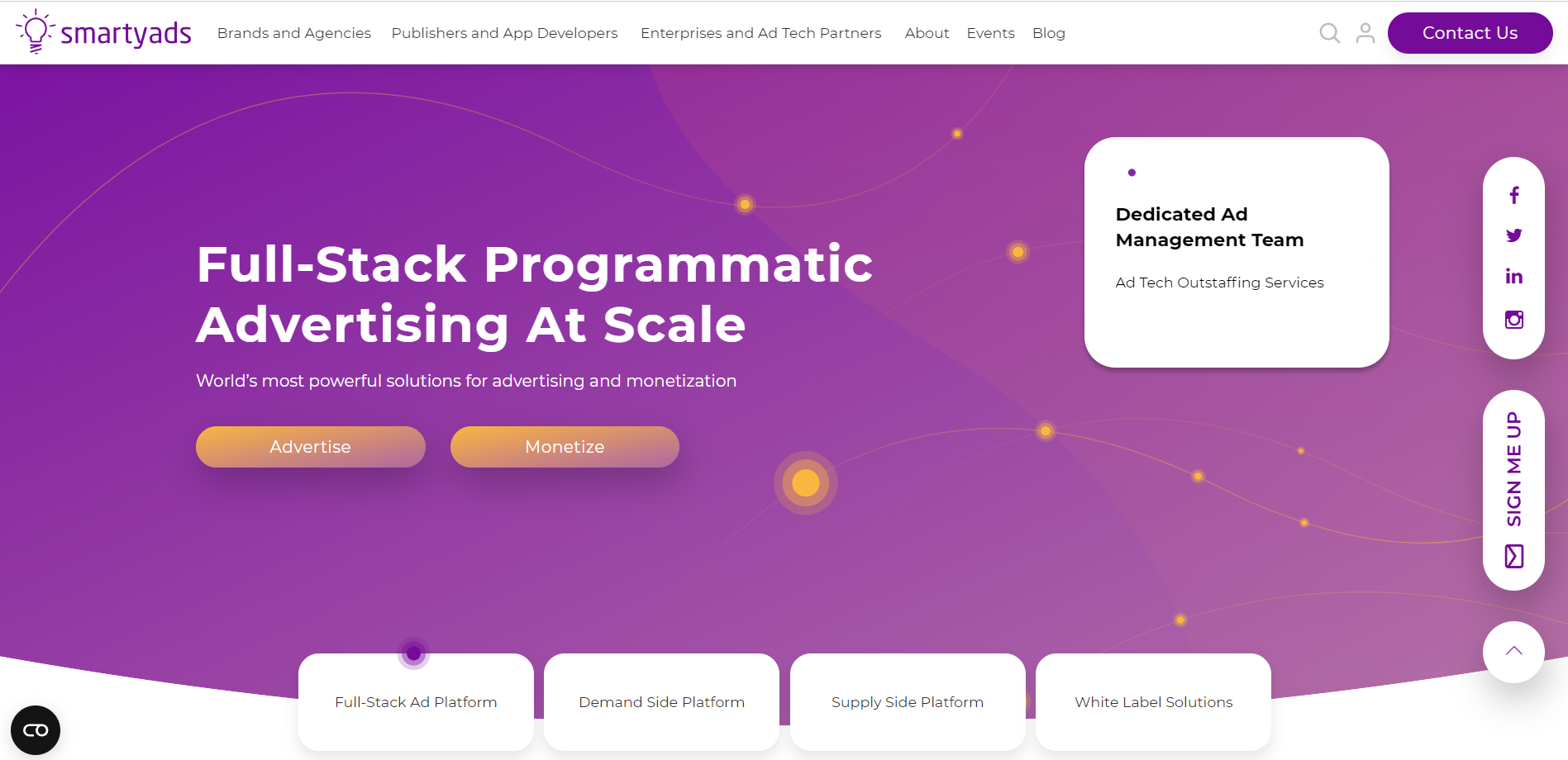 SmartyAds supports a diverse range of desktop and mobile ad formats, including banners, native ads, interstitials, and rewarded videos.
This variety empowers publishers to choose the most suitable ad format that resonates with their audience, fostering engagement and ad effectiveness.
SmartyAds Best Features –
Intelligent revenue optimization for publishers

Cross-environment header-bidding wrappers for higher yield

2 billion daily impressions with exceptional eCPMs, CTRs, and fill rates

Wide range of desktop and mobile ad formats

Lightweight, latency-free IOS and Android SDK for efficient mediation

Partnerships with top-demand partners for personalized advertising

No minimum traffic requirement for publishers

Leading SSP with global reach and high-performance results.
Adsterra stands as a reputable and dependable ad network, offering Partner Care to ensure top-notch service.
With an impressive reach of over 30 billion ad impressions per month worldwide, Adsterra has earned a distinguished reputation in the industry.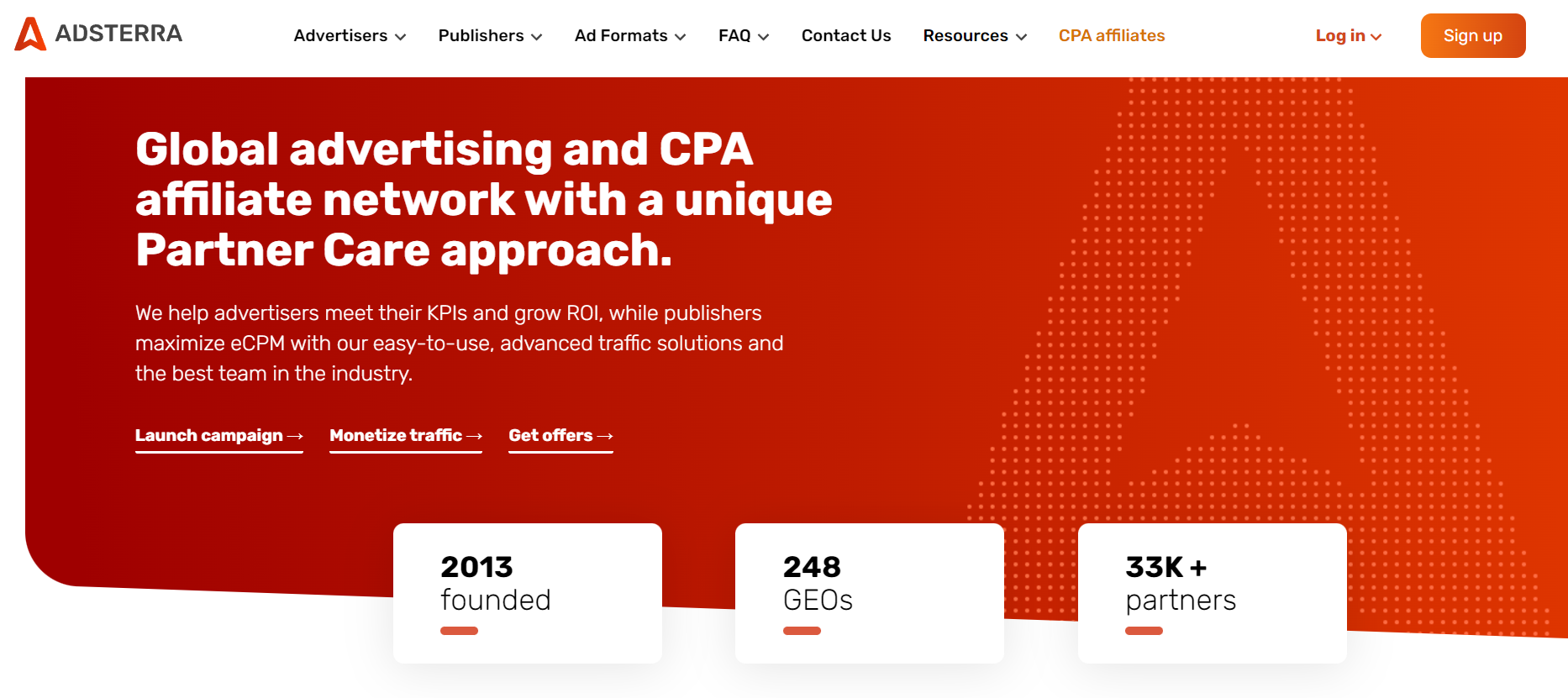 One of the key features that set Adsterra apart is its experienced and qualified team, ensuring that advertisers and publishers receive expert guidance and support.
Moreover, the platform boasts unique direct traffic from various regions worldwide, guaranteeing an extensive and diverse audience base for advertisers.
Adsterra Best Features –
Reliable ad network with Partner Care support

Over 30 billion monthly ad impressions worldwide

Experienced and qualified team for expert assistance

Unique direct traffic from diverse global regions

Three levels of anti-fraud protection for security

Wide range of ad formats and payment methods

100K+ successful campaigns across 248 geographies

Multiple revenue models, no minimum traffic requirement.
Adcash DSP+ stands as a versatile online advertising platform catering to both advertisers and publishers, with a remarkable portfolio of 10,000+ active campaigns running across the globe.
The platform excels in delivering the best-performing ad formats for both mobile and web monetization.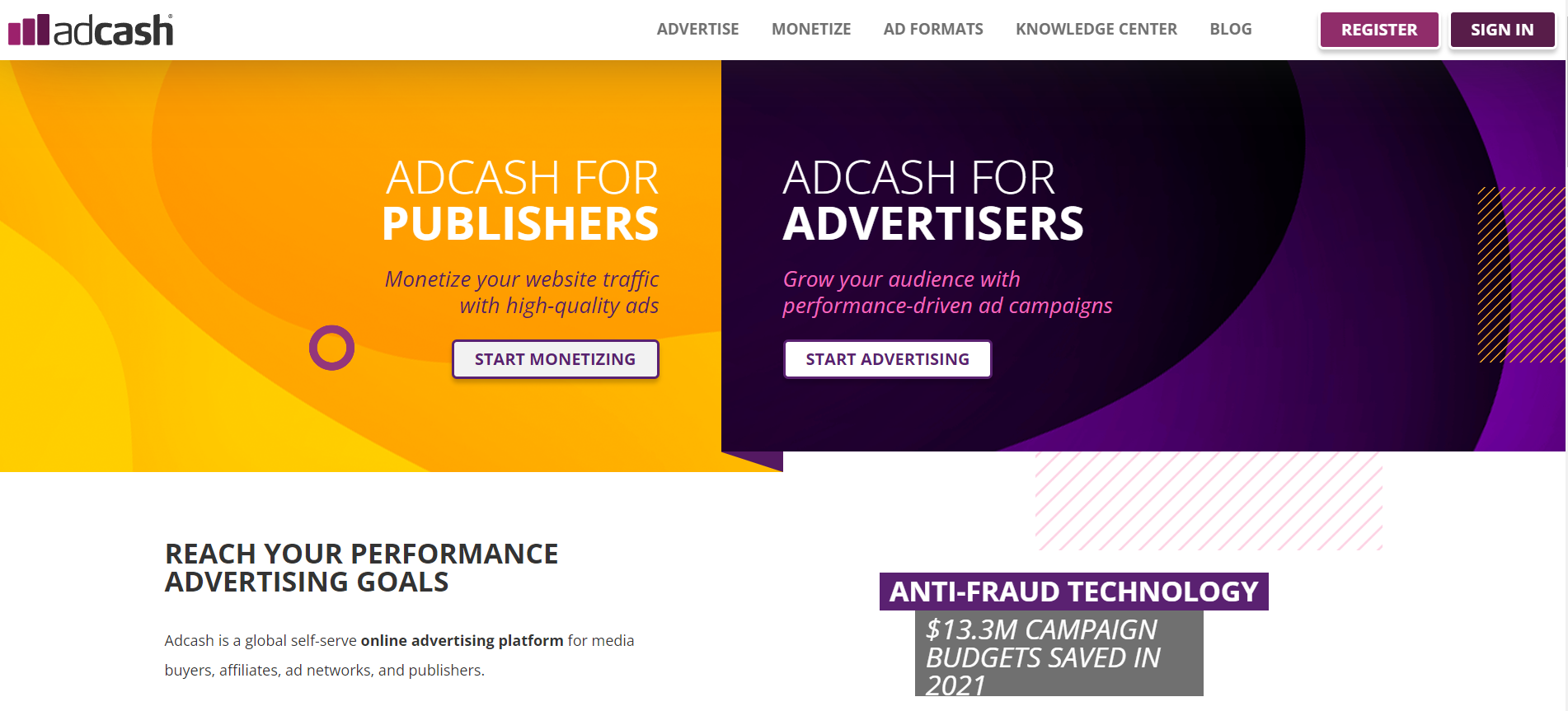 These formats encompass interstitials, banners, push notifications, native ads, and pop-under ads, offering diverse and effective options to suit various advertising needs.
Adcash DSP+ also provides publishers with a range of tools and features, empowering them to optimize their traffic monetization more efficiently.
Adcash Best Features –
Versatile platform for advertisers and publishers

10,000+ active campaigns worldwide

Best-performing ad formats for mobile and web

Technology bypasses adblockers for reliable delivery

High eCPMs and flexible payment terms for publishers

Real-time stats and robust support for publishers

Experienced multilingual account managers for guidance

Multiple revenue models, no minimum traffic requirement.
PopAds is a reputable pop-under ad network, distinguished for its exceptional speed and security compared to other similar platforms.
Publishers benefit from the opportunity to monetize their website traffic through high-quality pop-under ads.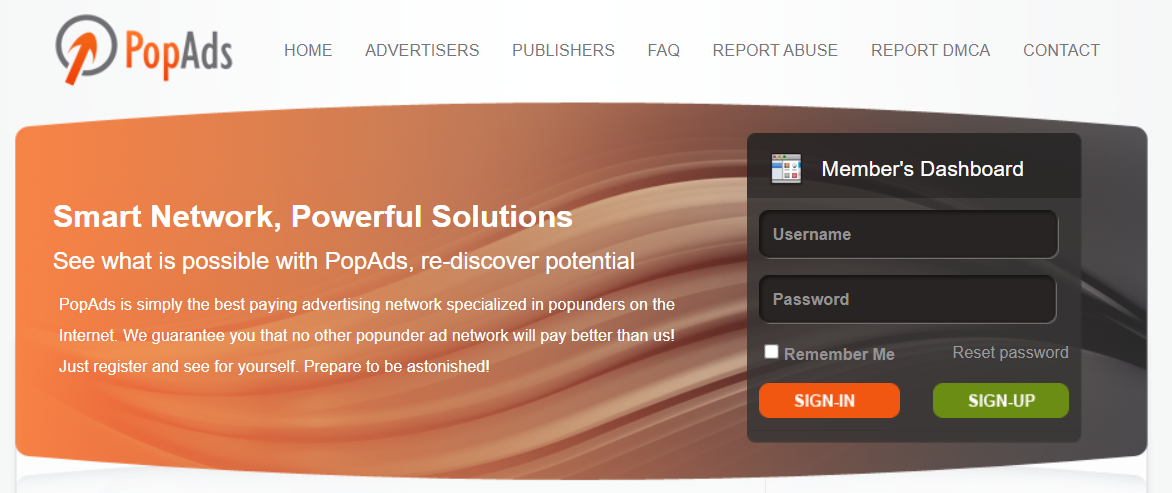 One significant advantage for publishers is PopAds' provision for on-request payments, ensuring prompt access to their earnings. 
Additionally, the platform connects publishers with advertisers from more than 40 countries, offering a wide range of options for keyword selection and precise targeting.
This versatility empowers publishers to effectively monetize their traffic within their niche, making PopAds one of the best ad networks in the industry.
PopAds Best Features –
Reliable pop-under ad network for publishers

Faster and more secure than competitors

High-quality pop-under ads for monetization

On-request payments for prompt earnings access

Advertisers from 40+ countries for diverse targeting

Versatile keyword selection for niche monetization

CPV and CPM revenue models for fair compensation

No minimum traffic requirement for publishers.
Amazon Publisher Services caters to publishers of all sizes, offering tailored solutions to meet their individual needs.
Renowned as one of the industry's top ad networks, it delivers exceptional services and opportunities to publishers.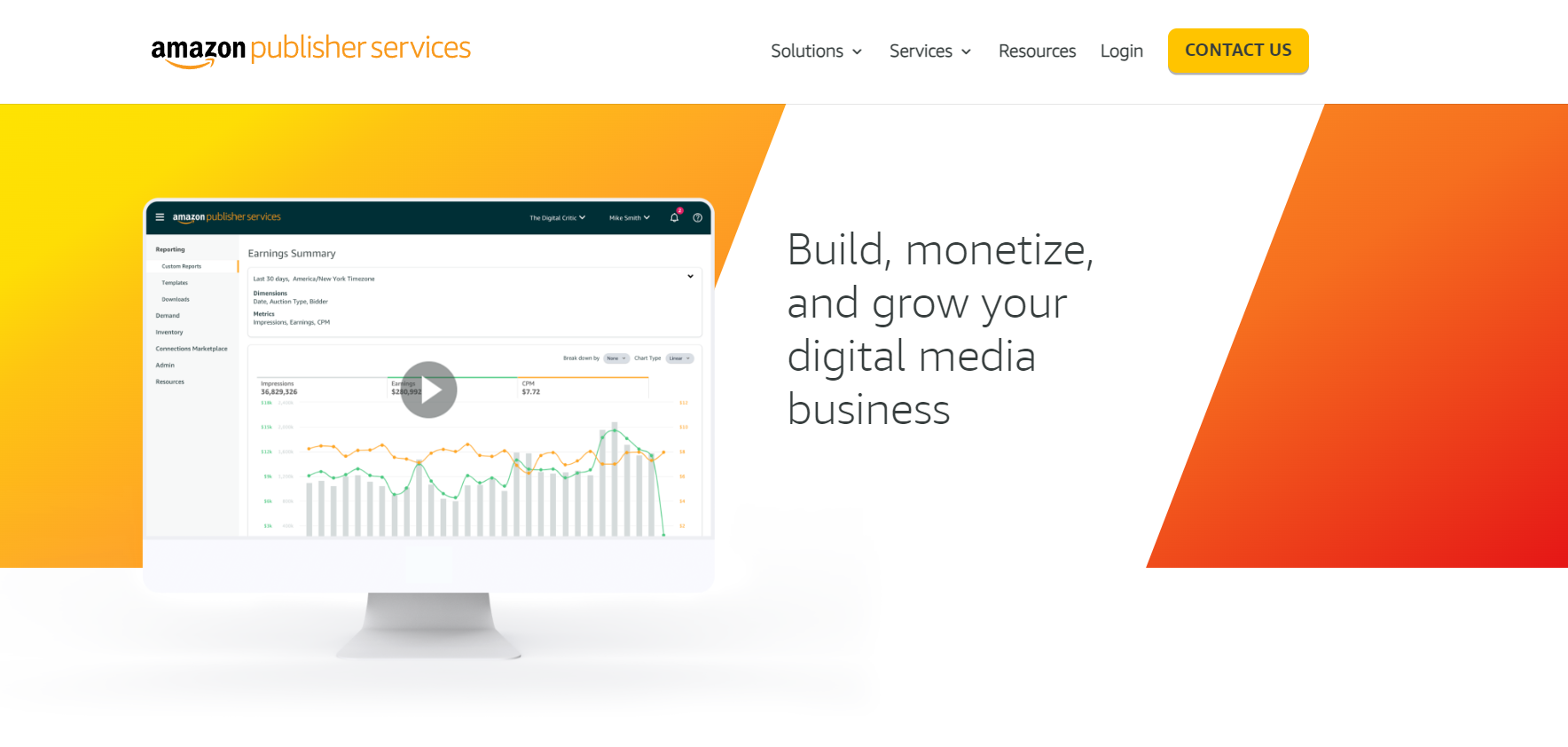 The platform empowers publishers with access to an array of cloud-based solutions, including header bidding, a transparent marketplace, shopping insights, and a unified ad marketplace.
These solutions enable publishers to optimize their ad inventory and revenue potential while maintaining transparency and control over their advertising operations.
Amazon Publisher Services Best Features –
Tailored solutions for publishers of all sizes

The transparent and unified ad marketplace

Boost revenue with web-wide buyer connections

Valuable shopping data insights for enhanced user experience

Flexible revenue model based on demand partner

Cloud-based tools for optimized ad inventory

Minimum traffic requirement: 5000 unique visits/day

Top-tier ad network, trusted by publishers worldwide.
Quick Links:
Conclusion: Best Pop-Under Ad Networks 2023
In the competitive world of online publishing, finding the right ad network can significantly impact a publisher's revenue and success.
Pop-under ads offer a lucrative opportunity for publishers to monetize their websites without imposing intrusive ads on their users. 
The selection of the best pop-under ad networks is vital for publishers seeking to strike a balance between profitability and user satisfaction.
Each network's unique features, such as advanced targeting options, real-time reporting, payment flexibility, and anti-fraud measures, cater to different publisher preferences and requirements. 
By carefully evaluating the various options available, publishers can make an informed decision to partner with the best pop-under ad network that aligns with their goals and optimizes their revenue potential. 
With the right ad network in place, publishers can enhance their monetization strategy, increase user engagement, and pave the way for sustainable growth in the competitive digital advertising landscape.