In this post we are going to talk about the best Kajabi alternatives, let's have a look.
If you have talents that you believe others would benefit from learning and would want to make money sharing your knowledge, teaching an online course is an excellent choice.
Almost anything may be the topic of an online course, regardless of your level of expertise as a developer, marketer, or writer (or calligrapher, home chef, jewelry maker, and on and on).
When you excel at anything, you can be certain that novices, enthusiasts, and experts will want to learn from you. If your course becomes successful, it may even become your full-time employment rather than a side hobby.
Having the necessary background and expertise, however, is just the beginning. You need technology that will enable you to communicate all of this information to your audience.
The good news is that internet platforms exist that cater specifically to course creators. When you choose a platform that takes care of all of this for you, you can concentrate on what matters most: developing an engaging, high-quality course for your audience.
Consider the following alternatives to Kajabi.
Top 17 Kajabi Alternatives 2023:
Here are the 17 alternatives of kajabi:
Gumroad is another platform that enables the selling of digital items and membership groups, as well as rentals and physical objects.
Gumroad offers a shop with a landing page, subscription forms, video hosting, and statistics. They enable the provision of numerous versions of a product, for example, file formats.
Thus, this may be an excellent match for someone wishing to sell eBooks or videos for educational or recreational purposes.
Gumroad offers a free plan that charges an 8.5 percent + $0.30 (USD) fee on each transaction. They then provide levels ranging from $10 to $250 each month, with a 3.5 percent + USD 0.30 charge for every sale.
If an artist wants to offer PayPal as a payment option, Gumroad charges an extra 6% fee.
The price structure is decided by the amount of unique yearly clients that each Gumroad producer has. Gumroad also has a section called Discover where they promote other artists while charging a 10% referral fee.
Gumroad was founded in 2011, and as of June 2021, the company reports that its 88,000 users have earned over $458,000,000. This equates to an average user earning around $5,400 in total.
Thus, for low-volume sellers or those who do not already monetize content as a major source of revenue, Gumroad may be a good place to start. However, as has been the case with other platforms, it has become less cost viable for companies with a sizable client base.
2. Memberful (Kajabi Alternatives):
Memberful is another significant platform for knowledge commerce, however, it is not a one-stop-shop. Memberful enables users to create membership groups, password-protected material, newsletters, private podcasts, and online courses.
It does not have a website nor does it provide email marketing services. It touts itself as a platform that enables users to sell subscriptions without the need for a website.
Of course, it interfaces with third-party providers such as WordPress and Mailchimp, but such services are also chargeable.
If you utilize Memberful to manage a membership community, they mention that integrating with Squarespace and Wix might be challenging due to their lack of Single Sign-On capabilities.
As a result, if you already have a website built on one of those platforms, you may be unable to host your Memberful membership community on that platform.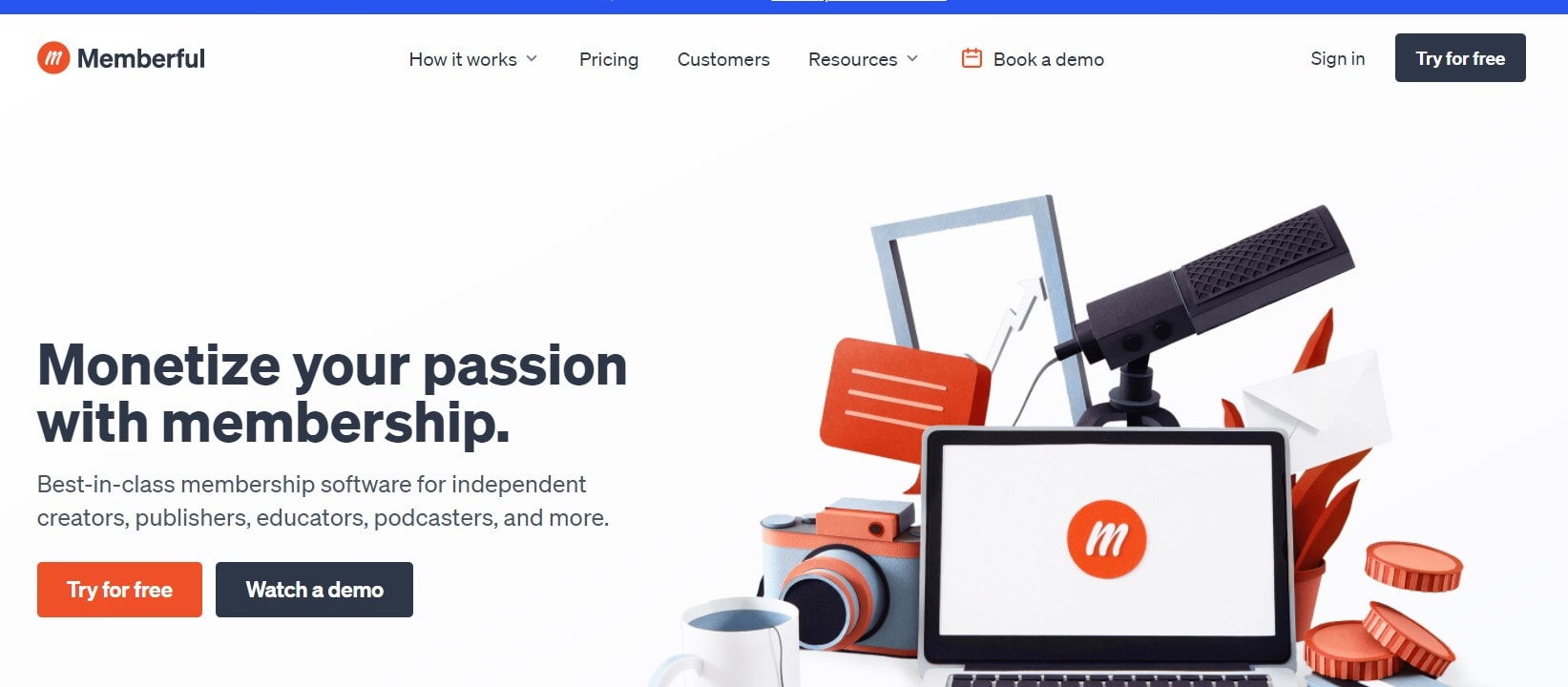 Because their primary objective is to monetize content, their checkout procedure is simple. Memberful provides some flexibility and a comfortable transaction experience to its users' consumers.
This features a pay-what-you-can option, which functions similarly to a digital tip jar.
Memberful offers three distinct price options. It provides a limited-time free plan with a 10% transaction cost, followed by two premium options with a 4.9 percent transaction fee.
As with Patreon, Memberful may be a good fit for someone looking to monetize their social media following or who is hesitant to make a financial commitment upfront.
However, the way Kajabi's price structure is structured makes it more cost-effective over a certain level. This is a lower threshold than you may imagine.
Udemy is a marketplace for courses that connects students and educators.
Udemy currently offers over 155,000 courses. Design, software and web development, marketing, information technology and software, personal development, business, photography, and music are among their most popular course areas.
You may struggle to stand out if your area of expertise falls inside one of their main categories. Several of their most popular courses have accumulated between 30,000 and 364,000 reviews.

Udemy charges no fees for course authors to post and sell their courses. The teacher earns 97 percent of the Net Amount of income from each transaction made using their referral link. If Udemy completes the transaction, the teacher receives 37% of the Net Amount.
If you're searching for a passive revenue stream or don't want to invest in hosting your courses, Udemy may be a good fit.
Patreon is a crowdfunding site that emulates traditional art patronage in the digital era. One of the most prevalent use cases is for YouTube or music makers who are involved in entertainment or art to collect cash from their audience.
Patrons commit to a regular monthly donation in exchange for the creator's privileges. Patreon enables creators to provide a variety of levels.
Patreon may be an excellent option for an online creative who wants to monetize their fans but does not intend to establish an online company.

Patreon does not include a website or email marketing capability. Users may create and distribute updates directly on their Patreon page.
Patreon is ideal for artists who are just getting started in the information economy or who see knowledge commerce as a side hustle rather than a primary source of revenue. However, for anybody who can earn a livelihood via information commerce, the cost of Kajabi is likely less than the platform fee charged by Patreon.
Ontraport positions itself as a sales and marketing platform for rapidly developing firms. It is mostly concerned with online analytics, sales enablement, and landing page creation.
They do provide a membership community, which qualifies them to operate in the realm of information commerce.
Ontraport's sales solutions are built to assist numerous sales reps in converting leads via outbound tactics such as phone calls. These are beneficial traits, yet they are better applicable to another form of company model than knowledge commerce.

Ontraport was created to enhance your current website. They provide various landing page templates and a membership site builder, but not website templates in general. You'd need to link those sites to a different domain.
Ontraport also provides email marketing and has some fascinating, but difficult, capabilities for setting up email campaigns.
6. WordPress (Kajabi Alternatives):
WordPress is one of the most well-known brands in the world of websites, accounting for a sizable portion of all websites developed or hosted on the platform. Due to WordPress's widespread usage, there are a plethora of free and commercial plugins and themes available.
WordPress plugins might provide a security risk since they are updated by another developer.
WordPress is an excellent option if you already have a collection of marketing and sales tools that you like and aren't opposed to gluing them all together. Because this is not a one-stop-shop, you may choose services that match your requirements.

However, WordPress is not designed specifically for the knowledge commerce market. This implies that any online courses would need the usage of learning management software. This adds cost and time to the integration process.
If you're looking for the ease of an all-in-one solution, WordPress is not for you.
ClickFunnels bills itself as an "entrepreneurial website and sales funnel builder." They are laser-focused on sales funnels and lead generation and conversion using marketing automation. They are not only devoted to the field of knowledge commerce.
Clickfunnels provides both free and paid funnel templates. Alternatively, it has an interactive experience that walks you through the process of gathering email addresses, selling a product, or holding a webinar. Split testing is a breeze using Clickfunnels.
The pre-designed templates for some of the Clickfunnels templates are quite generic and out of date. They can be altered, but you will likely spend time updating their appearance.
ClickFunnels does not have a conventional website builder in its toolkit. To create a website, you'll need to utilize their funnel builders and link them. This creates a difficult user experience and may result in a website that is difficult to browse.
Kajabi integrates with Clickfunnels, so you don't have to give up Clickfunnels to utilize Kajabi.
Podia is another all-in-one platform for entrepreneurs in the online creative economy. Along with course hosting, Podia offers email marketing, website building, and page-building tools.
Podia's course design tool is simple to use. Their platform enables you to upload any file type, provide material in bulk or stages, and even pre-launch e-courses.

However, Podia's assessment capabilities are restricted – they only give multiple-choice quizzes. With just a few themes available with the Podia website builder, it's possible that matching your logo will be difficult. Additionally, since the Podia email marketing template is so simplistic, it may not support your email marketing concepts.
Thinkific is another learning management system that markets itself as a one-stop shop. Thinkific is a simple to use platform that interfaces with a variety of different technology products.
The most significant distinction between Kajabi and Thinkific is their marketing skills. Thinkific is an excellent platform for developing online courses. However, if you're seeking more tools to help you establish a great company, you may come across some gaps.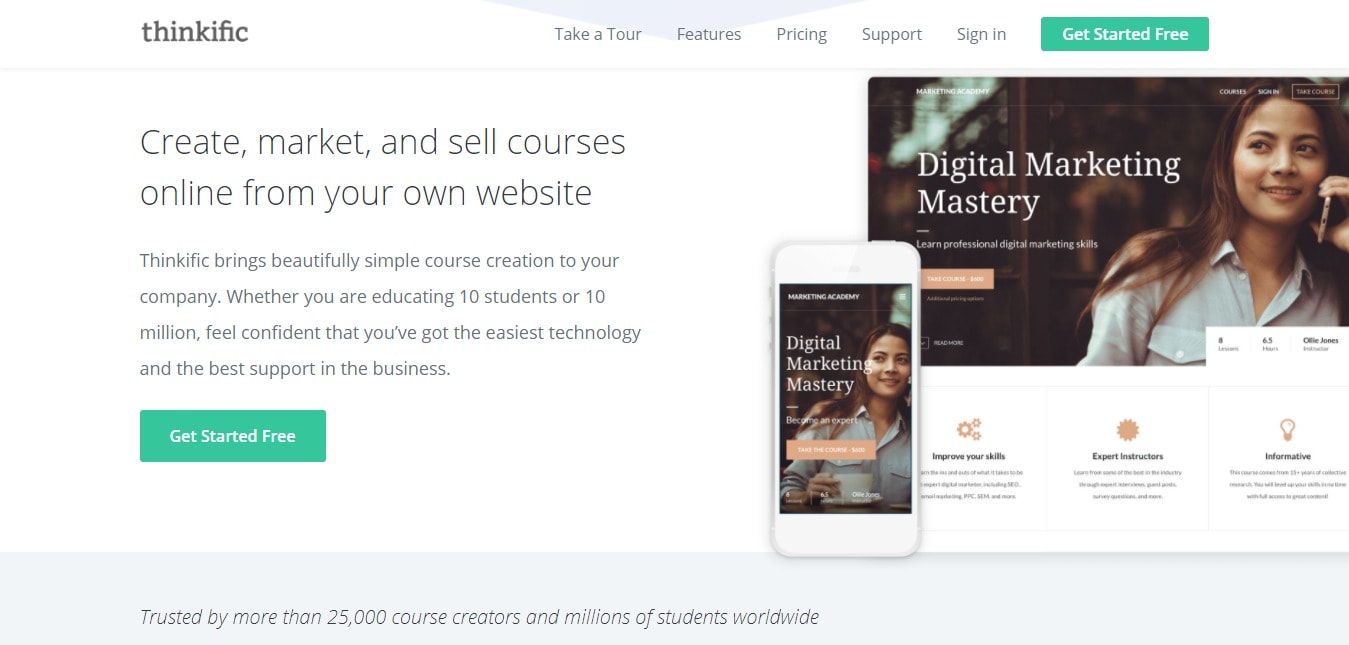 For instance, Thinkific has a website builder, but there are just four layouts available and customizing choices are quite restricted. Additionally, Thinkific does not provide services like blogging, email marketing, or sales funnels.
Read out Thinkific vs Teachable Comparison here
10. Teachable (Kajabi Alternatives):
Teachable is a platform for managing learning. Kajabi and Teachable are both excellent platforms for developing and delivering online courses. However, if you're trying to manage a whole web company from a single platform, Kajabi may be a better fit.
Teachable provides graded quizzes to test students at the Pro level and higher, however, assessment possibilities are limited.
Teachable provides instruction on course creation but does not provide course templates or blueprints like Kajabi does.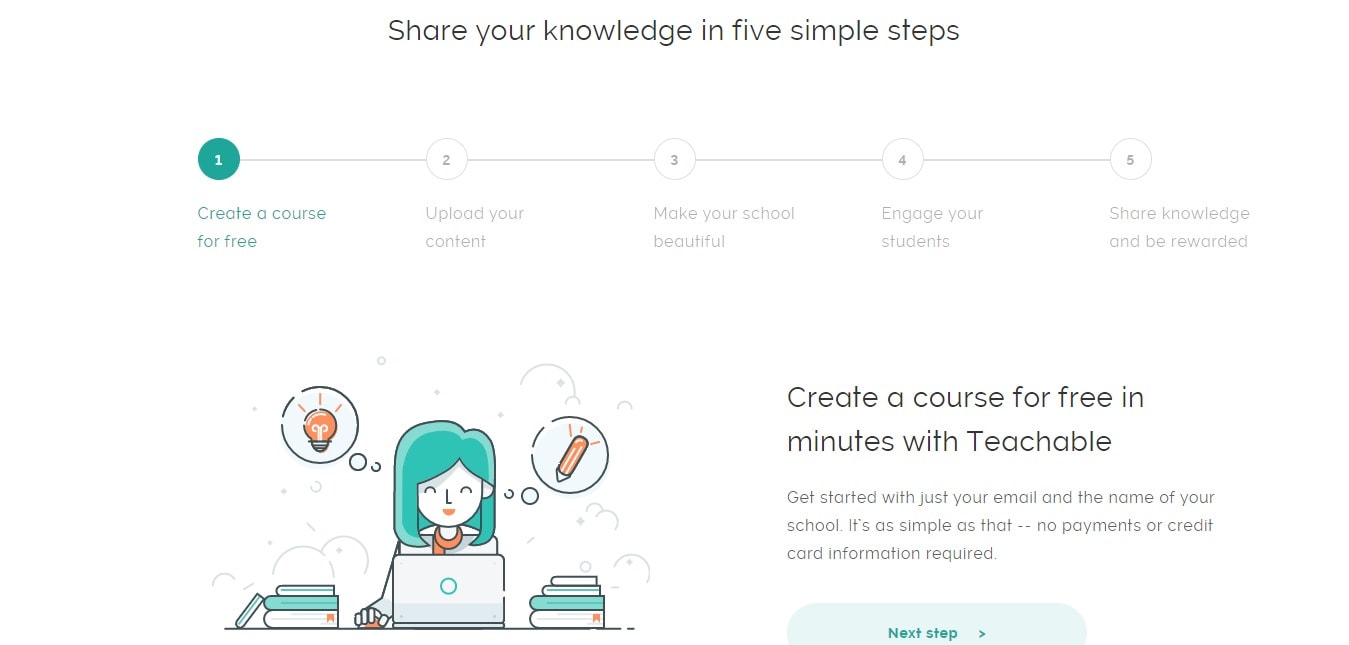 As you learn more about your organization and its requirements, you'll see that Teachable's marketing and sales skills are far less strong. Thus, to properly promote and sell your online courses, you'll almost certainly need to invest in additional marketing tools and spend time integrating them.
The Skillshare platform is considerably distinct from the others described before. This is because Skillshare does not support the creation of custom branded course experiences for your website.
Rather than that, Skillshare allows you to upload courses to their website, which people may access for a fee.
It's free to design and submit your course, and you're compensated per minute viewed; however, keep in mind that Skillshare's compensation per minute varies monthly based on the number of users.
It's the ideal venue for teaching a creative talent since it is what the majority of Skillshare users are seeking.
It will not work for you, though, if you are attempting to develop a brand, produce in-depth courses, or want ownership over your material. In terms of functionality, Skillshare provides the very minimum, given that you're uploading a video to their site rather than making one.
They do provide rudimentary statistics, which allows you to monitor the progress of your courses.
From the first check at Ruzuku's website, it's clear that things are going to be… straightforward. And that is precisely what Ruzuku promises; they want to make this procedure absurdly simple for you. However, this simplicity and convenience come at the expense of flare, customization, and versatility.
As a consequence, the output is more clumsy, out-of-date, and unappealing than straightforward.
Ruzuku goes above and above in facilitating communication between you and your pupils. Students may participate with course material and ask questions through forums and a Q&A area, and you'll get email reminders to ensure you never miss a topic.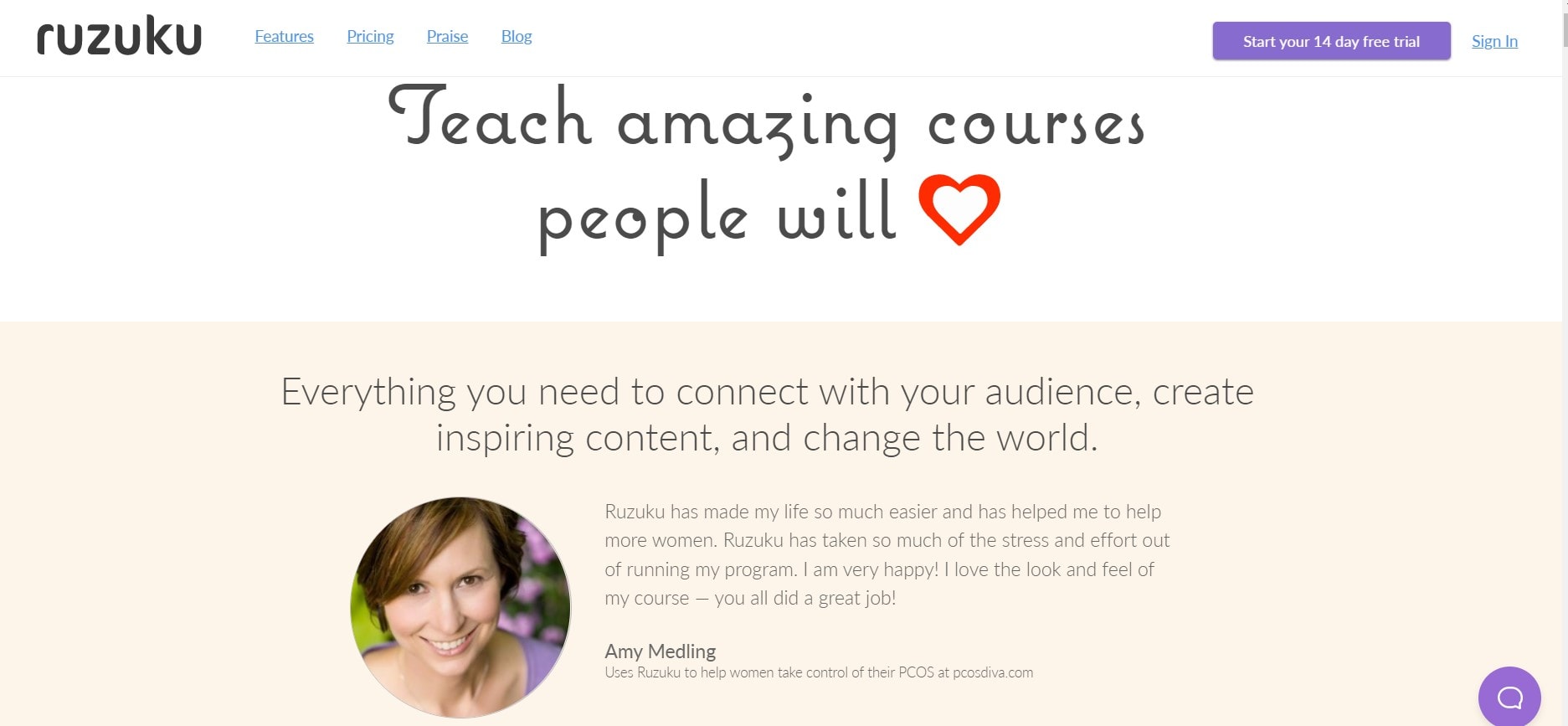 Ruzuku may be a good fit for you if you're not concerned with appearances and connecting with your class is a priority. However, their clumsy website may result in a poor user experience (UX).
Teachery guarantees that there will be no extra expenses, that the technology will be simple to use, and that everything will be endless. And all for only $49 each month. Teachery, on the other hand, operates a bit differently in that they do not host any of your course material.
This is to provide people the option of using platforms they are already acquainted with, but we believe this might backfire.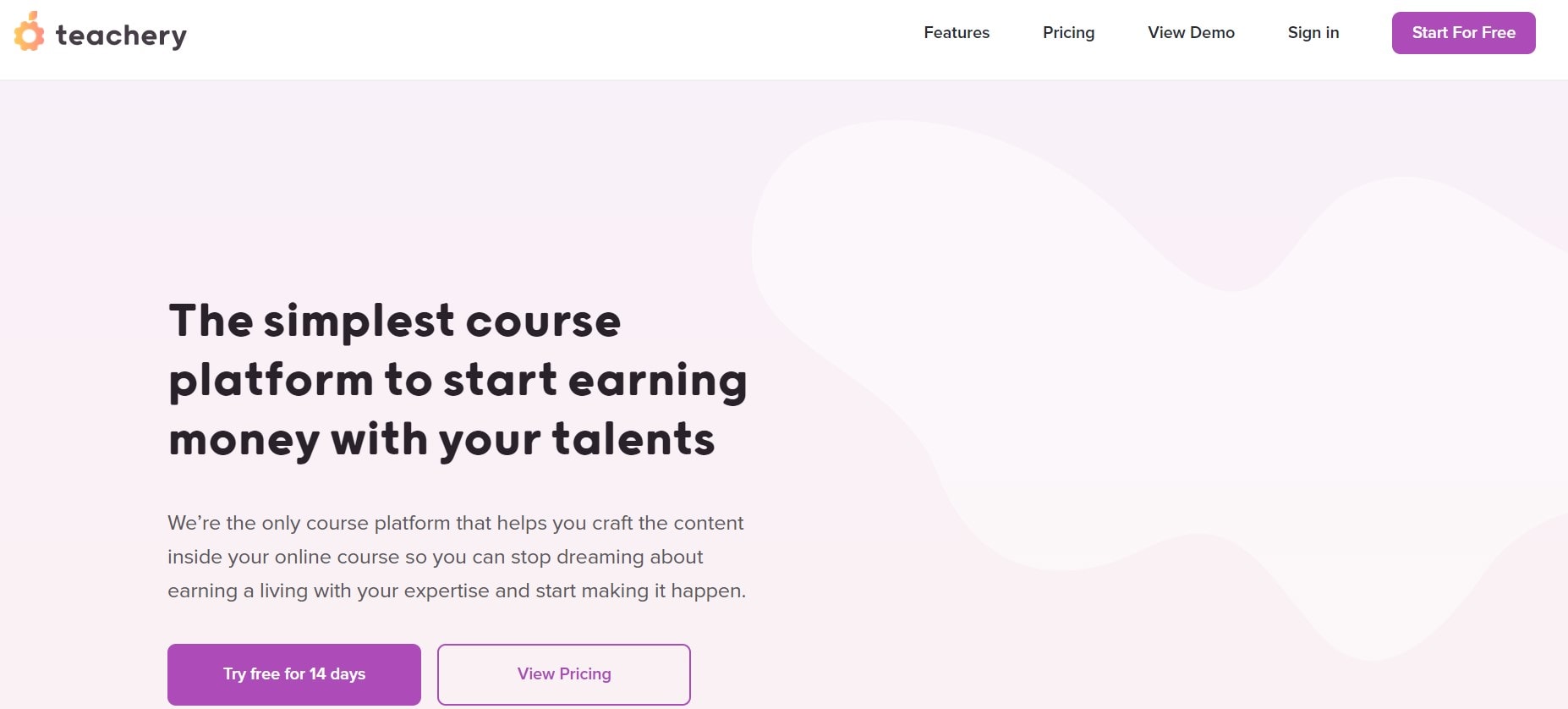 You can utilize sites such as YouTube or Soundcloud to host videos and music, but do you want to set up across so many platforms? To our ears, it sounds a bit disorganized. Teachery's 'no-frills' approach is intended to keep things simple and user-friendly.
Naturally, some of us like the frills, so whether this is a good thing or not is largely dependant on your business's requirements.
Systeme.io is an all-in-one platform for creating courses and selling digital products! Since 2010, its creator, Aurelian Amacker, has been successfully marketing online courses! Additionally, he has ensured that systeme.io has everything you want to build a lucrative online course.
Therefore, whether you're wanting to design and sell an online course or coaching program, we've got you covered – and we're capable of much more! Their platform enables you to quickly build, advertise, and sell an online course.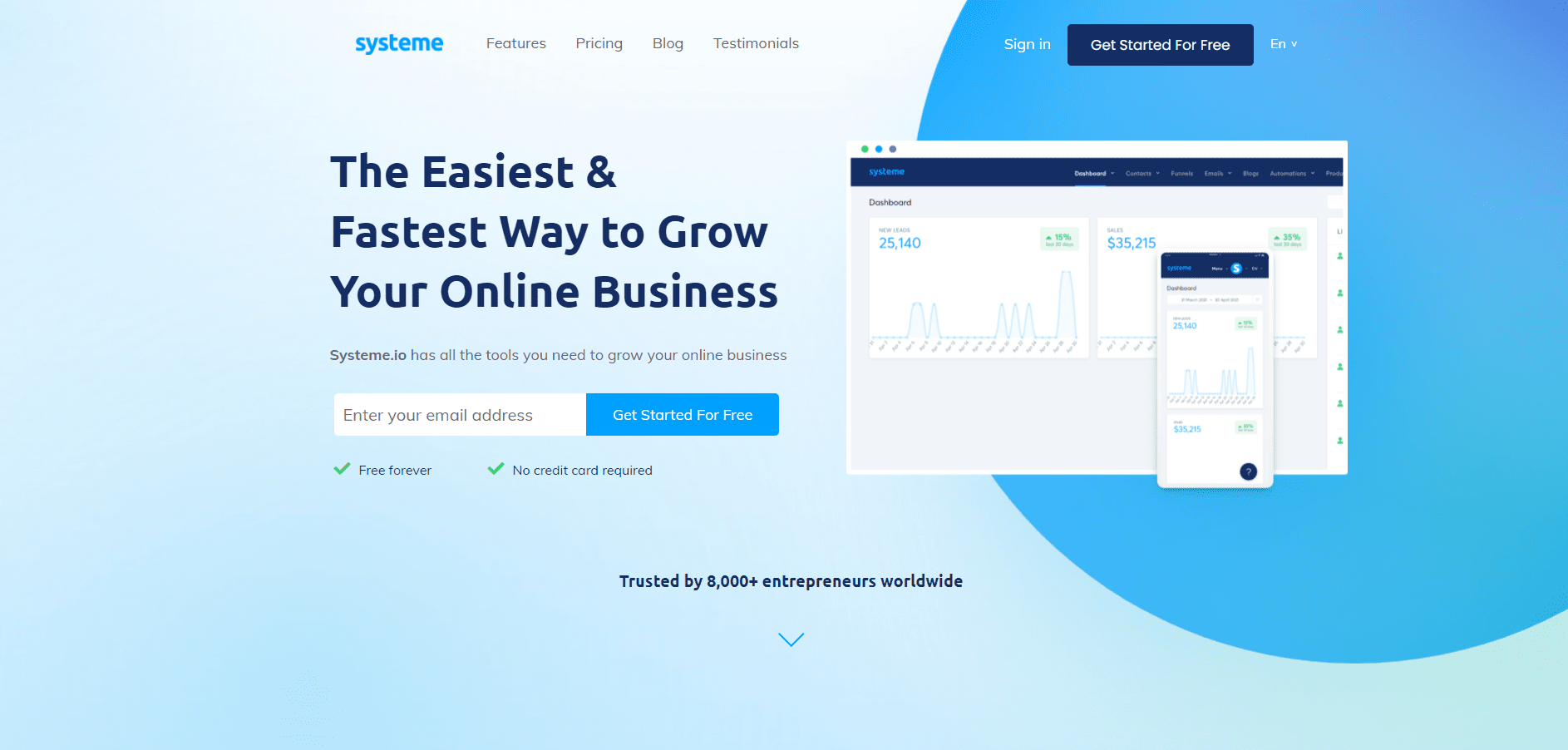 And it's unparalleled in terms of pricing. They provide a (perpetually) free plan, which enables you to begin an online course without ever having to open your wallet! Additionally, if you ever get stuck while utilizing systeme.io, their support staff is available 24/7 to get you back up and running quickly!
15. LearnDash (Kajabi Alternatives):
LearnDash is the most feature-rich learning management system compatible with WordPress. If you're already familiar with WordPress and the technical side of things, selecting LearnDash provides you with more flexibility and possibility for bespoke development.
It lacks email marketing, marketing automation, and digital product selling capabilities, among other features. However, LearnDash's primary strength is its addons, which enable you to extend LearnDash's functionality.
They may integrate payment processors, enhance client interaction capabilities, and provide customization possibilities, among other things.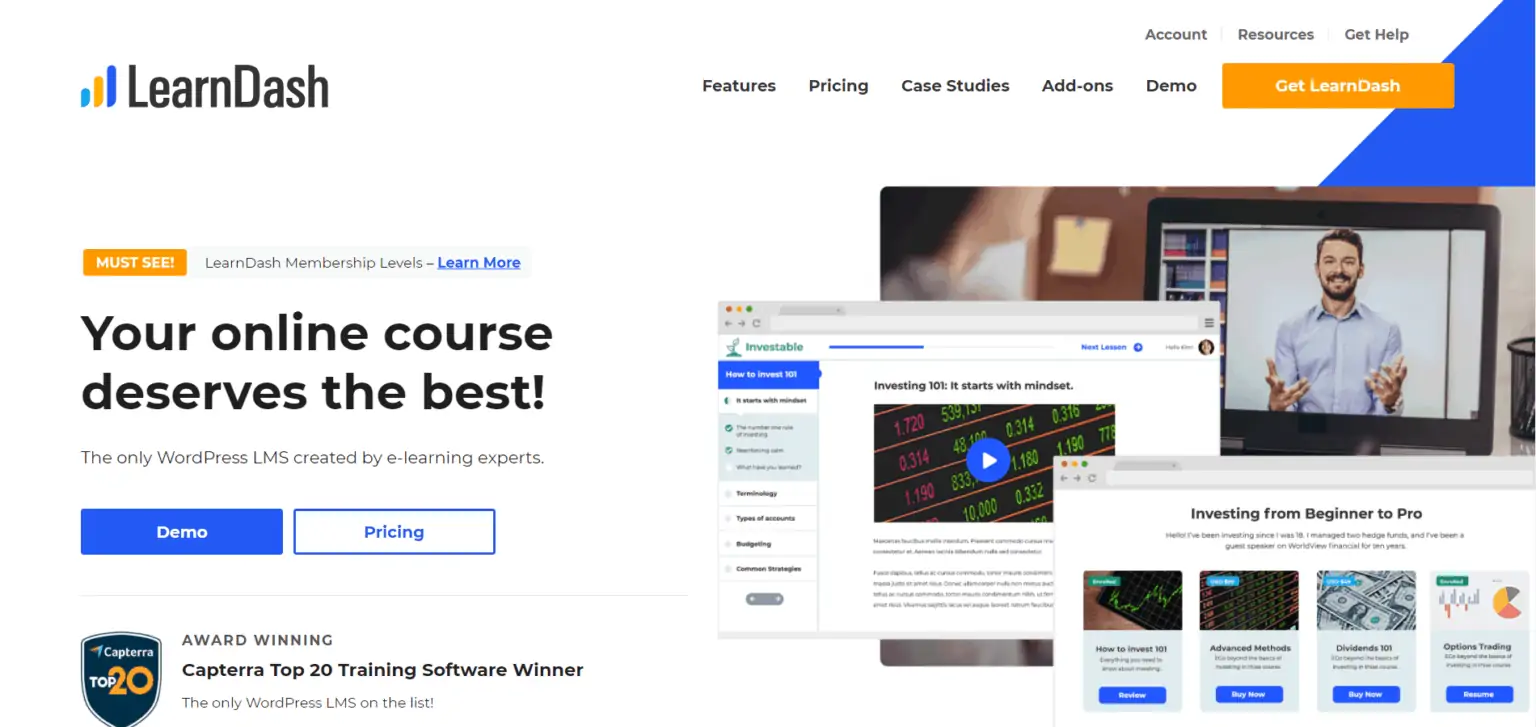 With LearnDash, the site design and customization possibilities are almost limitless. It works well with Elementor and a plethora of other popular WordPress builders and themes.
The LMS will be hosted on your domain, in contrast to other providers such as Teachable, which need you to subscribe to their premium plans to access custom domains.
Their help is excellent. Along with regular customer assistance, they offer a very busy Facebook group where you may get answers to all your questions.
While Kajabi is an online course platform that is mainly used to distribute course material to course designers, businesses, and instructors. Kartra is a robust marketing package designed to help companies sell their goods, subscriptions, and services more rapidly.
Kajabi has product designs that streamline the course development process. Kartra does not provide them, however, you may sell your goods or services using its membership site features.
Bulk uploading/bulk editing saves you a lot of time when developing courses or subscriptions.
In comparison to Kajabi, Kartra does not offer bulk uploading or cloud import, which makes it harder to add material to your subscriptions.
Kartra is pre-built with mobile-responsive membership layouts. There are six layouts in all, and you may customize them using one of the many colors presets accessible on their dashboard.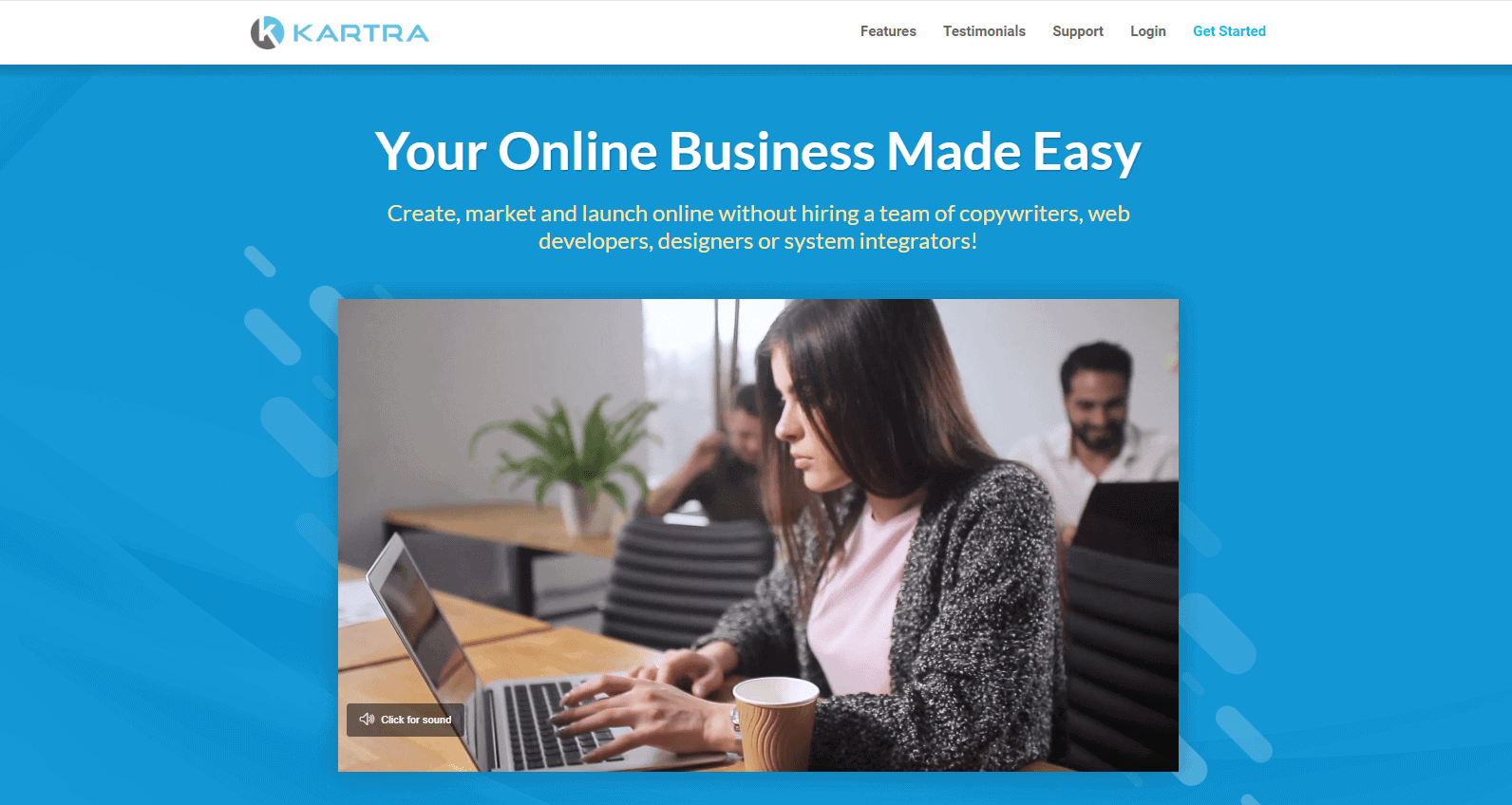 Kartra will disappoint you if you wish to make quizzes, surveys, or tasks. However, you may interface with third-party services such as Quiz Maker. Teachable is the best option if you need these capabilities.
In comparison to Kajabi, Kartra offers superior marketing capabilities, such as behavioral adaptive marketing and dynamic OTOs. It enables you to provide relevant offers to customers based on their prior activity on your site.
Communities are an excellent approach to establishing relationships with users and boosting their involvement. You cannot establish communities using Kartra. You must either use third-party services or build Facebook groups.
Along with classes, it's a good idea to create your blog to advertise your company. While Kajabi has a built-in blogging capability, Kartra does not. Kartra has a few blog themes, however, it is not a substitute for a blog.
However, if you're serious about blogging, you're better off using WordPress.
Kartra outperforms Kajabi when it comes to product sales. You may sell both digital and physical items using Kartra. Additionally, Kartra has an integrated sales tax calculating mechanism. Kajabi and LearnWorlds do not accept VAT in the European Union, therefore you must depend on third-party services such as Quaderno.
LearnWorlds is one of the most feature-rich learning management systems available today. It is an LMS-centric alternative to Kajabi.
Along with the ability to create simple courses, it includes useful features such as memberships, quizzes, certifications, course compliance, blogging, and a community component.
I found LearnWorlds' UI to be somewhat overwhelming, with several functions crammed together tightly, in contrast to Podia and Kajabi, which have the industry's greatest user interfaces.
In terms of features, the ones that stuck out for me were the capability for surveys and the incorporation of SCORM/HTML5 into course material. This implies that moving in/out of the platform will be a breeze with the press of a button.
Unlike the other Kajabi alternatives I've discussed here, it also has an enticing community function that enables you to establish your private social network. It has all of the necessary functionality, such as new posts, comments, polls, and user profiles.
Additionally, you get limitless hosting and a free SSL certificate for your site. The school will be located by default at example.getlearnworlds.com. Additionally, you may host your school's website under a custom domain name.
When it comes to marketing, you may use one-click funnels, upsells, and cross-sell offers.
One feature I especially enjoyed is the opportunity to give free lessons as part of your course, similar to Udemy, to assist individuals to determine if the course is suited for them or not.
I was pleasantly pleased by the sheer breadth of capabilities available on this platform. However, the primary disadvantage is that most of these sophisticated capabilities are only available on higher-tier subscriptions.
FAQs About Kajabi Alternatives 2023:
Does Kajabi have an affiliate program?
Yes, they do. Affiliates may easily sell your online courses or digital items using Kajabi. This is a standard feature of the Pro and Growth subscriptions. To allow affiliates to sell your Kajabi items, you'll activate affiliate commissions on your Offers.
How much do Kajabi affiliates make?
Affiliates get 30% recurring compensation, which means they earn 30% of the costs that Kajabi clients suggest paying after their trial period ends, for each month they stay a member.
How can I become a Kajabi affiliate?
To become a Kajabi Partner, you must have an active Kajabi client account. For that, fill out the application form here - https://partners.kajabi.com/
Quick Links:
Conclusion: Which Is The Best Alternative To Kajabi?
All the alternatives mentioned here are great. There are several platforms for creating courses and subscriptions.
If you're looking for an amazing all-in-one platform, consider Podia or LearnWorlds. If you're not interested in subscriptions and merely want to create courses, Teachable will not disappoint, and it also shines at marketing.
I've done my job of evaluating the many alternatives to Kajabi; now it's up to you to make a decision based on the various characteristics.
If you have any reservations, feel free to post them in the comments area.