Are you considering Moosend Email Marketing for your web business? In this thorough and unbiased Moosend Review, I will explain why Moosend is the best and most affordable bulk email marketing service for you.
No matter how the marketing environment evolves, email advertising will always rank first for lead nurturing. There are a few other options on the market that provide you with the same level of consumer access.
Email enables businesses to strengthen relationships with customers one message at a time. That is difficult to disregard as a remedy.
Choosing the right email marketing provider is undoubtedly one of the most challenging aspects of email marketing access. There is a multitude of email marketing services available.
There are solutions designed exclusively for developers, as well as simple marketing automation systems that come pre-loaded with workflow templates and configuration options.
Today, we will examine one of the most straightforward email marketing services, designed for individuals that wish to build their lead nurturing approach rapidly.
Moosend Review 2023: What Is Moosend?
Moosend is an email marketing automation software. There are further features to investigate, and we will get back to you shortly.
Moosend automates monotonous marketing campaign chores so that you may focus on building new products or growing client relationships.
Moosend's UI is incredibly intuitive, making it ideal for those who have never used a similar service previously.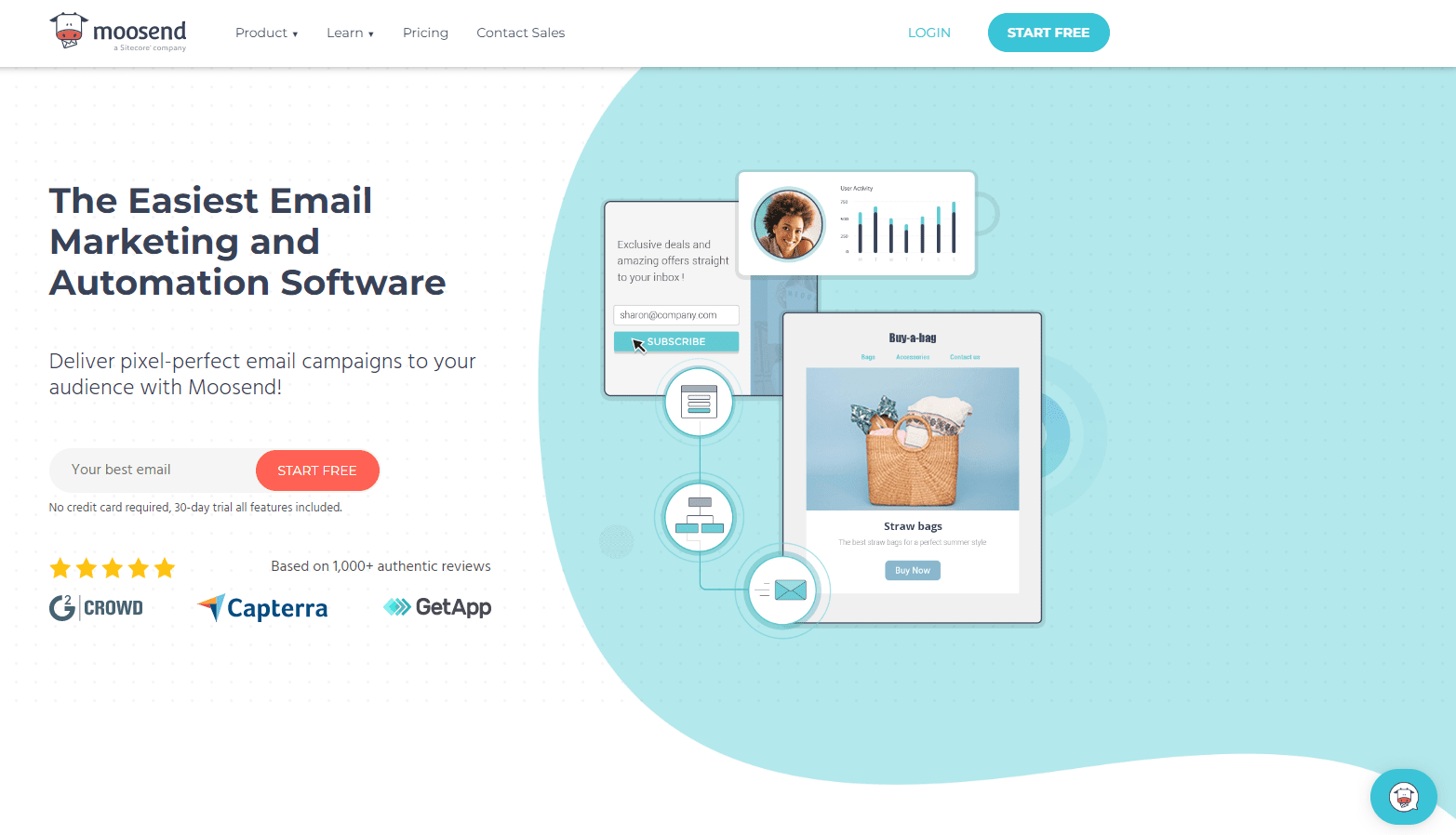 Aside from that, Moosend also offers a free plan so that you can easily create your first email campaign. This is great for those who wish to test out the features before committing.
With Moosend's straightforward email marketing solution, you can construct full email marketing campaigns within moments.
It is quick and easy to locate a template and customize it to your specifications. Additionally, there are numerous connectors with your existing tools.
You May Like This:
Templates
A strong email marketing campaign requires a visually appealing template. If you have HTML coding ability, you can certainly design your own emails.
However, the majority of clients choose to opt for the simpler premade option. If you're seeking simplicity and professionalism, Moosend templates are an excellent alternative.
There are numerous templates to pick from, all of which are neatly organized in a gallery.
You can search through templates according to your industry or the type of campaign you intend to deploy. Additionally, it is simple to modify your templates as you see fit.
Moosend, like many of the major email marketing tools on the market today, simplifies the process of developing email campaigns by providing a drag-and-drop system that allows you to simply drag the campaign elements you desire onto the email page.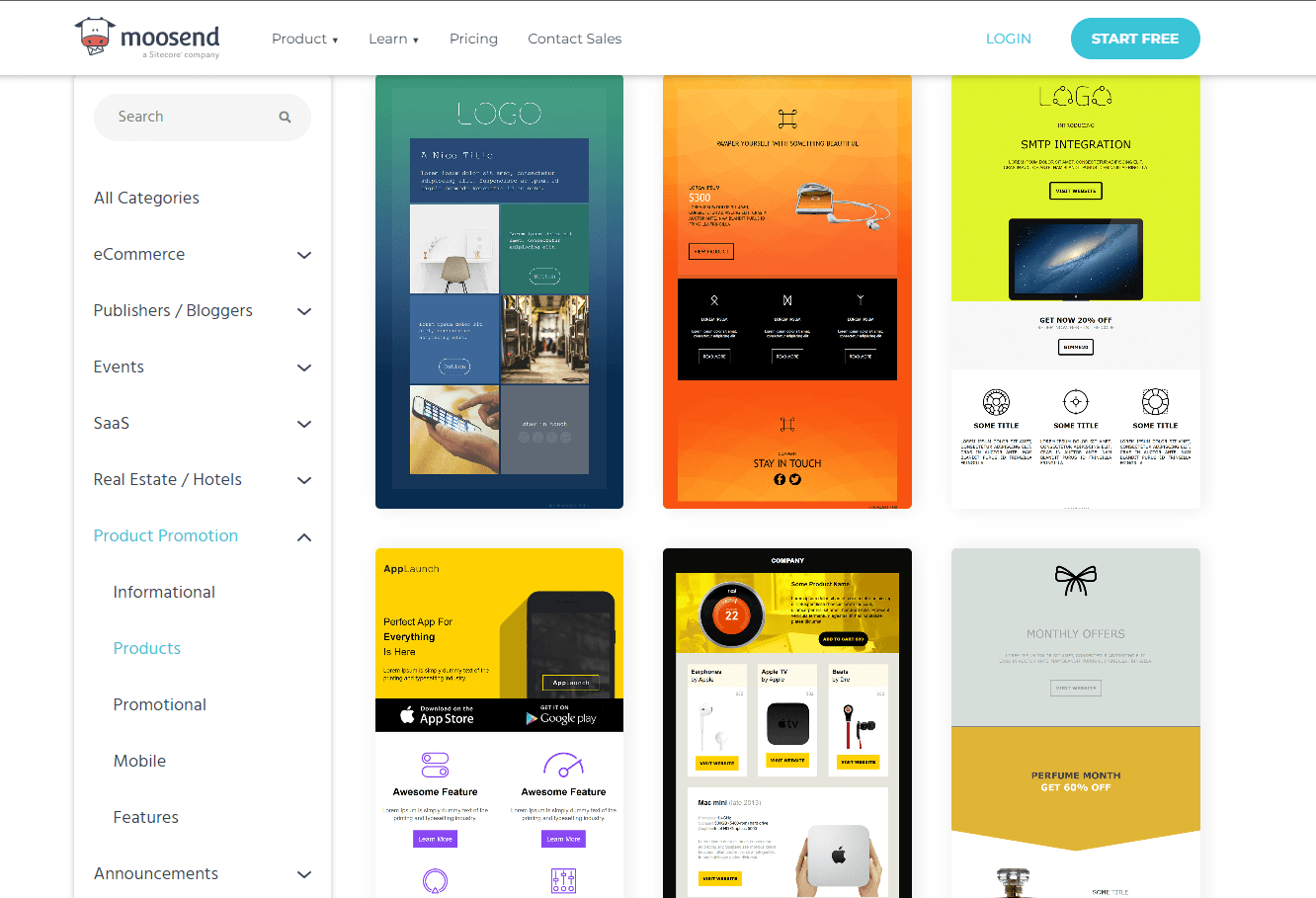 There is also a multitude of methods to customize your templates before they reach your audience, including the addition of subscriber-specific information and product suggestions.
After developing your newsletter templates, you can set them to deliver automatically as part of a campaign. Notably, Moosend does not only offer email marketing campaign templates.
The company can also assist with lead creation by providing you with a plethora of amazing landing pages and form designs.
You can create pages for eBooks, product launches, webinar signups, and more. The templates are incredibly contemporary and responsive.
Templates for sign-up forms include pop-ups for your website, floating bars that adhere to your page, and full-page forms that are certain to attract customers' attention.
Let's Have A Look:
Integrations
You can use Moosend to send unlimited emails from your Salesforce shop to create relationships with your subscribers, whether you need an email marketing solution to send transactional or SMTP emails.
As with the majority of email automation software, Moosend supports Zapier integration to link your favorite applications.
Additionally, there are numerous native connectors with products such as Constant Contact and PieSync, allowing you to connect to even more automation tools and marketing solutions.
This means that you may create the campaign editor experience that best suits your needs by combining the drag-and-drop editor of a regular email newsletter creation with any number of unique capabilities.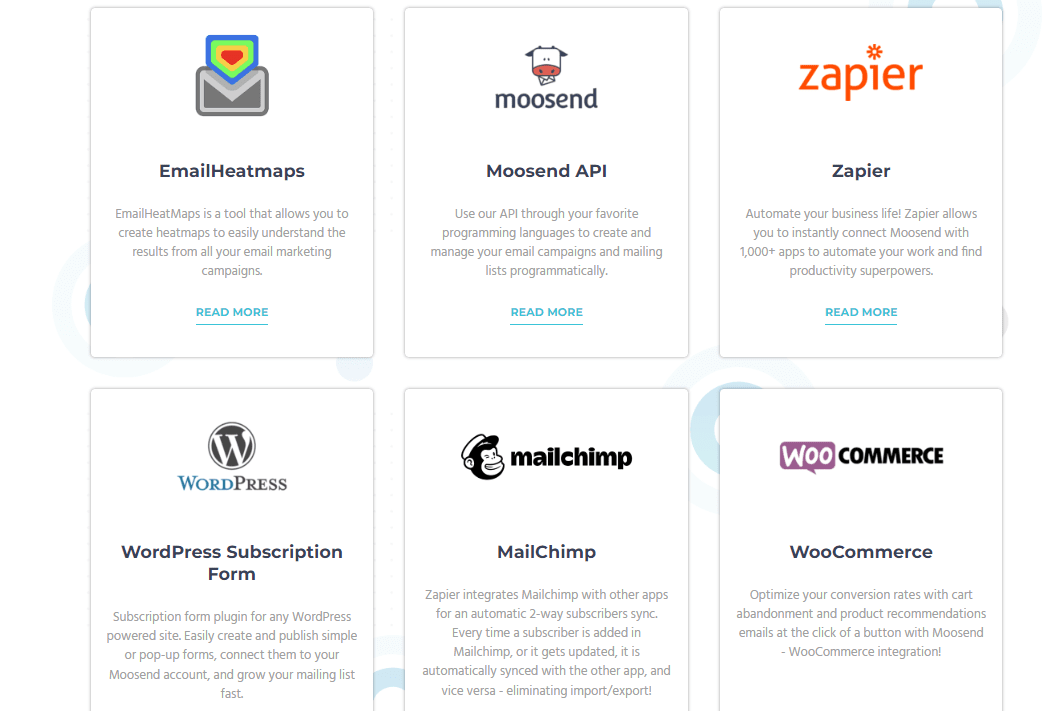 You also receive an official Mailchimp connection and WordPress integration via the WordPress plugin repository, allowing you to increase the number of opt-in subscribers on your WordPress website.
It is great to be able to access automated sign-up synchronization, exit intent solutions, and pop-up forms.
Moosend can be used as an SMTP to integrate with your existing application or website for transactional emails only, which is an additional benefit from a synchronizing perspective.
If you have development skills and desire more extensive customization possibilities, you're in luck.
In addition to the integration tools discussed above, Moosend also has a respectable API access solution, allowing you to make changes in your own method.
The API comes with extensive documentation, however, there is no developer-specific direct support team.
Quick Links:
Conclusion: Moosend Review 2023
From its excellent deliverability to its extensive customization possibilities, it's difficult to find a flaw in Moosend.
Despite the fact that no email marketing service can be perfect, Moosend offers a multitude of advantages at a reasonable price.
The plans are generous, so you should have no trouble gaining access to the desired capabilities.
Although this may not be the most well-known email marketing software on the market, it is certainly worth a try.