About Pinnacle Cart
Pinnacle cart is an SaaS (software as a service) platform that enables merchants to quickly create an e-commerce website to sell and promote their products. It gives all the necessary tools to add products, edit content, manage orders, ship goods and create promotions through the online store.
Pinnacle cart is created by entrepreneurs for entrepreneurs. It is recognized and trusted widely by several websites like The Onion, Discovery Channel, UFC, Mike and Ike and A&E.

Pinnacle cart fits all size of businesses from startup to enterprise level stores. It offers hosted solution for startups and enterprise solution for larger stores. Pinnacle cart was founded in 2003 and has built a solid reputation for itself in the industry. It has earned an A+ rating from the Better Business Bureau (BBB).
Read more- Auto Affiliate Program Review Another SCAM in Market? Read Here
Ease of Use : Pinnacle Cart Review 2023 May– Is it Worth your Money?
It offers 14-day free trial to set up an account on their website. Once you create an account you will receive an email with your account details and couple of links to start your own store. The 20-minute setup tutorial comprises in detailed description about how to create a store on the cart. You can log in to the platform and start customizing your own store on the admin. There's a settings option through which you can customize tax and shipping information of products and set up the payment mode. Their interface supports multiple languages and currencies.
On the 'add a product' page you can enter the ID, name, price, weight and a description. You can organize the products into tangible, virtual and digital goods. You can use an existing domain or get a new domain through Pinnacle Cart. Merchants can keep a track of their daily sales, new orders, stock items and shipping details.
The interface is hassle-free because of its unlimited attributes and categories to add products easily. Installation takes just a few clicks and immediately your store goes live in minutes.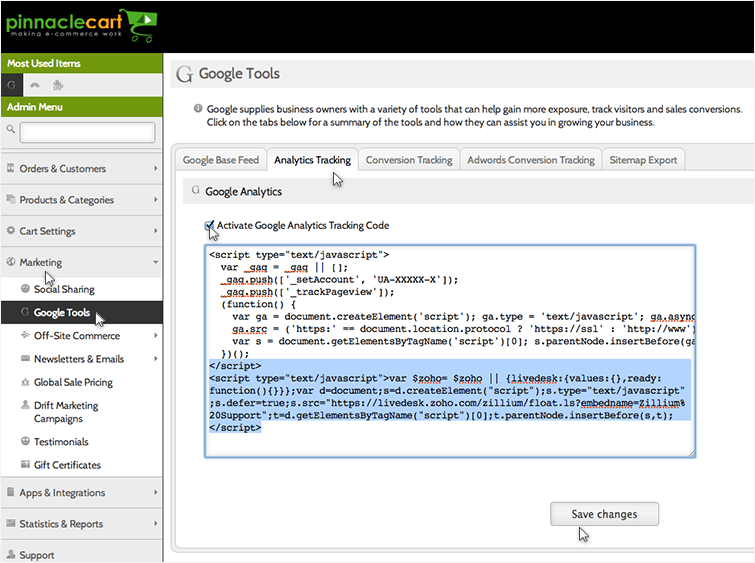 Also Read:
Web Design and Templates
Pinnacle cart has a lot of templates and editing features to customize your own online store. You can design the website by adding buttons, boxes, text, colors and images. The theme editor helps you to choose a theme for your store based on your products. It offers 30 customizable templates that are fully mobile responsive. The premium design services are priced between $2100 and $5200. Pinnacle does not have Content Delivery Network and built-in blogs to promote your websites on WordPress.
27 types of integration are available on the pinnacle cart namely Endicia for shipping solutions, Avalara tax calculator, Mailchimp for automated emails, QuickBooks for managing accounts, Doba for access to wholesale products, Shipwire for warehousing service and Shopzilla, an online search engine.
You can also integrate your store to amazon, Yahoo and ebay and all the applications have an API availability to create a connection. Pinnacle cart is 100% PCI/PA-DSS compliant but merchants have to buy their own SSL certificate.
Pricing
Apart from the 14-day free trial, Pinnacle cart offers four types of premium plans for all its users. They do not offer refunds so it's best to try their product for free before investing your money. All plans include unlimited products, daily backups, unlimited phone and email support and PCI/PA-DSS compliance. There are no transaction and cancellation fees.
Startup

Monthly Price: $29.95
Storage Space: 1 GB
Website Traffic: 2 GB
Email Accounts: 2
Small Biz

Monthly Price: $59.95
Storage Space: 3 GB
Website Traffic: 8 GB
Email Accounts: 10
Features: Quickbooks Auto sync

Entrepreneur

Monthly Price: $94.95
Storage Space: 10 GB
Website Traffic: 20 GB
Email Accounts: 50
Features :Quickbooks Auto Sync

Enterprise

Monthly Price: $149.95
Storage Space: 50 GB
Website Traffic:100 GB
Email Accounts: 100
Features: Quickbooks Auto Sync
Virtual Private Server Solutions (VPS) are additional plans that cost about $249/month and $349/month.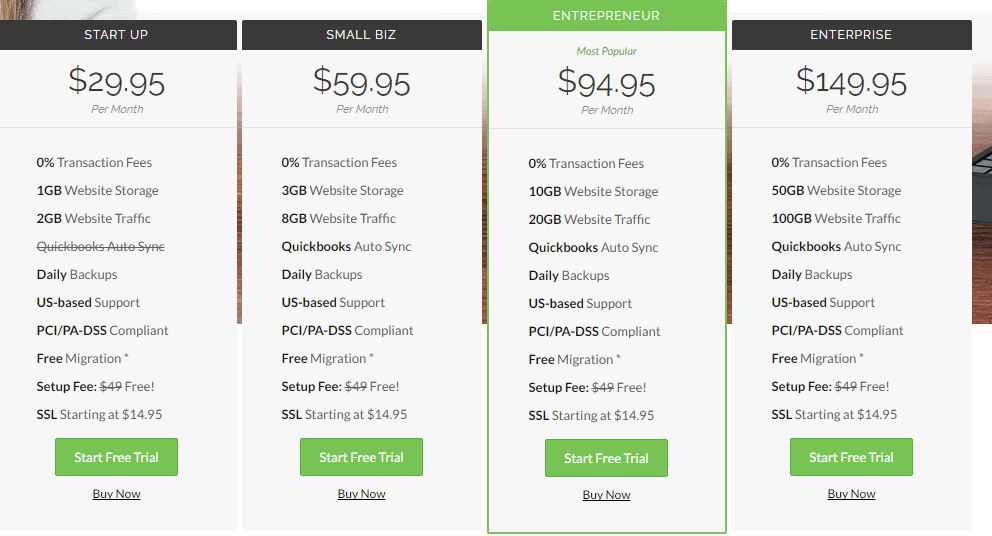 Payment Options
Pinnacle Cart integrates with over 30 payment gateways. Though it is less for a shopping cary all the gateways are popular and trustworthy. They include Amazon payments, 2checkout, Authorize.net, PayLeap, PayPal, SagePay, WorldPay and Stripe. FirstData is it preferred payment gateway.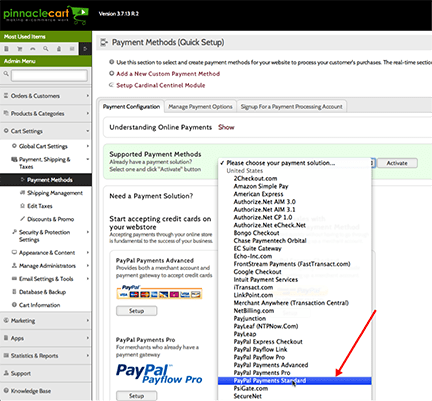 Features
There are quite an impressive range of features that offer exceptional functionality which are quite rare on a Saas software solution. Some of its amazing features include,

Unlimited administrator accounts to access the admin by difference team members
Sell both physical and digital products
Customize products into several attributes such as style, size, color and price range
Ability to magnify zoom and enlarged product images
Customers can write product reviews
Display recently viewed products, popular products and related products
This cart allows you to integrate your store to multiple website and Facebook store
Create discounts, gift certificates and wish list
Set up automatic notifications to remind customers about abandoned items
Send automatic confirmation email and shipping tracking numbers
One page check out and guest check out
Import/export and shipping tracking details
Accept multiple currencies and payment modes including offline orders
Automatic Tax calculation using software tools
Access to SEO tools like meta titles and descriptions for your products
Pros
14-day free trial
Attractive Templates
Easy-to use interface
24/7 phone support
Good marketing and SEO features
Integrate stores to social media platforms
Recurring Billing options

Cons
Poor security options as you have to buy your own SSL certificate
Not International-friendly
Difficult to build store due to complexity of codes
No blogs and Content Delivery Network (CDN)
Bandwidth and storage limits
Does Pinnacle Cart work?
Pinnacle cart works wonderfully for small and large businesses that are interested in selling their products online. Since it is a SaaS solution, it automatically manages your store without software updates. It provides exceptional features for adding products and customizing the store. But it lacks many security and content features like blog and content delivery network which may slow down the site.
It also supports 30 different payment modes and is also mobile-friendly. The 24/7 customer service clears all your queries on time. Ultimately, pinnacle cart can be a good choice for shopping cart needs.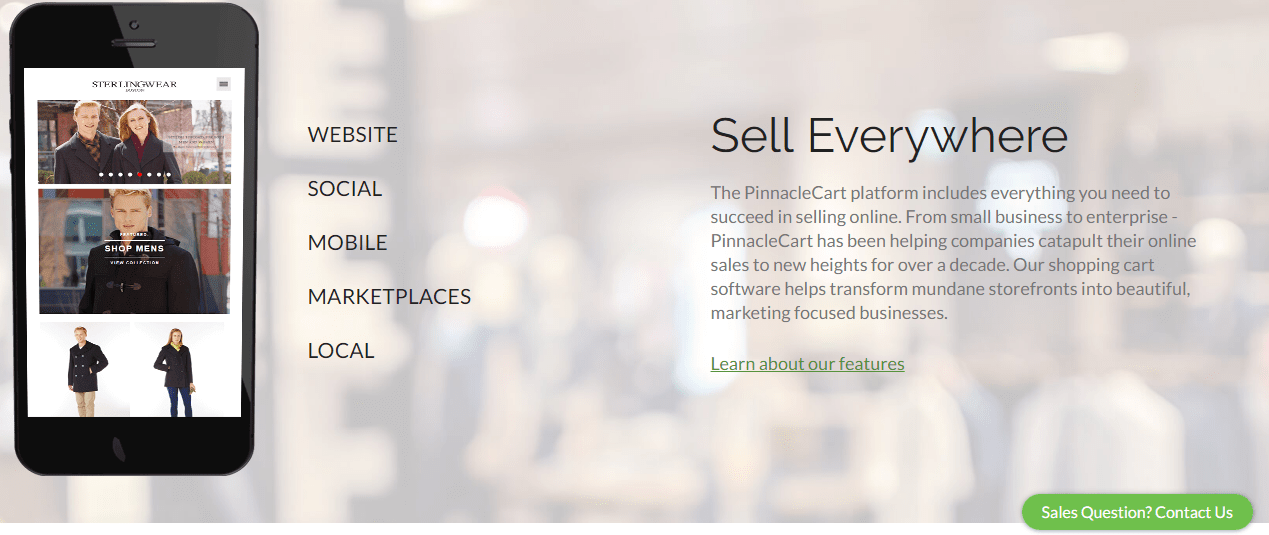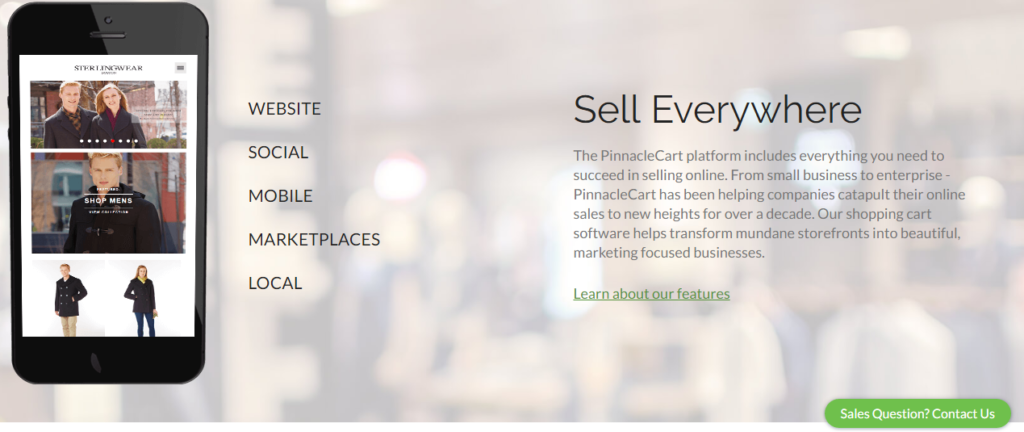 Conclusion
: Pinnacle Cart Review 2023 May– Is it Worth your Money?
I hope you got all the information related to Pinnacle Cart. You can too make use of it for for your prospects.
Please bookmark this post we will be keep updating such informative articles every month.