About 3dcart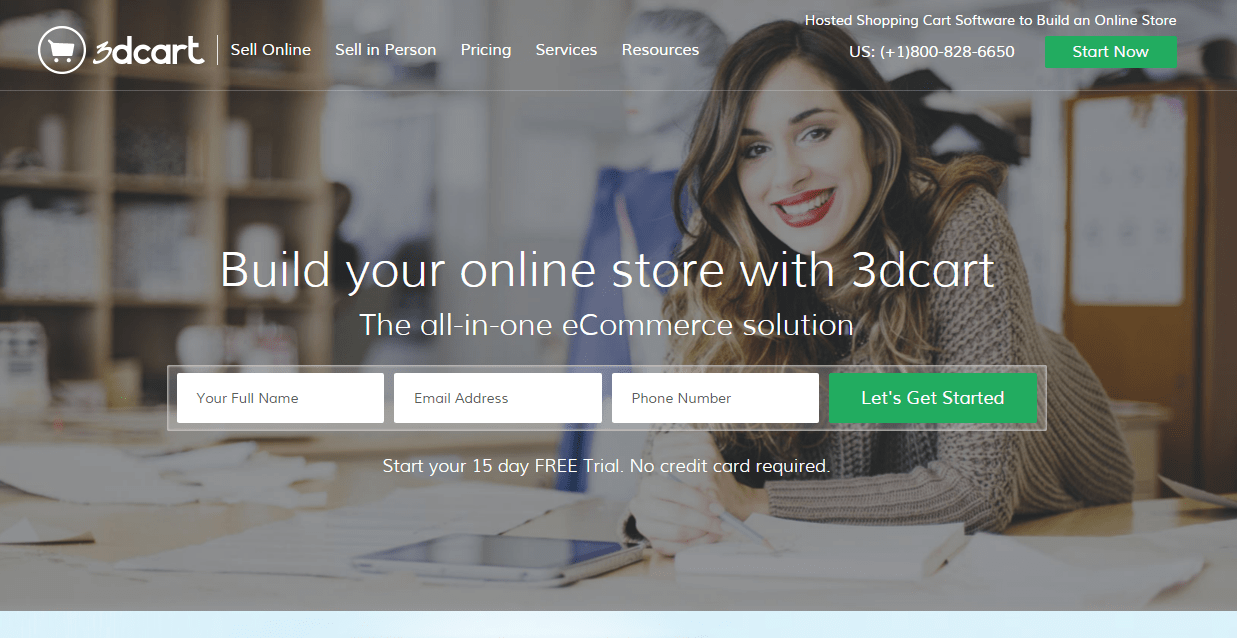 3dcart is one of the popular e-commerce platforms that host over 23000 online stores in and around the world. It was founded in 2001 by Gonzalo Gin. With a plethora of features and wide range of pricing options, 3dcarts conveniently helps merchants to run large and small businesses.3d cart is affordable and best selling solution for people who own online business.
The website is technically designed to help customers run their business as competitive as possible by expanding it into several horizons.
Ease of Use: 3dcart Review 2023 March– Best Ecommerce Sofwtare You Should Try
It is easy to set up an online store through 3dcart's user-friendly dashboard. Enter the name, email address and phone number to sign into the website. All the information required to build your own online store is available right on the dashboard which favors the process to be easy and simple. It has all the information like existing orders, products, customers, pricings and templates that makes it look cramped for the first time.
The site launches a window offering a 9-step wizard to help select templates, add products and define payment options based on your own preferences.
You can also look at the customers report and marketing strategies to manage your complete online store.
Merchants can customize invoices and include logos in the system. They can also choose an existing domain or register a new domain through 3dcart. There are also tax calculators, marketing tools and email marketing service to purchase items and calculate expenses. The dashboard lets you keep a track of transactions, back orders, shipping details and the stock to manage your inventory.
You can also see the number of products sold daily, check your reports, monthly sales, new orders and your bandwidth usage.
If you need help in getting started, there are onboard professionals that assist you for 30 minutes at a cost $249.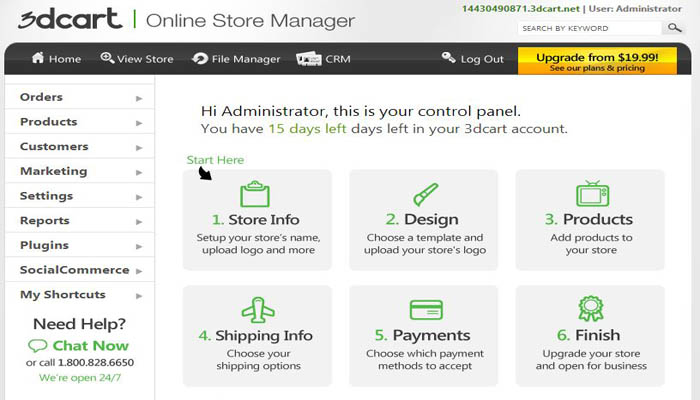 Web Design and Templates
3dcart offers plenty of free templates for users to customize their own online store. There are more than hundred optimized templates which are also mobile-friendly. They have a variety of designs that gives a modern and professional design to the store. All the templates are quite impressive.
Based on your products, you can also choose theme-based templates to make your online store unique and successful. Apart from free templates, 3dcart offers premium templates in the price range of $2-199. Merchants can either purchase a premium template separately or get unlimited access to all the premium templates by paying $299.
You can edit your website with an HTML and CSS editor.  You can add content, images, color without any complications on 3d cart. 3dcart has a built-in blog future that helps sell your products on different platforms. It also has a content delivery network (CDN) which enables your site to be available on more than one server that helps your store to load faster even in spite of heavy traffic.
Also Read:
There is a drag and drop editor to add changes to widgets on your store. But you cannot integrate your website with WordPress to sell products on 3d cart.
Pricing
3dcart offers a wide range of pricing options and based on your needs you choose a particular plan. You don't have to sign any contracts for monthly or yearly plans. However, you can avail discounts if you purchase it for several months at a time. 3dcart offers 30-day money back guarantee and 15-day free trial. Below are the 3dcart premium plans,
Nano 
Monthly Price: $99.9
Products: 10
Monthly Visits: 2,000
Email accounts: 1
Bandwidth: 1GB
Mini
Monthly Price: $19.99
Products: 100
Monthly Visits: 4000
Email accounts: 5
Bandwidth: 2 GB
Starter
Monthly Price: $35.99
Products: 1000
Monthly Visits: 8000
Email accounts: 10
Bandwidth: 4GB
Professional
Monthly Price: $65.99
Products: 10,000
Monthly Visits: 20,000
Email accounts: unlimited
Bandwidth: 10 GB
Professional Plus
Monthly Price: $99.99
Products: unlimited
Monthly Visits: 50,000
Email accounts: unlimited
Bandwidth: 25 GB
High Traffic / Premium 
Monthly Price: $199.99
Products: unlimited
Monthly Visits: unlimited
Email accounts: unlimited
Bandwidth: 60 GB
High Traffic Plus
Monthly Price: $499.99
Products: unlimited
Monthly Visits: unlimited
Email accounts: unlimited
Bandwidth: 250 GB
Unlimited online storage, free domain registration, access to Facebook and Mobile stores and API connectivity along with 24/7 customer service through phone is available for all plans. There's limited bandwidth offered for all plans and if it exceeds you may be charged at $5/GB.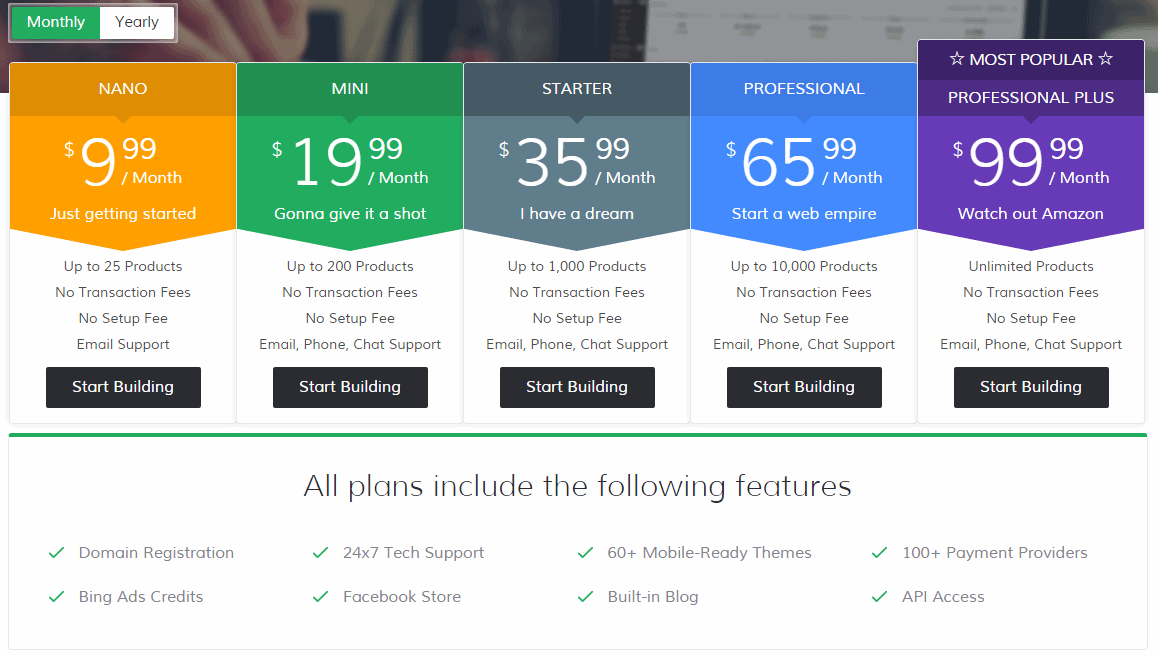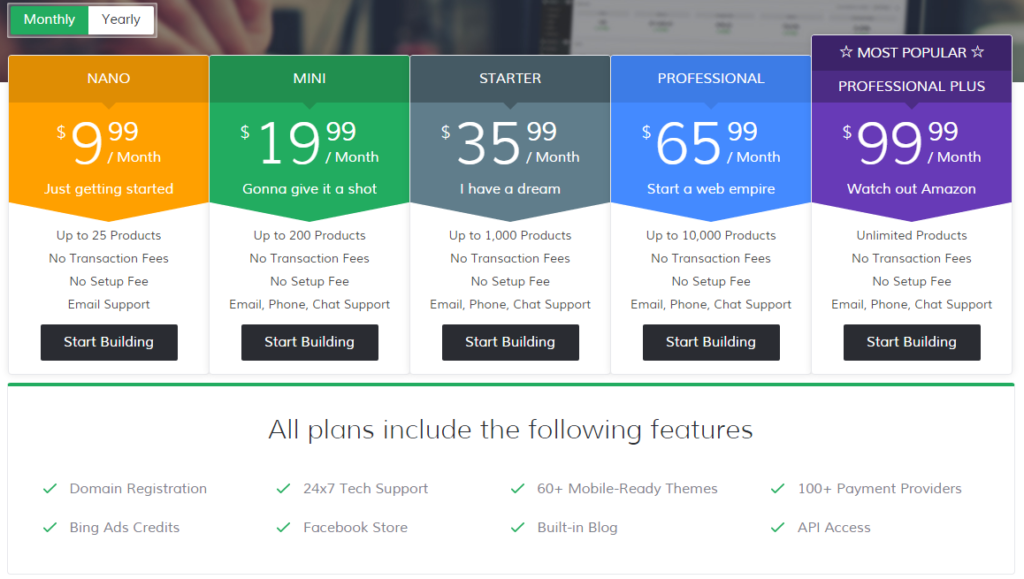 Payment Options
3dcart does not support physical transactions but it integrates itself with 100 other payment gateways like PayPal, BitPay and Dwolla. Merchants can accept credit cards, cash, money orders and split payments on 3dcart. You can also integrate your store with Quickbooks for managing accounts. It does not charge any transaction fees.
Features
3dcart comes with lots of features that will manifest your business in the right possible direction. Some of the features include,
For Customers
Ability to browse a variety of products and get a clear view about them by zooming in and out of the images and videos on product pages.
Access to create wish list, customer cart, gift registry and avail coupons, certificates and discounts.
Customers can use tax and shipping calculators to determine the cost of shipping the product.
They get notifications when the product have been abandoned and also to remind them to complete their orders.
In case of queries or questions customers can chat with support staff and also express their shopping experience by writing reviews on product pages. Customers also get a reward to foster their loyalty.
For Merchants
Add new products and sell digital and physical products
Manage inventory and monitor stock items
Categorize products into various shapes, sizes, colors, price range, etc.
Customize shipping and payment options and integrate your website with other platforms like Quickbooks, shipwire, Avalara Tax, Taxcloud and Facebook Connect.
Choose wide variety of templates and facilities
Sell products on various social media platforms like Facebook, Pinterest and Youtube.
3dcart has level 1 PCI complaint and Fraudwatch to protect against fraudulent transactions.
It offers unlimited email account within your online store without any extra charges.
3d cart is cloud-based software which makes it easy for merchants to maintain their website without updating their software.
For complete info watch this video
Pros
No transaction fees
Lower price
Live chat support
Easy to use dashboard
Plenty of Features
Cons
Poor customer service
Bandwidth overages
Does 3dCart Work?: 3dcart Review 2023 March– Best Ecommerce Sofwtare You Should Try
3dcart is a good option for business which is small or large because it offers a cheaper and good quality platform for developing your own online store. Though people have been disappointed with their technical support for a long time, there has been a recent improvement in the way of handling customer by 3dcart.
They have introduced live chat support to offer timely assistance and answer all your queries in real-time. The dashboard looks pretty complicated at first but as you keep moving forward the clear step-by-step instructions makes it easier for uploading your products, adding specifications, merging them into categories and adding a price tag do them.
You don't have to spend a fortune to create your own online store through 3dcart as they don't charge transaction fee which can be a huge advantage to sell your products online. Free templates are modern and aesthetically pleasing on 3dcart.
The free trial is a good option for you to start creating your own online store through 3dcart.