About Frontpoint
Frontpoint is one of the top most home security companies that is well-known for its flexibility and customer service. It was founded in 2007 by a team of home security experts. They currently hold a A+ rating from the Better Business Bureau (BBB). It works with every state in the United States and offers outstanding customer services to all their users.
How it Works? Frontpoint Home Security System Review 2019 November #1 for Home Security
Unlike other security systems that offers a basic package on which customers can add or delete their preferred services, Frontpoint completely allows their customers to choose their own monitoring device. Customers can design their monitoring device from scratch by choosing control panel, sensors, monitoring package and contract.
Frontpoint offers one-year contract, door and window sensors, motion sensors, GE control panels and all the equipment comes with a three-year warranty. The set up is configured and makes users to easily install it in their homes. After installation, technicians conduct simple tests over the phone to access its functions.
In addition, users can add smoke detectors, automation sensors, thermostat, carbon monoxide sensor, fire sensor, lights, etc. The wireless monitoring system helps users to capture the activities at home 24/7 and also alert them in events of burglary or emergency.

Equipment
All frontpoint plans comes with the base controller, GE Simon XT Edition that has a built-in cellular link, 120db alarm system and 24-hour battery backup. It also includes its Alarm.com app which enables users to control the security system using a mobile device. There is also a touchscreen control panel available on Frontpoint that can control smart home devices, takes pictures and talk with the customer.
Pricing
Frontpoint has three monitoring plans namely,
Protection Monitoring Package
This is the basic package that starts at $35 per month. It covers all the sensors and sends alerts if any sensor gets triggered.
Interactive Monitoring Package
 This costs $45 per month and enables users to remotely arm the system and control lights at home. It also sends notifications via text or mail to alert customers.
Ultimate Monitoring package
 This advanced package costs $50 per month. It comprises of surveillance cameras, automated thermostat, advanced locks to safeguard your home.
 Frontpoint offers a 30-day risk free trial for customers to return their product if they are not satisfied and get a complete refund.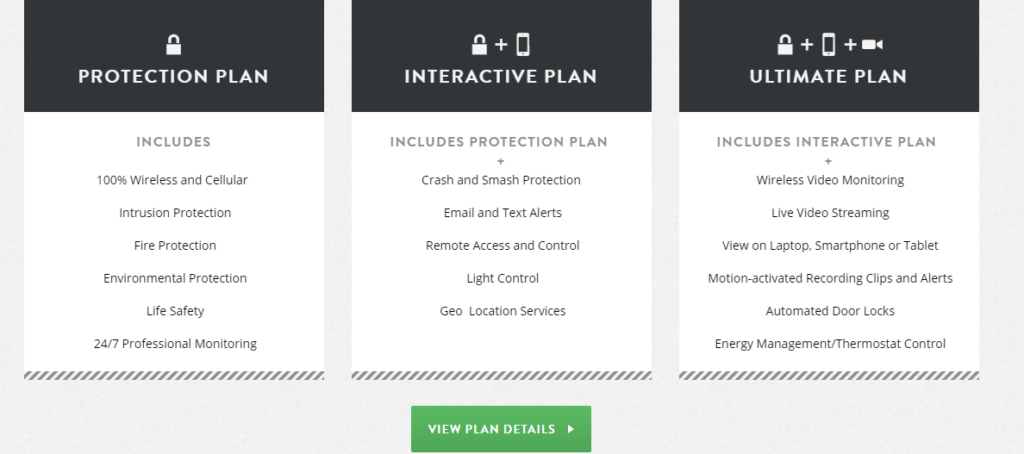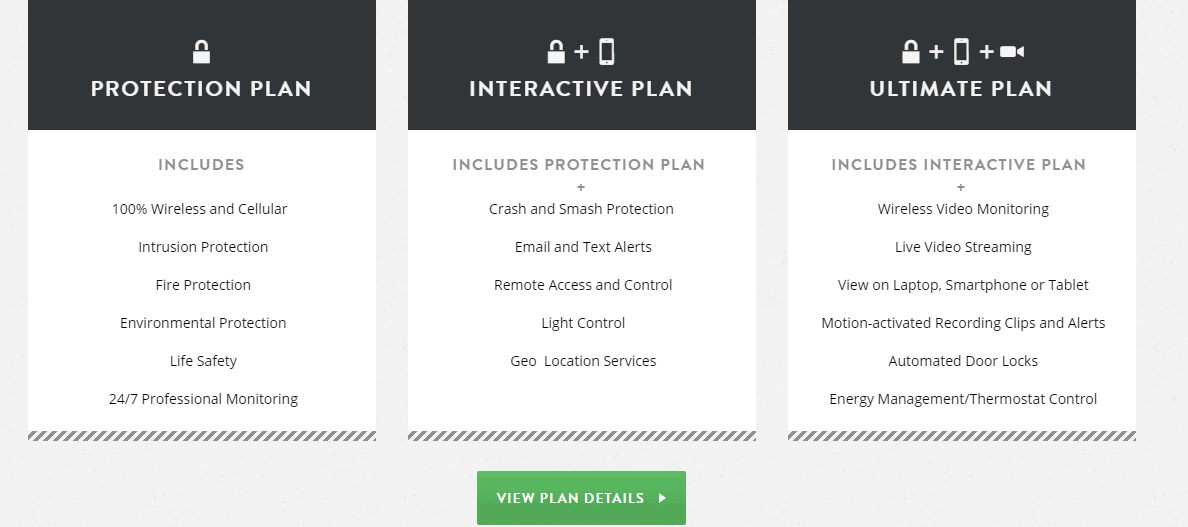 Features
Central Monitoring System: Frontpoint uses Rapid Response for their central monitoring system. It is head quartered in New York and is one of the eleven central stations approved by to monitor fire alarms in the city. Rapid Response also monitors burglaries, medical signals and residential, military and commercial locations. It has GPS monitoring facility.
Wireless Monitoring: Frontpoint monitors your home using cellular line that connects your control panel with the central monitoring station. Wireless connections are better than wired since they cannot be destroyed. It also uses a broadband connection as a backup when there are security issues.
Home Automation: Frontpoint enables customers to control their home devices automatically through their security system. Users can control lights, temperature and locks through the device. They can also buy smart products to automate devices at home. It has introduced Qolsys control panel and image sensors that has touchscreen control panel. This feature makes it easy to capture photos of burglar or turn off lights at home.
More features…..
This patented technology protects control panel against damage from unauthorized persons. If a thief plans to break into your house, the alarm system automatically alerts you and the person may not be able to stop the alarm or break the device due to this unique protection. Even if they try to smash the device, the alarm will send a notification to the monitoring station because it assumes an intrusion.
Customers can set up a virtual fence or "geo-fence" in your area where the alarm is located. The alarm will track your location through the phone and will perform two types of functions automatically. One is that it sends an alert on your phone if you forgot to turn on the alarm system and go across the geo-fence and the next is that it will automatically switch off the thermostat to save energy and money as you cross the geo-fence.
Frontpoint includes environmental sensors that monitor floods, fire and smoke. They send immediate alerts when they detect a leak or spark at home. Apart from this carbon monoxide sensors, garage door sensors and recess door sensors are also available for monitoring your outdoor spaces.
Frontpoint has a wireless indoor and outdoor cameras that includes night vision, motion-activated, 24/7 monitoring and updating recordings to the cloud. All these cameras require internet connection to work and if there is no connection, your home will still be protected sans cameras. The newest feature on Frontpoint is its doorbell camera that has a motion sensor and 1020 FHD camera. The doorbell requires Wi-Fi and has access to cloud storage.
Frontpoint has mobile Alarm.com app for iOS, Android, Blackberry and Windows devices. You can remotely activate and deactivate alarms, adjust automated devices and check surveillance cameras using your smartphone.
Frontpoint has excellent customer support that offers timely guidance to all its customers.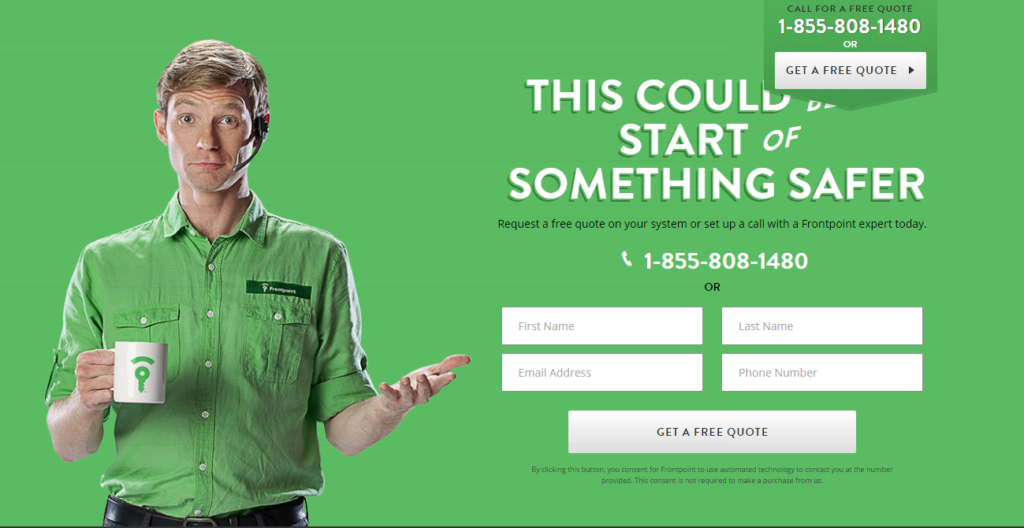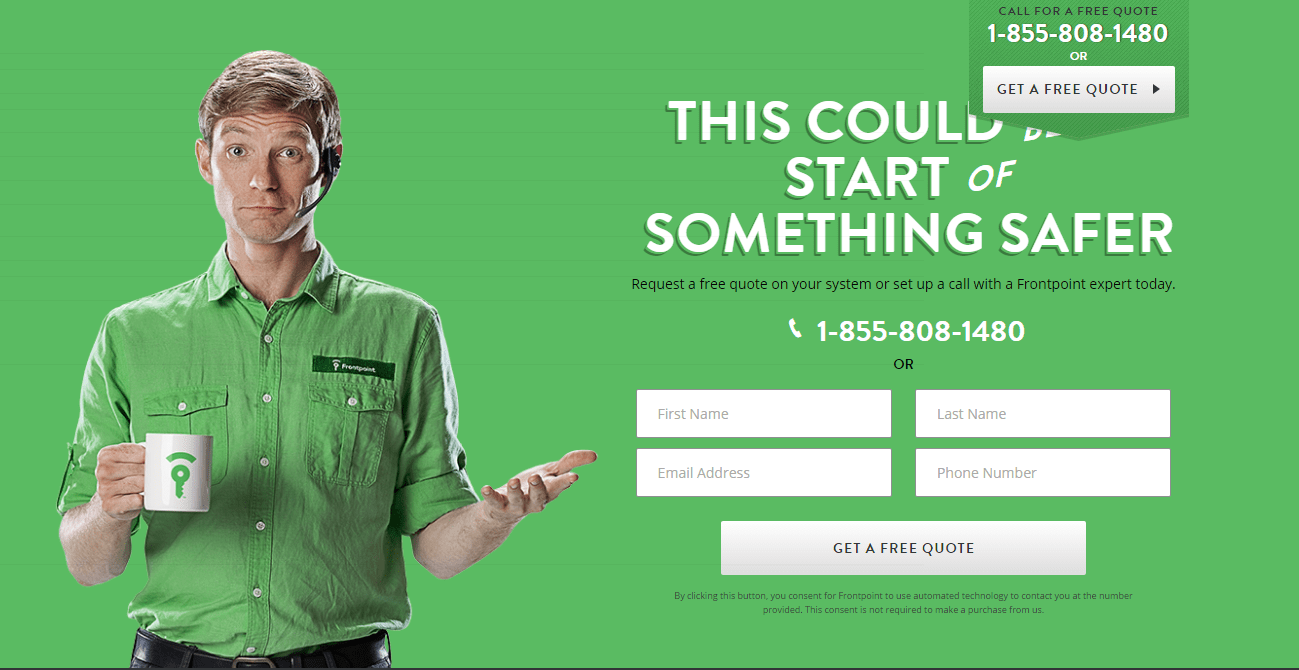 Pros
First-rate customer support
24/7 monitoring services
Flexible monitoring system
Redundant central monitoring systems
30-day money back guarantee
Z-wave technology home automation products
100% wireless monitoring system
Free standard shipping and returns
A+ BBB rating
Cons
No two-way intercom facility
Self-installation
Slightly expensive plans
Is Frontpoint a Good Security system? : Frontpoint Home Security System Review 2019 November #1 for Home Security
Frontpoint offers comprehensive plans along with flexibility to choose your own monitoring system. There are minimal companies in the industry that offer customers the opportunity to select their own monitoring devices.  Its flexibility makes it one of the best home security companies in the United States.
It places customer care as its top priority and provides FAQ's, video tutorials, live chat support to all its users. Frontpoint can send smoke, heat and gas leak alerts in your home and also provides home automation features. It is a good home alarm monitoring systems.
Finnich Vessal is an experienced affiliate marketer, he has been into affiliate industry from past 5 years and living his dreams online. On Affiliatebay you can find posts related to affiliate marketing news, product reviews & trends in affiliate marketing.
Summary
Reviewer
Review Date
Reviewed Item
Frontpoint Home Security System
Author Rating