Wondering if it would be a good choice to go with Vonage? Well, in this article I have shared my Vonage Review, where I talk about Vonage features, pricing, pros and cons and more. Read the full review and know if you should try Vonage or not!
What is Vonage?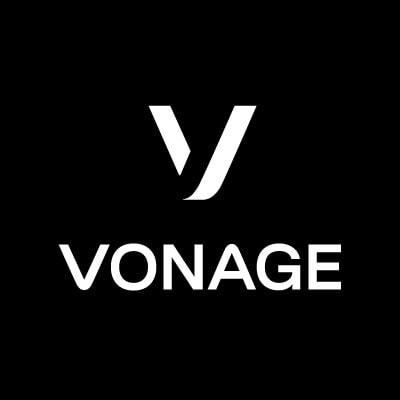 Vonage is one of the best Voice over Internet Protocols (VoIP) in the telecommunication industry. VoIP phones are designed specifically to convert standard voice data into digital format that are used to make VoIP calls. VoIP phones have become the latest communication technology and vonage is one of the best in this service.
Vonage offers a wide variety of plans and features that suits both small and large businesses. It is also applicable for home users who are interested in replacing their traditional land line with good quality phone services.
It provides one of the best residential plans that have attracted millions of users to switch to VoIP. Connecting with someone from your neighborhood or an international client takes only minutes with Vonage. Because of its free Vonage extension app, it has become appealing to smartphone users too.
Vonage Review 2023: Should You Try This Phone Service?
How does Vonage Work?
It is very easy to set up, but still its pricier when compared to other VoIP services. Vonage transforms phone service into digital calling solution that helps connect faster with others through high speed internet plus saves you money.
The small box-like adapter can be connected to the internet router via an Ethernet cable and then to your phone. A phone call typically travels to the phone adapter, converts itself into a VoIP call and passes through the internet. The service receives the call and connects it to the recipient. It can be either to another VoIP service, landline or mobile number.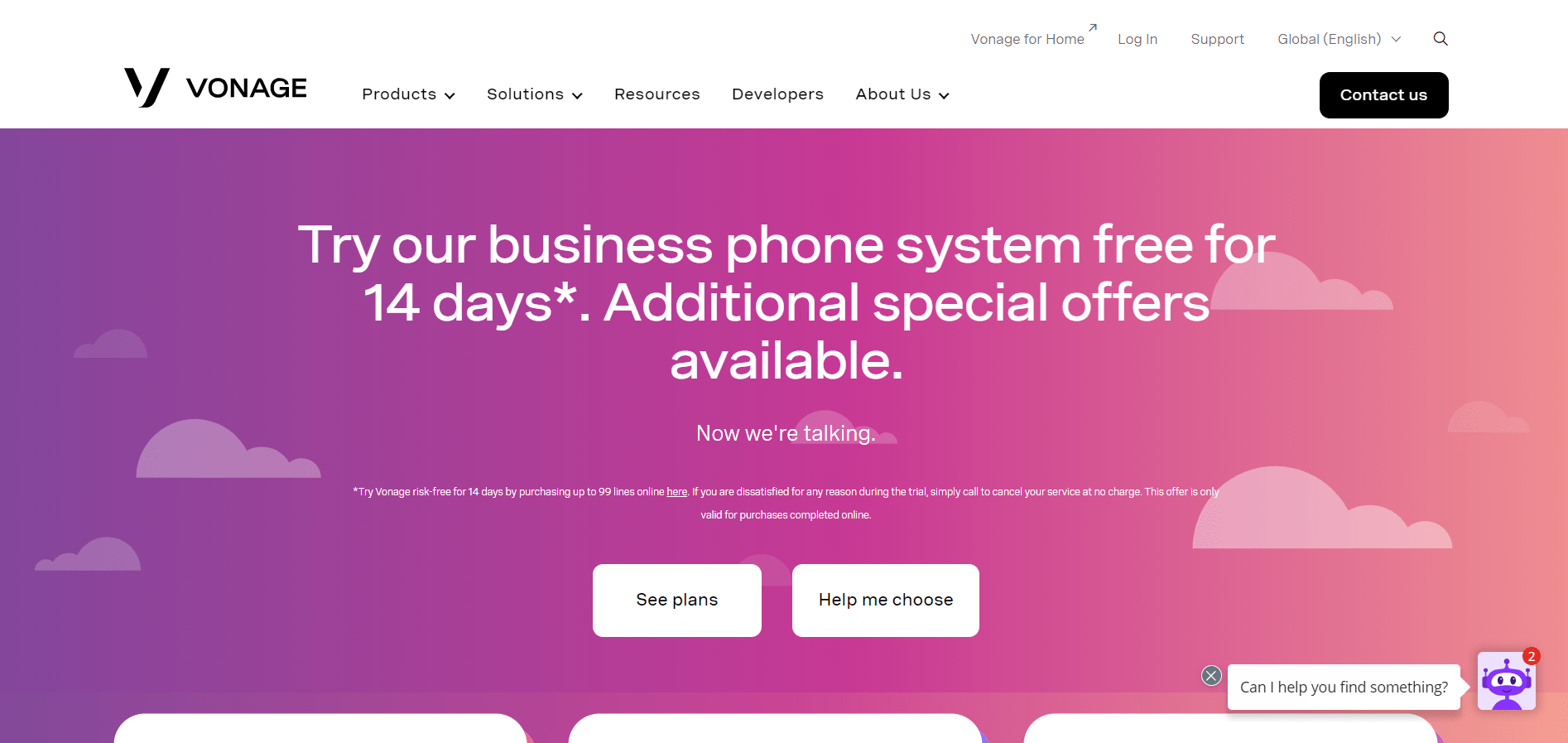 Vonage Best Features: 
Vonage has robust features which are categorized as "Included Features" and "Add-on Features".  Included features are free options that come along with any of the plans chosen. Add-on features can be customized based on your calling plan. Some of its features include,
Vonage Extensions: You can use your vonage number to make international calls from your smartphones. It offers low-cost calling for people in the US and also users can receive calls from others on their smartphones.
Boomerang: You can add your favorite people on boomerang list and connect with them through vonage number. Any contact on the list initiating a call to the vonage number will automatically receive a call back. This eliminates the frustation of missed calls and 'call me back' messages. You can use it both on landlines and smartphones.
Voicemail Plus: You can hear voicemails from any phone and even receive voice messages sent to your email.
Selective Call Block: Block any number of incoming calls using the vonage extension app.
Enhanced Call Forwarding: If you are in the middle of an important meeting, you can simply forward your incoming calls without letting the caller known.
SimulRing: This is a very creative feature that enables users to forward calls to five additional phones. This is perfect for homes and multiple offices.
Extension app: Both iOS and Android users can download this app to stay connected on the go. The app can be set up using 3G/4G Wi-Fi connection and you must verify your vonage number to start calling.
Virtual Number: You can save money by setting up virtual number in a specific area code.
Dedicated Fax Line: You can send and receive faxes.
Toll Free Plus: A toll-free number lets others to call you for free.
3-way calling: A good feature for making conference calls. You can add a third person at anytime.
Caller ID Block: You can make private calls by hiding your phone number.
24/7 Customer Service: Support staffs provide immediate solutions to all your queries at anytime of the day.
Why We Recommend Vonage?
Vonage comes with 1 year warranty and 30-days money back guarantee. You have to sign up for an account by answering three security questions, mentioning your location and callback number.
For using Vonage on your smartphone, you can download the app. The best thing about Vonage is that you can retain your old phone number by checking whether it's applicable on the website.
On the contrary, you can get a new number and also check how much you can save through their services. There is an international rate finder to help you make cheaper calls. Vonage integrates with QuickBooks, SugarCRM and Google to view contact information directly on the Vonage app.
Vonage Calling Compatibility 
The company uses SIP as the signaling protocol to provide high-call quality for all its users. Vonage has a great reputation for its good call quality and customer service.
Anyone with this facility phone can contact not only other VoIP numbers but also other landline and mobile numbers. By setting up a Network Availability number, users can forward their vonage calls to another service if there's a network issue.
Also, read our article on VoIPO Review, which is one of the most affordable VoIP services. Click here to check out our full review.
Vonage Pricing Plans 
It offers unlimited local and international calls to various parts of the world. Currently, Vonage World allows you to make unlimited international phone calls to landline to 60 countries and to mobile phones to 10 countries. It costs $9.99/mo for 6 months with 1 year agreement.
If you are in the United States or Canada, you can get 400 minutes of free calls to at the cost of $12.99/mo for 12 months. Separate rates are applicable for all calls to landline and mobiles based on the country.
Vonage North America comes at the cost of $9.99/mo for 12 months where you can make unlimited calls to US and Puerto Rico while landline and mobile phone calls are included for Canada and Mexico.
Vonage Philippines starts at $14.99/mo for 3 months where you can make unlimited calls to US and Puerto Rico, unlimited calls to landline to 60 countries and mobile phones to 10 countries. The basic advantage is that you can make unlimited international calls to anyone with vonage.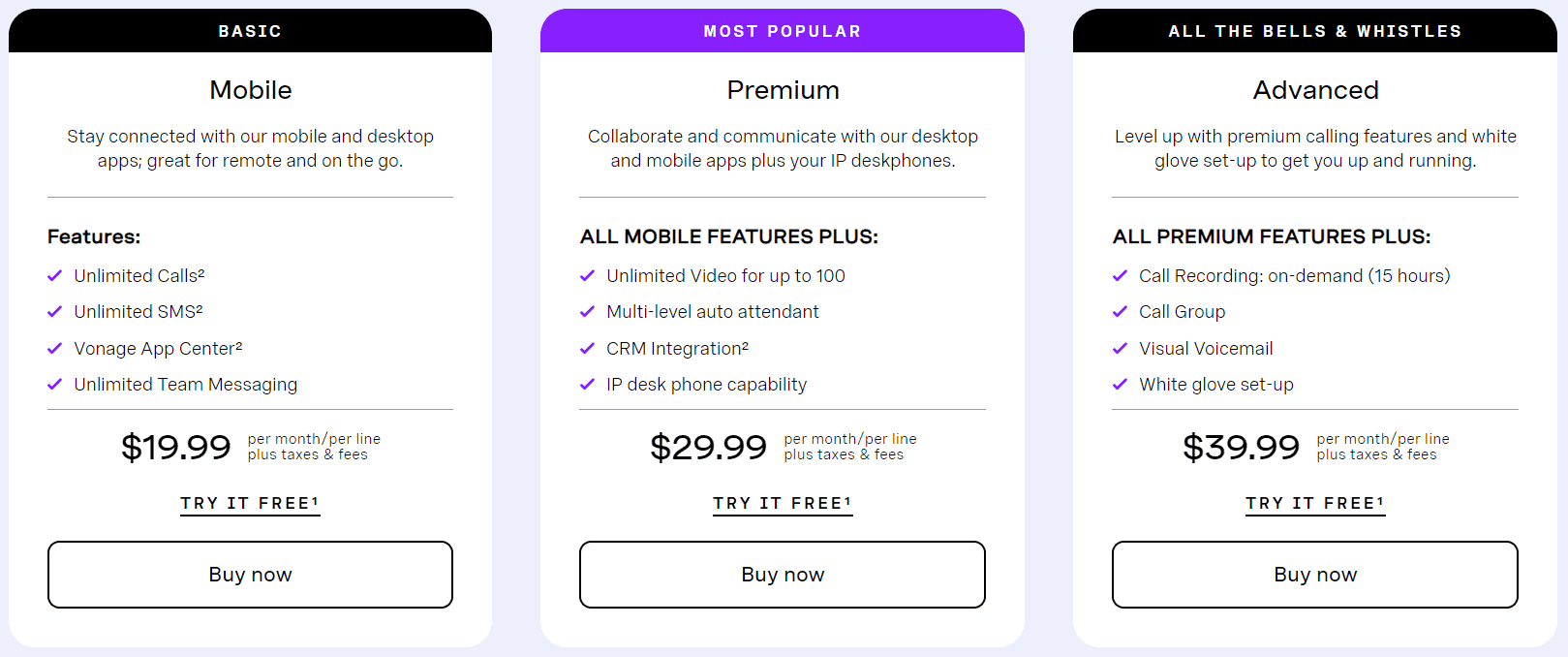 Vonage Review Pros & Cons:
Pros
Excellent call quality
Simple Setup
Free activation
Keep existing phone number
Suitable for both residential and business purposes
Toll-free number and 24/7 customer service
Cons
No text or video calling
Costly plans
Best features cost extra
Vonage Review: Should You Buy It? 
Vonage is an excellent VoIP service for people who want to replace their landline phone with a basic digital call service. It offers more than 20 features that cover most of the basic needs of users.
The plans are costly when compared to its counterparts but still it matches with the good call quality and excellent customer service. The set up process does not take much time which can be a great advantage for business people.
Its customers will benefit from its competitive monthly plans with a wide range of service plans. There are no video conferencing, text messaging and group calling features which may be a disappointment. Vonage will be the best VoIP service for a small workplace or even a home.