Are you trying to decide between Zoom webinar and WebinarJam when it comes to hosting a large online event or seminar? Both Zoom and WebinarJam offer specialized tools that make hosting an online live event easier than ever. Read on to learn more about Zoom webinar vs WebinarJam pricing plans!
Each platform has its own set of features, benefits, and pricing plans — making it tricky to figure out which one best meets your needs.
In this blog post, we'll compare the two platforms side-by-side so you can better understand their different offerings and determine which one is right for you.
Zoom Webinar vs WebinarJam Pricing Plans💰
How much is WebinarJam?🤓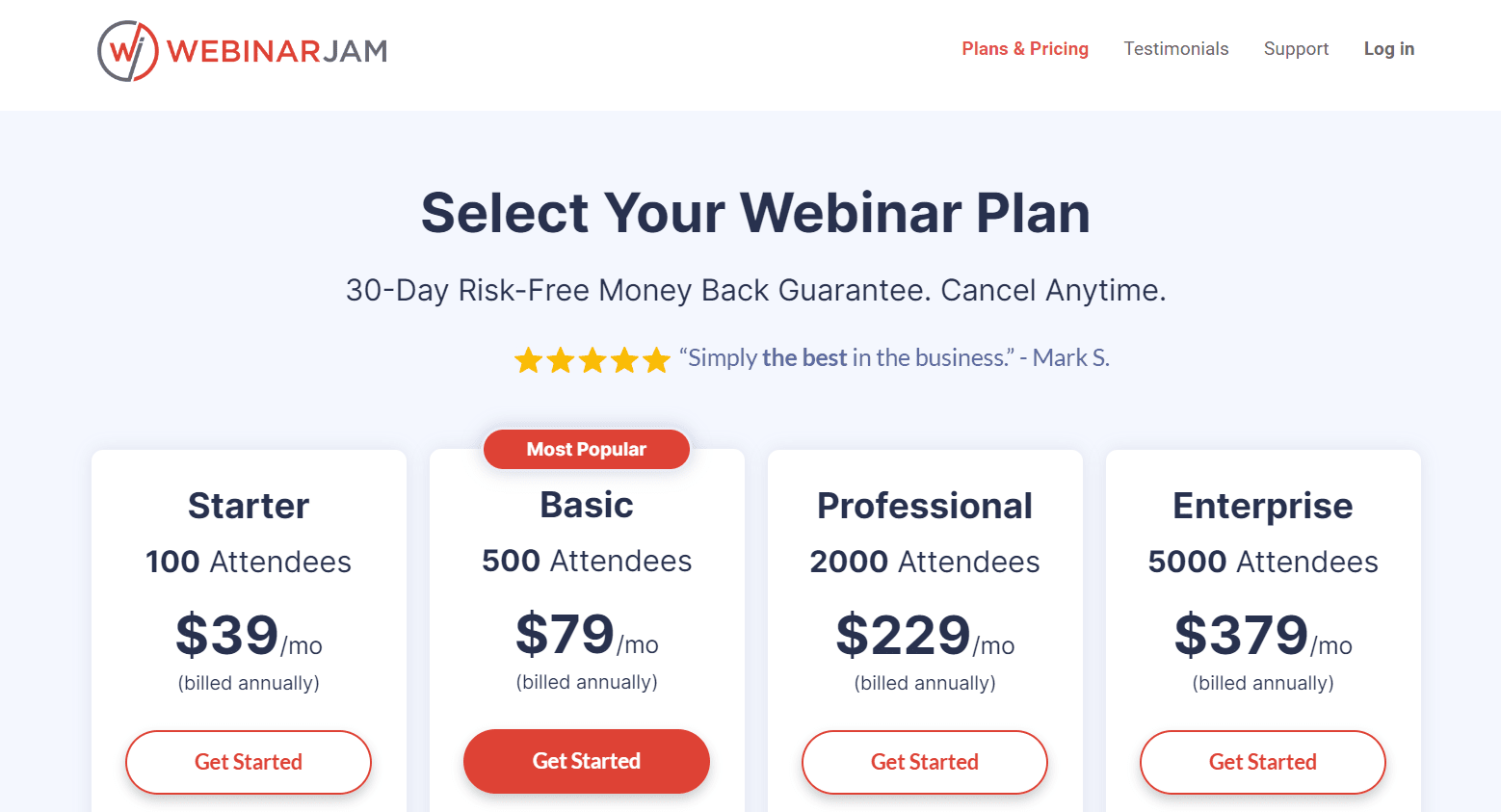 WebinarJam offers 4 pricing packages to its users:
It costs $39/mo. You can conduct and attend unlimited webinars in this pricing plan. It limits 100 attendees for 1 session. And the time limit for a session can be up to 2 hours. 
It costs $79/mo. You can conduct and attend unlimited webinars in this pricing plan. It limits 500 attendees for 1 session. And the time limit for a session can be up to 2 hours. 
It is the most popular pricing plan offered by WebinarJam. It costs only $229/mo. Everything included in the basic plan also you get extra benefits which are:
2000 people can attend a webinar at a time, 

and the duration limit of a webinar can be extended up to 3 hours. 

Unlimited no. of webinars
Hosts can share polls/surveys in this plan.
This plan is mostly used by large organizations for global business meetings. It costs $379/mo. 5000 attendees can participate in a webinar session. 
This plan allows you to control the participants, and mute/unmute them to prevent disturbance from their background. 
It also offers a live chat option to interact with. 
The maximum duration of a business meeting is 4 hours.
All these pricing plans are offered with a 30-day money-back guarantee. Users can anytime cancel their subscription plan within 30 days and get 100% money back. 
WebinarJam offers a 14 days free trial to its users for just $1.
How much does a Zoom webinar cost?🤨

Zoom offers 4 different pricing plans to its users.
Listed below are the pricing plans for Zoom:
It is a free plan. It allows you to conduct unlimited meetings. It is the most preferable plan for every individual. In a meeting, only 100 people can attend.
The duration of a meeting is limited to 40 minutes. This plan is used for both video and web conferencing both.
It costs $14.99 per month and for a yearly plan, it costs $12.49 per month.  Hosts can share their screens and there is no limit on the duration of a meeting. Hosts have control over their participants with respect to mute/ unmute and sharing the screen.
This plan costs $199.90 per month in a monthly subscription. If you buy a yearly subscription, it costs $133.25 a month. It includes all the benefits of the pro pricing plan and includes other benefits as well. They are: 
300 participants can attend a meeting at a time. Hosts get access for the recording of 1GB, and API access. 
Enterprise Pricing Plan –
It is the most expensive pricing plan offered by Zoom. It costs £199.99 per month for a host. In a single meeting, 500-1000 people can participate.
This plan offers some customized options as well to the hosts. It allows 100+ hosts in a webinar session and offers as well as integration options. 
Quick Links
Conclusion- Zoom Webinar vs WebinarJam Pricing Plans💰
The conclusion is clear: when it comes to pricing, Zoom and WebinarJam offer very different options. With Zoom, customers pay a monthly fee and receive a variety of features for an affordable price.
Meanwhile, WebinarJam relies on an à la carte approach, where customers pay for the features they need. Prices can quickly add up, so businesses should be aware of their needs and budget accordingly.
Each platform has its pros and cons, but in the end, it's up to you to decide which one you prefer based on your budget and business requirements.
Ultimately, however, if you are starting out with webinars or if you have a tight budget then zoom offers an excellent free pricing plan making it well worth a try before you spend any money on another platform.