In this post, I am going to share Instube Review 2022.
It's almost every second day that I surf through YouTube, Facebook, Instagram, Soundcloud and other apps or websites for trending music and videos during my leisure time and it often so happens that I find something so appealing, that I wish to download it.
But it becomes difficult for me to download my favorite videos or songs from these websites.
The problem that many of us come across is that since there is no stable application to download music and videos from video/music streaming websites, we quite often, search for the same on the Internet.
The result is, we either find it in poor quality or don't find it at all.
But over time, a number of emerging software and apps have made media download possible and hassle-free for people across the globe.
One such application I've recently come across is Music Downloader InsTube. Let's dig deeper into the details and features of this application.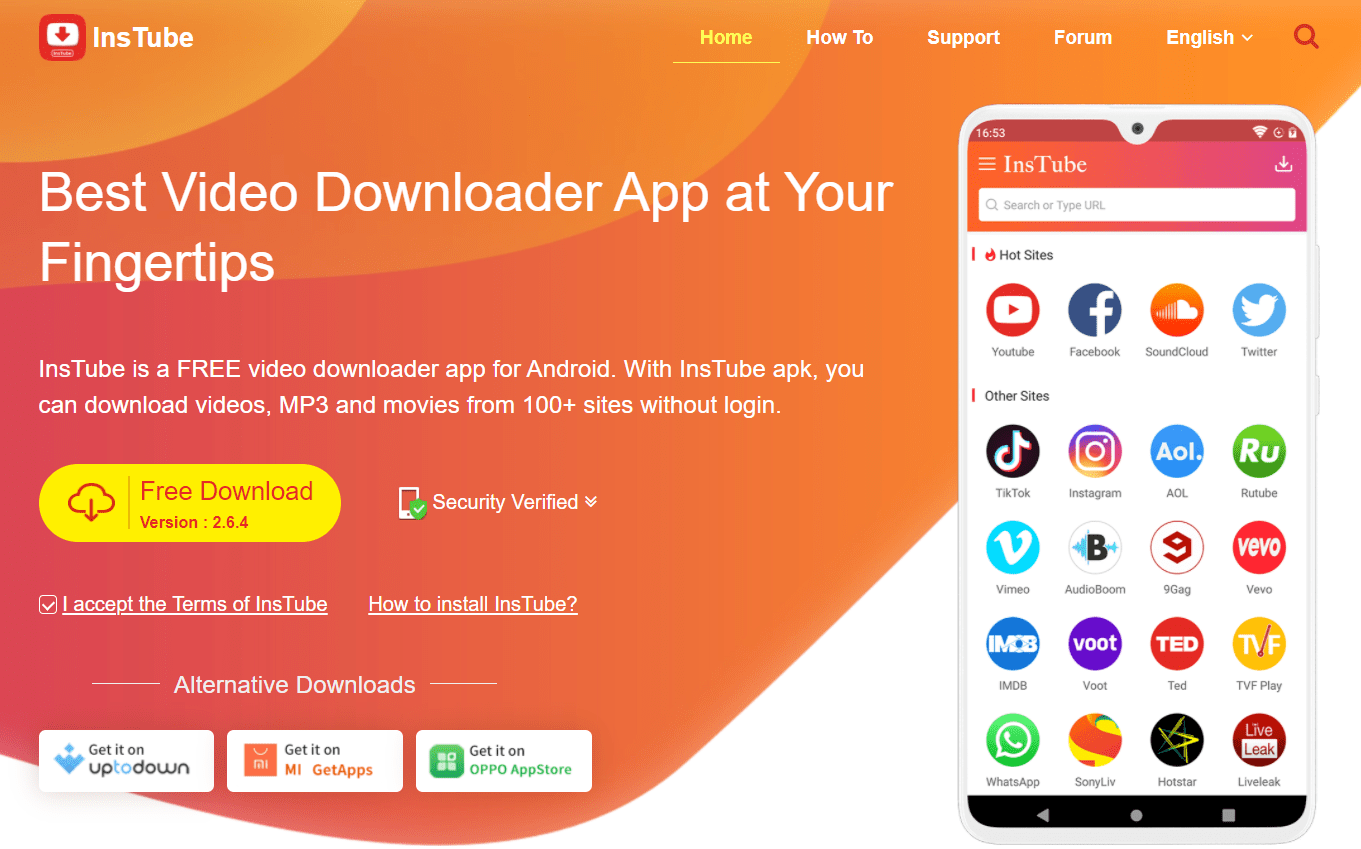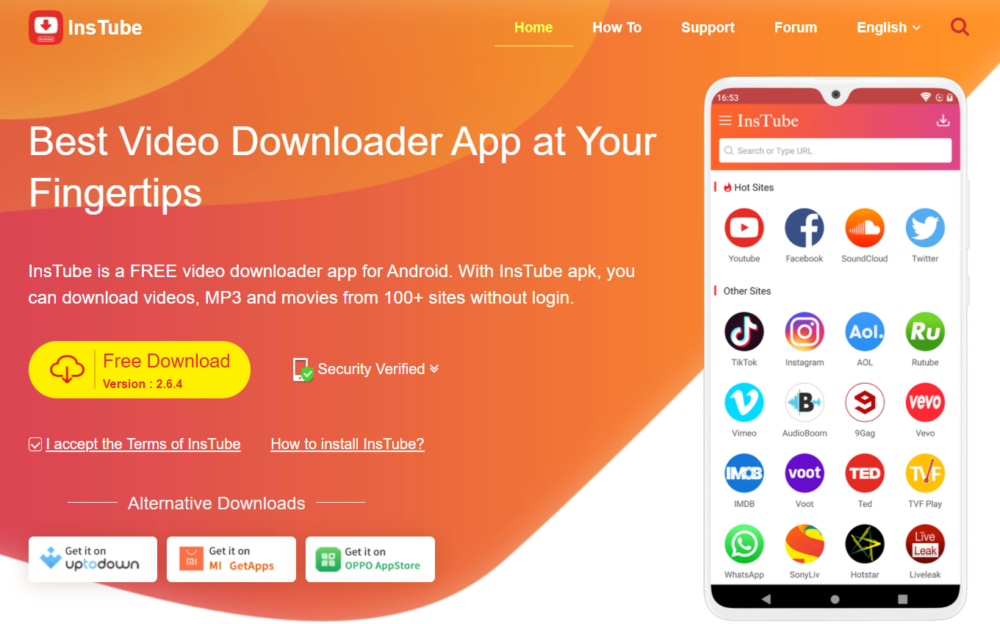 What is InsTube?
InsTube is a free video and music downloader available for Android devices.
The app allows you to download your favorite music and videos from popular social video/music streaming sites like YouTube, Facebook, SoundCloud, Instagram, and a list of 25 more such apps.
The installation and use of the app are completely free.
There are no monthly or annual subscription charges involved and you don't even have to register anywhere to use this app.
Highlighted InsTube Review Features
This app comes with a whole list of useful and interesting features that makes it an amazing app for downloading media from social websites.
Here is a list of some ultimate InsTube features that you should know before trying it yourself.
Absolutely Free
InsTube is available for free to download.
Though you will not find it on the Play Store as yet, you can visit its official website to download the apk file and then install it on your Android smartphone.
Once you have installed the app, you can download unlimited your favorite videos and music on your device.
You don't even need to register or create an account for downloading media.
Supports over 25 Video and Music Streaming Websites
InsTube supports media download from over 25 popular music/video streaming websites.
You can download media from social websites like Facebook, YouTube, SoundCloud, AOL, Twitter, Instagram, and over 25 such websites.
So, videos and music can be easily downloaded from some of the most popular websites without any hassle.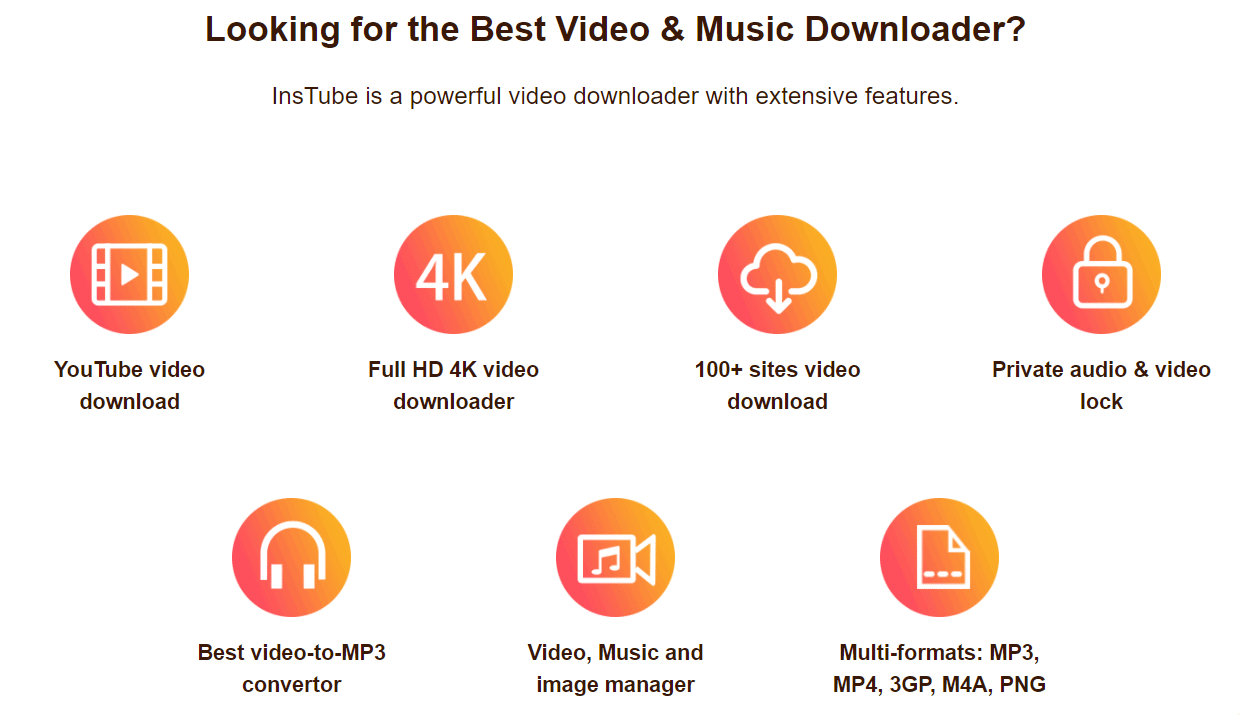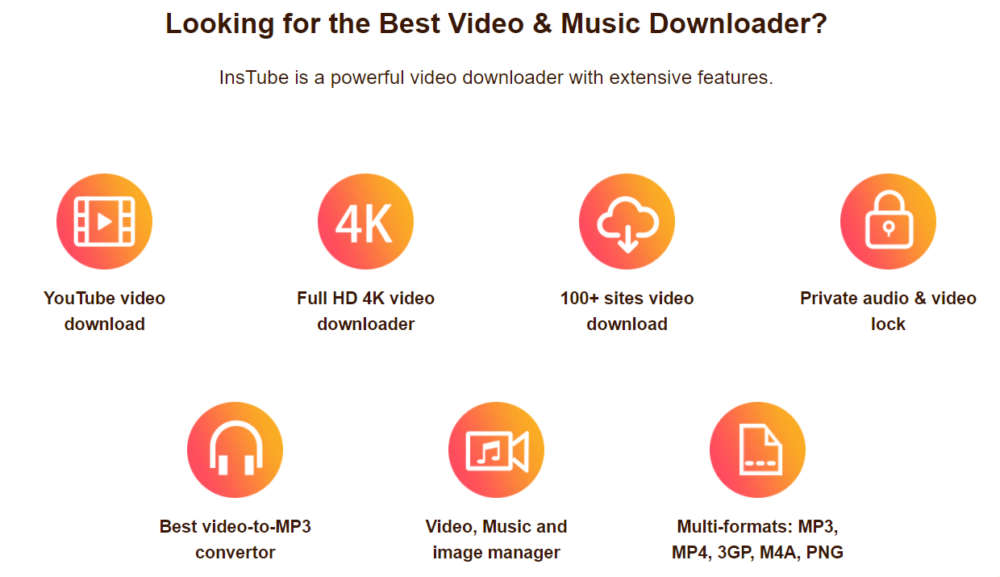 Strong Privacy and Security
InsTube is very secure and adds an extra level of security to all the videos and music you download.
The app has a video locker feature that lets you creates a private location on your Android phone storage where you can store your personal or important videos and music.
Fast Video Downloads
InsTube is a lightweight application and offers optimized download speed that enables you to easily download videos and music on your Android device at really fast speeds.
Supports Different Video Formats
InsTube supports various video formats and you can download your favorite media in formats including MP3, MP4, M4A, and 3GP. The app supports the highest video resolution of 1280 pixels.
Convert YouTube Videos
InsTube allows you to even convert your YouTube videos into MP3 and the videos can also be locked with a password.
Final opinion: You Should Go For This Amazing Youtube Downloader
I personally installed InsTube on my phone and tried out all these features myself.
Honestly, the app has lived up to every single feature it claims off. From Privacy to fast, free and unlimited download, InsTube does everything with utter ease.
It allows you to download your favorite songs and videos for free from over 25 popular websites.
The video locker feature that helps you to secure your personal videos/music files in a secret location on your phone is a thing of peace.
Password protection to the downloaded videos makes it even more relaxing.
This feature really comes in handy when you just want to extract the audio from the video.
The only drawback of the app is that it is only available for Android devices. iOS and Windows users unfortunately have to wait.
All in all, it is indeed one of the best music and video downloader software tools I have come across.
Visit the InsTube official website https://instube.com to download the .apk file and install it now.


Quick Links
FAQs | InsTube Review
🤔 Is InsTube safe?
InsTube is a simple, amazing app available for Android smartphones. As far as we have tested, the app is safe and secure to use and causes no harm to your Android devices.
🤷‍♂️ How do I download from Intube?
Installing the app to open any of these sites is an option included within your browser. When playing any content, click the download button in the lower part of the screen and choose the download format in which you want to store your audio or video file.
🙋‍♀️ How do I download music from YouTube to my android?
Simply, copy the YouTube link which you would want to download as an Mp3 file, and paste it into the field provided. Click on "Convert to" without setting other options available. Click on "Download" to start downloading the music from YouTube to Android.
🤙 Is YouTube safe to download for free?
Video downloader apps are typically safe for downloading videos. However, some apps may contain malware. So, you need to make sure that you use a reliable site for downloading videos. The apps mentioned in this review have been tested and are safe for downloading videos online.
Conclusion | InsTube Review 2022
All in all, we haven't noticed a major bug or security risk with the InsTube app.
We've tried it out on FaceBook, YouTube, Vimeo, and other popular video websites without an issue.
The download speed is good, video functions are awesome and the built-in features are excellent for a free app.
Our only disappointment is with the intrusive ads. We'd have preferred an option to remove ads via in-app purchases.