This post is about Memrise vs Duolingo 2022. These two best platforms are used to learn new languages. Let's have a comparison between them.
Languages: The bridge between you and the rest of the World.
Memrise vs Duolingo 2022: Which One To Choose And Why?
Detailed about Memrise vs Duolingo
Choosing the correct language learning platform from the hundreds out there is like searching for a needle in a haystack.
But worry not, we have come up with the differences between the two highly ranked language learning apps to help you make an informed decision: Memrise vs Duolingo.
Both Memrise and  Duolingo act as a breath of fresh air in a completely unfamiliar and slightly intimidating environment by helping you learn the language you want, mostly for free which leads you to make wonderful friends and memories with ease.
Overview of Memrise vs Duolingo
Both Memrise and Duolingo apps are here to help you learn a new language without having to shell out a fortune or commit to the routine of regular classes. They are both good at what they do and thus you cannot go wrong with either.
In terms of their purpose and aim, they are quite alike. They offer a long list of languages specially curated for their users. 
However, they are both very different in their teaching techniques and process used, which is why it is pertinent for you to choose the one that best suits your study requirements.
Now comes the big question: Which one to choose? This is where we come in! The following detailed differentiation will help you understand each of these apps with clarity and comprehensibility.
Let's dive into the detailed distinction and description of both of these top rankers.
The Companies | Memrise vs Duolingo 
Memrise
Memrise is what you can call a crowdsourced way to learn new languages and is the opposite of textbook learning. It is a platform where users upload their content for other users to see, learn, and start using it in their lives.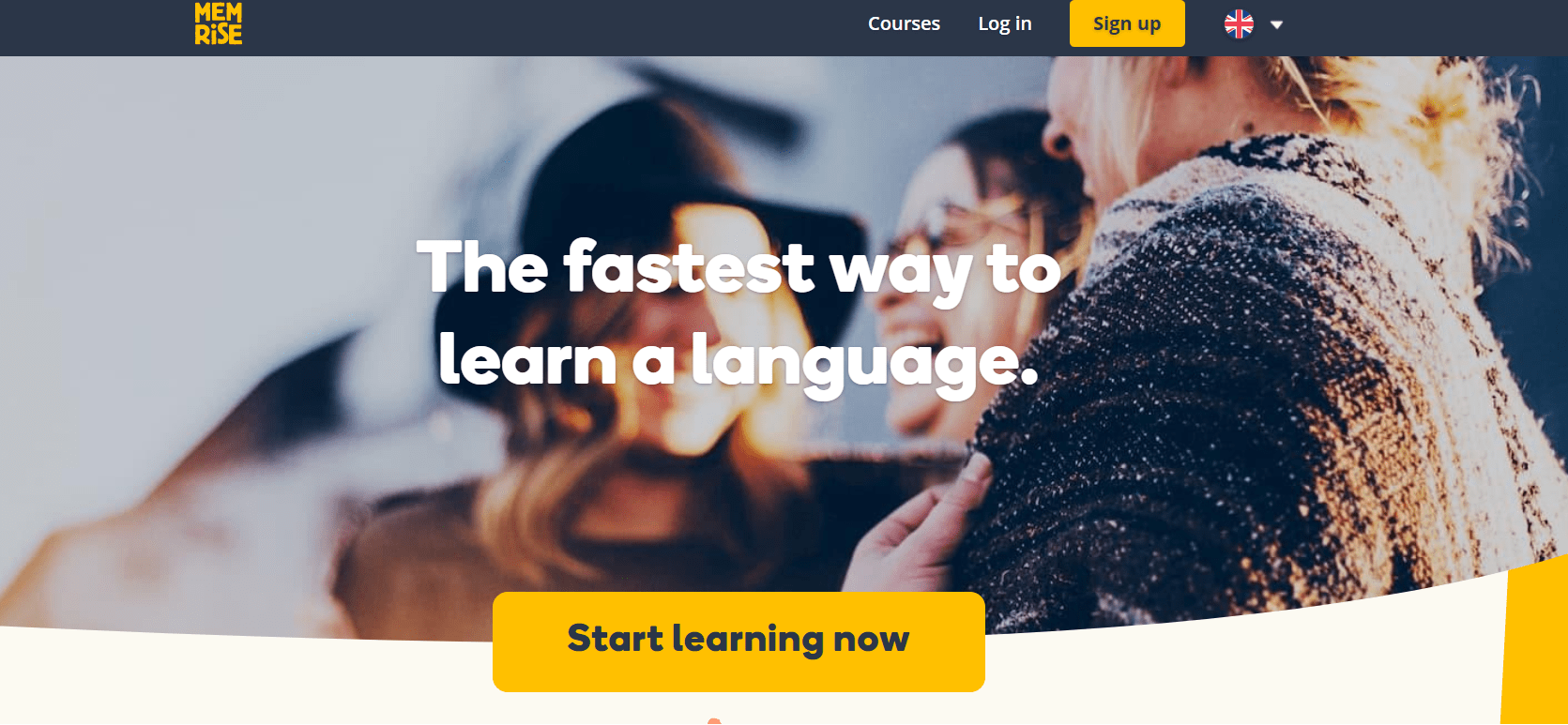 All of this is in a flashcard style which has been proven to be a competent way of grasping new things. These flashcards are digital and work on an algorithm called Spaced Repetition System.
Wherein the cards that you answer correctly repeat less often and are further spaced apart to give you a chance to learn better. 
Although learning through flashcards may not seem very interesting, Memrise makes it fun by including a timer, cute graphics, and reward points. It offers about 16 courses with the option of consolidation.
Apart from courses in languages, it offers courses in different subjects like math, history, health sciences and so on. The plenty of options and a list of wide-ranging subjects makes learning much more flexible as compared to other language learning apps.
Memrise is vocabulary focused and aims to teach their users commonly used words and phrases that can be practiced in real life. The platform also offers many fun things like trivia questions on a list of subjects, standardized tests, memory training games, etc.
Instead of limiting themselves, users can also create customized courses. However, these courses would have low reliability due to the unclear quality of content.
Although creating a course seems very exciting, a proper format with a good amount of thought needs to be followed to benefit the peers. Along with flashcards, Memrise also uses "mems" that help you memorize your words better.
It also has a mobile app that is available for download on both Google Play and App Store.
Duolingo
Duolingo is a more traditional approach to learning with properly pre-designed lectures. These lectures are made using audio, visual, and text formats which can help in understanding the content better.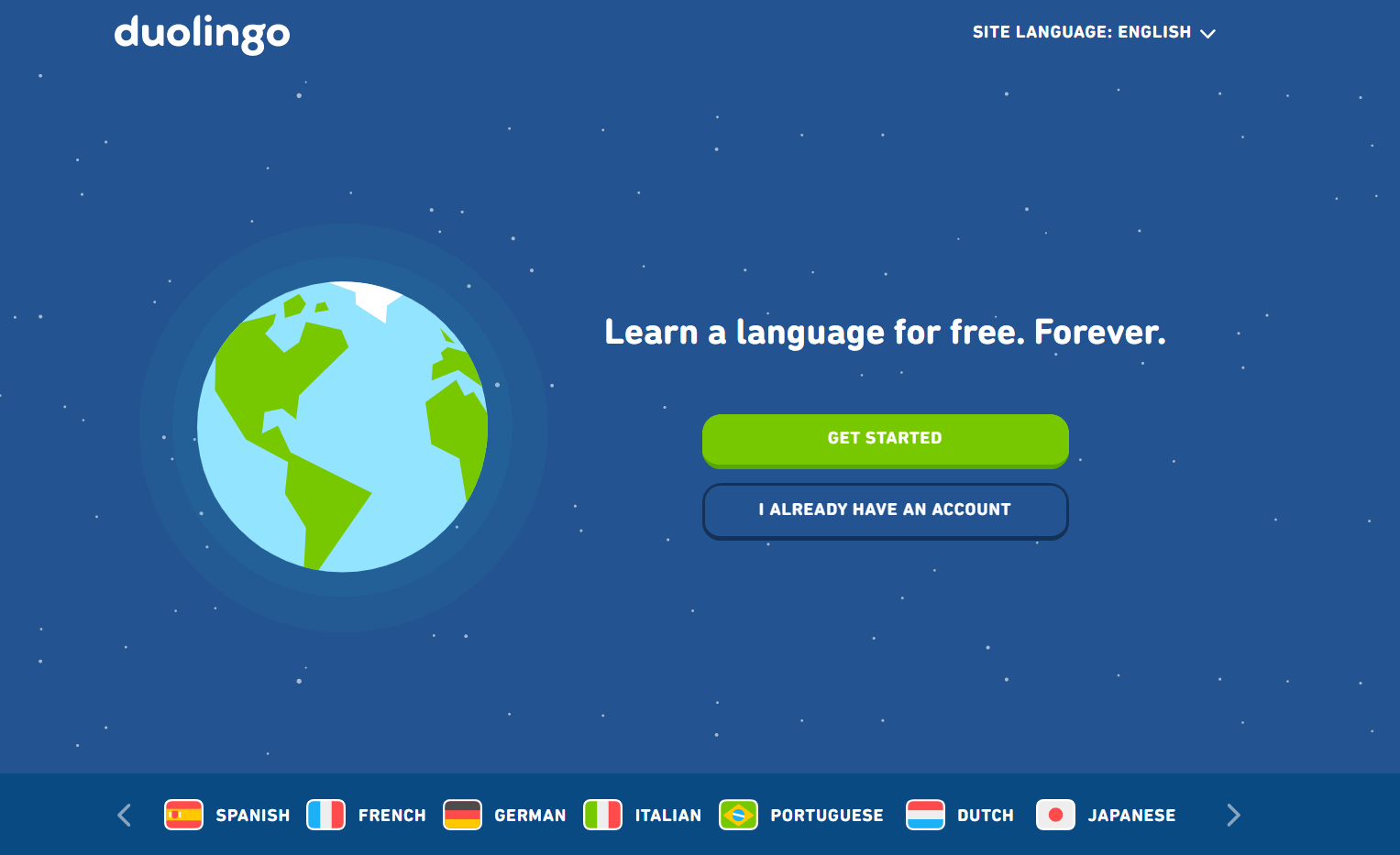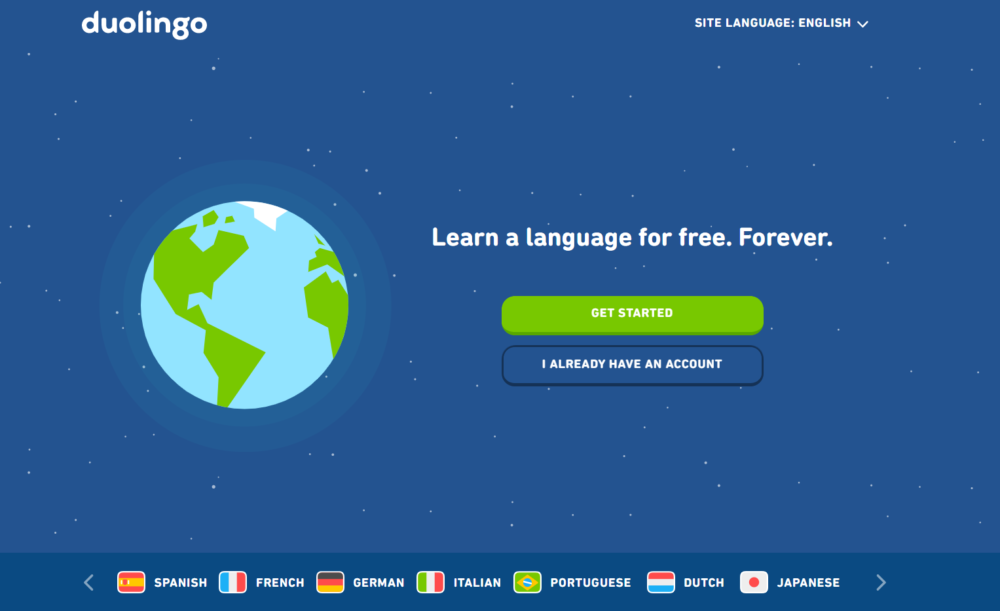 Duolingo has about 300 million users because of its uniform content. It is a free application that offers a list of courses for their users to choose from. The tagline of Duolingo reads; "Learn a language, translate the web".
The app aims to teach its users the chosen language within minutes. Lessons are in the form of tiny bundles that teach you words ranging from the beginner to advanced vocabulary baskets.
The lesson of each respective course tests their learner by throwing in exercises on sentence formation, translating words and sentences into the language being learned, and vice versa.
It also tests learners on their recollection abilities that make the learning part more efficient and concise. Duolingo offers its users over 50 courses that range from Japanese and Hawaiian to Russian with the duration of each course being around 7 minutes. 
At the end of each lesson, the learner is rewarded with points and streaks to mark their level of achievement, which motivates the learner to keep taking lessons and not leave mid-way.
The course begins with basic words and their pictorial representations which the users have to match. There is no proper explanation or introduction to the language as users are thrown into the uncharted land of words and phrases of the native language.
Grammar and advanced vocabulary are gradually introduced to the course.
Cost | Memrise vs Duolingo 2022
Both the platforms offer a free version to the users along with a paid option too. Duolingo offers its Duolingo VIP package which starts at $9 but settles at $6.99 when you subscribe for a year.
On the other hand, Memrise offers its Memrise Pro which starts at $9 as well and goes down to almost $5 when you buy an annual subscription. The premium plan of Memrise includes very interesting features like audio lessons, videos, grammar bot, and so on.
The paid subscriptions being optional, we don't recommend them because of the low value they offer over the free subscription. It is better off to learn the language in the free version or invest in other resources which can help in learning the language better.
Even then, if you had to choose between the two for a paid subscription, we would recommend the Memrise Pro over the Duolingo VIP due to better functionality.
The Working | Memrise vs Duolingo 2022
Memrise
Let's go through how Memrise works for new users who have never signed up.
Choose what language you want to learn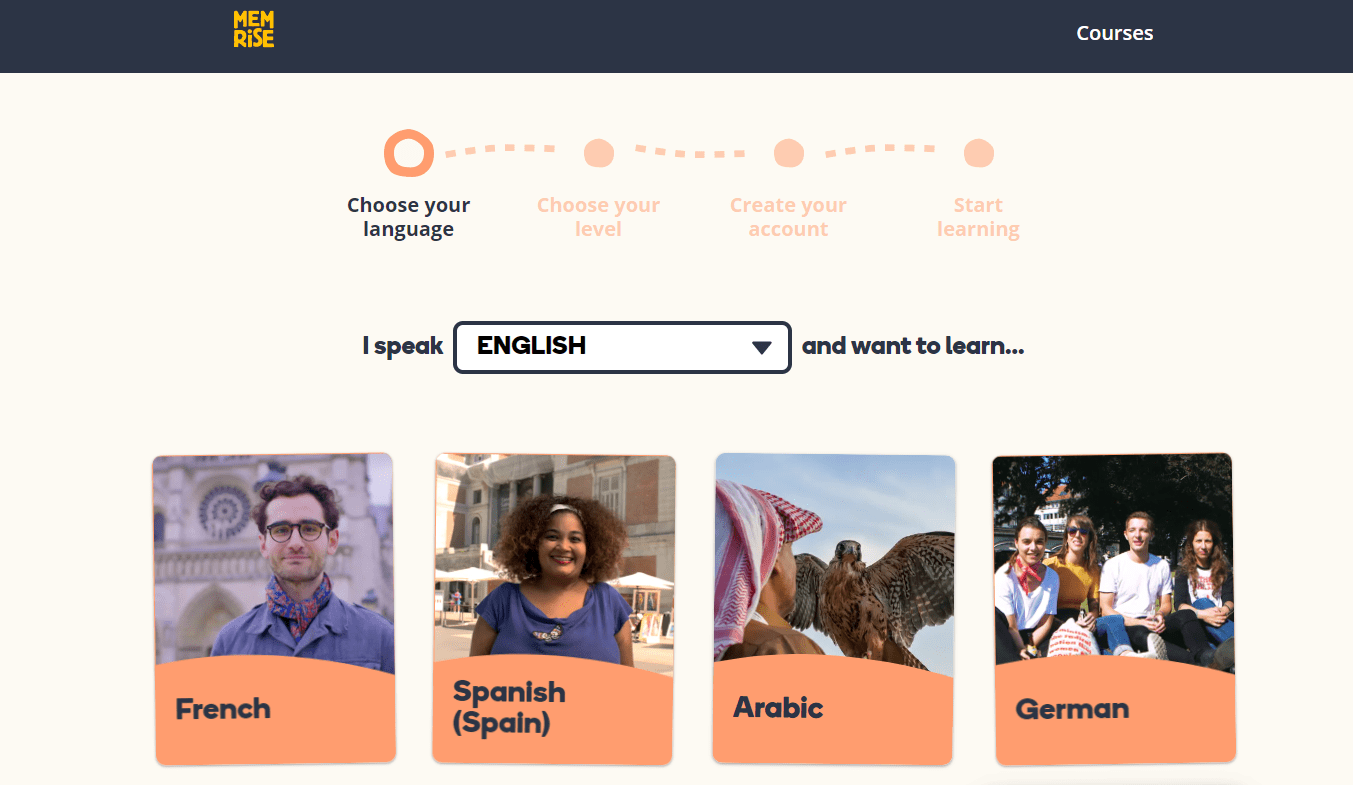 When you first visit Memrise, the first call-to-action is to pick the language you want to learn. With over 20 languages available on the platform, probability leans towards your success in finding what you're looking for.
They would also try to gauge the level of knowledge you have of the given language.
Select which level you want to learn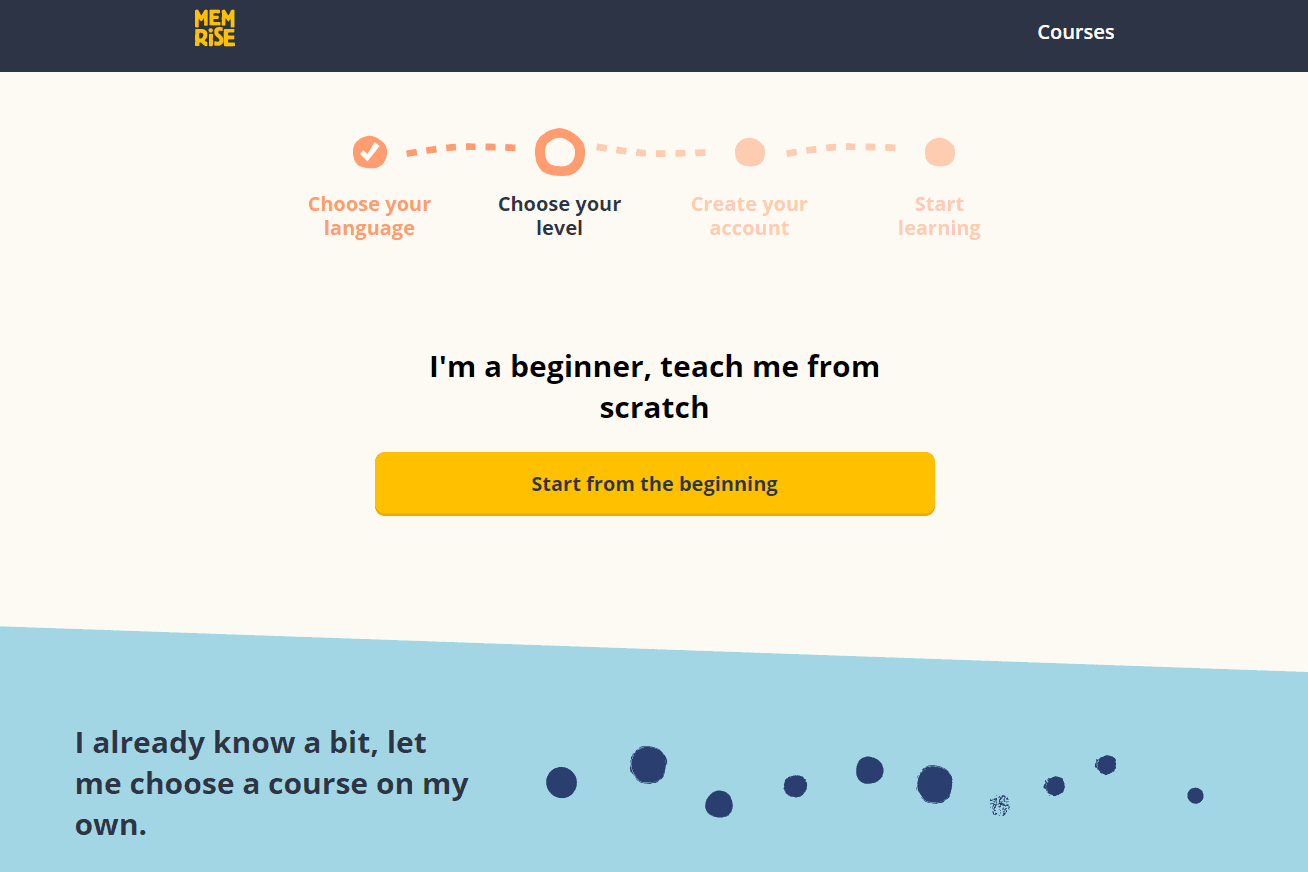 Upon choosing your language, you'll find different level options in your respective language. Most of them are organized with the help of numbers such as French 1, French 2, French 3, etc.
Logically, if you're an absolute beginner, you'll choose French 1 or you can go through them one by one to judge how much of the displayed vocabulary you already know.
Start memorizing
Enter your details carefully and create your account by sign up.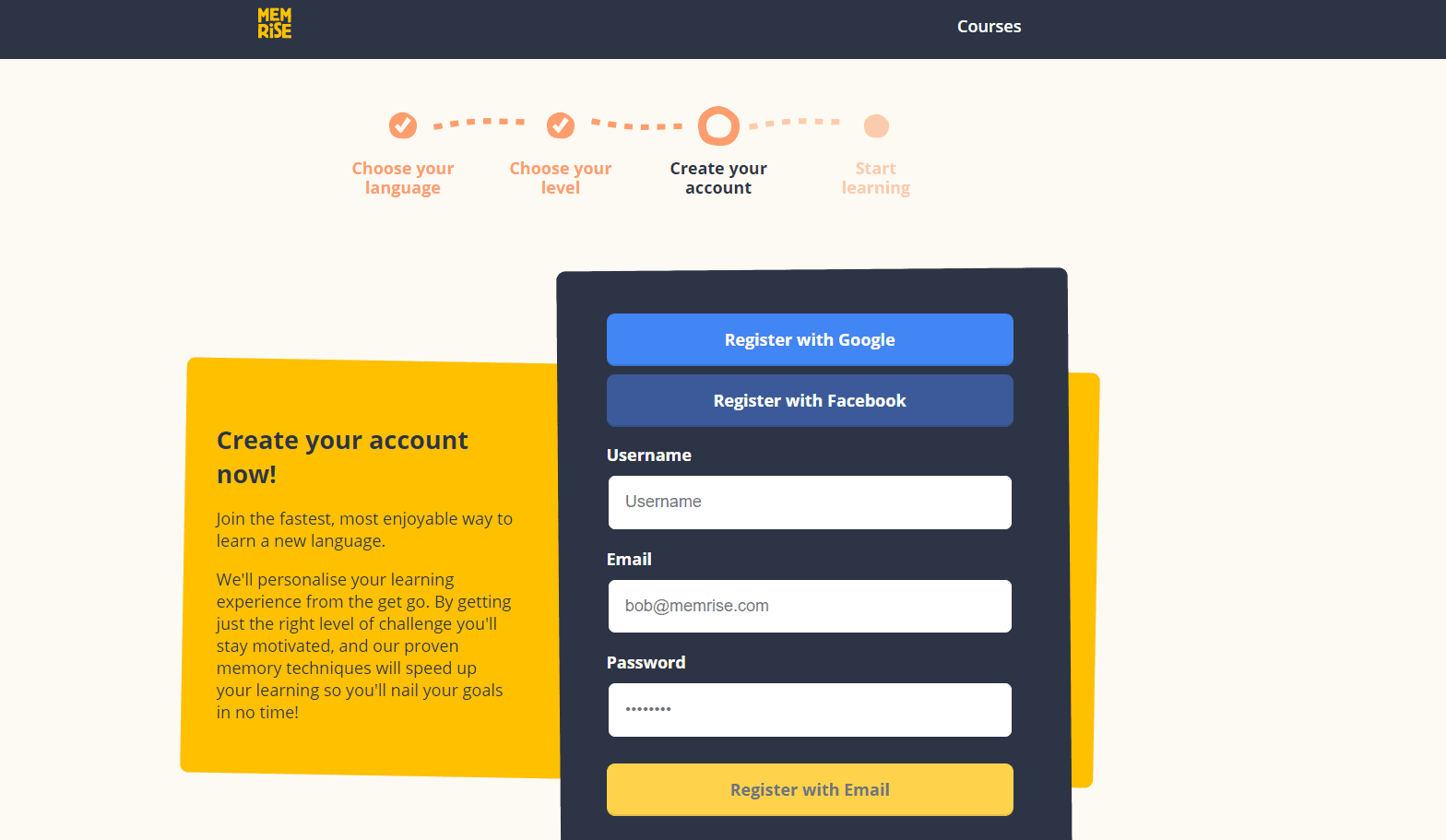 Now you can start going through the words using the template that Memrise has provided. Once the first or the basic level is completed, you can proceed to the following levels linearly.
Duolingo
Now let's go over the onboarding process of Duolingo for new users.
Experiment with your language expertise
If you want to test your language knowledge, Duolingo offers a free test which is completely optional, to know yourself better as to what is the level of your skill set in a particular language.
If you're completely new to a language and at a beginner's level, you need not do this procedure and can simply skip it.
Get a grip of the basic vocabulary
At the initial level, the main focus will be entirely on learning new sentence formation and new grammar words for the beginners which are very helpful. This is followed by the last step which is a combination of the first two.
It will be putting the sentences together by using correct grammar and the vocabulary which you have learned. The practice will be in the form of putting the words together which match with each other, FIBs, and so on with several variations.
The Ultimate Difference Between Memrise vs Duolingo 
Both platforms have distinct ways of teaching you the language you have chosen and you can choose which one suits you better and stick to that platform. Memrise majorly based on vocabulary building learning new phrases.
On the other hand, Duolingo focuses more on grammar and sentence formation. The sentences that it teaches though, don't make much sense many times.
The uniformity of the content is much better on Duolingo due to the production by the platform as compared to the crowdsourced content on Memrise. 
The words on Duolingo are recorded individually which leads to very weird sounding sentences and this is where Memrise shines with its native speakers and accent which helps you learn better.
It also has a much wider base of content available since it is crowdsourced and you are more likely to find a unique course.
Memrise
It is guided by three principles: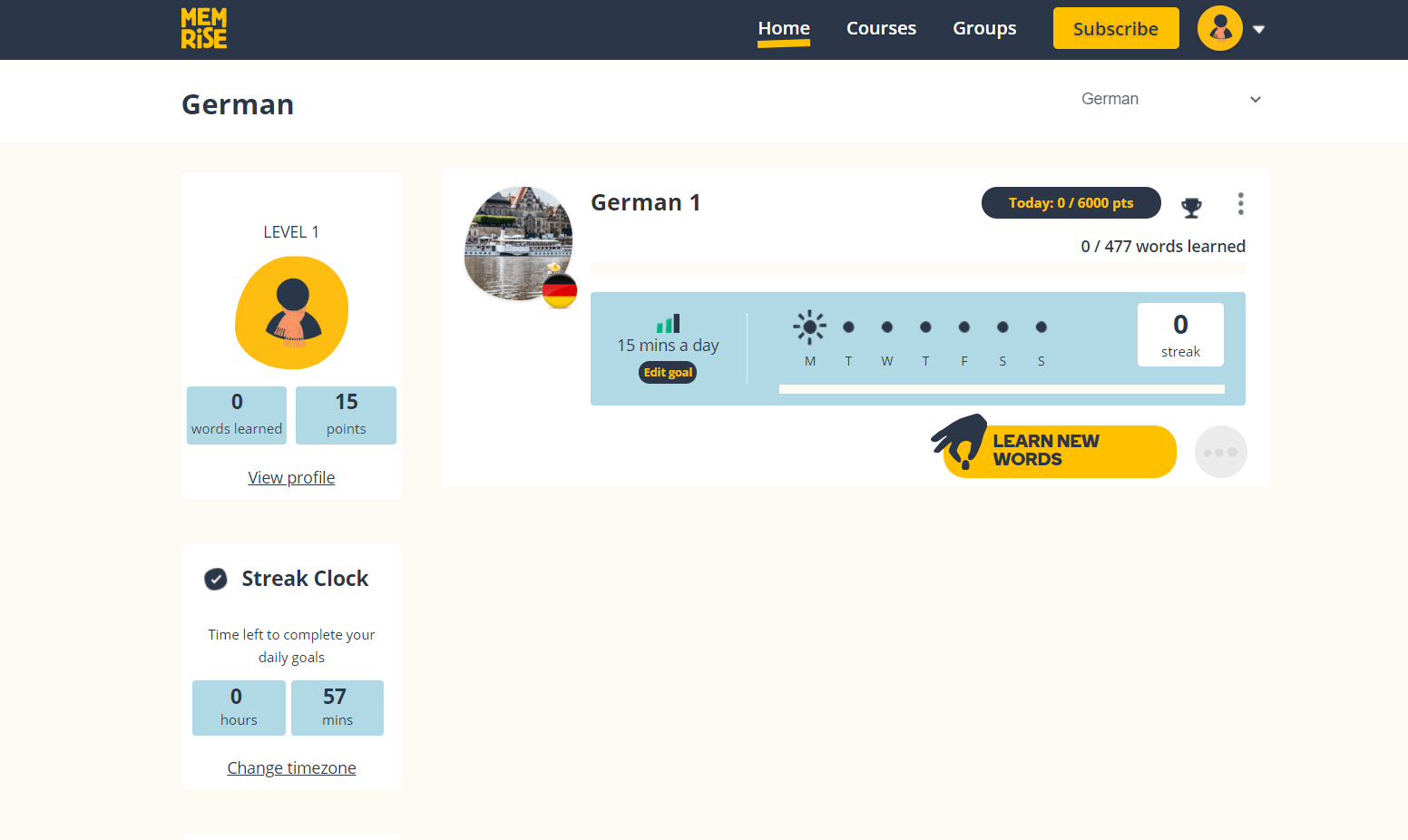 Rich, real-life language content
This seems very real and is loved by the audience as experts from various countries provide videos of themselves speaking in their native language.
After listening to those videos, we can understand the pronunciations and accent of the words which help in getting accustomed to the language.
The mixture of tech and science
Our brains are not used to the combo of tech and science but YES, Memrise makes us learn in a heterogeneous way which is very challenging and fun for our brains.
Learnings not possible without a splash of fun
Have you ever wondered as to why school-learnings were not fun? I definitely have. From my understanding, it was because there was no engagement while learning. Memrise exactly knows how to make the learnings fun while maintaining a high level of attention.
Duolingo
Duolingo has only one motive, to give everyone access to a private tutor experience through online technology. It offers an instructional and guided learning experience, especially for beginners. The approach used is very effective and fun-filled.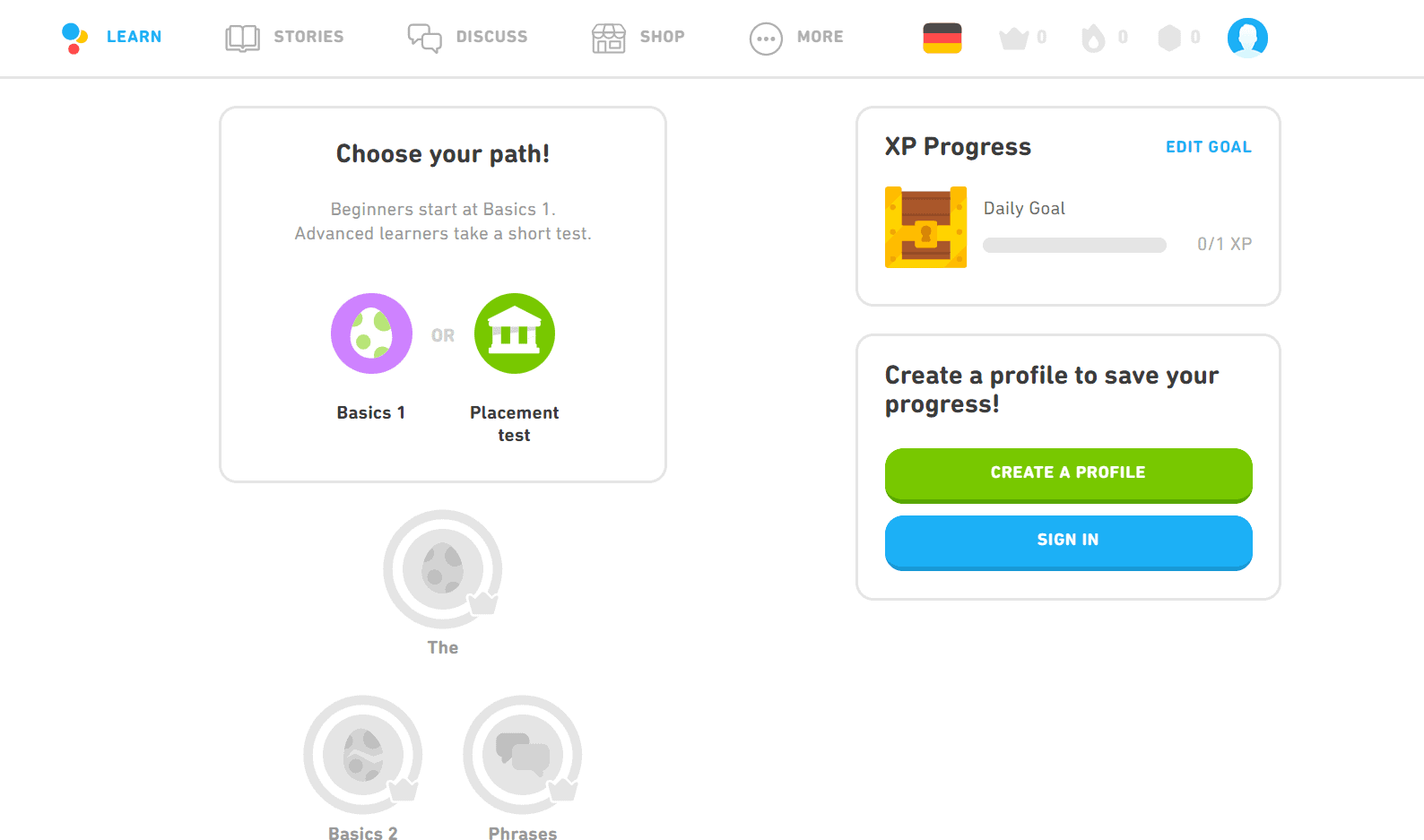 It is structured in a gamified instructional course which makes the learning for its users very easy and interesting. It has come out that 34 hours of Duolingo are equivalent to a full university semester of language education.
Differential Summary | Memrise vs Duolingo 2022
Memrise
Price: Free (and a premium subscription).
Structure: Creating and reading digital flashcards.
Language options: Over 20 languages available offered in 150+ language courses.
Focus

: Grammar and Vocabulary.

Interactive

: Low.
Duolingo
Price

: Free (premium service for a fee).

Structure

: Gamified instructional course.

Language options:

28 language classes available for English speakers.

Focus

: Learning basic vocabulary words and grammar rules.

Interactive

: Low.
Also, Read
FAQs | Memrise vs Duolingo 
🤑 How do I start using the platforms?
You can sign up on these platforms using a laptop or mobile phone on the website or app respective.
👉Are these platforms paid?
These platforms are free but also have a paid subscription if you want more features.
👉 What all courses are available?
Each platform has different courses available in different languages. You can choose the one that suits you the best.
🤟 When do I take these courses?
You can take these courses online at your convenience. Start or end as per your choice no time limits.
Conclusion | Memrise Vs Duolingo 2022 And What Should You Choose?
The answer to which one of the two you should choose is not a former or latter answer and the thing is that it doesn't even need to necessarily be Memrise vs Duolingo.
Both the platforms are free (yes, the advertisements do get annoying but still they are free) and thus there is no harm in using both of them simultaneously. They offer a good course when you put them together and I feel like that is the best way to go forward.
Put both the platforms together so that you can cherry-pick the best parts in each of them. This way, you will have a well-rounded learning package in the language of your choice with adequate lectures in each one of them.
We would recommend that you stick to the free packages only unless you hate the ads because that makes the most sense among the packages that both the platforms offer.