In this article, I am going to share my honest review about Vendy.
For someone who is eager to get started with their online store as soon as possible, it is important to opt for the correct eCommerce platform for starters.
Next, you need to pick the right theme for the store offered by a trusted provider that has numerous features in order to make your work easy. 
One such platform that is totally worth your attention is Shopify. The platform has a wide user base and is known to be a robust eCommerce solution.
It can integrate very well with all types of valid currencies and payment methods. It also has pretty flexible shopping carts, various filters for products, wish lists, and a lot more. Shopify is also very friendly to various other platforms like Amazon, Houzz, eBay, etc.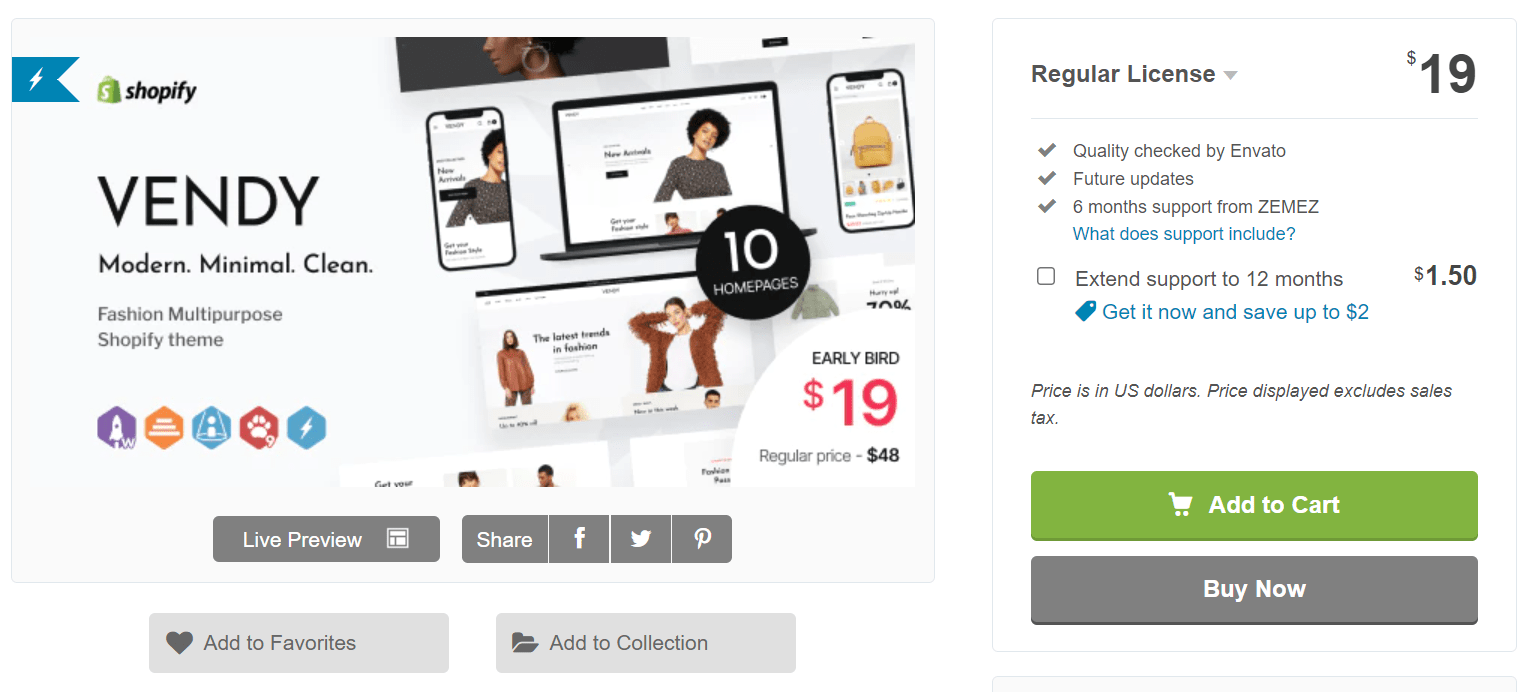 When it comes to choosing a Shopify theme, especially in the fashion genre, every store owner looks for something unique that helps them stand out from others.
Irrespective of the types of fashionable products that you wish to sell online, it is necessary to have a website that is visually attractive and impressive.
Over that, it should also be a feature-packed theme. But unfortunately, not all themes on Shopify are capable of offering so many advantages.
Keeping in mind the diversity in needs and tastes of the online store owners, the Zemen team developed their remarkable Shopify theme named Vendy.
The theme is designed in such a way that it can fit in any latest fashion store as well as meet the excellence of present-time web design.
In this post, we will be describing Vendy, an incredible Shopify Theme, in-depth as well as analyze how it can prove to be useful for the store. You will discover all that you wish to know about Vendy ranging from multiple features as well as pages to its design.
Let us get started with knowing more about the theme. 

Knowing More About Vendy
Vendy is a remarkable theme for Shopify that can work well for both newbies as well as professional users.
So if you are someone who wants to know how you can create an online fashion store without any technical know-how, Vendy is meant for you.
Vendy's layout is basically all-in-one and works on the basis of leading eCommerce platforms. Without any doubt, you can rely on it for establishing a space to sell and empower your brand. The best part about it is that you do not even need coding language to use the theme. 
This theme is a multipurpose eCommerce solution for fashion stores. It is fabricated for the online stores that sell shoes and designed clothes.
Its clean and modern design will let you create an online store that has great space in order to showcase the new arrivals and featured collections.
Here you get everything that is expected from a top-tier and premium Shopify theme. Its excellent features and remarkable performance makes the creation of a website much easier than in the past.
The next section talks about how you can install the theme.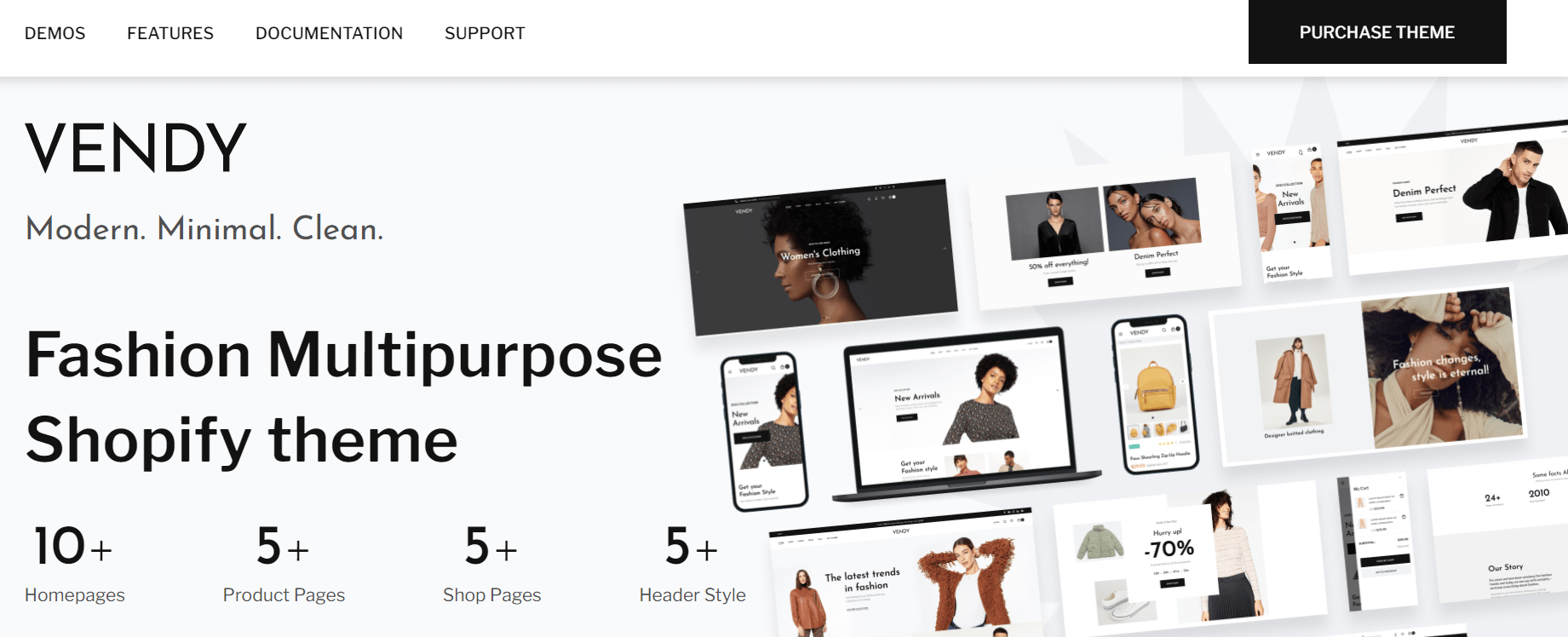 Key Features Of Vendy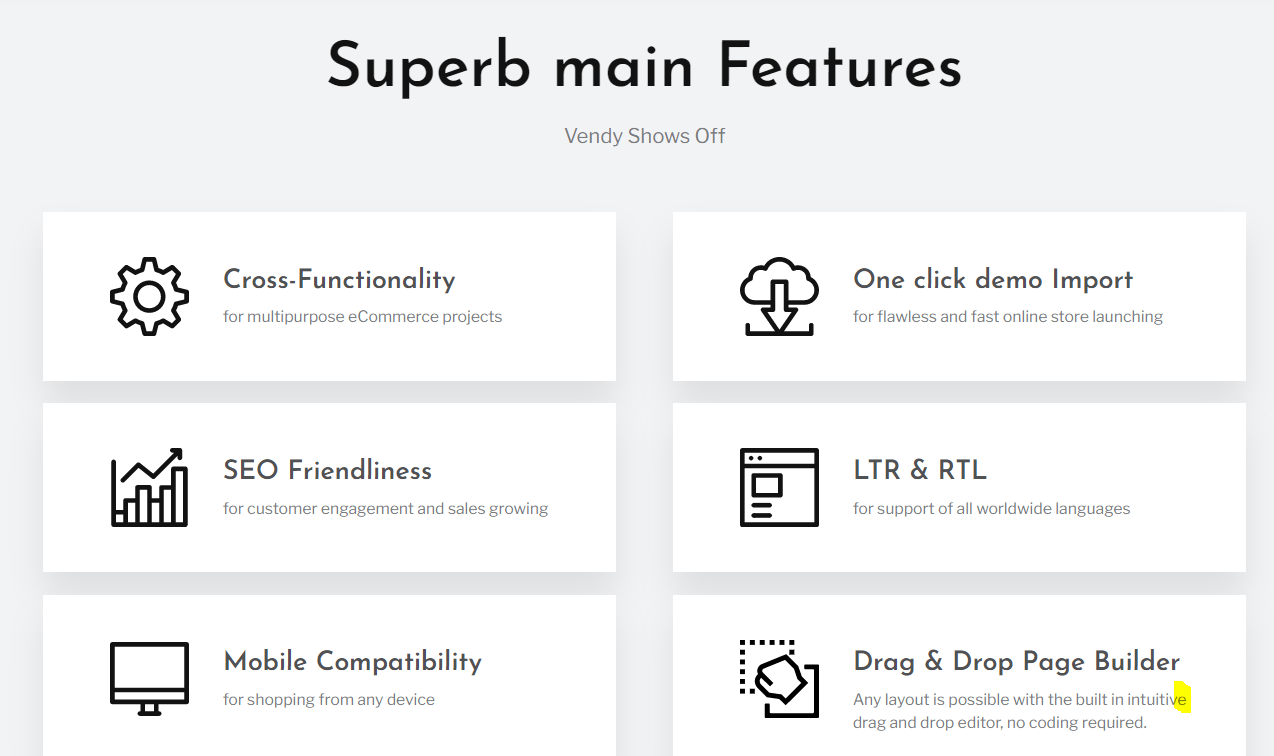 This visually interactive and easy to theme can work well for anyone who wishes to customize their website without making any changes in the code line.
The entire process of setting the site, maintaining it, and bringing about the changes is made available by simply dragging all the elements you need and then dropping them to the places you want them to be placed on the page. Let us get into the details of the prime features of Vendy, making it worth a try. 
1. Bunch Of Versatile Homepages All In Just A Single Shopify Theme
Vendy is undoubtedly an all-purpose theme that has about ten remarkable and graceful homepages which are dedicated completely to fashion, but you can adjust them right according to your needs. 
Check out the theme preview here. With this theme, you get: 
Layouts for Blog Page

Five pages for Listing

Five pages for Products

Two pages for About Us

Pages for Lookbook

Two pages for Collections

Three pages for Newsletter

Headers and Footers that can be customized and configured.
The Vendy theme is amazing because of the remarkable features and stable performance it has to offer. This clean multipurpose theme is:
Multilingual
Integrated with social network
Retina-Ready and pretty responsive
Compatible with every browser
SEO-friendly and lightweight
All of this will be helpful for your site to stand out from the competitors and also be a delight for the audience visiting your website. The theme offers top-tier buyer support, testimonials, readymade working forms for the subscription purpose.
The other amazing elements that make this Shopify Theme worth your try is:
Wishlist, as well as the shopping cart that can perfectly complement the primary design.

Numerous banners as well as catchy scalable tabs.

Readymade product grids and listings.

A wide variety of gallery styles.

Animation transitions

Dropshipping abilities.
2. Mobile-Centric Design
With Vendy, you do not have to worry about the additional site versions for use on mobile. You can save the costs and time that are needed for additional mobile extensions and designs.
It is a responsive theme with a retina-ready design on which you can rely. The theme can help you omit various issues with the help of its smooth and adaptive design.
This way, your online store will be totally open for all visitors. Also, your site will stay as attractive irrespective of the device you opt for.
The services and products will be looking just the way you want on each screen. What is more, the pages of the eCommerce website will be showing the top-tier loading speed on every latest gadget.
3.  Official Shopify App Integration
One more way of using the Vendy Shopify theme is by creating floating tabs that are appealing or add FB messenger to the store.
This helpful enhancement is accessible for free because of the integrated applications by Hura. All of these are incorporated in the official Shopify store:
The floating buttons offered by Hura can improve the experience of the users on the online store. With Floatton, it is easy to attach the floating link tabs to the content you wish.
This results in the visitors being able to find the tabs really quickly. Additionally, these buttons can grab your attention because they highlight the important information on the website. 
The FB messenger by Hura is a pretty trusted one and is the way of adding the FB chat widget to the shop in just a single click.
This way, the app can connect the FB page to the store, and when you get a message through the FB chat widget, it can automatically appear in the FB page inbox.
→ Super-Fast Loading Speed
Now you do not have to make the visitors wait for long in order to make the website load. You can choose the products with the top-tier speed in the store.
The theme offers the online shop quick loading as well as stable performance. To keep it short, irrespective of the number of pages you add, it will be working flawlessly. 
4. Remarkable Customer Support
Vendy is a multipurpose theme for your eCommerce store, which is based on the leading SaaS platform. It is designed and developed for covering the purpose of the latest users. Vendy will be helpful for the users in finding the best options for your eCommerce venture.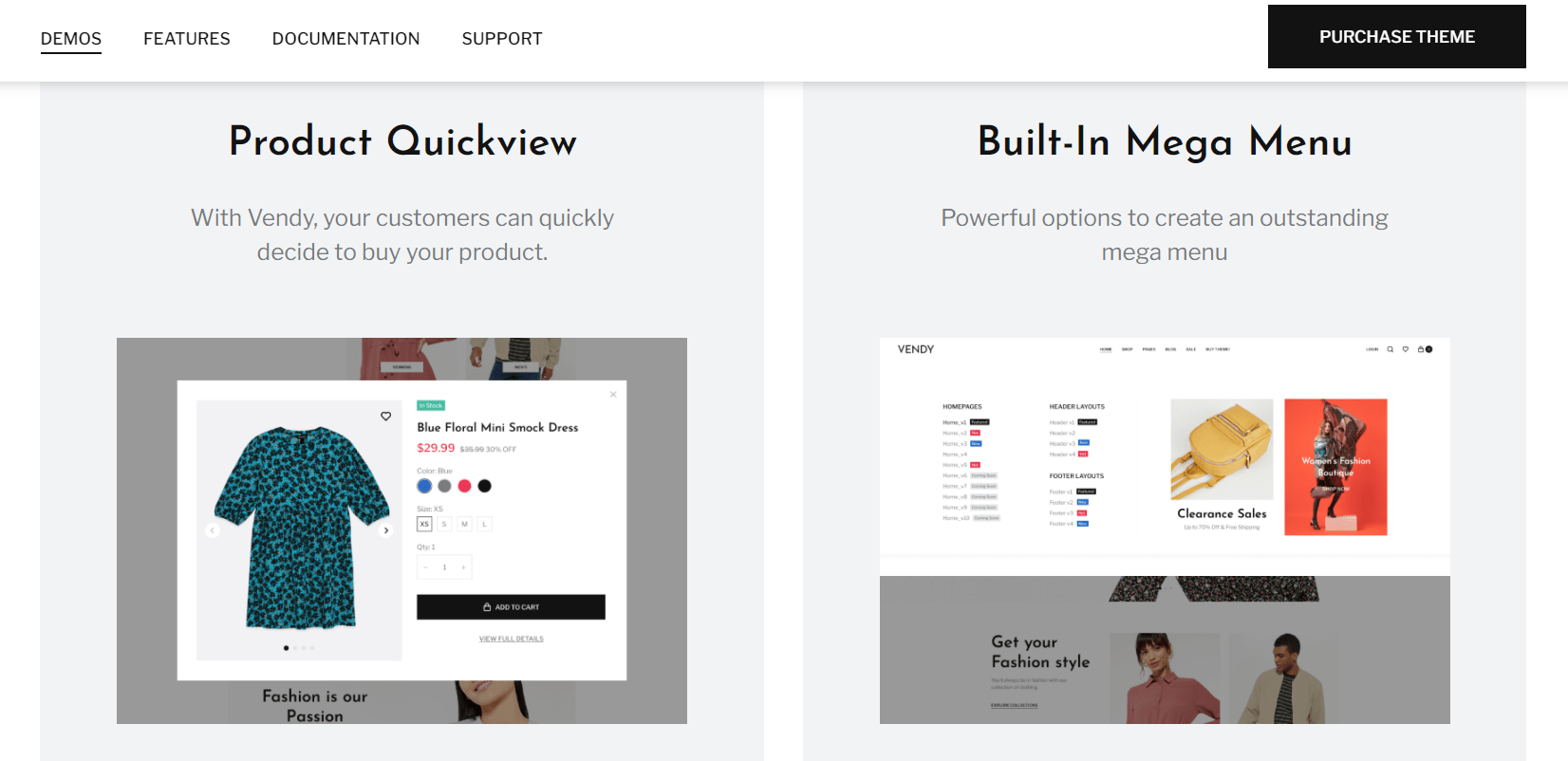 Quick Links
FAQs | Vendy Review 
🤟 How does the payment method work on Vendy?
You can use all the popular methods available to pay for your order. You can also choose to pay after the delivery of your order. After placing an order, you will get an order confirmation email. You will then get regular updates on the shipping and delivery process of your order.
🙆‍♂️ What makes Vendy so good?
Vendy has loads and loads of features which makes it so good and suitable for online shopping. It has very nice customer support, a very mobile-friendly site design, and a versatile homepage design, thanks to the Shopify themes. All this, along with Shopify integration, makes it very interactive.
💁 Is Vendy Theme Worth A Try?
It is definitely worth it. It has very fast loading speeds, user-friendly, clean to look at, and a very smooth experience for the users using it. Moreover, it is also suitable for mobile users as the design is very mobile-friendly and mobile-centric.
Wrapping It Up | Vendy Review 2023
Taking into consideration the advantages and features offered by the Vendy theme, it is a robust solution for the ones who want to open their fashion store online.
Even if you are someone at the very beginning of their eCommerce journey, this theme can make the online store appreciable. But if you have a store already established, Vendy can prove to be an incredible addition.